Outlook and Gmail are both email services that offer a range of features to help users manage their email communication. With both companies offering free email services, the real stake of these tech giants are business clients. Plenty of organisations need to ensure safe and reliable email services for their employees, researching Outlook vs Gmail.
You will find a comparison of the features of the two services in the article below. If you find yourself in the position of needing even more information, you can schedule a free consultation with a FOTC cloud specialist.
Outlook and Gmail – basic differences between the two
Before moving on to a more detailed analysis of the features and functions of the two services, we should mention that this is not a one-on-one comparison of the same services. Firstly, Gmail refers to both Google's email service and the platform created to access the service. By comparison, Outlook is not exactly an email service, so much as an email client intended to manage emails, meetings, and other office tasks.
Down below, you can find a Google generated comparison for the two services. This table can help you discover which competitor is a better fit for your company's email account and its workflow.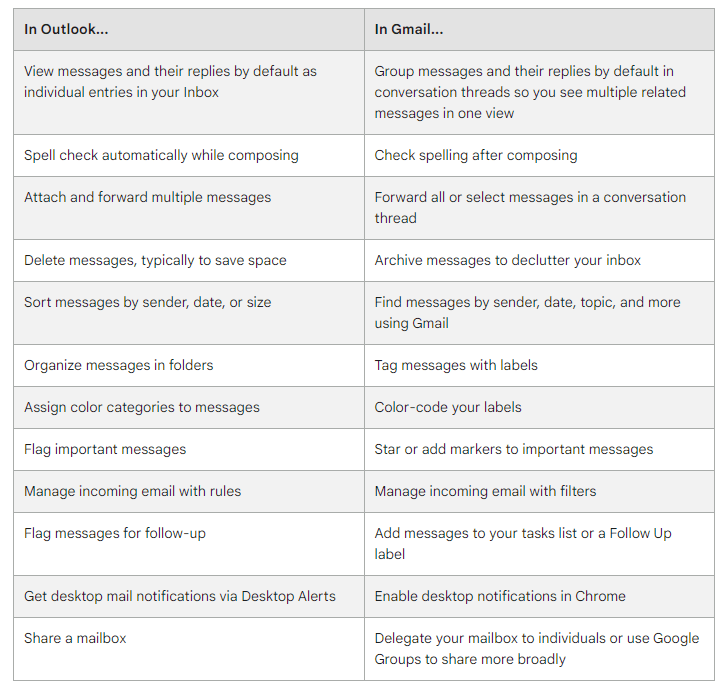 They both are email clients that allow users to send and receive emails, but some key differences between the two do exists:
Outlook is developed and owned by Microsoft, while Gmail is developed and owned by Google.
Outlook is primarily a desktop application, while Gmail is a web-based application that can be accessed from any device with an internet connection.
Outlook is part of the Microsoft Office suite of productivity tools and is often used in business settings, while Gmail is more of a consumer-oriented email service with flexible business settings as well.
At a first glance, Outlook's interface has more advanced features for managing emails and scheduling. On the other hand, Gmail has more emphasis on simplicity and ease of use, with a more streamlined interface and more curated advanced features.
Gmail has a larger storage capacity for emails and attachments, while Outlook has more limited storage. However, both Outlook and Gmail users can purchase additional storage or use other cloud storage services to store their emails and attachments.
Gmail vs Outlook – Interface
The way the interface looks and functions is a matter of taste. Some users might prefer the formal style of Outlook that has been updated to resemble Windows 10. Others prefer the friendly, rounded shapes and the way functionality works on the Gmail interface. All these preferences of an Inbox are the sum of work habits accumulated over time.
Each change of work tools requires time to get used to the new functions and the new interface. But But the most important thing is that the design of both Gmail and Outlook's services is clear, functional and easy for everyone to understand.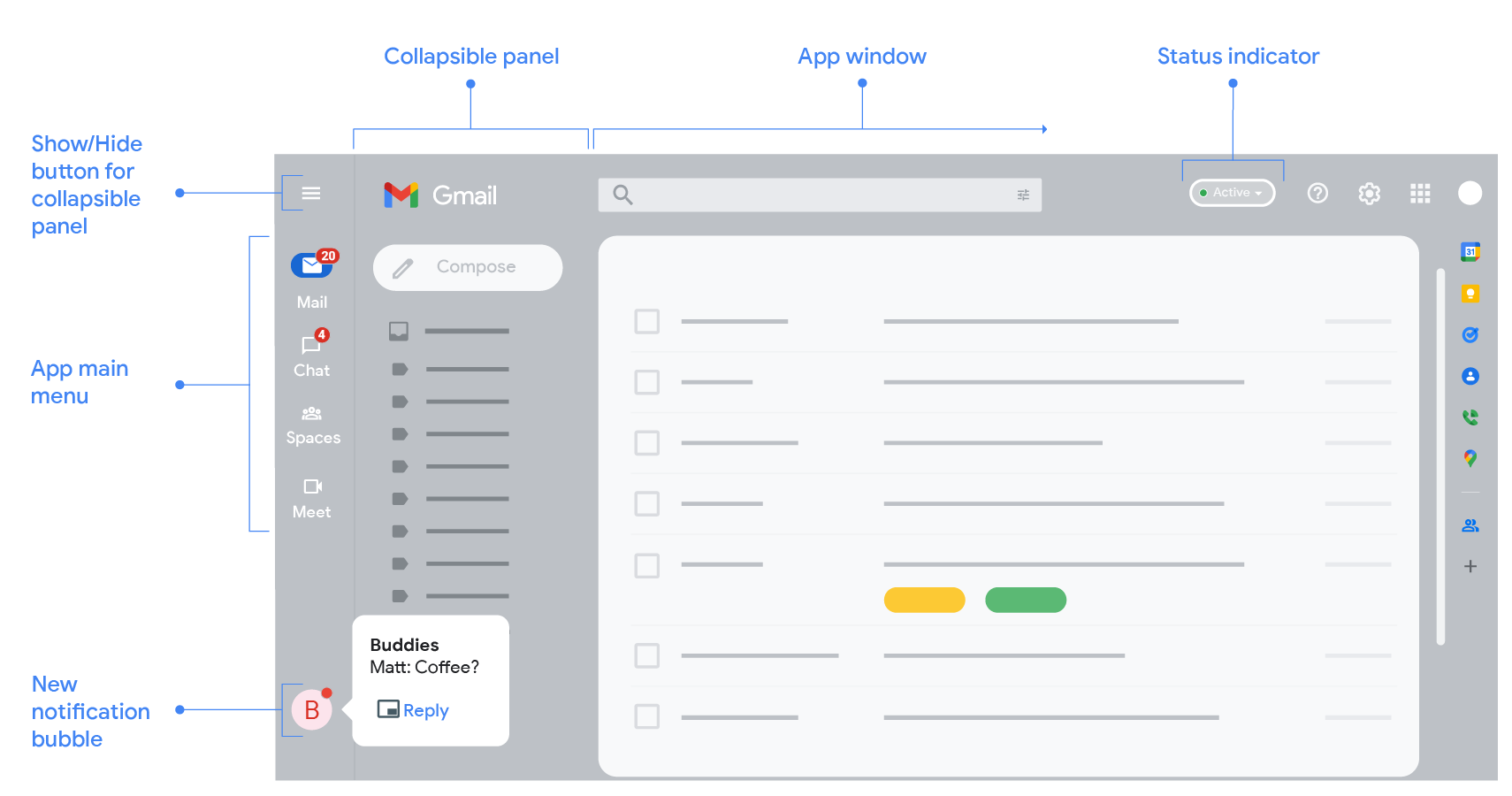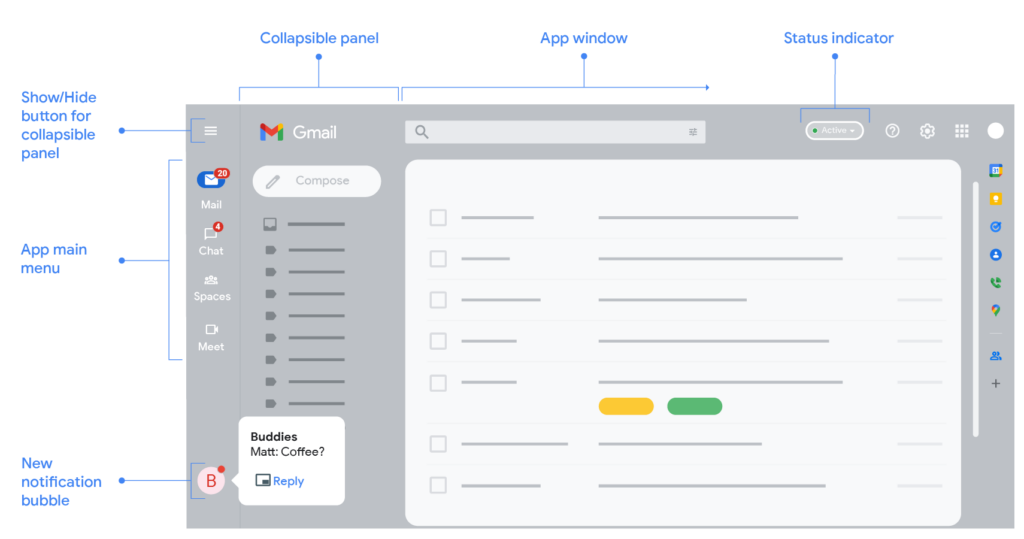 Microsoft Outlook design
Featuring a blue-tinted design, Outlook has all the essential features on display. Talking functionality, the design makes it easy for users to navigate files, contacts, attachments, and calendar appointments. At the same time, the view is a little cramped and uses an off-the-rack font that gives it a sterile appearance.
On the mobile version, like comparing Outlook for Android vs Gmail, the app looks better than on desktop. With a straightforward menu, you can manage your emails quickly without distractions.
Gmail design
Gmail has one of the most beautiful and clean designs for email services, available to open in any browser. With a spacious interface with all essential features within view, you can easily switch between mails, Google chat or Google Calendar.
The categories menu is also strategically placed on the left side of the Inbox. This way, you can easily navigate through Starred, Send, Scheduled or even Spam emails.

Customise the look of your email Inbox: Both Gmail and Outlook
Both mailboxes are equipped with a panel for changing the layout settings. The user can choose one of the ready-made themes or create his own themes by uploading graphics from the computer. This way, you will be able to customise the appearance of your inbox according to your preferences.
In both cases, you'll have control over where your most recent messages appear, how much detail of their content is visible in the preview, and where the reading panel is (optional in Gmail).
Features in Gmail and Outlook – which provider is better?
When researching Gmail vs Outlook for business purposes, you will find there are plenty of features covered by both companies. Their services compete for the public's attention by constantly releasing and developing new features, but also constantly improving their core feature set. What do Gmail and Outlook have in common and how do they differentiate, after all?
Part of bigger productivity suites
Gmail is part of a much larger business cloud service called Workspace, and Outlook is an email client from Microsoft's own 365. Each of these ecosystems includes office apps like:
Text editors – Google Docs, respectively Word;
Spreadsheet editors – Google Spreadsheets, Excel;
Presentation editors – Google presentations, PowerPoint;
Notepad – Keep, OneNote;
Communication applications – Google Chat and Meet, MS Teams;
Storage space in the cloud for files and mail & Gmail storage – Google Drive, OneDrive;
Calendar and many other services.
Read some more Google vs. Microsoft comparisons:
Security features
Gmail and Outlook both have strong security features in place to protect the privacy and security of their users and their data. These features are set in place for both desktop and mobile apps users.
Gmail uses a number of security measures to protect users' data, including encryption during transit and at rest, secure authentication methods, and spam and malware protection.Security is also improved by features that allow users to control access to their accounts, such as two-factor authentication and the ability to set up by recovery options.
Read some more:
On another hand, Outlook also has a number of security features to protect users' data. It uses encryption to protect email messages and attachments in transit. Outlook also has a number of security measures in place to protect against spam and malware. Outlook also offers a range of security options, such as two-factor authentication and the ability to set up recovery options, to help users secure their accounts.
Chat and video conference apps
Chat and video conferencing are important tools for team communication within a company. Google lets you exchange all the messages from within your inbox using Google Chat and start Meet video conferences with a single click of a button. Corporate versions of Outlook lets you quickly transfer conversation to Teams or Skype.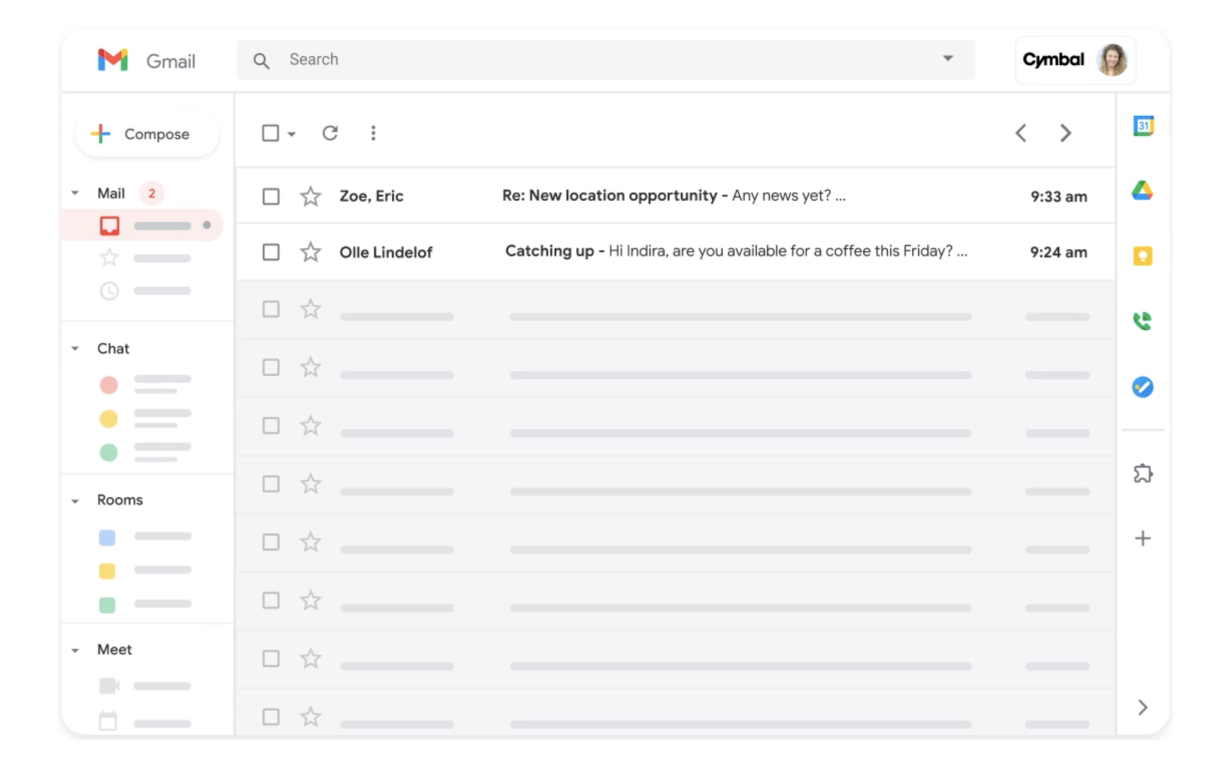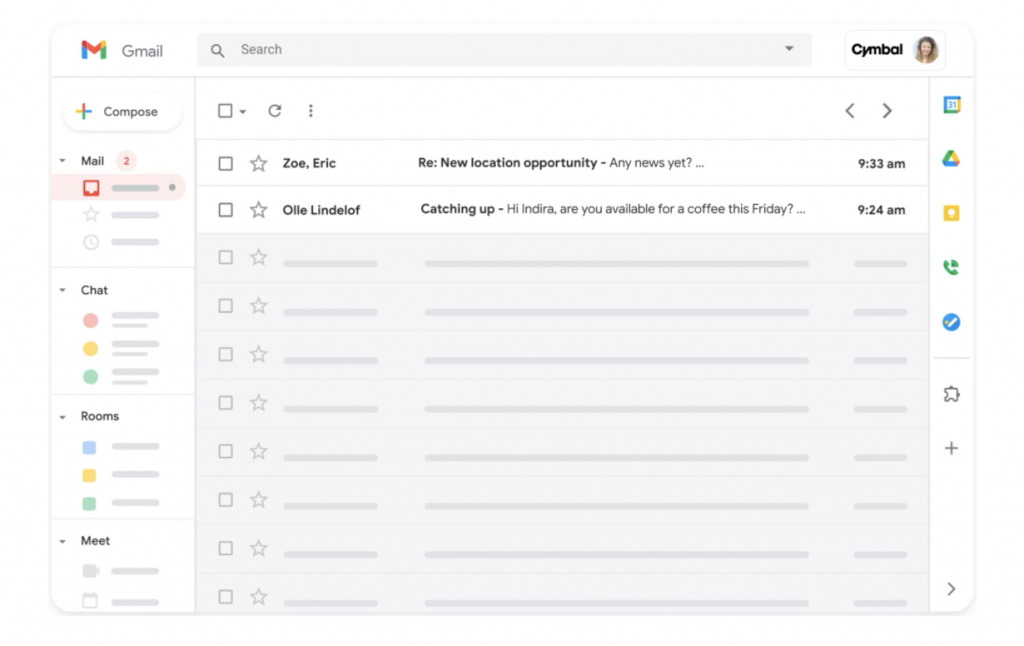 Calendar, notes and to-do lists
In addition to communication apps, both mailboxes offer users a whole set of tools to organise their daily work. Thanks to the calendar integration, you can view your daily schedule, set appointments, and use notes and to-do lists as a perfect way to make sure you don't miss anything important.
Business plans for Gmail and Outlook
People working in a corporate environment have higher requirements for email services and need professional email addresses for their business inquiries. Therefore, entrepreneurs should not rely on the limited free variants of an Outlook or Gmail account. The comprehensive Google Workspace and Microsoft 365 services were created to cater especially for businesses.
For more detailed price lists and other important factors to keep in mind when making a decision, you can also read the following:
Gmail and Outlook – storage for data
In terms of data storage, Gmail provides users with 15 GB of free storage space for their personal emails In terms of data storage, Gmail provides users with 15 GB of free storage space for their personal emails and attachments. If users need more storage, they can purchase additional storage or sign up for a Google Workspace (formerly known as G Suite) account, which provides additional storage like email and Google Photos, and other features for a fee.
Microsoft OneDrive Basic for free offers users a modest 5 GB, while also not allowing access to its applications. Private users who want to use the full power of Microsoft programs must purchase a license for home use. At the same time, Outlook also offers the option to purchase additional storage or sign up for a Microsoft 365 subscription for businesses, which provides additional storage and other features.
Gmail and Outlook prices – which one to choose?
There's a good chance you and your employees are familiar with either Workspace or Office 365 apps or even with both. While some features are available for personal accounts, they will not cover all of your company's needs.
Do you run an organisation that wants to make its presence felt online, convey professionalism, and at the same time work freely and securely online? Then you need Google Workspace or Office 365 in one of the business premium plans.
The costs of both services do not differ much, we have broken down the prices down below:
Microsoft 365 net price per user per month:
Microsoft 365 Business Basic – €5.10 / user / month with annual subscription;
Microsoft 365 Apps for business – €8.80 / user / month with annual subscription;
Microsoft 365 Business Standard – €10.50 user / month with annual subscription;
Microsoft 365 Business Premium – €18.60 user / month with annual subscription;
Google Workspace net price per user per month, according to FOTC's offer:
Google Workspace Business Starter – €4.68 user / month with annual subscription;
Google Workspace Business Standard – €9.36 user / month with annual subscription;
Google Workspace Business Plus – €15.6 user / month with annual subscription;
Three editions of Google Workspace Enterprise – you can request custom pricing for these plans.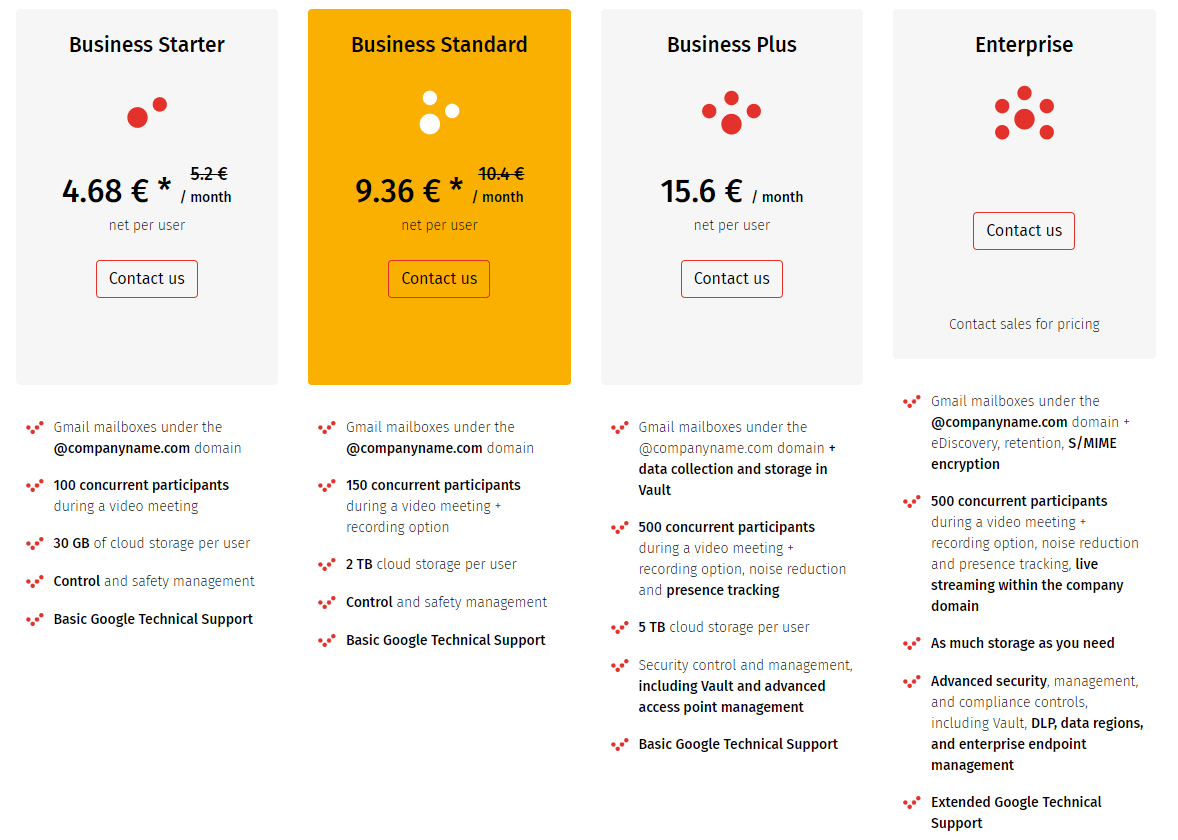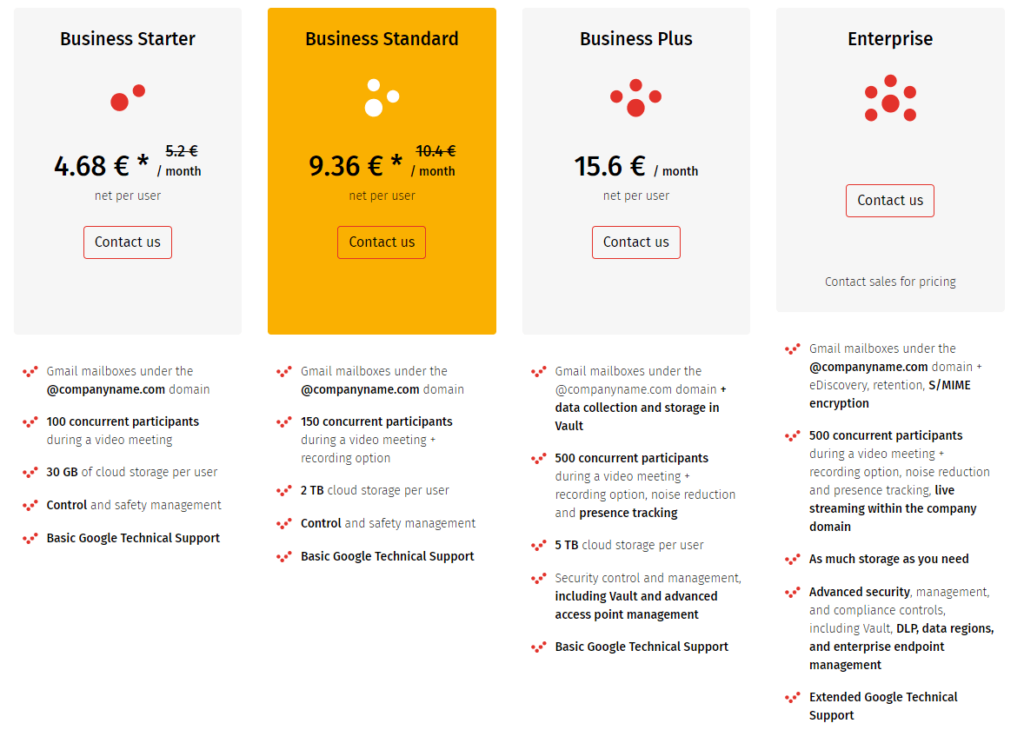 Overall, both Outlook and Gmail are solid choices for managing email and multiple email accounts. The best option for you will depend on your specific needs and preferences. If you are a heavy user of Microsoft Office tools and prefer a desktop-based email client, Outlook may be the better choice for your custom business email. On the other hand, if you need the flexibility to access your email from any device and your personal preference is a web-based service, Gmail may be the better option.
Interested in moving your team into the Google ecosystem and Gmail? Contact our team of engineers to find out how you can get the most out of this versatile office suite.