Microsoft Excel and Google Sheets are two of the most popular spreadsheet programs on the market. Both are powerful tools for data analysis, and are used by individuals and businesses around the world. They are similar in many ways, but there are also some key differences between the two programs. Cloud based versus desktop, collaboration or usability, find out more about the differences and similarities in this following Google Sheets vs Excel article.
Basic differences between Excel and Google sheets
Here are some basic Google Sheets vs Excel differences:
Platform: Google Sheets is a cloud-based spreadsheet program one can access from any computer or device with an internet connection. Excel is a desktop application that is installed on a specific computer.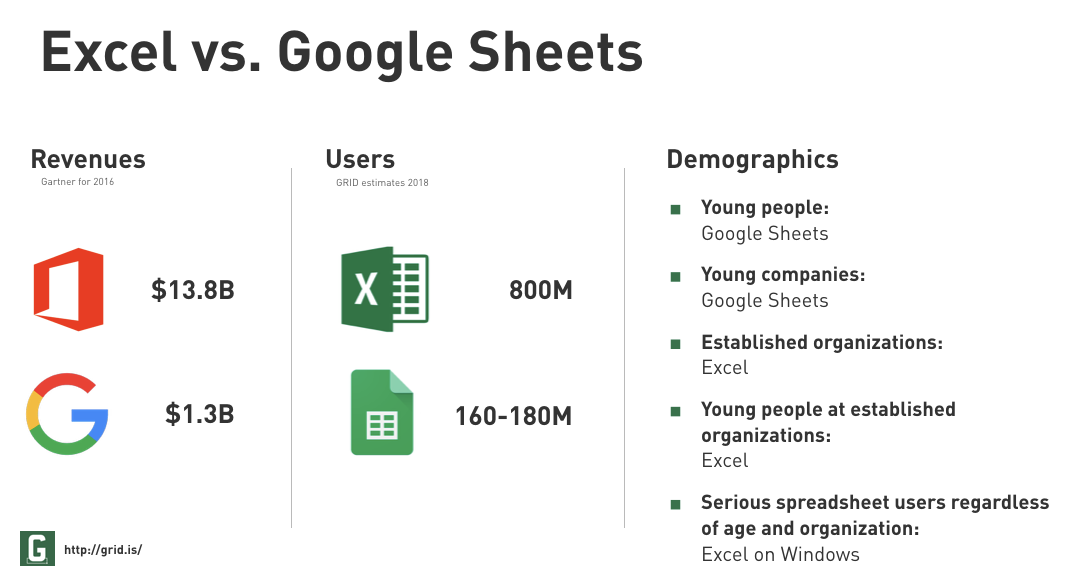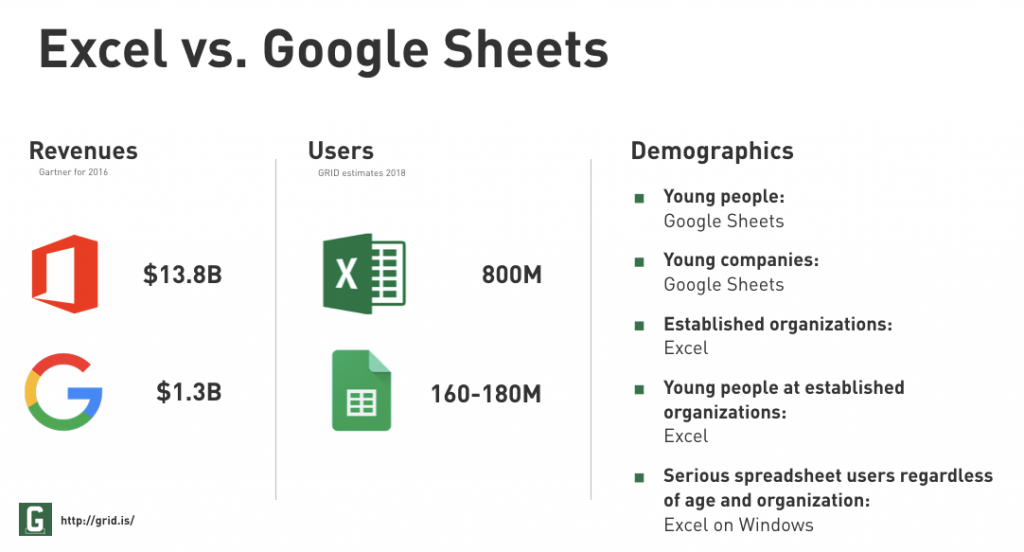 Costs: Google SheeGoogle Sheets is a spreadsheet program free to use for personal accounts. Microsoft Excel is a paid product that is part of the Microsoft Office suite. Google Sheets is also available in a Google business plan from the Google Workspace suite.
Collaboration: Google Sheets allows multiple users to access and edit the same spreadsheet at the same time. Excel does not have this capability unless you have a paid Office 365 subscription and use Excel Online.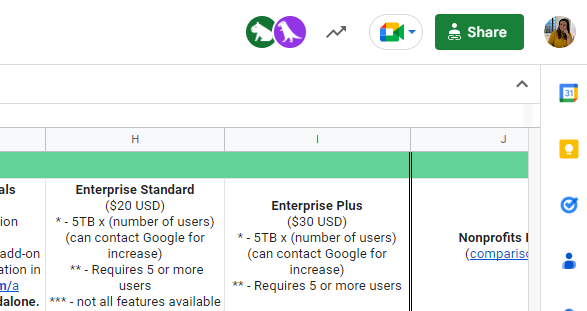 Advanced features: Excel has a wider range of advanced features and tools for analyzing and organising data, such as pivot tables and data filtering. Google Sheets has fewer advanced features, but still offers many of the basic tools and functions that are available in Excel.
File compatibility: Excel and Google Sheets are pretty much compatible and inclusive file format wise. Google Sheets can open and edit Excel files, but Excel cannot always open files created in Google Sheets without some formatting issues.
Google Sheets price vs Excel price
Neither Google Sheets nor Microsoft Excel for business purposes can be acquired separately. They are always part of a bigger office ecosystem of applications – Google Workspace and Microsoft 365. Each of these ecosystems are further split into more plans, developing both vertically and horizontally. The costs of both services do not differ much.
Microsoft 365 net prices per user per month:
Microsoft 365 Business Basic – €5.10 with a monthly commitment,
Microsoft 365 Business Standard – €10.50 with a monthly commitment,
Microsoft 365 Business Premium – €18.60 with a monthly commitment.
Google Workspace net prices per user per month:
Google Workspace Business Starter – €4.68 with a monthly commitment
Google Workspace Business Standard – €9.36 with a monthly commitment
Google Workspace Business Plus – €15.60 with a monthly commitment.
Google Workspace Enterprise – the two Enterprise variants are for companies that need more than 300 licences. Please get in touch with your local Google Cloud Partner for exact pricing.
Under certain conditions, you can get a 10% discount on Google Workspace licences with an annual commitment from the official Google Cloud Partner – FOTC.
Collaboration – Google Sheets vs. Excel
Moving past the limitations of Google Sheets vs Excel comparison, both are spreadsheets programs that help businesses collaborate altogether.
On one hand, Microsoft Excel used on Windows is an important spreadsheet program for individual work. It can however become difficult to use when working in a team. Who finds, in this time and age, time to save a file, attach, upload, download, correct it and then send it back with a desktop app?
Certainly not Google Sheets users – time resources were a priority for Google's data analysis for a long time. Convenient collaboration and sharing is one category where Google Sheets is always one step ahead of the competition. The creator of the file can keep under control the contributors' roles to view, comment, or edit the data. 
Along the way, every contributor can observe other participants' contribution to the file. Cells where someone is working will be easy to find, being highlighted with a coloured frame. Although changes are automatically saved, any possible error by another editor can be fixed with the help of the file's version history. The versions history function will also keep tabs of the changes made in a single selected cell. And these are just a few of the many options available in this application.
Real synergy in teamwork can be achieved when we look at Google office tools as a coherent ecosystem.
There are many examples of convenient integrations between Google applications, and each of them translates into time saved for all your employees. That's why it's so important to use all Google Workspace tools and features for your team's workload.
You can furthermore rely on the connection between Google Sheets and Google Apps Script. With Google scripting language, you can write code to manipulate data in Google Sheets, create custom formulas and functions, automate repetitive tasks, and much more. This allows you to enhance the functionality of Google Sheets and streamline your workflow.
FOTC grants an extended trial period so you can test Sheets, Google Drive and other Google apps for a full month free of charge.
Tools, features, and data analysis in Google Sheets vs Microsoft Excel
Despite these differences, there are also many similarities between Google Sheets and Excel. Both programs allow users to create and edit spreadsheets, perform calculations using formulas, and customise the appearance of their data with formatting options. They also both offer a wide range of functions and features for organising and analysing data, such as pivot tables, charts creation, and data filtering.
Here are some of the tools and features that are available in both applications:
Formulas: Both apps, Google Sheets and Excel, allow you to use formulas to perform calculations on data in your spreadsheet. Some of the most common formulas include SUM, AVERAGE, and IF.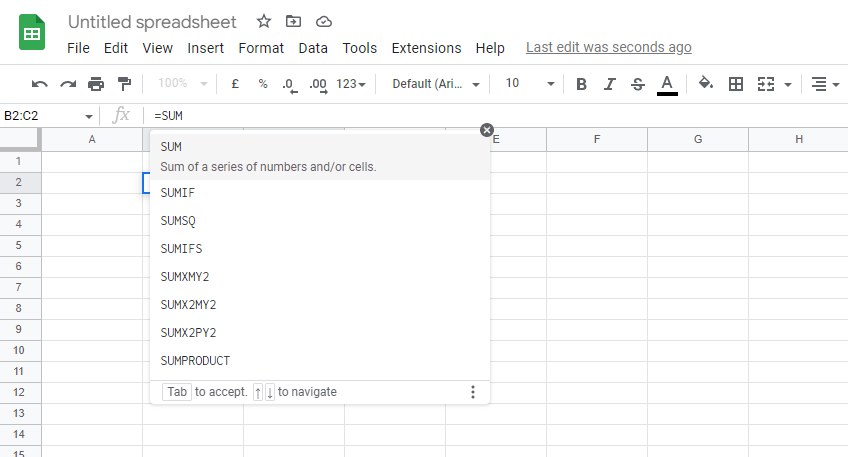 Cell formatting: You can format the appearance of cells in both applications, including the font, size, colour, and alignment.
Charts and graphs: Both Google Sheets and Excel have a variety of chart and graph types that you can use to visualise your data, including bar charts, line charts, and pie charts on a sheet.
Pivot tables: Pivot tables allow you to summarise and analyse data by rearranging it in different ways. Both Google Sheets and Excel have pivot table functionality.
Macros: Excel allows you to record and save a series of actions as a macro, which you can then play back to automate repetitive tasks. Google Sheets allows you as well to manually record macros that can work as shortcuts for repetitive tasks.
Read more about macros:
Add-ons: Google Sheets and Excel both have a wide range of add-ons and integrations that allow you to extend the functionality of the application and connect it to other tools and services.
You can also read:
Who should choose Microsoft Excel and who should choose Google Sheets?
There are a few key differences between Excel and Google Sheets that you might consider when deciding which program is best for you. We have gathered a series of work routines and necessities to help you decide.
Who should choose Google Sheets?
Google Sheets is a the choice for you and your business if:
You frequently collaborate on spreadsheets alongside other users;
Cloud sharing like Google Drive and real-time viewing of changes are important to you.
You want an easy-to-use program to save time spent on additional training for new hires.
You want to have better control over the retention of files generated by the team during work.
Most of your customers and business partners already use Google Sheets files.
Your organisation or school already uses business Gmail accounts and Google Spreadsheet as part of Google Workspace.
Who Should Opt for Microsoft Excel?
Microsoft Excel will likely meet all your expectations if:
You already have a lot of experience working with this Microsoft Excel sheet.
You are hiring people with similar application experience.
You work on statistical analysis with worksheets and databases with many cells.
You often work in spreadsheets without internet access, so you prefer to have the desktop app installed on your computer.
Most of your customers and business partners use Excel instead of a Google Sheets file.
Your company or school uses your work Outlook accounts in Microsoft 365 on a daily basis.
FOTC will help you conquer Google Sheets and the entire Workspace suite
Generally speaking, Sheets and Excel perform similar tasks, and there is no difference between the two programs for most users. If you work on the move, dynamically, and care about simplicity and speed, then a Google Sheet file will work better. 
No matter what solution you choose, remember that these programs work within a well integrated ecosystem. When deciding on either of these tools, you need to consider the convenience of using all the other elements of the Google Workspace or Microsoft 365 office suite.
If the scale tilts towards Google Sheets and Google Workspace, contact our team of cloud engineers to help you get the best offer for your deal. As a Premium Google Partner in the UK, we will offer you a discounted quote, while also helping all your employees learn all the Google productivity tools.
DOWNLOAD OUR EBOOK:
FAQ
Is Google Sheets better than Excel?
Google Sheets will better support collaboration, while Excel can help you if you're looking for more complex functions. Deciding between Excel and Google sheets will rely strictly on your company's needs.
Will Google Sheets replace Excel?
While it may not fully replace Excel, it is constantly encroaching on the Microsoft market share for spreadsheets. 
Are all Excel functions and Excel formulas available in Google Sheets?
While comparing Google Sheets vs Excel as spreadsheet tools, you will find almost the same data processing power with different advanced functions.
Do companies use Google Sheets or Excel?
The majority of companies use either Microsoft Excel or Google Sheets, which are both leading spreadsheet programs. Both tools will help you manage data, use formulas, and more.