Entrepreneurs at an early stage of their business development face a critical choice that will determine what tools will their team use for cooperation, communication, and data storage. Although there are many solutions on the market, the battle for customers in need of a subscription-based all-in-one cloud service takes place mainly between Microsoft and Google.
Why is this comparison necessary?
We usually avoid comparing Google and Microsoft productivity software suites because of (justified) allegations that a company with the title of Google Premier Partner cannot be objective.
However, we decided to take up this topic because of feedback from our customers. It turns out that although decision-makers in companies do not have problems with an independent assessment of the functionality of both services and the scope of applications that make them up, it is difficult for them to draw global conclusions.
That is why we decided to list the basic similarities and differences between services and present a generalised profile of organisations that have already decided. We hope that thanks to this, business owners who are still hesitating between Google Workspace and Microsoft 365 will make the decision best suited to their needs. 
Google Workspace vs Microsoft 365 – similarities
Google Workspace and Microsoft 365 are not opposites. There are thousands of in-app features that they share. Plus, they produce files with the same extensions (.doc, .xls, etc.), so they're compatible. You can open a Google Doc in Word and vice versa.
Subscription – both office productivity suites are services you can 'rent' for a specific period. Every licence you pay for allows access to an account for one user. Thanks to this Software as a Service (SaaS) model, you do not have to decide on a significant investment in advance. Business scaling is just a matter of buying more licences or upgrading the package.
Communication tools – both Microsoft 365 and Google Workspace provide a mailbox, video conferencing app, information exchange platform and group chat. Outlook with Teams and Gmail integrated with chat and Google Meet give similar possibilities in this respect.
Office software – features of the Google Workspace and Microsoft 365 applications overlap to a large extent. You can cooperate on files over the internet and share them with people outside our organisation in both services. However, Google was created as cloud-native software, while Microsoft still offers immortal classic programs – and this radically different approach to design generates discrepancy.
Security – both cloud services leave administrators maximum control over company data and security.
Google Workspace vs Office 365 – differences
Gmail and Outlook – the most significant difference between Microsoft and Google services is visible in the mailbox. Google integrated Gmail with all Google Workspace applications so that users can have emails, chats, documents, and video conferences simultaneously in one browser window. Thanks to this, you can keep your external and internal communication under control without switching tabs. Gmail is also known for its advanced search options. However, supporters of local email clients still prefer Microsoft Outlook over Gmail.
The functionality of office productivity software – although Google Workspace wins in the field of communication and optimization for online work, Microsoft programs still offer the most possibilities for editing files and performing complex operations in Excel spreadsheets.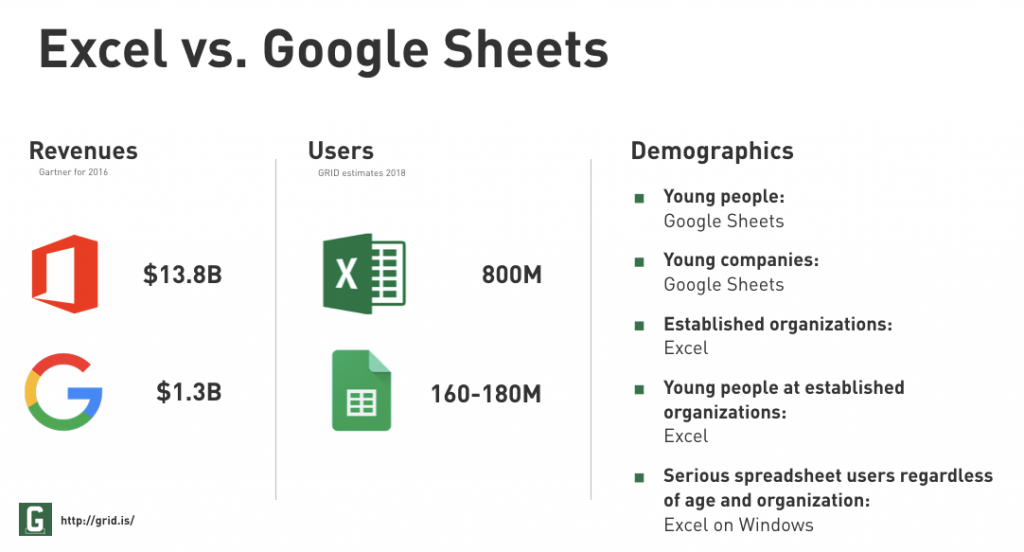 Cloud storage – Microsoft 365 gives users 1TB on OneDrive in any package, while in Google Workspace, the capacity depends on the service variant. Each account has 30 GB of space in the Business Starter package, the Business Standard edition offers 2 TB, and Business Plus 5 TB. When an organisation uses Enterprise edition, it can use as much space in Google Drive as it needs.
See also:
Google Workspace vs Microsoft 365 – which one is cheaper?
There is a chance that you and your employees have already used Google and Microsoft applications, as these services offer free variants for individual users who set up a Gmail or Microsoft account.
Private variants offer the same applications and functions but do not provide several critical business solutions:
Custom domain in the email,

Ample cloud storage space,

Accounts and devices management options,

Integration with other business tools.
If you run an organisation that wants to clearly mark its presence on the Internet, look professional in the eyes of customers, and at the same time freely work online, then you need Google Workspace or Microsoft 365. The costs of both services do not differ much.
Microsoft 365 net prices per user per month:
Microsoft 365 Business Basic –

€4.20 with an annual commitment

Microsoft 365 Business Standard –

€10.50 with an annual commitment / €12.60 with a monthly commitment

Microsoft 365 Business Premium – €16.90 with an annual commitment
Google Workspace net prices per user per month:
Google Workspace Business Starter – €4.68 with a monthly commitment
Google Workspace Business Standard – €9.36 with a monthly commitment
Google Workspace Business Plus – €15.60 with a monthly commitment.
Google Workspace Enterprise – the two Enterprise variants are for companies that need more than 300 licenses. Please get in touch with your local Google Cloud Partner for exact pricing.
Under certain conditions, you can get a 10% discount on Google Workspace licences with an annual commitment from the official Google Cloud Partner – FOTC.
How to make a decision?
The service cost should not be the only factor that influences the decision of a responsible business owner. What else should be considered?
Workstyle in an organisation – do you focus on the mobility and versatility of tools, or more on the advanced functionality of local solutions? For a more static and traditional office work mode, Microsoft 365 will do better, while flexible teams should choose Google Workspace.
Team preferences and habits – some employees from Generation X have many years of studying and working in local Microsoft Office programs behind them. In contrast, Millennials and their successors are accustomed to Gmail and thrive in online collaboration in web applications. If your team is large and diverse, it is best to resolve key tool changes during a collective discussion followed by voting.
Suggestions from future system administrators – convenience depends not only on the features of the applications themselves but also on the console panel for managing security, accounts, integration, and data archiving. Only administrators will have access to these options, so it is essential to consult this decision with them and discuss each option.
When should you choose a compromise?
If each department in your company has a different work style and specific needs, you can consider one more solution – providing employees with Google Workspace and Microsoft 365 simultaneously.
Both Microsoft 365 and Google Workspace services are based on a monthly subscription fee for each user account. Combining these services in one organisation is not a problem. Some companies offer both suites to entire departments, and others buy licences for individual employees.
For example, if a company consists of the IT, HR, Accounting, Marketing, Purchasing, Sales, and Customer Service departments, the division could be:
Marketing, Sales, Customer Service, and IT are departments that work very dynamically and use many external tools for analytics, communications, and promotional activities. Therefore, in their case, Google Workspace office software would be better suited – due to a large number of integrations, fast inbox searching, and simple web applications.
On the other hand, employees from Accounting, Purchasing, and Human Resources operate on large databases and have a more individual work style. Because of this, it might be better for them to use the extended functionality of the Microsoft 365 application.
Advantages of a mixed solution:
You can test both solutions and collect feedback from the team before making the final decision.

Every employee has access to tools they know, like, and prefer.

Documents from Google and Microsoft 365 applications are compatible, so the multitude of file formats will not interfere with the flow of information.
Disadvantages of a mixed solution:
Two consoles for account management and security

–

double effort for administrators.

There is no unified contact channel throughout the company.

Complicated cost optimisation.
If you choose Google Workspace or a mix of Google and Microsoft 365 licenses for your business, contact FOTC to get the best possible offer, technical support, and training.