OneDrive and Google Drive are both very popular cloud storage services to store and access files without location restrictions. With both Microsoft and Google services, you can get a certain amount of cloud storage space for free, while also purchasing additional storage if needed. So what makes one better than the other and what are some of the differences between these two competing manufacturers? Here is a full comparison of the two most popular virtual file storage OneDrive vs Google Drive for business users.
OneDrive and Google Drive – at a glance
OneDrive and Google Drive are both cloud storage services that allow users to store and access their files from any device with an internet connection. This means that users can access their files from their computers, smartphones, tablets, and other devices. At the same time, the users can also use OneDrive and Google Drive to share files with other users.
They are at the same time one developed by two competing companies in an estimated three billion users market. OneDrive is a Microsoft product, integrating the company's other services such as Office 365 and Outlook. This means that users who have a Microsoft account and are using Office 365 can easily access their OneDrive storage and files from within the Office 365 apps. OneDrive also offers integration with Windows, so users can access their OneDrive files from the Windows file explorer.
Google Drive, on the other hand, is developed by Google and is integrated with the company's other services such as Google Docs, Sheets, and Slides. This means that users can easily create and edit documents, spreadsheets, and presentations using Google Drive. Google Drive also offers integration with other Google services such as Gmail and Google Calendar.
Both services offer a certain amount of storage space for free, but users can purchase additional storage if they need more space. OneDrive offers a basic plan with 5GB of storage for free, while Google Drive offers a basic plan with 15GB of storage for free. Both services also offer paid plans with more storage space and additional features such as enhanced security and collaboration tools. In Google's case, this suite that encapsulates all these productivity features is called Google Workspace.
Differences between Google Drive vs OneDrive – limits
To decide which is best for you, you may need to consider their differences. You will find below a quick comparison of the platforms, storage options and security for the both.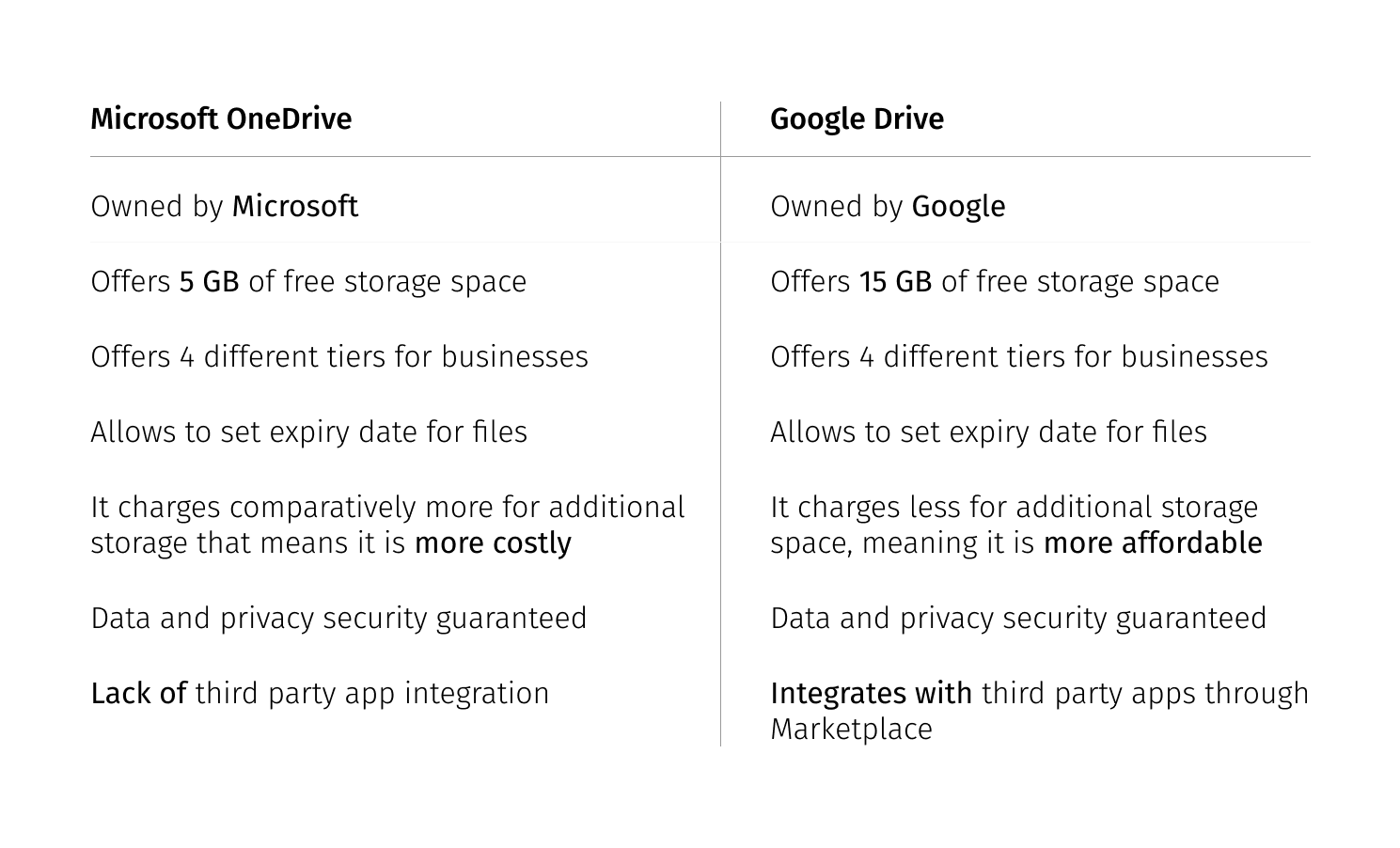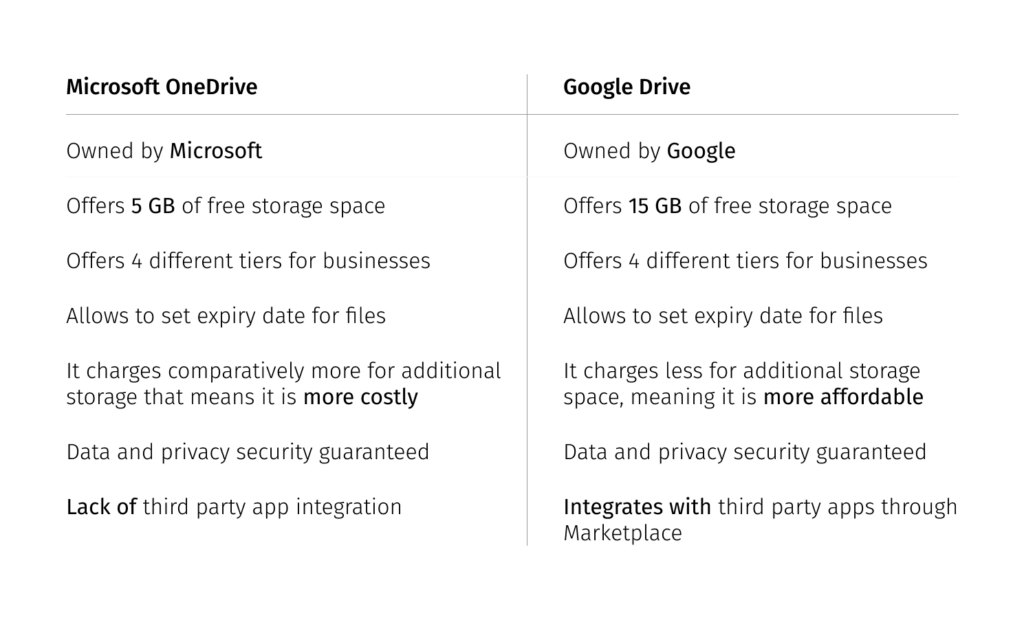 Ownership: OneDrive is a Microsoft service, while Google Drive is a Google one.
Platforms: OneDrive is primarily intended for Microsoft users, as it integrates seamlessly with other Microsoft services like Office 365 and Windows 10. Google Drive is available on a wider range of platforms, including Android and iOS.
File formats: OneDrive can open and edit a wider range of file formats, including Word, Excel, and PowerPoint documents, as well as PDFs. Google Drive can also open and edit a wide range of file formats, including Google Docs, Sheets, and Slides, which are similar to Microsoft Office applications.
Storage: OneDrive offers a variety of storage plans, including a free plan that provides 5 GB of storage. Google Drive also offers a free plan that provides 15 GB of storage. For unlimited storage on behalf of Google Cloud storage service, you can opt for a business edition of Google Workspace ecosystem – especially Google Workspace Enterprise editions.
Collaboration: Both offer collaboration features that allow multiple users to work on the same document at the same time.
Security: Both OneDrive and Google Drive offer robust security measures, including data encryption and multi-factor authentication.
Speed – OneDrive vs. Google Drive
If we are talking about OneDrive vs Google Drive speed, we have to consider that this may vary depending on a number of factors. When talking about speed for cloud storage, customers should think about Internet connection and the size and type of the transferred files.
As a rule of thumb for file sharing, both Google Drive and OneDrive are able to transfer small and medium-sized files quickly. OneDrive utilises a technology called "block-level copying" that recognizes and reuploads only the edits made since the last sync rather than reuploading an entire copy of every file. Syncing local files with Google Drive may be unnecessary, since many Google Drive users prefer to use cloud-based platforms like Docs, Slides, and Sheets instead.
Another factor that has to be taken into account when speaking about speed is the location of the servers. One big advantage of Google Drive are Google's servers, located in data centres around the world. This is going to help and improve the upload and download speed for Google files. By comparison, OneDrive's servers are primarily located in the United States, so users outside of the US may experience slower transfer speeds.
All in all, the difference in speed between the two services is likely to be minimal. This means that most users will be able to transfer files at a reasonable speed.
How much do these cloud storage providers cost?
In terms of OneDrive vs Google Drive pricing, OneDrive offers a basic plan with 5GB free storage space, with paid plans starting at $2 per month for 100GB of storage. Google Drive offers a basic plan with 15GB of storage for free, and paid plans starting at $2 per month for 100GB of storage.
Neither of the services are not independent products. Both services offer higher-priced plans with more storage space and additional features as part of a bigger cloud ecosystem. The ability to meet all the needs of the average office worker is a feature that distinguishes all-in-one clouds from competitors such as Dropbox or iCloud from Apple.
Google Drive with Gmail for Business accounts is available in six variants of Google Workspace services. There are three subscription plans intended for small and medium-sized companies (up to 300 employees).
Google Workspace – Pricing
Google Workspace Business Starter – €6 per month for a license – each account has 30 GB of Google Drive space available.
Google Workspace Business Standard – €12 per month per license – 2 TB of cloud space per user.
Google Workspace Business Plus – €18 per month per license – 5 TB of cloud space per user.
Large enterprises can choose from three Google Workspace Enterprise options, each offering unlimited storage and cloud space. If you need support in finding the best storage platform or other cloud storage services for your business, contact our team of cloud experts at FOTC.
Microsoft 365 for businesses – pricing
Microsoft 365 Business Basic – €5.10 with a monthly commitment,
Microsoft 365 Business Standard – €10.50 with a monthly commitment,
Microsoft 365 Business Premium – €18.60 with a monthly commitment.
Regardless of the accessed package, each user has 1TB of space on Microsoft OneDrive.
Sharing and syncing files in OneDrive and Google Drive
Both OneDrive and Google Drive are user-friendly and offer a range of features that make it easy to store, access, and share files on both desktop and mobile apps. Some of the key features of OneDrive include the ability to access a file or a folder offline, password-protected sharing, and automatic backup of photos and videos. On the other hand, Google Drive's best features include the ability to share files and folders with other users, real-time collaboration on documents, and the functionality of searching for files using keywords.
Both services provide two basic options for sharing files with external parties and third party apps – via a link or a direct invitation sent to an email address. It's worth remembering that permissions set for links will be available to anyone who clicks on them, so be careful.
There are three web permission levels in the free Google Drive: to edit, comment, or just view. Google Workspace users also have the option of advanced sharing settings for the domain.
Google Drive – permissions for users within the company's domain: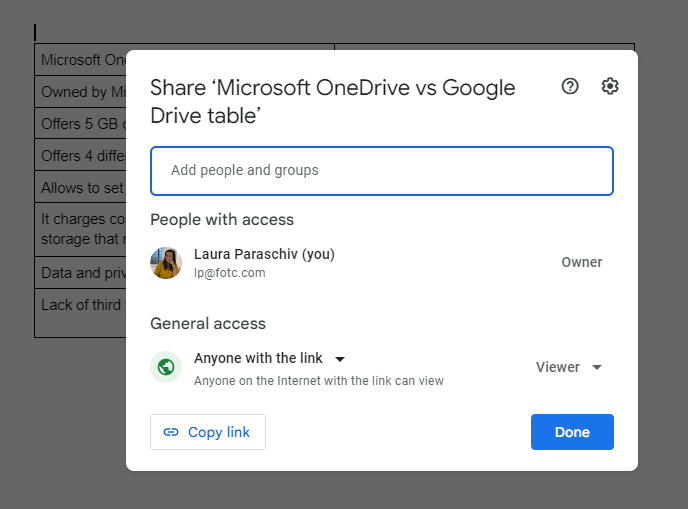 Paid variants of the services of both manufacturers also allow you to set a password and an expiration date for file permissions. The advantage of file sharing with Microsoft OneDrive over Google Drive lies in one function – the ability to view all folders and files that can be viewed by users outside of the organisation in the "Shared" tab.
Which is better for businesses and which is better for personal use?
Like most cloud products, Microsoft and Google drives provide some of their capabilities free of charge to private individuals who set up email accounts on their websites. If you only use the cloud storage option to store a backup, a few photos and documents, then the free personal alternative will definitely be sufficient.
Microsoft OneDrive Basic for free offers users a modest 5 GB, while also not allowing access to its applications. Private users who want to use the full power of Microsoft programs must purchase a license for home use.
If you do sign up for a free Gmail account, you will also get online and offline access to 15GB of storage on Google Drive cloud storage app and all the other office applications, including Google Photos.
In terms of free services that cater to individual users, it's not hard to pick a winner. Google Drive offers three times more space and more additional possibilities than Microsoft OneDrive. If your needs surpass any of these offerings, you can get an upgrade to one of the paid business plans and get unlimited cloud storage, cloud backup, file sync on all deskop and mobile devices, and more.
OneDrive or Google Drive – which cloud drive to choose?
Overall, both OneDrive and Google Drive offer a wide range of features and security measures to help users store, access, and share their files. In the end, Google and Microsoft cloud storage services differ only in small details. The final decision on what will be better for your business should take into account three main factors:
The disk capacity offered in the package you plan to choose.
Current employee habits.
Office applications preferences – dynamic Google applications or classic solutions known from Office suites.
If you're still having trouble making a decision over the right cloud storage service, then make an appointment for a free consultation with a specialist to implement cloud solutions with FOTC.