Working remotely is not a new concept, but it has recently gained a lot of traction. With recent economic and social changes around the world, many companies are reassessing the value of work from home. Yet due to the sudden shift to remote work, many of these businesses have been scrambling to establish security protocols and policies.
Cyberattacks and data breaches are becoming more prevalent as companies move to long-term remote work arrangements. Do you want to know how to secure remote work? Or what measures to implement for your employees' work routine for the foreseeable future? In the following piece, you will find security tips for ensuring your company's safety when working remotely.
Why is secure remote work so important?
As flexible home and remote working become more common, businesses need remote access to tools and data. Businesses that previously never took into account remote work for their employees are now looking to ensure secure systems and workflows from afar.
Until recently, employees have traditionally accessed their corporate tools from inside the corporate network. Yet now companies need to extend security to homes or other work environments so that employees can safely access work data and files. Failing to guarantee corporate security for remote employees can result in data breaches, either unintentionally or maliciously.
At FOTC, by working with a safe infrastructure like Google Workspace, we support companies needing to adapt to effectively secure their remote workforce.
Stay safe when working from home – cybersecurity threats
Remote workers are typically the first people to face security threats. Their new remote work environment can expose them to the risk of a data breach or other cyber attacks, making at the same time a lot more potential attack surface that the company must protect.
Aside from that, cybercriminals are now exploiting vulnerabilities in the infrastructure that facilitates remote work by exploiting the shift to remote work environments. Employees are now exposed to new kinds of cyberattacks by not being protected in these enclaves that their management built in the last decades for their safety.
Let's go over a list of the most common cybersecurity threats, specifically for employees working from home:
Weak Password Management. Securing strong passwords seems like an obvious thing to do. Yet one of the main cyber security risks associated with remote working is password management.
Read more about establishing a strong password and more Google security tips:
Google Security – How to increase the security of your Google account?
Expanded attack surfaces. The business has to identify and protect more users, devices, and networks. By increasing the number of users working remotely, every security department has to stretch itself thin to cover and secure each endpoint.
Vulnerability to phishing attacks. The risks of clicking a wrongful link or a message increase once again with remote workers. By working away from the office,, the users are more dependent on email and are paying less attention to suspicious requests.
Poor data practices. Each device used for work from home gets exposed to downloading sensitive information. By not using a good encryption software, this data can be vulnerable to being shared on unsecured networks, channels, emails or files.
Unsecure devices. By not equipping the employee with a secure work computer or laptop, sensitive data is once again exposed to being compromised. Keeping work and personal devices separate and not sharing them with family is best practice for employees.
File sharing. File-sharing services can be commonly used by remote workers to share documents and files. Corporate networks generally encrypt these files when they are stored. Yet employees might not always choose the corporate network for these files and leave data vulnerable being intercepted or leaked by hackers.
With Google Workspace, you can build a strategy to protect your company against all these remote working cyber risks. With Google's inbuilt security and Workspace as an integrated platform of applications, you can limit these risks and have a comprehensive strategy in place.
Want to read more on the subject of remote working tools suites? Download this in-depth breakdown of the Google Workspace and Microsoft 365 ecosystems. You'll learn not only the critical differences between these suits, but also other practices to adapt them to your team's style of work.
Tips for safe remote work: Antivirus, VPN, and a secure Wi-Fi network
You must understand that each one of your employees often stores confidential information or critical data to the proper functioning of your business. Fortunately, Google Workspace provides administrators with many practical tools to prevent attacks and data leaks.
At the same time, you need to ensure remote worker security. Make your users aware not only of the risks, but also of some security best practices. For example, everyone in your organisation should know to use an antivirus, company's VPN or navigate Internet on a secure Wi-Fi.
Use antivirus software
White it is important to give your remote team freedom and flexibility to access files and data from any device and any location, maintaining security in the cloud is just as important.
Make sure that every work device has an effective antivirus system installed. Such a software can help organisations avoid ransomware attacks, malware, trojans, spyware, and DDoS attacks. If you are a business owner or a manager, investing in a comprehensive antivirus tool will help you manage all the latest emerging threats.
If you decide to get a Workspace business subscription, you will also benefit from Gmail's filtering capabilities and advanced security. Gmail is blocking over 99.9% of spam, phishing, and malware from ever reaching users' Inboxes.
Read also: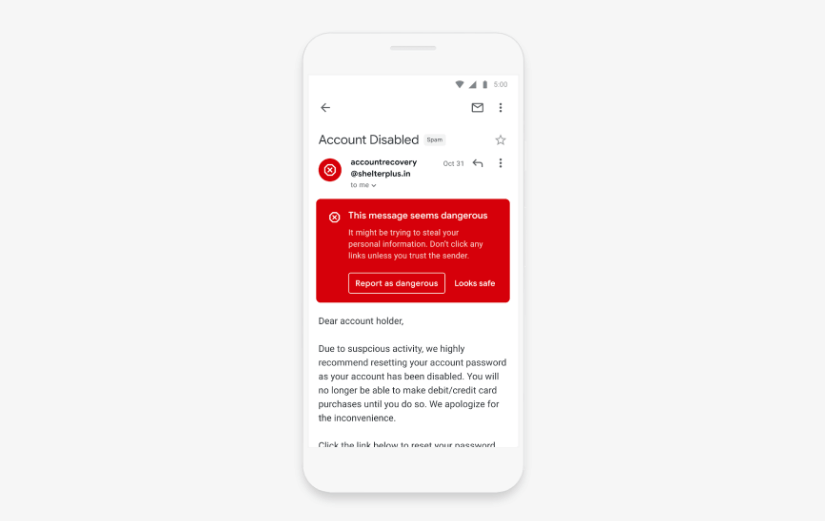 VPN for remote workforce
Using a reputable business VPN will allow your employees to connect and access company resources, while also mitigating many cyber risks. After all, VPNs are a necessity for everyone using the Internet.
A VPN provides encrypted connections into your company's resources, preventing your users from using unsecure network connections. Therefore, your remote working employees can use resources in the same manner as if they were connected directly to the office network.
Providing a VPN for your company will allow your employees to keep mobile, working from home or a coffee shop without worrying about the security of their work or accessed data.
Secure Wi-Fi for safe remote work
Have you ever thought of Wi-Fi connection as a real risk of being vulnerable to hackers? Today's hybrid work-from-home scenario demands to look at Wi-Fi access as part of the security ecosystem.
Hackers or other people can easily access or steal Wi-Fi credentials and make your employee connect to an unsecure network. This way, hackers can access your corporate data and wreak havoc. This, combined with the last point concerning VPNs, should make you understand the importance of providing an effective and secure way for your hybrid and remote employees to stay connected from wherever they work.
You might also want to read:
How to stay safe during a video call?
One of the best practices for working remotely teams is to use video conferencing tools and real-time chats for communication. Yet, security standards also apply to these video calling mediums. Does the service use end-to-end encryption, multi-factor authentication, does it share data with third parties – these are some of the things you should check before engaging on one platform.
We have collected a series of video call security tips to keep your work calls risk free:
Use only authenticated apps. Whether you download or use browser apps for your business video calls, make sure you use only genuine and authenticated apps. Stay away from any applications that ask to send advertisements or enable information sharing with third parties. Also, make sure you don't allow any of these applications to access your contacts.
Search for encrypted video conferencing tools. With Google Meet, your meeting's information is encrypted in transit and it's being kept in data centres. This way, whichever information you communicate can only be seen by the users involved, not even the app itself.
Use apps that protect the users through unique links, passwords or multi factor authentication. Choose applications that have privacy capabilities such as authorising each member joining a call. Some apps also have extra access protection like unique links or PIN numbers. Google Meet limits the participants joining a meeting with more than 15 minutes in advance, allows only invited users to join without requesting so, while also allowing only the organiser / host to access security controls or admitting outside of the meeting participants.
Protect your privacy during meetings. You should always check your camera and microphone settings before joining a meeting. Find out if the host is recording the meeting, to best avoid sharing private information or operations via video calls.
How to archive secure remote work?
Whether your team is working remote or not, you might be interested in archiving the amounts of data that are not needed for immediate work. Archiving might be useful in more than one case, going from data leaks or cybersecurity attacks.
For continuity management and extra protection benefits, each and every one of your company's endpoints should be synchronised in the cloud. This way, you are always ready to export an archived version of all the data it keeps.
Google Takeout is one of these services that can take all your existing data and compile it into a single file that can be later downloaded. This way, your team will not free up space on their working devices, but also create redundant archives of important data to be stored on other cloud services. In time, your business backups will only get heftier, so consider a complete Google Workspace backup solution to keep your critical data secure and quickly restored in case of any cyber incident.
You might also want to read:
Secure remote work – how to encrypt confidential information
In the new normal of working from home, data security is one of the leading topics of conversation. In simple terms, most home or public connections are not as safe or secure as a company's encrypted network.
As already mentioned before, a Virtual Private Network (VPN) is establishing a secure connection between the office network and the remote employees. More specifically, data passing through a VPN is encrypted, and it cannot be caught by third parties.
If you want to ensure that sensitive documents are kept safe, you can create a clear policy on encrypting, storing and sending confidential documents. With Google Workspace, your company will use the latest cryptographic standards to encrypt all data at rest and in transit. To strengthen that, Google launched Google Workspace Client-side encryption to help customers strengthen the confidentiality of their data while addressing a broad range of data sovereignty.
By using Client-side encryption in your organisation for sensitive or regulated data – you can meet data sovereignty requirements and compliance requirements for ITAR, CJIS, TISAX, IRS 1075 and EAR.
You can also use other encryption methods, especially encryption for the email. Encryption disguises content, so that only the recipient can see the sensitive information from a conversation. Google uses encryption in transit for emails, a huge step forward for security and privacy. But do keep in mind that the email is not only vulnerable in transit, but also at delivery. That is why you need to ensure that also no unauthorised users will be able to access your correspondence when reaching your computer.
Another encryption method that you should be aware of is password management. A password management system that encrypts passwords can simplify password sharing among team members. This way, passwords can get shared without any other user actually seeing the password.
Why do you need a backup strategy when working remotely?
Remote workers often have problems syncing and storing business-critical information to their organisation servers. They seem to rely a lot on their laptops or mobile devices, forgetting to sync up data on the servers. That is why you need to set in place a proper backup and recovery strategy to ensure the business continuity in case of disasters.
How to protect the data your employees manage?
A reliable backup system can be implemented by every business to automatically back up data to their file servers. With the help of a secure system like Google Workspace and the help of a team of certified engineers, FOTC can help you set up a backup plan in response to major interruptions.
What backup solutions can you use when working remotely?
Having a cloud environment set up in place can help all your employees work constantly being uploaded and synced to the cloud. Even more, using Chrome OS devices like Chromebooks can help you have an even better secured Google setup. Therefore, all your business data on the remote laptops or devices will be migrated automatically on the cloud server. As a result, data will not be lost, and file servers will be updated automatically when a file is changed by a remote worker.
What should you do when threats appear?
With remote working fast becoming the new norm for millions of people, work security threats also are becoming a commonplace. If you find yourself face to face with a security threat, what can you do to mitigate it?
Firstly, as managers, make sure to periodically keep your employees updated about cyber risks. Ocasionally test their knowledge with impromptu challenges. At the same time, organise webinars and in person training for them. This way, they can be aware of the new challenges coming their way through their work environment.
As an employee faced with one of these challenges, remember to firstly notify your IT security team immediately and disconnect your device from the work network until further notice. Follow the established steps for each of the security risks.
In spite of the many benefits of remote work, employers and employees will many challenges when it comes to implementing it. Using the right software can increase your team's security and productivity and improve your own.
Learn more about how implementing a secure, and compliant platform like Google Workspace can strengthen and secure your organisation's work processes with FOTC. Our cloud trained engineers will help leaders in all types of organisations develop policies and procedures to keep their employees safe and secure with Google's built-in security.