As email is one of the most important channels of contact in the business environment, any obstruction in delivering messages can slow down your pursuit of daily objectives. If you've ever found yourself in a situation when a client swears he didn't receive an important email you remember sending, then you know how frustrating it can be. 
What could happen to the email on its way through the network? Well, it might be the case that protective algorithms of the recipient's inbox intercepted your message. If an email ends up in the spam folder, the client is never notified, so it skips their attention. According to Validity's report called '2020 Deliverability Benchmark –analysis of worldwide inbox and spam placement rates', 4% of all emails in the UK met this fate in 2019, while around 10% went missing, never to be seen again.


Fortunately, you're not entirely at the mercy of algorithms – there are things that you can do to improve email delivery. Some preventive steps can be taken by you as a mailbox user, and others depend on the email service settings of your organisation's entire domain. As with every technical issue, proper diagnosis is the key to finding a solution. Let's look at the possible reasons why your emails go to spam. 
9 common reasons why your emails go to spam
We've prepared a list of typical issues that can make your emails look suspicious to the algorithms that guard receivers' mailboxes. Whether you're sending a direct message or a bulk email newsletter, try to avoid all the mistakes from the list to boost your chances of achieving a high open and response rate.  
1. Grammar, punctuation, wording, and emoji issues
Spammers are not known for their attention to linguistic and grammatical correctness. Many use automatic translations to English to speed up their efforts or include emotionally-charged writing styles and punctuation patterns to create a sense of urgency. Spam filters are keen to catch sloppy writing, so to drive their attention away from your emails, avoid using these phrases and tactics:
WRITING IN ALL CAPS;
brightly coloured text;
excessive number of emojis;
Using spam-related promises, like 'bonus cash', 'double your income', 'get out of debt', 'pure profit', 'once in a lifetime offer'. 'lose weight quick', 'meet hot singles' etc.;
Trigger phrases that create pressure to take action, for example, 'collect your reward', 'you have been selected', 'important information regarding your account', 'sign up now';
many exclamations!!!1!! Multiple question marks??? and ellipses… 
poor grammar and many spelling errors.
How to improve the linguistic correctness of your emails? 
Be aware of phrases that might sound sketchy, and don't include more than one call to action. Gmail checks your spelling and underlines mistakes as you write, so it's easy to avoid common errors. If you want to polish your writing more, use Grammarly or Language Tool – even free versions of these handy grammar checkers can provide tips on making your emails sound more professional. 
2. Too high image-to-text ratio
Are you tempted to include many screen captures or a large image with an attractive sales offer in your email? Although graphic elements can make the critical information in your email pop up, sadly, they can also make the whole message disappear into a spam folder. 
The reason for this lies in the long-lasting arms race between spammers and algorithms. When mailbox filters started to be sensitive to spam-related words and grammar issues, senders of unsolicited offers started to use workarounds, one of which was putting the contents of messages on an image. Advanced email services, like business Gmail in Google Workspace, are now equipped with optical character recognition (OCR), so tricks like that are pointless. If you're an admin of Google Workspace Enterprise accounts, you can even employ this technology in Data Loss Prevention policies to stop sensitive information from being sent outside the organisation as images.
How can you avoid this mistake? 
Never use images as a replacement for text in your emails. If it is necessary to include images in a message, ensure they are balanced with sufficient text description so that antispam algorithms won't find your message fishy.
3. Too many attachments or sending .exe files
Attachments in spam emails are often used to distribute malicious software, so antispam filters are especially wary of them. Try to limit the number of files you attach to emails sent outside your organisation. Gmail's limit on combined attachments weight is 25 MB. Executive files (.exe) are especially hazardous, so Gmail doesn't allow sending them as attachments at all. 
What to do if you need to send an executive file or many attachments at once in Gmail? 
The safest, most convenient, and least suspicious way to send attachment files is through Google Drive. It allows you to bypass file weight limits and even send .exe files.
First, upload the files to your Google Drive. Then compose a message in Gmail and click the drive icon on the bottom bar.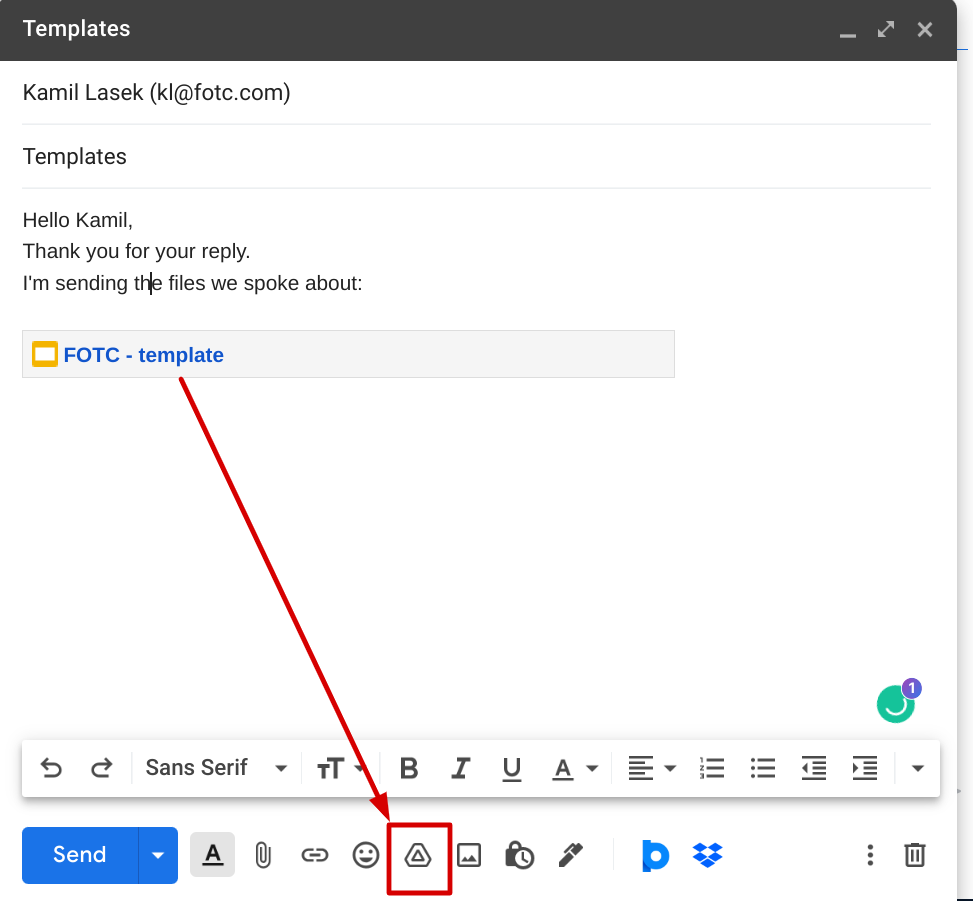 Look up the file's name and mark it, choose 'drive link' on the bottom right, and click the blue 'insert' button.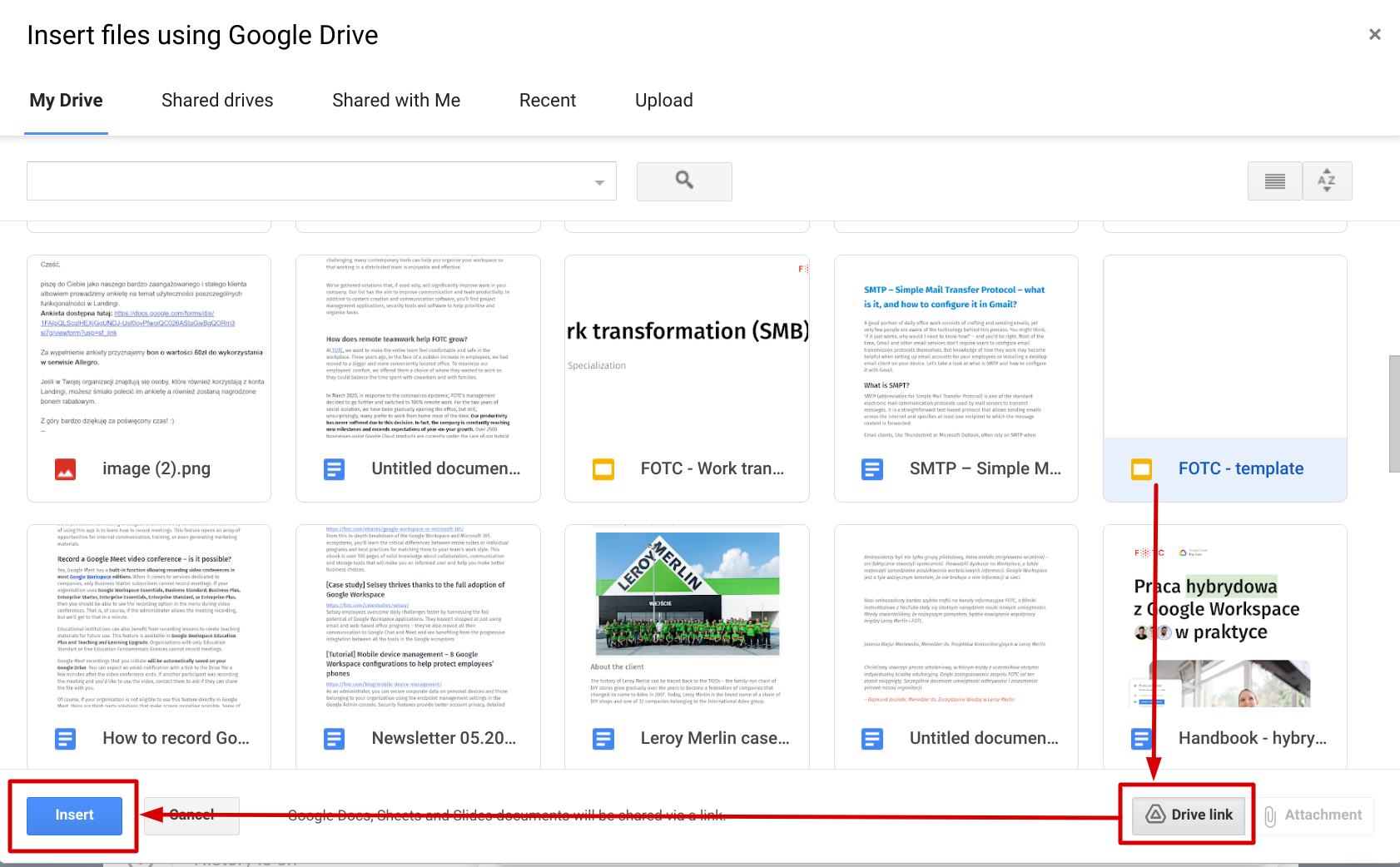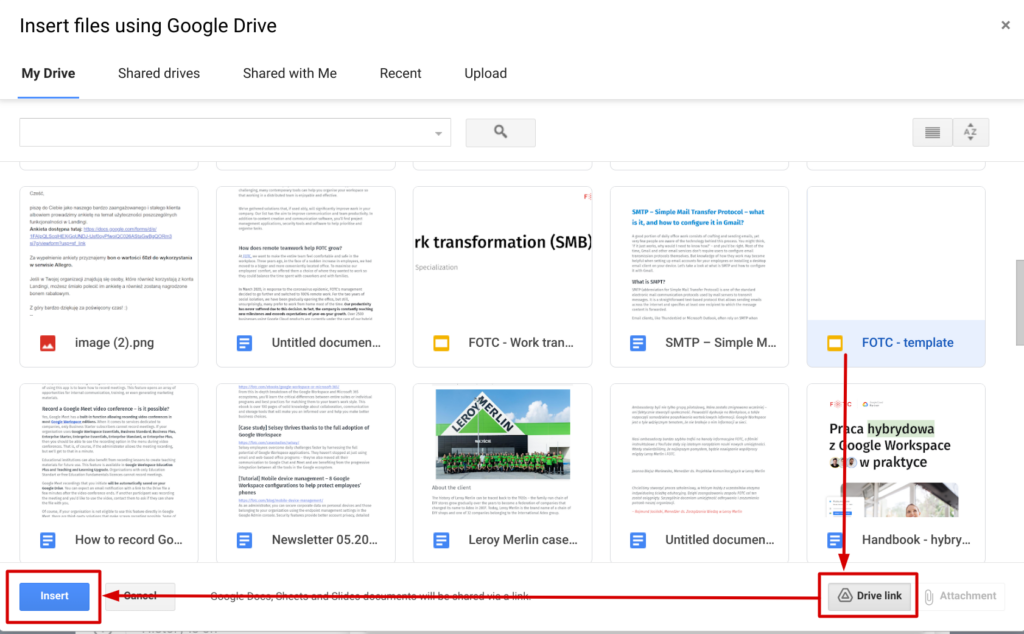 4. Misleading links
Linking to domains associated with spam and malware is an obvious red flag for antispam filters. Still, even if you're using a link to a legitimate website, some techniques that we all sometimes employ for convenience can make it look unintentionally suspicious:
Using a link shortener that hides a lengthy address;
Anchoring link on a text suggesting a different domain, for example, writing yourcompany.com and linking it to landingpage.yourcompany.co.uk;
Including links or buttons that initiate multiple redirections.
How to avoid it? 
Keep in mind that neither users nor algorithms like to be surprised after following a link in an email message. Try to make links as transparent as possible and don't use shortening techniques – especially when sending bulk emails or the first message to a new person from outside your organisation.
5. Deceptive subject lines
The subject line heavily influences the open rate of your emails as it is the first thing that catches a receiver's attention. Usually, there's no harm in crafting a clever line to pique interest in the email's content. However, it's easy to overdo it if you're coming up with subjects that have nothing to do with the actual subject of the message – as spammers often do. 
Examples of misleading techniques include:
Putting 'Re:' in the subject line to create an impression that the email is a response to a thread. 
'Urgent! Action is required.' – stressing the receiver by framing your sales offer as something more important is a sure-fire way to lose their trust.
'Confirmation of your reservation/order' – pretending that some kind of transaction already took place might alarm the receiver and make them think that their account has been hacked.
How can misleading subject lines land your email in spam? 
It seems that there's nothing inherently wrong with stressing the urgency of an email in the subject or sending transactional confirmations. Still, when it does not fit with the message's contents, receivers can rightfully feel deceived and flag your emails as spam. The more people do it, the more scrutiny of antispam filters you'll attract in the future. 
6. Lack of consent from the receiver
Another thing that can lower your email deliverability rate is violating GDPR by sending out business or sales offers to people who don't wish to receive them.  
How to find out if people want to hear your offer? 
Always ask first. It applies both to bulk emails and newsletters, and individual outreach messages. If you're building an email base via an online form, include a consent checkbox in an opt-in format and describe what you will send and how often. Then make sure that each message has a visible 'unsubscribe' button.
Whenever you send a business proposal directly to someone from outside your organisation, the first email should contain no more than an introduction and a question if the recipient would like to learn more details.
7. Messaging inactive accounts
If your emails often come back to you with a notification 'message not delivered' or '550: no such user here' error, then you're at risk of being penalised by the antispam algorithms in the future.
Always double-check the 'To:' bar for typos in email addresses. If you're sending mass mailings, make sure to clean up your contact base regularly to avoid sending messages to users who are not engaged, i.e. have not been opening your emails for the past three months.
8. Domain and IP address reputation
As in real life, your reputation online is built on your previous actions. However, in the case of a domain, IP address and email delivery, you might be judged by the actions of your coworkers. Even if you follow all the rules of sending only trustworthy and wanted offers, you might get hit by spam filters after an unfortunate email campaign sent by the sales or marketing department members. 
How to maintain a high IP and domain reputation?
Organise a GDPR training and make sure that all employees in your company are aware of the risks associated with using spam triggering tricks in business correspondence. 
9. Incomplete domain authentication and sender information
If, while reading the tips above, you think 'this doesn't apply to me, I'm not sending out unsolicited offers and the link to "unsubscribe" is perfectly visible', then there's a good chance that the problem lies in your email configuration, i.e. SPF and DMARC records.
SPF (Sender Policy Framework) is a record that authenticates the sender's address. With its help, mail servers determine whether a message that appears to be sent from a given domain actually comes from it.
The sender address you set yourself is not always the same as the 'Envelope From' address that the system sets itself. In most mailboxes, this second address is hidden by default.
By creating an SPF record, you make sure that your mail server is trusted for your domain. The recipient's mail server will check for authentication as one part of filtering and segmenting incoming messages to the appropriate folders in the mailbox. If you're distributing mail through additional software, such as Mailchimp or Freshmail, don't forget to include the email marketing platform's servers in your SPF record – it can positively impact the deliverability of your mailings.
SPF alone is not a sufficient safeguard. It authenticates the domain but does not give guidance on how to deal with fraud attempts.
The DKIM protocol (DomainKeys Identified Mail) confirms that your organisation takes responsibility for the content of the message. It is a sort of signature that protects against attempts to intercept the email and impersonate the domain.
The authenticity of SPF and DKIM records is checked in DNS, the domain name system.
All this is verified by DMARC (Domain-based Message Authentication, Reporting and Conformance). DMARC is a mail gatekeeper that screens out suspicious emails. To allow a message to reach a recipient's mailbox, it needs a correctly configured SPF and preferably a match between it and the DNS. Using this protection, you tell the servers how to act – whether to put unauthorised emails in quarantine, spam folder, or reject them altogether.
It is crucial to configure DKIM and DMARC correctly because not only do you increase the security of your domain in this way, but you also gain the credibility of other servers. These records and protocols improve the chances that your mail will be delivered without obstruction.
How to configure SPF, DKIM and DMARC records?
The process looks slightly different for each mail service provider, so it is best to find configuration instructions explicitly prepared for your administration console. 
Suppose you need to configure these records for business Gmail accounts. In that case, you can entrust this task to a Google Cloud partner – FOTC. Our technical team can guide you through the implementation and configuration of Google Workspace. We can also migrate all data from the previous solution, offer you discounted subscription prices unavailable directly at Google and an extended, 30-day free trial period.
See also:
How reliable are spam filters in Gmail? 
From the user's point of view, rigorous filtering of incoming messages is an advantage. Many of the spam messages contain not only ads that waste your time but also fraud attempts with so-called phishing, i.e. impersonation of familiar domains.
Gmail's filtering capabilities and advanced security protections help billions of people stay safe and get things done more efficiently. It's blocking over 99.9 per cent of spam, phishing, and malware from ever reaching users' inboxes.
Spam filters exist to stop unwanted, unsolicited or dangerous messages from reaching inboxes so that users can focus on the content they wish to receive. Gmail employs many AI-driven filters that determine what gets marked as spam. These filters look at various signals, including characteristics of the IP address, domains/subdomains, user input, and whether bulk senders are authenticated. User feedback is also taken into account – marking a specific email as spam influences the future filtering process, as filters learn from user actions.