Running a company involves making critical decisions every day. One of the first is the choice of tools for work and communication. Instead of wasting time and resources on selecting, deploying, and paying for individual services from multiple providers, you can try out Google Workspace individual coherent cloud ecosystem to meet all your team's needs in one flexible subscription. With a partner, the first 30 days are free.
What is included in Google Workspace?
Google Workspace is a suite of office applications built around Gmail. It contains business email accounts, a calendar, video conferencing software, a group chat, word processor, spreadsheets, slideshow editor, survey and web page builder and a spacious cloud drive to store all of the data uploaded from a device or generated in Google apps. From Google Workspace Essentials to enterprise editions, let's find your best business subscription.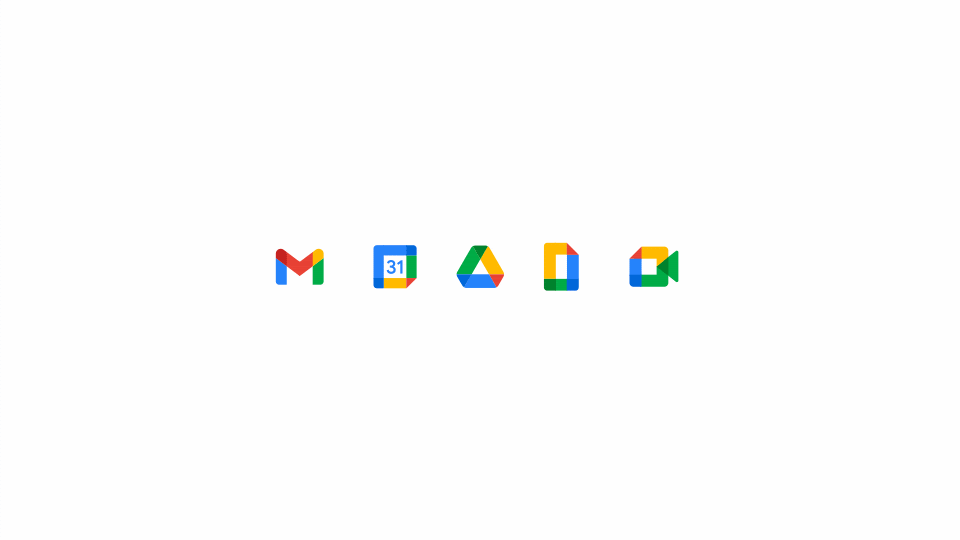 The easy scaling of this service ensures that entrepreneurs can perfectly match the scope of functionality and subscription costs to any stage of business development:
If you run a sole proprietorship or a small local business, you might only need one account in the Business Starter plan. You'd need to pay just €4.68 per month to serve your customers professionally. Go to this article to learn why business Gmail is more beneficial for a small company than a free Gmail account.
Growing startups benefit from dynamically matching the service to the number of employees by increasing the number of accounts and cloud space as needed. See how Google Drive and Google Calendar can streamline teamwork in your company.
Large enterprises and companies from heavily regulated industries can create their specialised add-ons to automate processes. Custom security rules, archiving solutions, and advanced mobile device management allows them to easily stay compliant with regulations and maintain control over data stored in the accounts of hundreds of employees.
Test Google Workspace for free
Get an extended trial period, discounts, and 24/7 support with FOTC
Ask for offer
Scalability, low price and versatility are just the beginning of a long list of benefits of using Google Workspace in business. Summing them all up in one article would be impossible, as every business team finds its unique usages for Google's cloud applications. Just take a look at the case studies of our customers who are successfully growing their companies in the Google Cloud ecosystem.
But if you're still hesitant about whether it's worth investing in this software suite, here are twelve universal reasons to help you make that decision.
1. Professional email addresses
Fortunately, fewer and fewer companies use private email addresses for official correspondence with customers. An email address is the virtual equivalent of a business card – a sales representative who uses the address george@designpro.co.uk will inspire more confidence than someone who contacts customers from their existing Google account: designpro.george@gmail.com. 
That is why every company which has a web domain should also link it to the email addresses of its employees – and that is what Google Workspace enables. But not only that.
Each Google Workspace account is one company Gmail mailbox, but not necessarily one address. This service gives entrepreneurs many opportunities to tailor email addresses to an individual employee or project needs.
Alternative email addresses
Each user can have up to 30 aliases, i.e. alternative addresses that lead to the same mailbox. For example, an accountant whose primary address is eve.smith@company.co.uk could also use aliases such as es@company.co.uk, invoices@company.co.uk or office@company.co.uk.
Alternative and secondary domains in Gmail
If you manage several brands in one company, you can set up domain aliases for a group of users or divide employees into different domains. Thanks to the former, each employee will be able to use the following addresses interchangeably: name@primary-brand.co.uk and name@other-brand.co.uk. Additional domains will allow you to split employees into project teams – you can create and manage accounts in different domains within one admin panel of Google Workspace.
Addresses for group correspondence
An email group is a shared address between multiple users that redirects messages to all linked mailboxes. For example, an email sent to marketing@fotc.com shows up in the mailboxes of all marketing department members simultaneously. You can manage such addresses in the Google Groups app in Google Workspace.
See also:
2. The best business email
Gmail is one of the most popular email services globally, with over 1.8 billion active users. Most of your employees probably already use Gmail privately, so handling work accounts after implementing Google Workspace will feel natural. Why is this email so popular even though there are so many alternatives on the market? Several factors play a role here, such as:
Convenient email handling on smartphones in the intuitive Gmail mobile app in which you can access a mailbox, Chat, Spaces, and Meet features.
No ads and spam – business Gmail offers reliable spam filters that allow employees to manage their daily mail without unnecessary distractions.
Protection against phishing – Gmail in Google Workspace supports advanced verification of senders thanks to DMARC and SPF records and DKIM keys. Harmful emails are filtered out automatically, and a yellow banner marks every suspicious message in the inbox, reducing the risk of employees falling victims to phishing.
Smart Compose suggestions based on artificial intelligence can help you write emails faster and work more efficiently.
A precise search engine for correspondence and attachments allows you to narrow down the results with additional search operators and find files and messages in the Google Chat archive.
Web Gmail is integrated with all Google applications – you can access your Chat, Spaces, Meet, Keep notes, Calendar, task lists, and even edit files without leaving a single browser window. Gmail is the hub of internal and external communication for companies using Google Workspace.
The great thing about Gmail is that it has mail organising features for users of all skill levels. It can be a perfect inbox for the average internet user who only receives notifications about their online purchases and the customer service professional who receives and sends hundreds of emails a day.
Suppose you're not one of the people who need to look in their inbox every ten minutes. In that case, you'll benefit from the fact that in Gmail, all your messages organise themselves into four default categories: Main, Social, Notifications and Offers. And if you're a power user who likes to maximise the productivity of the correspondence handling process, Gmail gives you dozens of options for customising your inbox.
Learn a proven strategy for keeping mail under control: How to introduce and maintain Inbox Zero in Gmail.
3. Ample storage space
Google Drive is a cloud space for files uploaded by the user and the default storage for files created in all the applications part of the Google Workspace suite. Depending on which Business or Enterprise, each account will have 30 GB, 2 TB or 5 TB of space, and with the Enterprise plans, your employees can use as much storage space as they need. 
When you keep files locally on your device, you risk losing them whenever something happens to your hardware. Google Drive eliminates this problem because it saves and synchronises all your data in the cloud so you can access your business files from any device on which you log in to your Google account. This feature of Google Drive makes it easy for teams to cooperate remotely or in a hybrid model. By logging out of your account, you erase all traces of the company's data from the device – no one can access files unless you share them.
Access control
Sharing files from Drive enables real-time collaboration within your team or with contractors and clients outside your organisation. The days of sending heavy attachments in emails are gone – now, you simply paste a link to a file in an email or share it directly from Drive. You can give other users edit, comment or view-only access – and if you want to suspend collaboration on a file or folder with a selected person, you can always withdraw those permissions.
Collaboration space
Shared Drive is a feature of Google Workspace that saves you time manually sharing files with people you work with regularly. If you want to have all the files for a particular project or department in one place, then create a Shared Drive and add your co-workers to it. What's in that space is owned by everyone who has access permission. If one of the members leaves the team, all the files they have created will remain in place.
4. Video conferences in Google Meet
In a time of social isolation, video calling has become a daily occurrence for all office workers, and few are willing to give up the comfort of it, even now that the pandemic is over. While nothing can replace a natural face-to-face meeting, video conferencing is the second-best way to connect and discuss current issues within a team. Many companies have also made it a regular practice to conduct recruitment interviews online – a convenience both for a candidate and a recruiter.
When you buy Google Workspace accounts, you give your employees access to advanced video conferencing software – Google Meet. It is one of the most frequently updated applications in Google's portfolio, and as of today, its key features include:
Integration with Gmail, Chat, file editing apps, and Calendar – Every meeting scheduled in Google Calendar includes an automatically generated link to a video conference room. You can also start meetings from Gmail, Docs, Sheets, Slides, or the Google Chat conversation window.
Access for everyone – any invited person can join the video conference, regardless of whether they use Google Workspace, free Gmail, or a third-party email account. All they need is an invitation.
Join meetings offline – a unique phone number is generated for each video conference so you can call in and continue the conversation even without internet access.
Up to 500 simultaneous conference participants – even half a thousand users can actively participate in a video conference so you can organise company-wide online integrations and summaries.
Live streaming for up to 100,000 users within an organisation – live stream is a way for big enterprises to share important announcements with all employees without interaction with the audience.
Noise cancellation – an intelligent algorithm filters out unnecessary background noise picked up by your microphone, so other participants always hear you loud and clear.
Raise a hand to speak – by pressing a button, you can signal your willingness to weigh in on the currently discussed issue and take place in the queue.
Chat, polls and Q&A – during a video conference, you can still send others a link or express your opinion without interrupting the person who is just speaking. The meeting host can also create polls and Q&A sessions in the Meet window.
Collaborative note-taking boards – run a Jamboard in the Meet room to give all participants a virtual space to jot down ideas.
Change backgrounds – if you don't feel like showing the inside of your home office, you can blur the surroundings or replace them with any image or animated video clip. An algorithm will precisely cut you out of the background and follow all your movements.
Apply filters – it's an excellent way to counteract lousy lighting; you can change the temperature and shade of lights.
Record meetings – any conference in Meet can be recorded and automatically saved on Google Drive as a video file.
Screen sharing – you can share what you currently have on your desktop, in a browser window, or in a single tab to show instead of telling.
5. Team schedule in Calendar
Another application that no company could do without is a calendar – and the one available in Google Workspace perfectly supports organising your work and team collaboration.
As a Google Calendar user, you can see other employees' calendars and shared schedules of entire departments or resources such as meeting rooms or company cars. It's an easy way to share and access information about:
Working hours,
Holidays,
Birthdays,
Location of work for the day (office, home, or other places),
Scheduled appointments – for each event, users can decide if they want to share full details (like the agenda, invited quests, meeting's name, booked resources) or hide them only to show a block of time named "busy".
Inviting someone to a meeting in Calendar creates a video conferencing room in Google Meet. You can also send guests an RSVP email notification where they can declare or decline participation with one click.
With Google Calendar, everyone saves time finding the right appointment time and booking company resources, making daily collaboration more productive and transparent.
6. Web and mobile applications for editing files
Creating electronic documents is an integral part of office work. Google Workspace accounts come with all the file editors your employees need:
Google Docs
Google Sheets
Google Slides
Google Forms
Google Sites
These applications work equally well in the browser on computers and mobile apps on smartphones. You don't need to install them on your device or manually save your progress – everything you do is processed and synchronised in the cloud. If you want to work without internet access, enable offline syncing in the file's menu.
7. Advanced collaboration features
While each Google file editing app has its specialised use, they all have one thing in common – they allow multiple people to collaborate in real-time and have a host of features that make communication easier. Some of these features include:
Collaborator's cursor view – in a file opened by several people simultaneously, you can see the list of visitors and the specific place in the text or field in the worksheet that they are editing. Coloured markers are labelled with the collaborators' names, so you can keep track of who, where, and what is editing.
Comments – right-clicking on any piece of text or table cell allows you to leave a comment that other collaborators can refer to later.
Suggesting mode – change suggesting is a type o comment unique to Google Docs. You can alter a piece of text without deleting the original content, and the owner of the file can decide whether to keep or reject your suggestion.
Notifications about comments and suggestions – you'll receive an email notification whenever a comment is left on a file you own. You'll also be notified if someone tags you in a file that's not yours.
Assign tasks to collaborators – if you tag someone in a comment, you can turn that tag into a task for the collaborator.
Activity panel – this feature allows you to track activity in a file even after closing it. In the activity panel, you'll see a list of visitors, browsing and comment trends, and sharing history.
Tag people and files in the text – typing the "@" symbol in Google Docs opens a menu where you can select a file or person to tag. This feature is handy when creating team action plans and to-do lists.
Present a file in a meeting – every file editor comes with a button that you can use to instantly share a file window in a Google Meet video conference.
Chat in files – when many people are editing a file at the same time, then, instead of discussing in comment threads, you can launch a chat window inside the document to conveniently discuss current issues.
Files in chat – if someone shares a file in a Google Chat room or group space, you can launch a preview with basic editing options right in the chat window without switching browser windows.
Version history – you don't have to worry about someone inadvertently deleting a vital part of a document because Google apps keep a complete record of changes. If anything goes wrong, you can always restore an older version of a file.
8. Personalising the service with add-ons
Because all Google Workspace applications operate online, third-party developers can create extensions that add specialised functionalities or integrations. All add-ons verified by Google are collected on the Google Workspace Marketplace platform, from where users can download them with a single click. Most of them are entirely free, although some also offer premium features.
The availability of add-ons means that you can expand the functionality of the Google applications in your account in any direction. Each of your employees can choose external applications to facilitate their daily work duties and boost productivity.
Admins are not left powerless when it comes to add-ons on business accounts in the domain they manage. In the Google Admin panel, you can force the installation of an extension for an organisational unit or crate white- and blacklists of apps.
9. Creating custom extensions and applications
Users who expect even more from the office software suite than Google Cloud and third-party developers offer can use Google Workspace tools to build their own applications. What's more, you don't need a single programmer to create extensions tailored to your organisation.
AppSheet – building apps without code
AppSheet does not require any programming experience to build an app or extension of Google Workspace capabilities. You can determine all the functions of your app with an interface that uses NLP technology powered by machine learning. It translates complex code into easy-to-understand formulas similar to those you know from spreadsheets.
Applications built in AppSheet can use a wide range of data sources and features – from external applications data and SQL databases to other sources, including Google Maps and Google Workspace apps such as Sheets, Drive, Documents, Calendar, and Meet.
AppSheet offers countless ways to create business solutions and streamline day-to-day work, and they can be deployed as web (browser-based) or mobile (Android or iOS) apps.
However, if there are programming enthusiasts in the ranks of your team who have a spare moment, awaken their creativity by showing them App Script.
Apps Script – building apps with a bit of code
Apps Script is a development platform included with Google Workspace that requires basic coding skills. Apps Script uses the JavaScript programming language and integrates it natively with Google Workspace APIs. It is used to quickly create custom solutions that integrate with office applications such as Gmail, Documents, Drive and Sheets. It also helps automate processes within Google apps to speed up your daily work.
10. Control over the company's data
As a business owner who uses Google Workspace, you can decide on many aspects related to the processing of data generated by your employees.
Choosing a data region
Suppose you want to ensure that your company's data is processed within a particular country for compliance reasons. If you're an admin of accounts in the Google Workspace Enterprise Plus edition, you can select the precise location of a data centre that will store your data.
Data retention in Google Vault
Google Workspace gives businesses a tool to help in the event of an electronic evidence investigation. Google Vault is used to archive, store, search and export data from other Google applications.
With Google Vault, a Google Workspace administrator can define rules for archiving Gmail messages from employees' accounts – emails covered by the rules will be preserved, even if someone deletes them from the mailbox. Vault also allows you to search Drive and Gmail content across the domain and export evidence such as chat messages and files.
IRM protection
Information Rights Management is an administrative feature that allows you to block users from copying, printing or downloading selected files from Google Drive. This option helps ensure that critical company data is not processed anywhere outside the Google Cloud.
Sharing restrictions
An administrator can prevent users from sharing files outside the company domain. However, to ensure that security rules do not get in the way of communicating with contractors, you can include a whitelist of trusted domains that your company frequently works with.
11. Account management and security
Employee accounts often store information that is critical to the proper functioning of the business and needs special protection. Fortunately, Google Workspace provides administrators with many practical tools to prevent attacks and data leaks.
The weakest link in security is always the user, so in Google Workspace, you can apply additional layers of protection to employee account login data:
Password strength control – in the administration console, you can check how strong your employees' login credentials are and enforce a set of rules for creating more complex passwords.
Two-step verification – including an additional authentication method during logins, like an SMS code or a security key, protects the account from being intercepted.
Security keys – U2F devices are an advanced variant of two-step verification, where the user must have a physical USB key to log in.
SAML 2.0-based Single Sign-On – Single Sign-On is a service that allows you to access multiple applications using your Google account.
Mobile device management
Any mobile device on which a user has logged in to a Google account in your company's domain is visible in the administration console. It allows the administrator to quickly respond to suspicious activity by logging the employee out or, in exceptional cases, performing a complete reset of the phone to factory settings.
Data encryption
Google Workspace user data is encrypted both at rest and in transit. Files, emails, chat conversation history and other data related to activity in Google apps are protected by state-of-the-art cryptographic technologies.
12. Discounts and support from a Google Cloud partner
When you use Google Workspace, you can always count on the support of a Google partner, like FOTC. You'll get help from a team of certified Google Cloud specialists who speak local languages, understand the market, have experience assisting companies in your industry, and respond promptly to your questions. Plus, a partner can lower the cost of your Google Workspace subscription.
By choosing to subscribe to Google Workspace services with the help of FOTC, you gain:
Fast implementation of the service,
Complete migration of data from old accounts to Google Workspace,
The possibility of conducting training for administrators and users,
24/7 technical support,
Advice on the profitable expansion of the Google ecosystem,
Invoices in local currencies with flexible payment terms,
30 days of a free trial of a chosen Google Workspace edition (twice longer than directly at Google).
See also:
Contact us to get more information about service variants, applicable discounts and other benefits for our Google Workspace customers.