As a business owner, at some point, you will encounter information about data archiving solutions for popular company email services. You may wonder: what's the point of long-term email retention? When is the best moment to start archiving emails? And how to set it up for business Gmail accounts of your employees?
Why is email retention necessary?
Handling daily correspondence makes up a big chunk of your employees' paid time, as the average office worker receives about 121 emails a day. With this data related statistic in mind, you can imagine how much important data goes through the company's mailboxes within a year. 
If your business email storage isn't unlimited (and in most cases, it isn't), you probably need to do a clean-up and export data from time to time. Your employees also take it upon themselves to free space by removing older messages they think won't be needed again. However, the fact that an email thread has been silent for some time doesn't mean you should delete it forever. There are situations when information from old emails becomes suddenly needed again, and you might regret it if they turn out to be unrecoverable. An archiving solution to preserve data indefinitely is an essential part of IT infrastructure in any business.
What does email archiving mean?
Email archiving in Google Workspace has two meanings – it's an advanced feature controlled by system administrators and a primary tool for users to clean up their inboxes and Google Workspace data.
You may be familiar with the button 'archive' visible next to every message in Gmail. Clicking it removes the email from your inbox – you don't see that message, and it's not accessible immediately, but you can still search for it and reply to the thread. If another recipient sends a reply in this thread, it will jump back to your inbox as an unopened message requiring your attention. 

To achieve a higher level of productivity thanks to this user-controlled archiving feature, check out our article:
However, clicking 'archive' in the inbox has nothing to do with the actual data retention that prevents emails from being permanently deleted. A business email archiving solution is a separate cloud application aggregating data from all email accounts in a company domain and securely storing exported data in read-only format for years. Even if an employee removes emails from their mailbox (either by mistake or with malicious intent), the administrator can search through the archive, find specific messages, and export them if the need arises. 
What's the difference between archive and backup?
You might think, 'I already have a backup of the most important information. Why would I need an archive for the exported data?' Backup and archiving solutions are not the same, though they are often confused because some features overlap. Here's how to differentiate between them: 
Backup stores large volumes of production data and is designed for fast recovery of the whole application or system in case of an emergency. Restoring a backup allows your company to minimise disturbances and continue operating as usual if any infrastructure element fails.
An archive is meant for old, inactive data. Messages or files are kept as separate searchable objects with all the associated metadata. Archiving allows you to stay compliant with regulations and access historical emails in case of legal dispute.
Which one is more important? As usual, it depends. For a company that develops an online product and prioritises high availability, backup is a must-have from Day 1. On the other hand, a reliable eDiscovery solution could be more important for businesses from a heavily regulated industries, like healthcare, insurance, or banking. Ideally, you should have both if your budget allows that. At some stage of business development, omitting one of these preventive solutions becomes unnecessary risk-taking.
The name of an advanced domain-wide archiving solution included in Google Workspace is Google Vault. It's available for clients of Business Plus and Enterprise editions and responsible for storing critical data and Google Workspace text messages.
How does Google Vault work?
Google Vault allows to store, hold, search, and export Google Workspace user data, such as:
Gmail messages;
Files stored on Google Drive
Google Chat messages (with history turned on);
Google Meet recordings and associated chat history, polls, and Q&A session logs;
Google Groups messages;
SMS, voice messages and their transcriptions, and Google Voice call logs for Google Workspace;
Google sites (new version);
Classic Hangouts messages (with history turned on).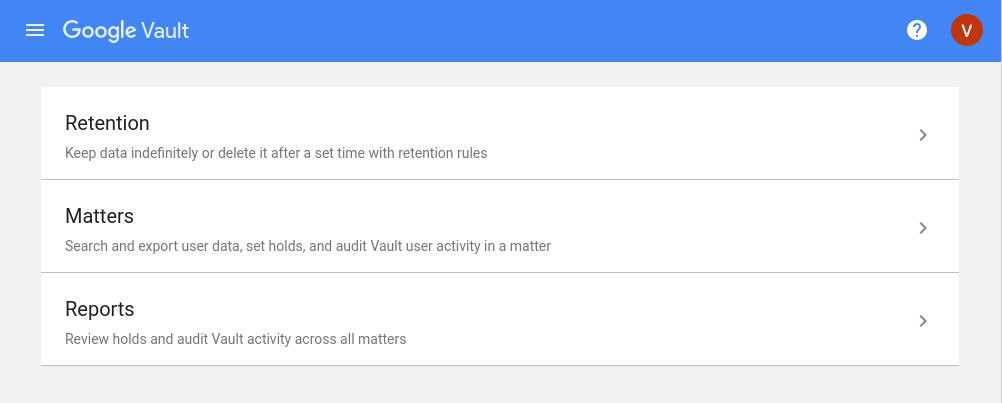 Google Workspace administrators are responsible for setting retention rules and duration. They can search through the archive and the exported data matches by keywords, dates, account IDs, or organisational units. Messages and files can be exported for further analysis.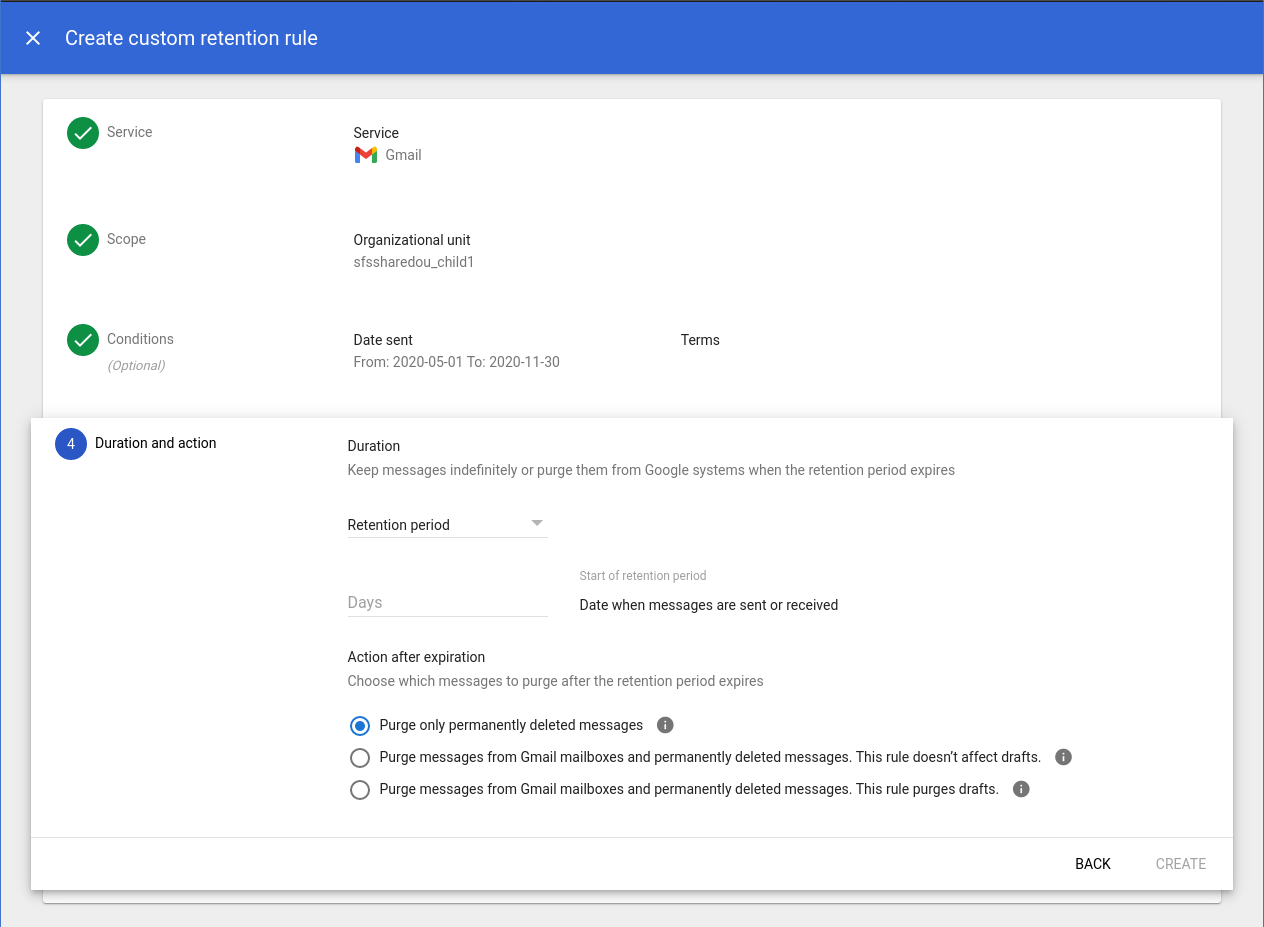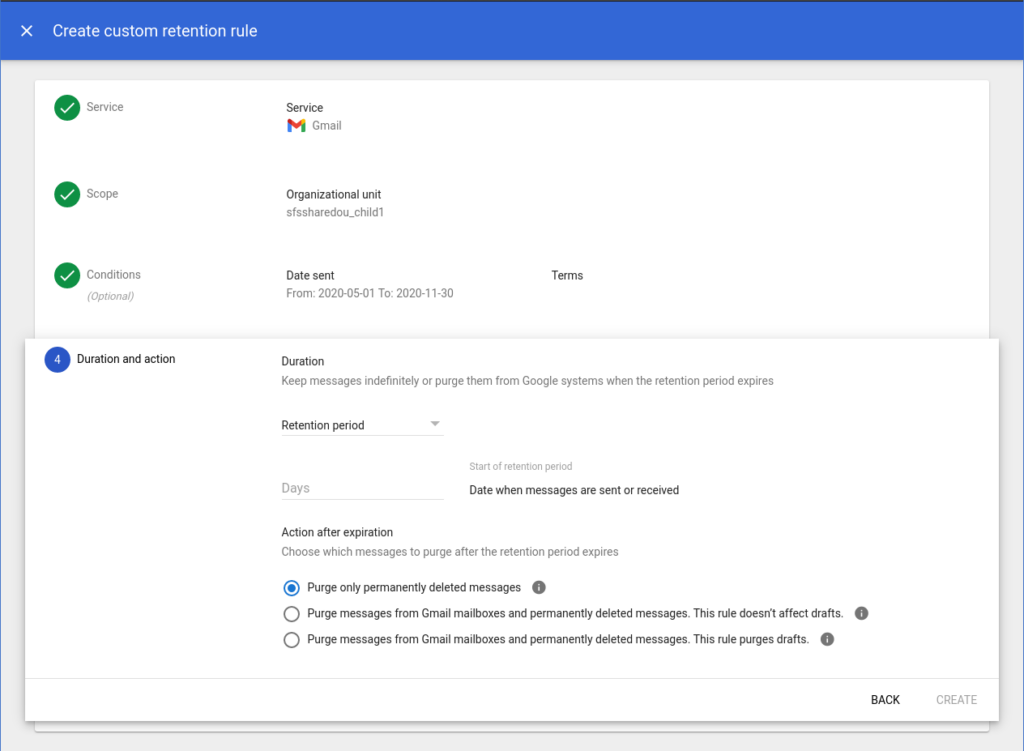 By default, users cannot access Google Vault. However, an administrator can authorise from Google Admin console specific people (such as members of a particular organisational unit) to perform certain actions in the service. After a user receives permission, they can manage shared and owned data in the Matters tab in Vault.
Benefits of archiving employees' business correspondence using Google Vault
Transparency
Data retention in large enterprises supports transparency, especially during court disputes, investigations, or internal proceedings – i.e., whenever it is necessary to identify and analyse electronic evidence. Thanks to Google Vault, even if it turns out that a former employee deliberately deleted the contents of their Gmail account upon leaving the company, you can still retrieve the data from their user account. Without the archiving solution, messages would be lost forever after 30 days since deletion.
Compliance
Archiving email messages in Vault can help you stay compliant with legislation specific to your region and industry. For example, if your company operates in Europe and processes the personal data of employees and clients, then it needs to adhere to the General Data Protection Regulation. In light of GDPR, you need to grant data subjects a right to access, erasure, data portability, or consent withdrawal. By storing historical business correspondence in an orderly manner in Google Vault, you are always able to retrieve, transfer, or purge data stored if someone requests it.
Ease of use
Google Vault lets admins to adjust default and custom retention rules to the company's needs. Actions like restoring and exporting your organization's Google Workspace data, enforcing holds, or granting privileges to users are just a matter of a few clicks.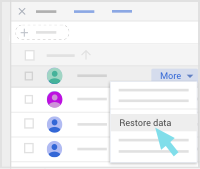 Fit for purpose
Google Vault is a built-in element of Google Workspace, so it's designed to work perfectly in this environment. The deep integration of the archiving solution and the email system makes setup easier, searches quicker, and security tighter than if you'd use an external archive to backup user accounts. 
However, implementing external data retention and eDiscovery tool is still possible with Google Workspace.
Gmail integration with external archives
After proper configuration, Gmail logs can be archived in a third-party tool (e.g. Libraesva Email Archiver or Waterford Technologies MailMeter) independently of archiving them in Google Vault. This functionality will be useful for companies that:
want to continue using the solution they have used so far for all the data;
are required to comply with industry-specific regulations or safety standards;
want to provide users with access to the archive (as Vault doesn't support this feature). 
To give your data an extra layer of security, it's a good idea to configure TLS (Transport Layer Security) compliance – Gmail will require TLS encryption when sending mail to an external archive.
Integration with external archive solutions is a feature available in Google Workspace Enterprise Standard and Plus. Schedule a free consultation with FOTC to learn which cloud solution will fit your company's needs and get a personalised offer, including discounts available only with an official Google Cloud partner.