Gmail is one of the most famous email services globally, used for private and business purposes. Due to its popularity, the gmail.com domain has quickly become commonplace – thanks to this, it works well in personal correspondence. However, sending messages to contractors with an email address such as good.printinghouse@gmail.com is not associated with professionalism.
Building brand equity and a positive image of the company on the Internet is important since widespread digitisation has enabled customers to find hundreds of thousands of product and service offers with one click. To meet the demands of business customers, Google has created a service called Google Workspace (formerly known as G Suite). What are the benefits of using the Gmail account in the professional edition?
What features does Google Workspace have that free Gmail does not?
Free Gmail vs Google Workspace: Email address with your custom own domain and aliases
In building a positive brand image, it is helpful to use email addresses that are easy to remember and look trustworthy, unlike a free service account that transpires personal use. Suppose a customer visits your website, mariasflowers.com, leaves their contact details, and then receives an email from maria010@gmail.com. They may suspect that this is a feeble attempt at phishing coming from individual user accounts or personal Gmail accounts.
With Google Workspace, you can replace the generic @gmail.com domain with your unique website address. Just add a domain in the Google Admin panel and verify its ownership in a few easy steps so that you can use a presentable email address. If you don't want to do it yourself, then a team of specialists from FOTC will gladly guide you through the initial configuration.
Gmail in Google Workspace also allows you to create email groups and aliases. Aliases are different variants of an email address assigned to one mailbox. For example, a person whose primary address would be robert.smith@businessname.com could use the aliases robert@businessname.com, ceo@…com, sales@… com, service@…com and so on. You can have up to 30 alternative addresses within the subscription to one email account.
On the other hand, Google Groups allow you to set up a joint email address for several employees, for example, those who deal with technical support. If the client writes an email to the group's address support@….com, it will also go directly to the mailboxes of assigned people – all the customer service employees will be aware of the new support ticket.
More space for data storage in the cloud
All free Gmail users have access to 15 GB of storage space for each personal Gmail account. Many Google Workspace users never reach the limit, but those who save photos, files, and attachments from email or backup phone data on Google Drive must consider that data purges will be necessary from time to time.
Google Workspace grants you solutions to this problem with each employee getting an account with adequate storage space or unlimited storage space for higher plans.
The basic Google Workspace Business Starter package provides 30 GB of storage.
Within the Google Workspace Business Standard package, each employee has 2 TB of data space.
Google Workspace Business Plus accounts let you store up to 5 TB of files in the cloud.
Google Workspace Enterprise users can use as much storage as they need. Initially, each account has 5 TB, but storage can be extended indefinitely upon how much storage the client is requesting.
More space means easy access to all documents, projects, backups, apps script, Google Calendar, Google Photos and other files from any device connected to the Internet.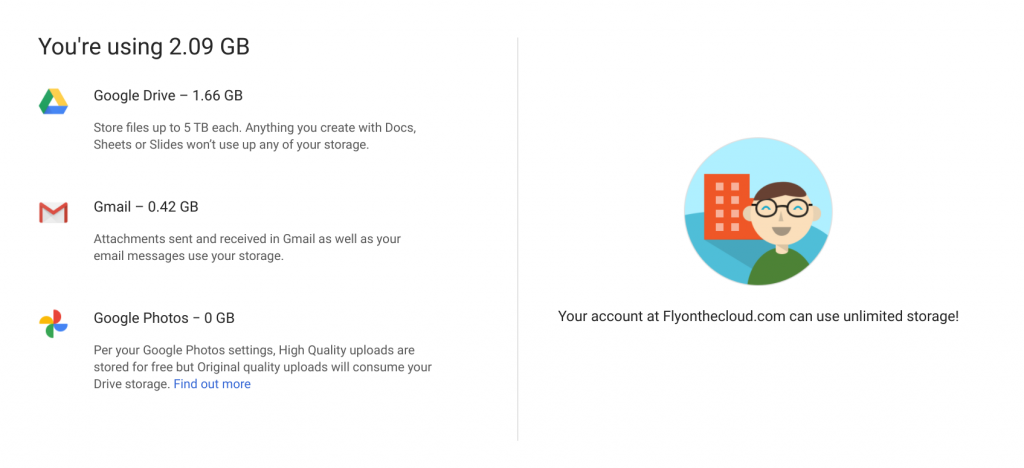 Read more:
More space is not the only advantage of the business version of Google Drive. Google Workspace is a service that maximises collective productivity and facilitates collaboration through Google apps like Google Docs, Sheets, Slides, Google Chat or Google Sites. Therefore, the professional edition of Google Drive gives teams a unique space for teamwork – Shared drives.
Files stored on Shared drives do not have a single owner as it is a space for multiple users to collaborate. After creating a Shared drive, all you need to do is set up access permissions for your colleagues to work freely on files and safely store the results of joint work. Shared drives have many practical uses as they offer:
Access to files even after an employee has left. Typically, when one of the employees leaves a company, their Google Workspace account get deleted. If you forget to change the owner of the files, you lose them irretrievably. Team drives help the company keep the data – if any user is removed from the shared space, the files they created will stay in place.
Improved sharing rules – each team member sees the same disk content, but not everyone must have the ability to edit or comment on files. It is possible to give users different permission levels based on their roles.
Easier access to content – access management is streamlined thanks to groups. By adding a person to a mailing group, you automatically give that person entry to all disks of that group.
Sharing the drive with external users – it is possible to make the disk available to people from outside the company to conveniently cooperate with contractors or clients. If you do not want employees to share drives outside the organisation, you can turn that feature off in the admin panel.
Security and management of Google Workspace accounts
Google Workspace administrators have the company's data under control from anywhere in the world, thanks to an intuitive and functional settings console. The Google Admin panel enables remote management of users' accounts, mobile devices, and security policies. Admin can, among others, block access to essential files for users from outside the domain – it protects sensitive data against unauthorised access and leakage.
Administrators can also verify whether employees use sufficiently strong passwords when logging into Google accounts. Additionally, for greater security, administrators can force a password change every 30 days and check on which devices employees log in to be able to react to suspicious activity. The free version of Gmail does not provide such features.
When a company uses free Gmail, the accounts and data are owned by individual employees. Within Google Workspace, it is the administrator who manages the accounts of all users. Thanks to this, the business correspondence of ex-employees stays under the company's control. Additionally, the administrator can block access to files for people who no longer belong to the organisation's structures.
Spam filters increase comfort and safety at work
Free Gmail offers basic spam filters. However, important correspondence with sensitive attachments or content may be treated as spam. On the other hand, Google Workspace makes it easy to fine-tune spam filters to the company's needs. It is possible, among others, to add the contractor's IP address to the whitelist, which guarantees the delivery of the message.
Automatic backups
Unlike the Google Workspace clients, free Gmail account users cannot take advantage of the automatic data backup feature. The administrator can set up automatic backups to Google Drive, in the cloud storage. This setting will minimise damage in the event of accidental deletion of files or failure of any device, protection you won't get with a free personal Gmail account.
Technical support
Google Workspace guarantees customers access to constant technical support directly from Google or locally through a partner, like FOTC. A certified consulting team from a Google Cloud partner company can pay close attention to the issues you're experiencing and react to your tickets instantly. FOTC can also take on a mediator role and contact Google Cloud on behalf of the customer.
Learn more about our technical support offer here.
Training for admins and users
If you want your employees to be fully effective in using new work tools as soon as possible, take advantage of the FOTC training offer. We organise dedicated Gmail and Google Workspace workshops for users and administrators designed to accelerate the full implementation of the service and cultivate productive habits in daily work in your team.
Is it possible to have Gmail for business for free?
In some instances, organisations and research institutions can use the full functionality of professional Google Workspace packages free of charge.
Google Workspace for Non-Profit Organisations
Non-governmental organisations can use the free version of Google Workspace, with full Google Workspace administrator rights. Cloud tools like Admin console allow you to improve the work of the entire organisation, create online collections and engage new people.
To take advantage of the free version with free cloud storage of Google Workspace, your organisation must:
have the status of a charity,
be verified as a non-profit organisation by TechSoup or a regional TechSoup partner,
be a public benefit organisation, foundation or association registered in the National Court Register.
Google Workspace for Schools and Universities
There is also a special, free version of Google Workspace dedicated to schools and universities – Google Workspace for Education in the Fundamentals edition. To use this service, two conditions must be met:
The institution must be an educational, accredited unit, recognized by state authorities.
The institution must provide nationally or internationally recognized educational certificates.
Google Workspace pricing: Start with a free trial of your own Google services
FOTC, as a Google Cloud partner, offers a test period of the service extended to 30 days. Regardless of the size or type of your business, you can try any Google Workspace package for free for a full month and then receive favourable discounts from the partner. To start the trial period, contact us via the form on the website.