A few years ago, remote working was often treated as an additional benefit that employees could only use to a limited extent. Nowadays, more and more companies worldwide are embracing a new business model: remote teams that reduces or eliminates the need for employees to be in the office. While this approach can be challenging, many contemporary tools can help you organise your workspace so that working in a distributed team is enjoyable and effective. 
We've gathered solutions that, if used ably, will significantly improve work in your company. Our list has the aim to improve communication and team productivity. In addition to content creation and communication software, you'll find project management applications, security tools and software to help prioritise and organise tasks.
How does remote teamwork help FOTC grow?
At FOTC, we want to make the entire team feel comfortable and safe in the workplace. Three years ago, in the face of a sudden increase in employees, we had moved to a bigger and more conveniently located office. To maximise our employees' comfort, we offered them a choice of where they wanted to work so they could balance the time spent with coworkers and with families – remote teams.
In March 2020, in response to the coronavirus epidemic, FOTC's management decided to go further and switched to 100% remote workers. For the two years of social isolation, we have been gradually opening the office, but still, unsurprisingly, many prefer to work from home most of the time. Our productivity has never suffered due to this decision. In fact, the company is constantly reaching new milestones and exceeds expectations of year-on-year growth. Over 2500 businesses using Google Cloud products are currently under the care of our hybrid team. 
Hiring a remote team from many European countries allowed FOTC to expand its operations to the UK and CEE markets. Cloud-based software enables us to collaborate from anywhere, so we have been developing efficient frameworks for remote work since day 1. 
In this post, we're introducing a few remote teams solutions and tools that support the productivity of the Marketing Department and the entire company.
Tools from the Google Cloud ecosystem
Google Workspace is a set of software tools that include, among other things, mail in a company domain, cloud storage, programs for file sharing and collaborative editing, a video chat application and text messaging. The service is available in the cloud, which means that once you log in to your account, you gain access to all your files and the applications included in the suite. 
The suite of tools intended for remote workers from Google is available in five subscription plans, with prices starting at just under £4.14 per user per month. Moreover, the service is available in a flexible contract that allows you to add or subtract accounts, making it easy to scale.
Google Workspace is an excellent business solution that removes all geographical limitations and allows people to work from anywhere on earth. Let's take a closer look at the most critical capabilities of this package in the context of remote work organisations.
Download our free ebook that compares the two best remote working tools suites, Google Workspace and Microsoft 365.
Business Gmail accounts in a custom domain
Gmail, in its free version, is one of the most popular mailboxes in the world. In Google Workspace plans, this mail is available in an extended version, allowing, among others, to create addresses in the company domain (e.g. name.surname@companydomain.co). Gmail for companies is also characterised by more robust anti-spam filters and better security than the free version.
Gmail is an intuitive tool, and one of its most significant advantages is its functional interface, which allows deep personalisation. Thanks to this, efficient communication – inside and outside the organisation – is easy even for employees with less experience with business tools.
To help you get more done, Gmail also includes many productivity features. For example, you can set labels and filters, use advanced search operators, and create templates for repetitive messages. Gmail is connected to your calendar, automatically showing you all the events and appointments you've scheduled in your business correspondence. Files up to 25 MB can be sent as attachments, while larger documents are easiest to save to a cloud storage service and share with others via a link.
A Google account is the centrepiece of remote work in our company. Thanks to Single Sign-On, logging into Gmail gives us access to all the necessary tools for remote work. We use emails for communication with clients, colleagues, and business partners. Gmail works on every device we use at work, both in the browser and as a mobile application.
Cloud storage space in Google Drive
A tool that is undoubtedly a game-changer for distributed teams is Google Drive. Depending on the package, Google Workspace provides each user with:
30 GB in the Business Starter plan;
2 TB in the Business Standard plan;
5 TB (in the Business Plus plan;
And unlimited, infinitely expandable cloud space in the Enterprise edition.
Working in the marketing department, I find it hard to imagine that employees could keep essential assets (video, graphics, logos, offers) on their hard drives. Every account has a private cloud space, and each project team has a Shared drive, the contents of which are available to everyone signed to a particular Google Group or organisational unit. With Google Drive, we can access all the files from a private or shared drive at any time and easily keep track of permissions. The great thing is that any employee can upload photos, videos, spreadsheets, presentations and other files here, ensuring everything is always at hand for them, their teammates, and members of different teams.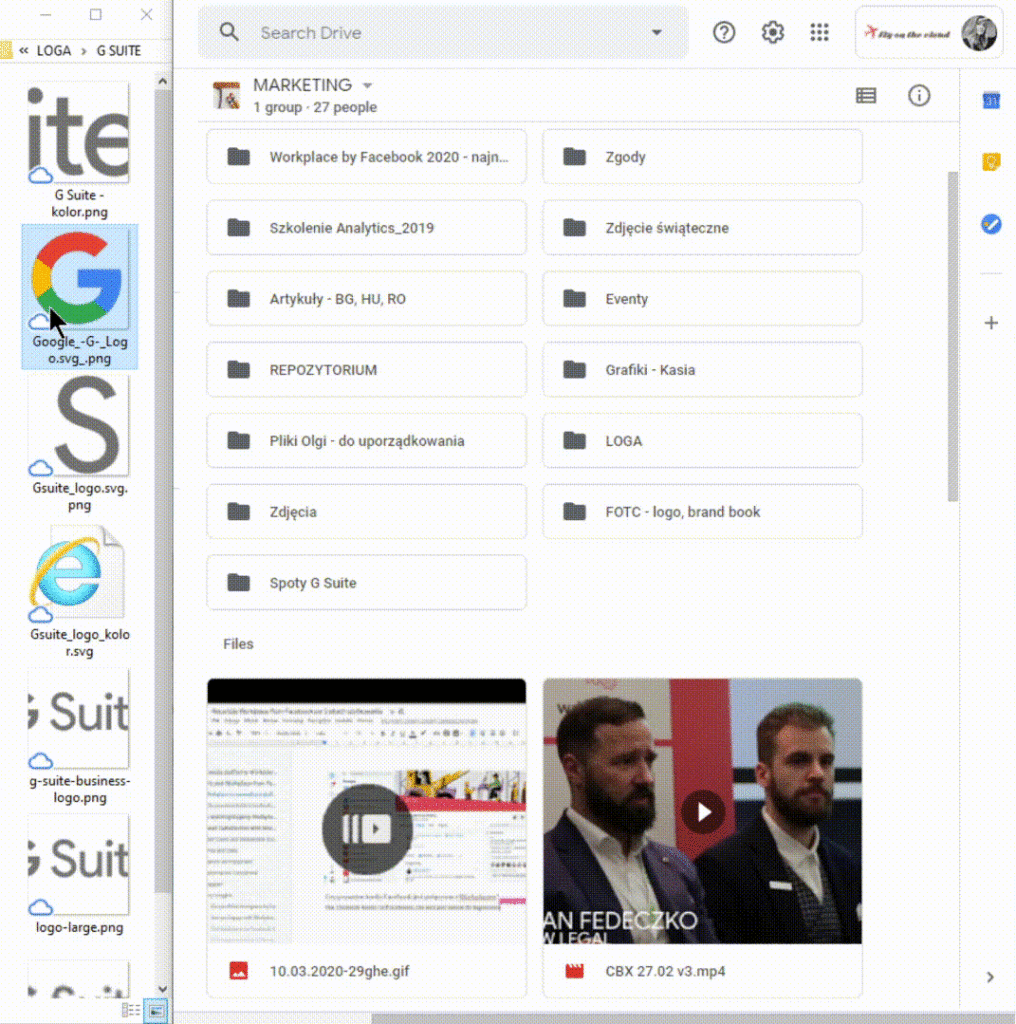 Furthermore, Google Drive users can share files with others both inside and outside the organisation. Sending a generic access link or a personalised invitation allows users to view, comment on, or even edit a file placed in the cloud. This solution significantly simplifies team communication, which helps in project management. At the same time, it is an easy way to organise electronic file circulation in a business.
Web-based document editing software
One of the advantages of Google Workspace is the bundle of remote collaboration applications that can be used to create and edit files from within the browser after signing into business Gmail. You can also download each of them as a mobile application to a tablet or phone. The best remote work tools in this suite are:
Google Docs – an app that allows you to create and edit text documents.
Google Sheets – a programme for collaborating on spreadsheets.
Google Slides – a tool for creating presentations.
In all of these applications, remote working is supported by various communication channels that allow team members to collaborate and manage projects. Users can view, edit, or suggest changes in Docs, Slides, Forms, and Sheets. You can chat with everyone currently editing from within each file and assign tasks to coworkers in the comments. If you want to talk things through with your team members, initiate an instant voice call via Meet. And if you're experiencing problems with your internet connection, you can turn on the offline mode.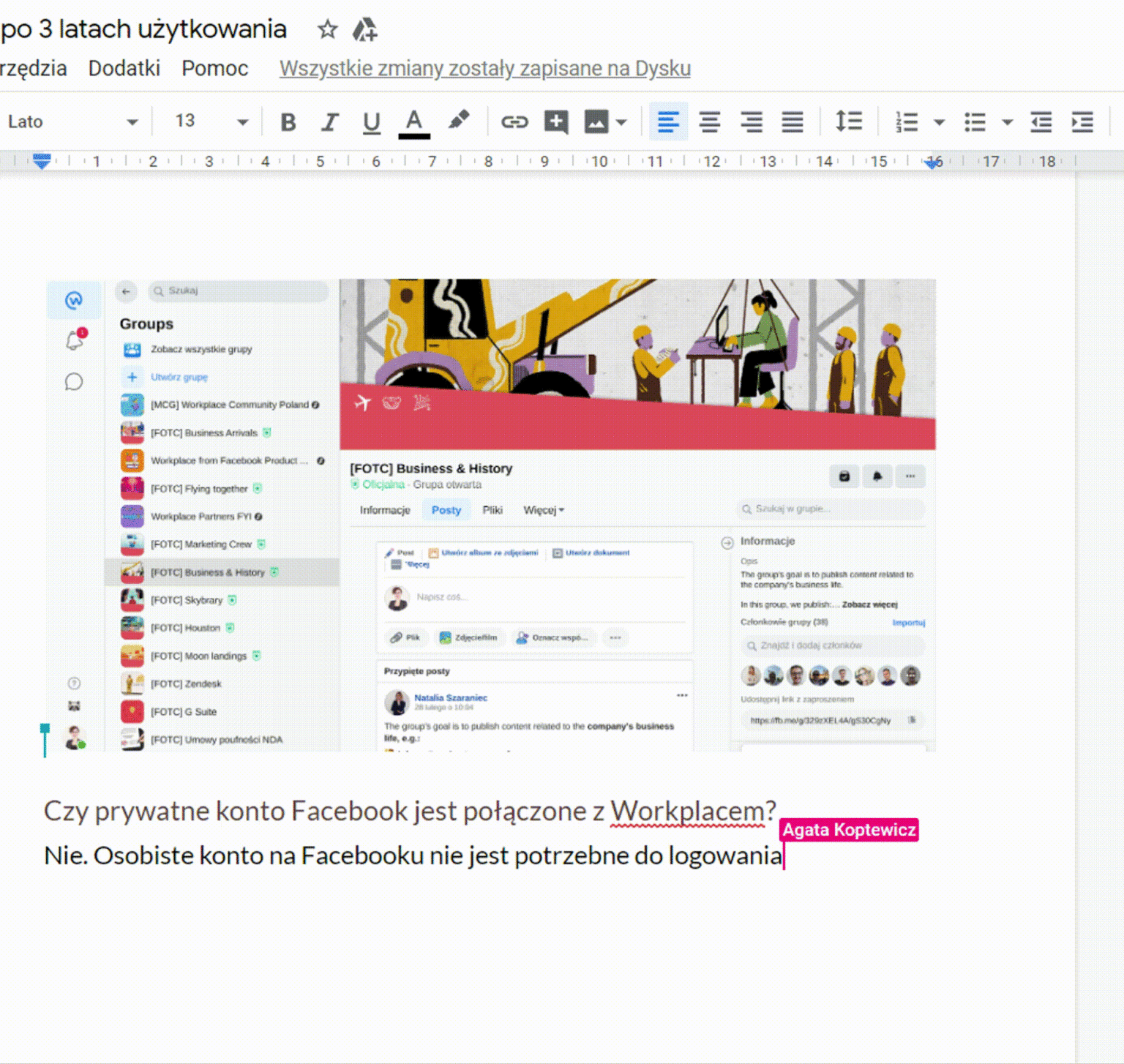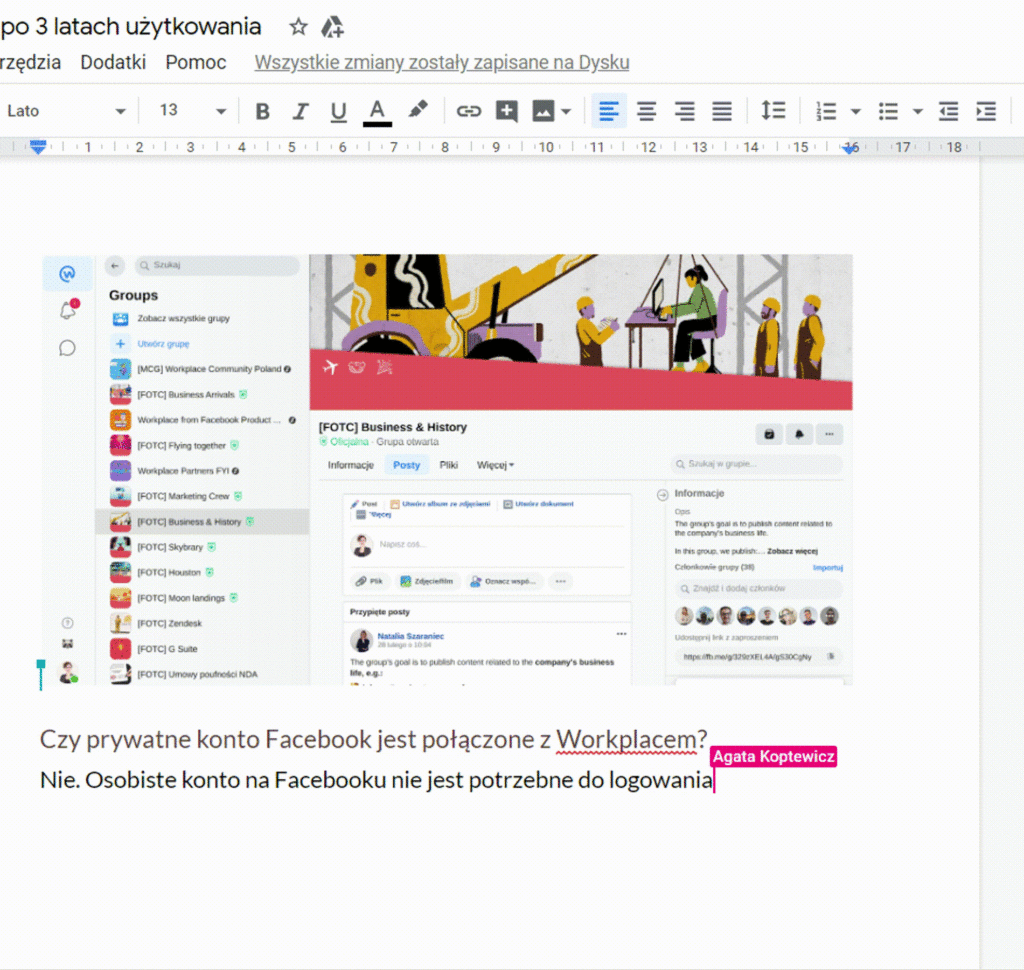 These file editing apps enable distributed team members to work together on a specific project from anywhere in the world. In many companies, collaborating with several people on one document in real-time is crucial and significantly accelerates work.
Easy scheduling in Google Calendar
Office work in many industries involves dozens of meetings a month. Google Calendar is a tool that helps you stay organised. You can schedule appointments with colleagues, clients, and service providers.
Internally, it's also possible to view other team members' calendars to check your colleagues' current schedules and plan meetings accordingly. This project management tool allows for quick and convenient scheduling of joint meetings even if you work with remote employees from multiple time zones.
When creating an event for several people, you can invite members to it, specify the date of the meeting, indicate where it should take place, leave a text message for everyone (e.g. present the agenda) and send attachments. A link to an online Google Meet video call is automatically generated with an event.
Video calling and instant messaging on Chat
Google Workspace also includes communication tools such as Meet, Chat, and Spaces.
Chat and Spaces are text messengers through which team members can communicate in real-time about ongoing projects. Conversations can take place between two people or in larger groups.
Google Meet is a videoconferencing application. Thanks to it, remote employees in distributed teams can see each other face to face at any time in virtual meeting rooms and use screen sharing for team work. Voice calls and video conferences are possible not only in the browser but also through the mobile application. Moreover, people can easily dial in via a regular phone if they experience internet connectivity issues. 
Virtual meetings in Google Workspace are easy to record and share with those who couldn't attend. Read more about video call recording on our blog: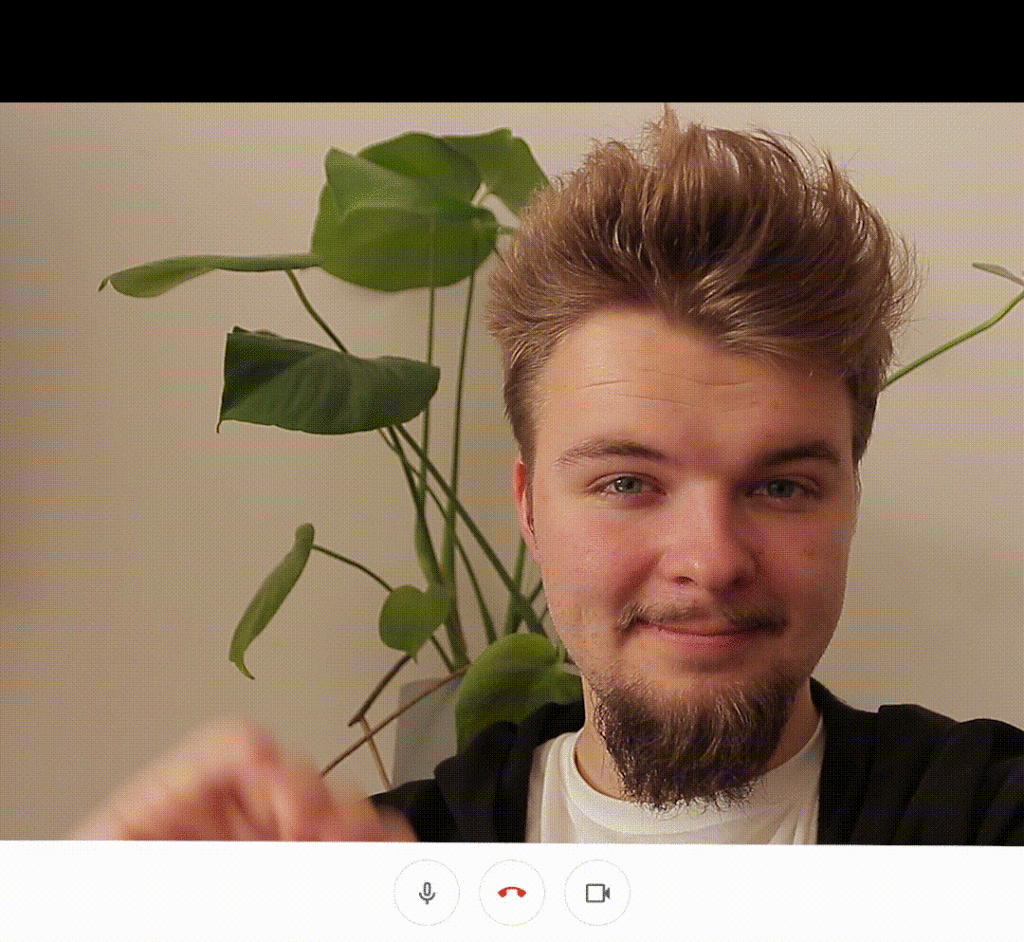 Meet also allows you to manage your team remotely. The application can be used, for example, to conduct periodic interviews with employees or to establish current tasks and goals remotely.
The Google Workspace ecosystem is open and integrated with external services. We can also schedule meetings to discuss offers with the clients and contractors who use other solutions, like Zoom, Skype, or Microsoft Teams.
Workplace from Meta – a Facebook-like platform for internal communication
Workplace from Meta is a solution for companies. It combines the simplicity and familiarity of Facebook with features designed for business and perfectly complements cloud applications offered by Google.
The tool is used for company-wide communication. Employees can post group boards and build their profiles. They also can comment and respond to other team members' activities, just as they do on social media. This mechanism means that each post can generate visible team engagement within seconds of publication.
Workplace from Meta is a platform for internal communication, but it also allows cross-company groups, including employees from partner organisations. In FOTC, communication on such a forum has proved beneficial for the company's functioning, significantly improving the work of the board and the HR department.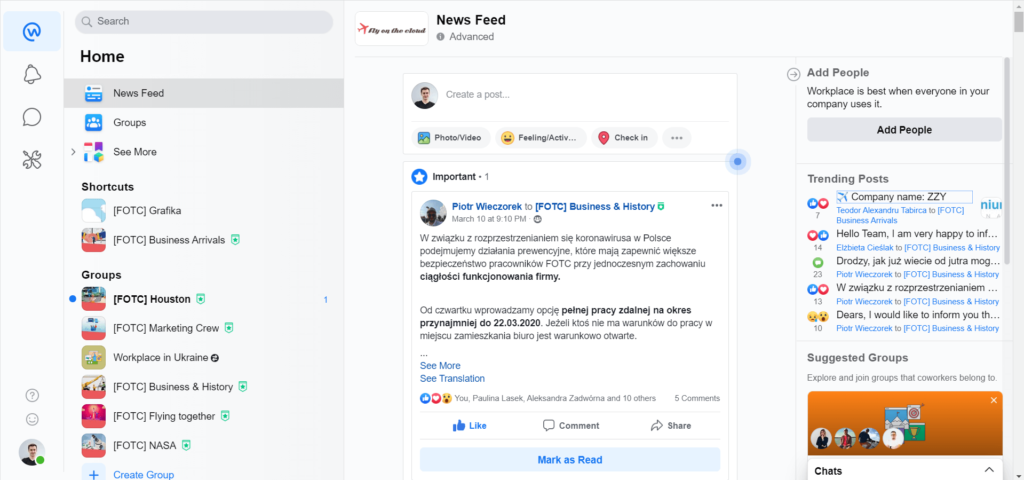 Customer service and sales
To ensure that the customer service process doesn't lose quality when employees are performing their duties from home, it's worth using the Zendesk platform. As it is another tool that operates in the cloud, each user logged into the service can respond to requests and queries of potential and existing company customers from any device that has access to the internet. The platform will be handy for sales and technical department employees.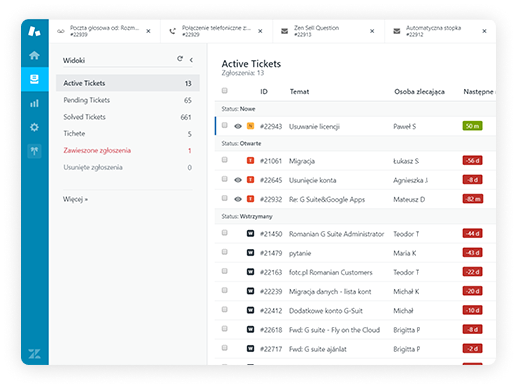 Importantly, Zendesk is a suite of applications that, in addition to solutions for the technical support department, also include a CRM system called Zendesk Sell. Sales and marketing representatives use it to keep track of all the events in a relationship with a customer. It ensures seamless collaboration of the departments regardless of the circumstances. Every employee who has access to the system gains direct insight into all information about potential clients the team has collected.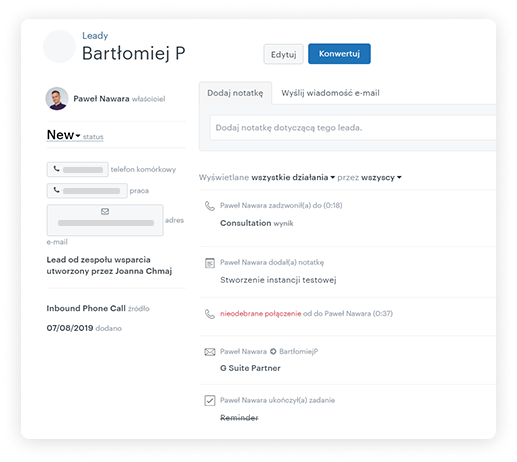 Chromebooks – business laptops under control
The change to remote or hybrid working makes it necessary to equip employees with appropriate applications and reliable computer hardware. Buying a fleet of portable devices is often connected with considerable expenses. Chromebooks may be an ideal solution for many companies in such a situation.
What sets Chromebooks apart from other laptops is their mobility, speed, stability, and low price. Various manufacturers produce these Chrome OS-based laptops, so there's a model for every budget. You can match the features and computing power to the needs of employees while ensuring that each device is portable and embedded in a coherent cloud environment.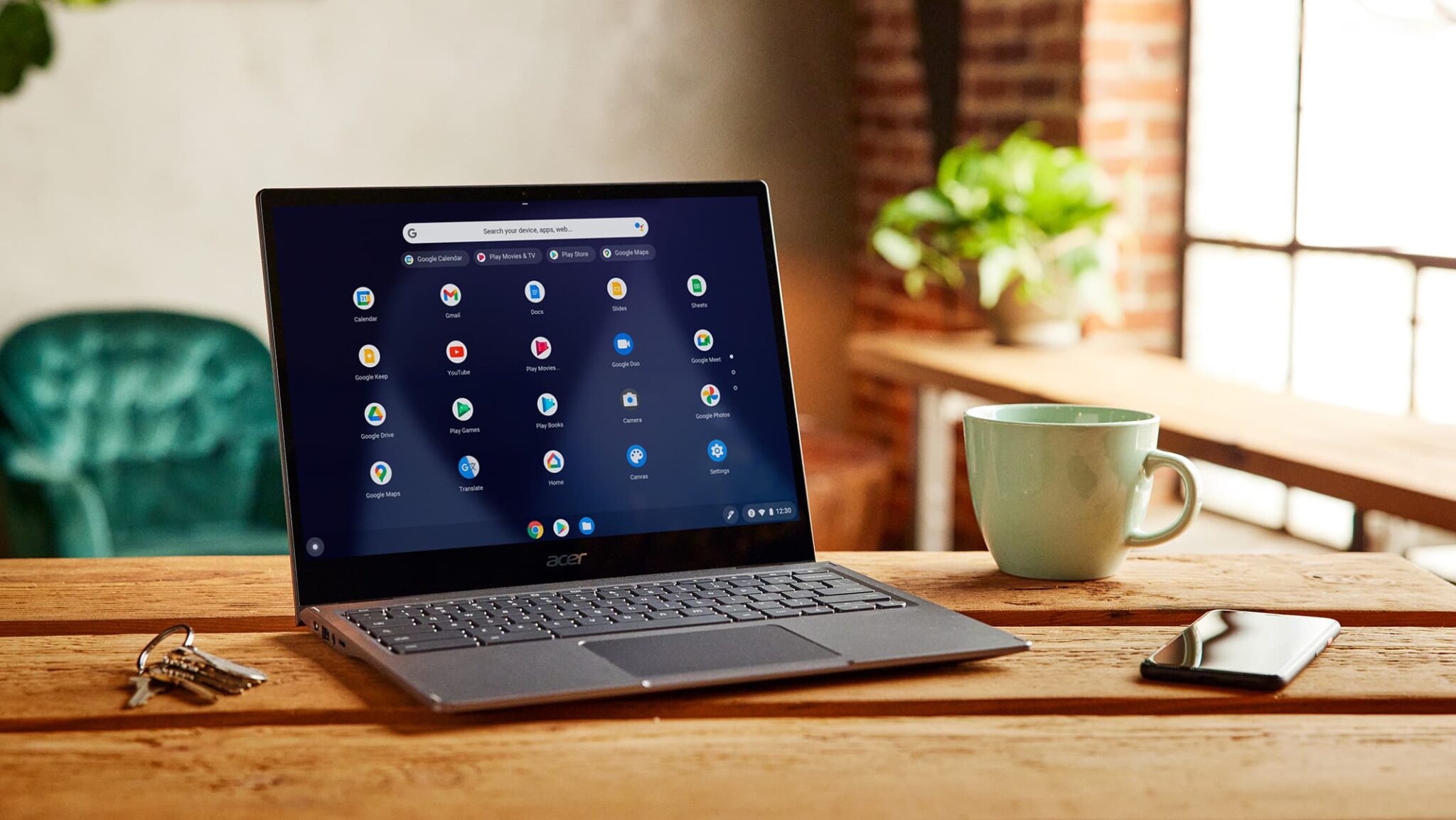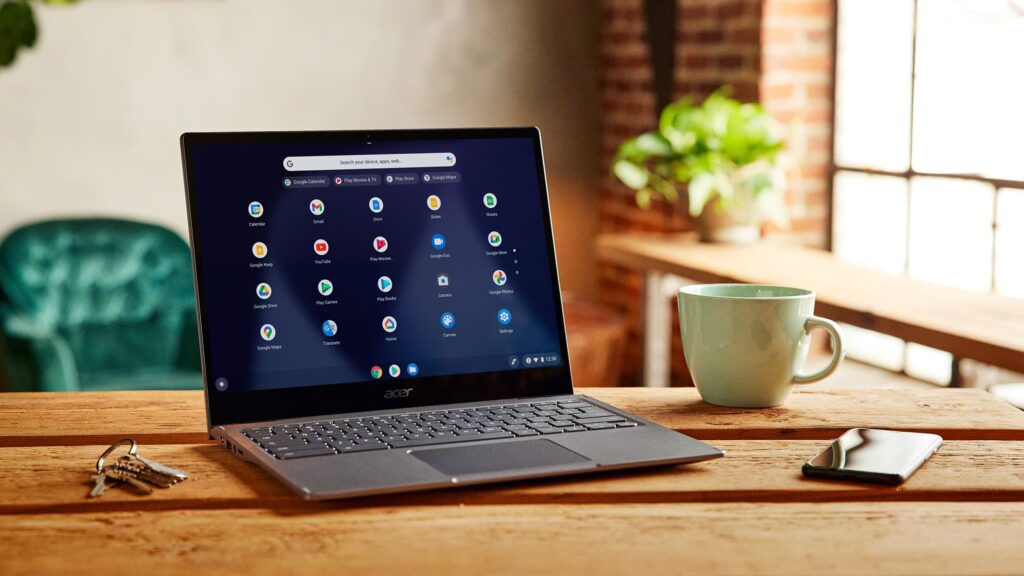 System administrators remotely control Chromebooks, thanks to Chrome Enterprise licences. You can manage them in the Google Admin console to protect both user accounts and a fleet of laptops in one place. If the device is stolen or lost outside of the office, the administrator can immediately take action to protect the data stored on it. The first step in this situation is to log out the user. The admin can also wipe the device's disk and restore factory settings if any company files are stored locally.
In terms of the system itself, Chrome OS is focused on enhancing the possibilities of the cloud. Most of the work is done from within the Chrome browser, with users logging into the computer using their Google account address and password. Users can install software available on the Google Play store. You can also extend the device's functionality with Chrome browser extensions that can be downloaded from the Chrome Web Store.
While this focus on the browser may seem like a limitation, the reality is that the tasks performed by many workers boil down to activities such as handling the mailbox, using office applications, browsing the internet or making video calls.
Physical keys for two-step verification
A physical two-step verification key is another vital piece of equipment that ensures data security during hybrid or remote work. These devices look like flash drives, but they don't store any data except a digital ID. Logging into a Google account on a new device requires inserting the security key into a USB port. Google immediately checks if the device ID matches the one assigned to the account, and only then can the user access the company's data. And it's not limited to Google services; a single key can provide an identity for logging into many different online business platforms.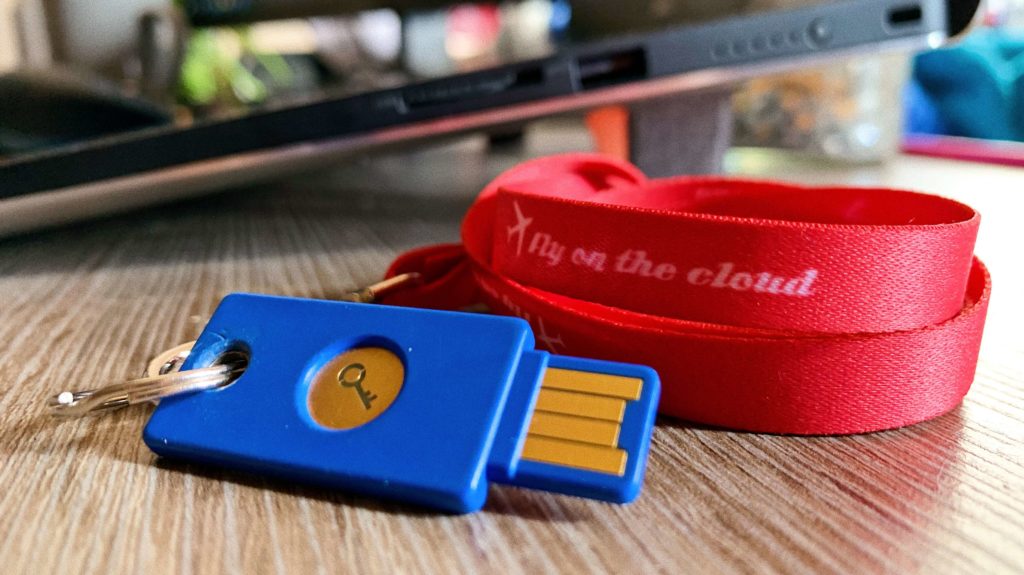 Project management tools
You can use sophisticated project management software to control tasks and projects in distributed teams, such as Monday or Asana. Still, you can also bet on a slightly simpler solution, like Trello. It is an application which will be helpful both for organising work within long-term projects and for convenient management of tasks which appear on an ongoing basis. The application's interface has been designed in accordance with the kanban methodology: it contains three primary tabs where tasks can be saved, thus giving them one of the selected statuses: to do, in progress, done. Trello makes it easy to delegate tasks, which in turn helps you stay in control of what's going on in your business.

Other remote work tools
Evernote – an application that (just like Google Keep) allows to create notes and display them on any device. You can connect the application to Google Workspace using a special Evernote add-on for Gmail. Transfer emails or selected fragments from Gmail to Evernote and then use them to create notes or task lists.
Toggl track – a time-tracking tool instrumental in companies where the remuneration of team members depends on the number of hours they work. Toggl is a very convenient application for keeping records of working time. You can assign individual employees or entire teams to a project. Everyone can monitor the time of their work on an ongoing basis, and all collected data is available later in the form of clear reports, which employees can pass on to their superiors.
At FOTC, we have tested all the business solutions for remote working mentioned above and provide some of them to our clients. Thanks to our insight into the local markets and cloud environments, we know that these tools can meet the needs of small, medium, and large organisations that have already started working remotely or are considering a more hybrid approach to teamwork and recruitment in the future.