Google Drive is an application primarily used to store files in the cloud and access to them on any device anywhere in the world. Over the years, Google has constantly improved Drive's functionality. From a very simple application, Google's cloud drive has evolved into an advanced system of electronic file circulation used by millions of users.
Evolution of Google Drive's features
The real revolution was the introduction of a desktop application that allows you to backup files from your computer or camera and save them in the cloud. Google Drive for Business also allows you to transfer files from Drive and stream them directly to your computer, which further reduces disk space consumption.
Another feature that changed Google Drive is the ability to create shared drives. This allows several people to work on one set of files that are owned by every user added to the drive. In case the employee leaves the company, his or her files created on shared drives will still be available to the rest of the team.
There are a lot of changes ahead of us, such as Google Drive priorities, which are currently available in the beta version.
For a long time, Drive have been displaying the most important files at the top, so we can have them always at hand without the need to use a search and additional file sorting methods. The Quick Access view allows you to display recently edited documents. However, many of the users prefer to sort their files differently, and want to turn off the Quick Access view.
How to turn off Quick Access in Google Drive – step by step.
After entering http://drive.google.com, click the gear icon located above the Quick Access section and go to the Settings tab.

Select the General -> Suggestions and then uncheck the option Make relevant files handy when you need them in Quick Access.

After disabling this option, the view on our Google Drive will be as follows: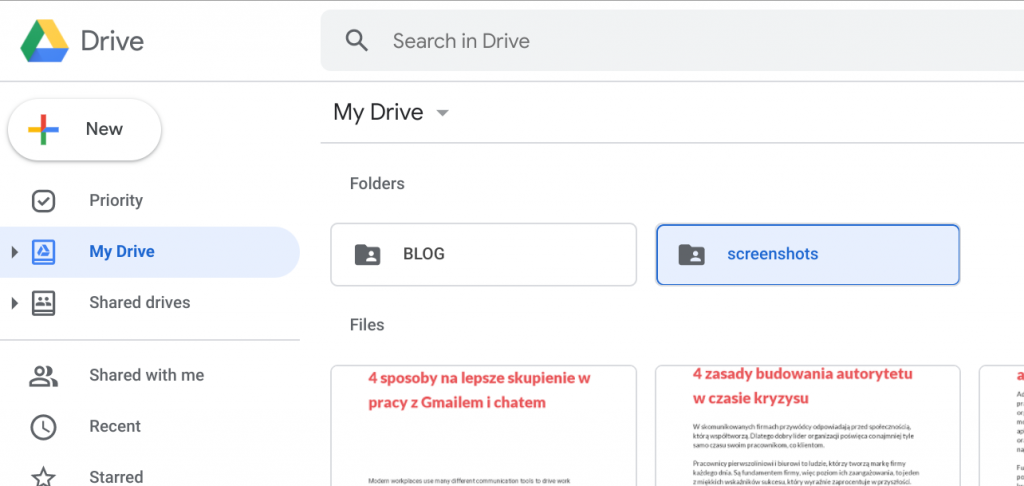 However, the Quick Access option is also in the Shared with me section.
To remove Quick Access from this section, click the gear again and go to the Settings tab.
Then uncheck the Surface important people and files in Shared with me and confirm by clicking the Done button.

After removing Quick Access from the Shared with me tab, the view will look as follows: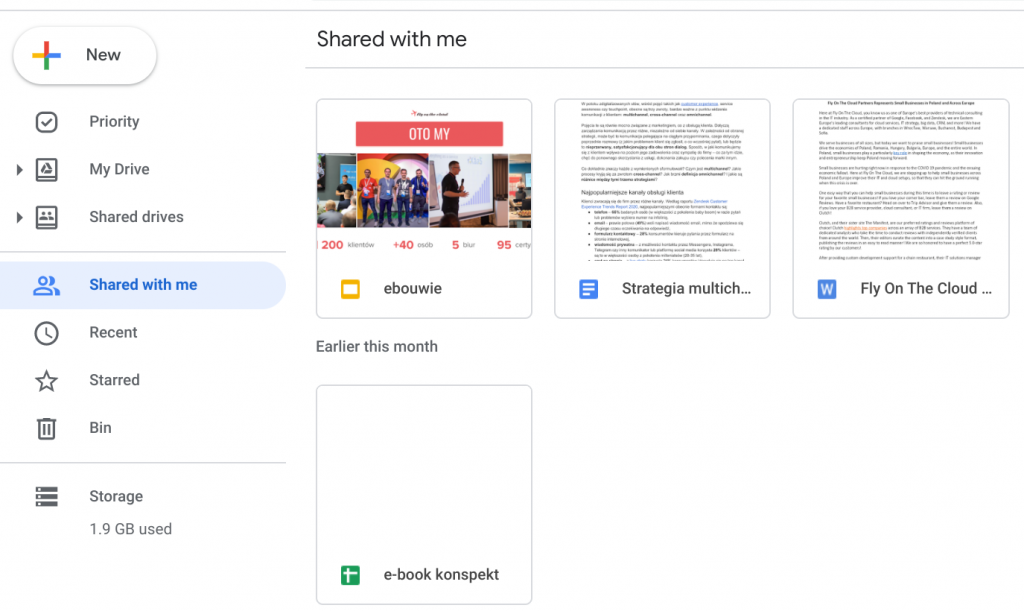 ---
See also: