Nowadays, we are increasingly working in the cloud and that's where we keep most of our files. Google Drive has become a place where we can store files related to both professional and private life. This tool gives us a lot of possibilities such as browsing files from various mobile devices and sharing them with co-workers. Storage for data is shared between Gmail, Google Photos, uploaded files in various formats, and files created in Google office productivity apps.
Google Cloud storage: from free versions to paid larger Drive packages for businesses
However, in reality it turns out that this free Google Drive storage option is not always enough for private users, and it is running out especially quickly if you're using it in business. What can you do if there is not enough Google Photos, Gmail and Google Drive space and you do not own multiple Google Drive accounts for all the files you need daily?
The truth is that the free Gmail account wasn't made for businesses. If you are a company owner or a private user who has their own website, you should consider subscribing to the Google Workspace service. That way you'll get professional email accounts in the domain, full control over data security, plus, an enhanced cloud storage. The Business Standard edition offers you 30 GB, while in the Enterprise package you have as much disk space as you need, and there are two tiers in between.
The use of data depends in particular on the nature of our business. Software development companies, marketing agencies or accounting offices – each of these organizations will store and manage files differently. Even a 2 TB per user (in Business Standart) or 5 TB (in Business Plus) may not be enough for some employees, so it's important to learn how to scale it up for specific users.
What items are using Google Drive storage space?
When identifying what applications are using storage space, look further than just Google Drive. It is true that most files in your Drive or Google Drive trash are taking a lot of space, but you will find hidden data and more storage space used in Gmail and Google Photos. 
You can check which items are using storage space on Google Drive by accessing your Google Drive account through a web browser and navigating to the "Google Drive" tab. Here, you can view all of your files and folders and see how much storage space each one is using. You can also use the "Storage" section in the "Google Drive" settings to see a breakdown of storage usage by file type and size.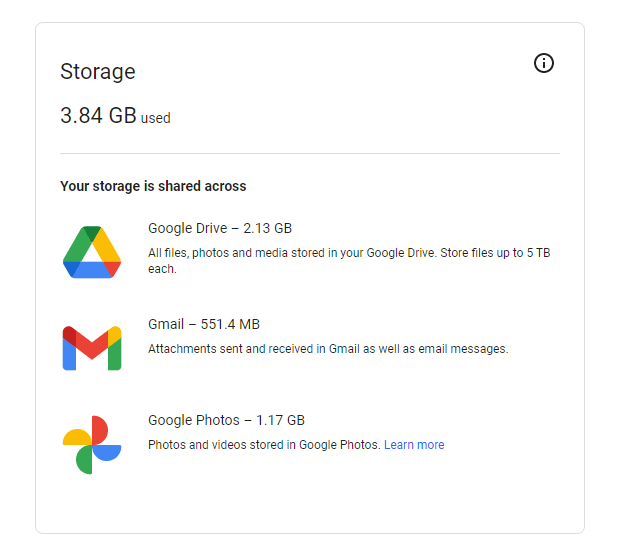 Additionally, you can use the "Search" function to locate specific files or folders that may be using a significant amount of storage space.
How to increase Google Drive storage: Two ways to approach Google storage
✔️ The first is to buy 100 GB or 1 TB of additional space at https://www.google.com/settings/storage. The payment is made on a monthly or annual basis by direct debit. Bills are available on Google Payments at https://payments.google.com/payments/home, through the account from which the purchase was made. By connecting a payment card to a user account, in addition to adding Google Drive storage, you can buy any applications from the Google Play store. After making purchases, the fee for the selected service will be charged to your account. This method seems very convenient, however it's designed with private users in mind. The problem occurs when the invoice is generated. If you want to receive a tax-deductible purchase confirmation, you need to contact Google support. Then you will receive a VAT invoice issued in Euro.
✔️ Better way to increase Google Drive space in Google Workspace is to purchase a licence through a Google Cloud partner, which you can assign to a specific user. That way you can get professional support and monthly invoices in the currency of your choice.

The rates in the partner offer are regulated directly by Google, therefore it is not possible to negotiate. Still, if you decide to work with FOTC then partner discounts can significantly lower your overall Google Workspace bill.
The full price list of additional storage can be found at https://support.google.com/a/answer/1726914?vid=1-635785885519043666-1761410998
How to save Google Drive storage space?
You can save storage space on Google Drive by following some of these steps:
Delete unwanted and unused files: Remove any Google Drive files or folders that you no longer need. Also check and delete hidden app data to delete files and free space.
Compress files: Zip large files or folders to reduce their size and save Drive storage for free.
Convert file formats: Convert large files to more efficient file formats. One good example is converting a PNG image to JPEG.
Remove duplicates and recover storage: Search for and delete duplicate or backup files that may be taking up unnecessary space.
Manage Google Workspace storage: Regularly review your Google Workspace storage settings to manage how much space is being used and make adjustments as needed. Discuss with your administrator when in need of more storage space.
How to ultimately increase Google Cloud storage?
Firstly, you can increase your Google Cloud storage by subscribing to a higher storage tier. By upgrading your Google Workspace account and therefor upgrade Google Drive storage, you can unlock additional storage capacity that can be utilized for storing various types of files, including photos and videos.
Additionally, optimizing storage usage by compressing large files or deleting unnecessary files or spam messages can help free up space. Rummage through Google Docs, Sheets, and Slides and watch how they count towards your storage limit.
Utilizing Google Photos for storing high-quality photos can also help save storage space, as it offers unlimited storage for photos and videos in a compressed format. By managing your Google Drive storage effectively, leveraging Google Workspace benefits, and taking advantage of specialized storage options like Google Photos, you can maximize your available storage capacity and ensure seamless file management.
How to get Google Drive unlimited storage?
If you require more storage than the 15GB limit for a normal Google Drive account, you can upgrade to a paid Google Workspace plan. Starting with 30 GB for Business Starter, 2 TB for Business Standard, 5 TB for Business Plus or as much storage limit as you need on an Enterprise licence, FOTC can help you navigate all the subscription and choose what works best.
See also:
---