Black Friday is a tradition that came from overseas. In Europe, Black Friday is gaining popularity in the online sales segment. Global statistics show that in 2019, 40% of all purchases made on Black Friday took place online. In 2020, this value was to increase to 61%.
Black Friday (or Black Weekend or even Black Week in some companies) is an event that many e-shops are preparing for. In addition to proper promotion, site owners should also take care of the technical facilities to ensure the best possible experience for buyers.
We present the three most common black scenarios and advise on how to avoid them.
When is Black Friday in 2021?
Black Friday takes place every year on the last Friday in November – the day after Thanksgiving, which in the US is celebrated on the last Thursday in November. Black Friday opens the season of pre-Christmas price cuts that lasts until Christmas.
In 2021, Black Friday will take place on the 26th of November. Many online stores do not disclose special promotions and discounted products until Friday afternoon. Despite this, traffic in e-shops increases a few weeks before Black Friday, which is often the result of ongoing marketing activities. Customers visit e-commerce sites, browse the available range and prepare to hunt for discounted products.
Problems that e-commerce may face on Black Friday
Misguided product recommendations, significant site slowdowns due to high traffic, or even a complete shutdown due to server overload. What unpleasant surprises await e-commerce website owners who have not appropriately prepared for Black Friday?
Problem 1: Site failure due to excessive traffic
SimilarWeb indicates that traffic on the 100 most popular e-commerce sites increased by an average of 127% on Black Friday in 2019. Statistics show that much more significant changes in the number of visits are recorded by relatively small stores – the record for 2019 belongs to the ugg.com store, which received 909% more visitors on Black Friday than on a daily basis.
A sudden increase in the number of visitors may cause the site to crash and, in the worst case, to shut down the site entirely. Unless you make sure that you have the right level of scalability. If you use Google Cloud Platform, increasing the upscaling capability is a matter of a few clicks or typing a few commands.
See also:
What is Google Cloud Platform and how does it support business?
20 reasons to choose GCP's cloud infrastructure
Compute Engine scaling with MIGs
An instance group is a collection of virtual machines that you can manage centrally – put simply, as if all the instances were a single machine. You can manage the instances yourself (unmanaged instance groups) or in an automated manner (managed instance groups – MIGs).
MIG provides automatic upscaling and downscaling. Set the minimum and the maximum number of instances to which scaling can be done. When preparing for Black Friday, it is worth increasing the number of instances in the upper limit so that the website can handle the increased traffic. You can do it from the GCP console. Google Cloud Platform won't charge you for your precaution – you'll pay for your actual usage, regardless of the set upper limit.
App Engine scaling
For the App Engine service, automatic scaling is set by default. The service dynamically adjusts to increased traffic (upscaling) and lower usage (downscaling). If you are using the automatic scaling in App Engine, you can welcome many visitors to your e-commerce on Black Friday without worry.
If you use the App Engine and scale the service manually, take care before Black Friday to set an appropriate upper limit on the number of instances.
You can change the scaling settings in the configuration file app.yaml.
Google Kubernetes Engine scaling
If your service runs in containers you manage in Google Kubernetes Engine, you can implement automatic cluster scaling – cluster autoscaler. The autoscaler adds more nodes to the pool to meet the demand. When there is less traffic, the service will scale back down.
You can turn on the cluster autoscaler option in the GCP console. It will be necessary to set a minimum and the maximum number of nodes – when preparing for Black Friday, ensure that the upper limit is high enough.
Problem 2: Slow loading of subpages
The speed of the e-commerce website is crucial from the customer's point of view. 47% of users expect a page to load in 2 seconds or faster, and 40% will leave a site that takes longer than 3 seconds to load (source: KissMetrics).
This means that if you don't take care of the speed of your e-commerce site, many of your audience will not read your shop's offerings, let alone make a purchase. How to ensure website performance?
Scaling
The first step should be to ensure an appropriate level of scalability. Increasing the possibility of upscaling on Google Cloud Platform services is easy. Most services scale automatically or have the option to enable automatic scaling.
Premium Tier
Google is developing its fibre-optic network, connecting all its data centres. Google Cloud gives users two options for transmitting resources using Google's network and the public network – Standard Tier and Premium Tier.
In the case of Standard Tier, the data leaves Google's network at the closest point (endpoint) and is further transmitted via the public Internet. Resources travel a longer route and arrive at the recipient with some delay. The quality or speed of transmission depends on the Internet Service Provider.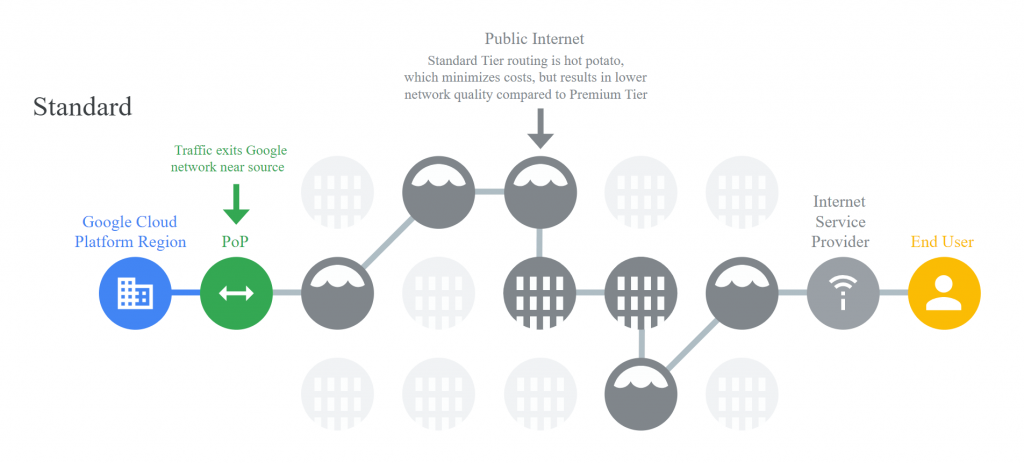 In Premium Tier, most of the route is taken via Google's internal network, and it switches to the public network at the point closest to the customer. Resources travel a shorter distance, transmission speeds are higher, and Google's network ensures high service availability anywhere on earth.

If you want to increase the speed of your e-commerce site and boost performance, go for Premium Tier.
Cloud CDN
Another suggestion to speed up the website on Black Friday is the launch of the Cloud CDN service.
CDN (content delivery network) is a system for delivering content to multiple data centres and Internet traffic exchange points. It was created to minimize bottlenecks in the network bandwidth, ensure high availability and performance of websites, applications and media. The CDN has a routing system that sends static files (e.g. webpage files: HTML, CSS, JS, images and text) to the node geographically closest to the website user.
The launch of the Cloud CDN service will increase page load speed among users in any location without compromising the quality of files, images or videos. It will also increase the website efficiency and improve resilience to transient traffic volumes.
Problem 3: Misguided product recommendations
Customers expect to receive personalized product recommendations. Suppose a customer adds a smartphone to the e-cart and proceeds to the checkout. In the worst case, for the next few weeks, they will open e-mails with a proposal to buy the same phone model or a similar one. In the best case, they will receive an offer to buy a bike carrier for a given model and a power bank with a large capacity. Because the recommendation system, as a result of the analysis of behaviour and visited services, will know that the customer is a fan of long bicycle trips.
Recommendations AI
Recommendations AI is a Google Cloud Platform service that uses the possibilities of artificial intelligence and creates up-selling offers based on the analysis of user behaviour. The Recommendations AI engine has a record of millions of previous user actions – including those taken outside our e-commerce site. The service continuously analyzes information and adjusts products in real-time in response to actions taken by the customer. Recommendations can be displayed to the user through various channels, i.a., on the website, in mailing campaigns, or in online ads.
Disney, among others, uses the Recommendations AI service. Kathy DePaolo, VP of Engineering at Disney, shared their experiences at the Google Cloud Next '19 conference.
Previously, Disney used its in-house recommendation engine. The model offered customers products from the same category, without correctly reading the buyer's intentions. Kathy gave an example of the recommendations a customer received after adding a sleep eye mask to their cart:
the original Disney engine recommended carnival masks (products from the disguises and masks category),
Recommendations AI read the user's intention and offered pyjamas, plush slippers and cuddly toys (products related to sleeping).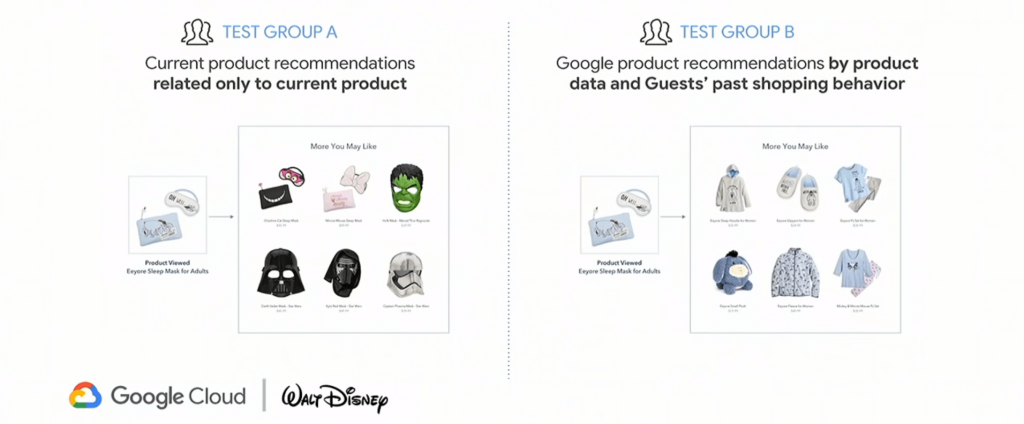 You can add Recommendations AI to your e-commerce website in five steps:
Create a new project or select an existing project in the Google Cloud Platform console.
Send data to the service. You can import data about your products from Google Merchant Center and information about user behaviour from Google Tag Manager. If you have not used Google tools before, collecting the data and importing it into the service will be necessary.
Create models for training and set business goals – model training takes 2 to 5 days.
Select marketing channels in which recommendations are to appear.
Run A/B tests and monitor changes in user behaviour.
See also:
How Google Cloud Platform and artificial intelligence support the e-commerce industry
We will support your Black Friday preparations
We are an official Google Cloud partner. We have certified professionals on board who have supported more than 2000 companies in their digital transformation process. We offer our customers solutions we use daily, so developing or improving cloud-based projects is not a challenge for us.
Contact us – let's talk about how we can support you in preparing for Black Friday