September was not kind to Jamboard – Google announced they are discontinuing the app. Interactive whiteboards will now be available in Google Workspace through add-ons developed by external providers. Chat on the other hand has seen many improvements. When Google discontinued the Currents platform, they promised to shift focus to their text communicator, and they have kept their word. Before we dive into the mosty recent Google Workspace updates, remember that you want to stay up-to-date with Google Workspace launch announcements and new features by joining our Facebook group.
Google Chat keeps evolving
Smarter file sharing
Smart chips have been introduced in Chat! To bring up the context menu in the communicator, simply type the @ sign. A drop-down list will display your recently used files, allowing you to quickly attach them to your conversation. And if you remember a part of the document's name that you want to send, just start typing it after @, and the communicator will show you all the files containing that word stored on your Google Drive.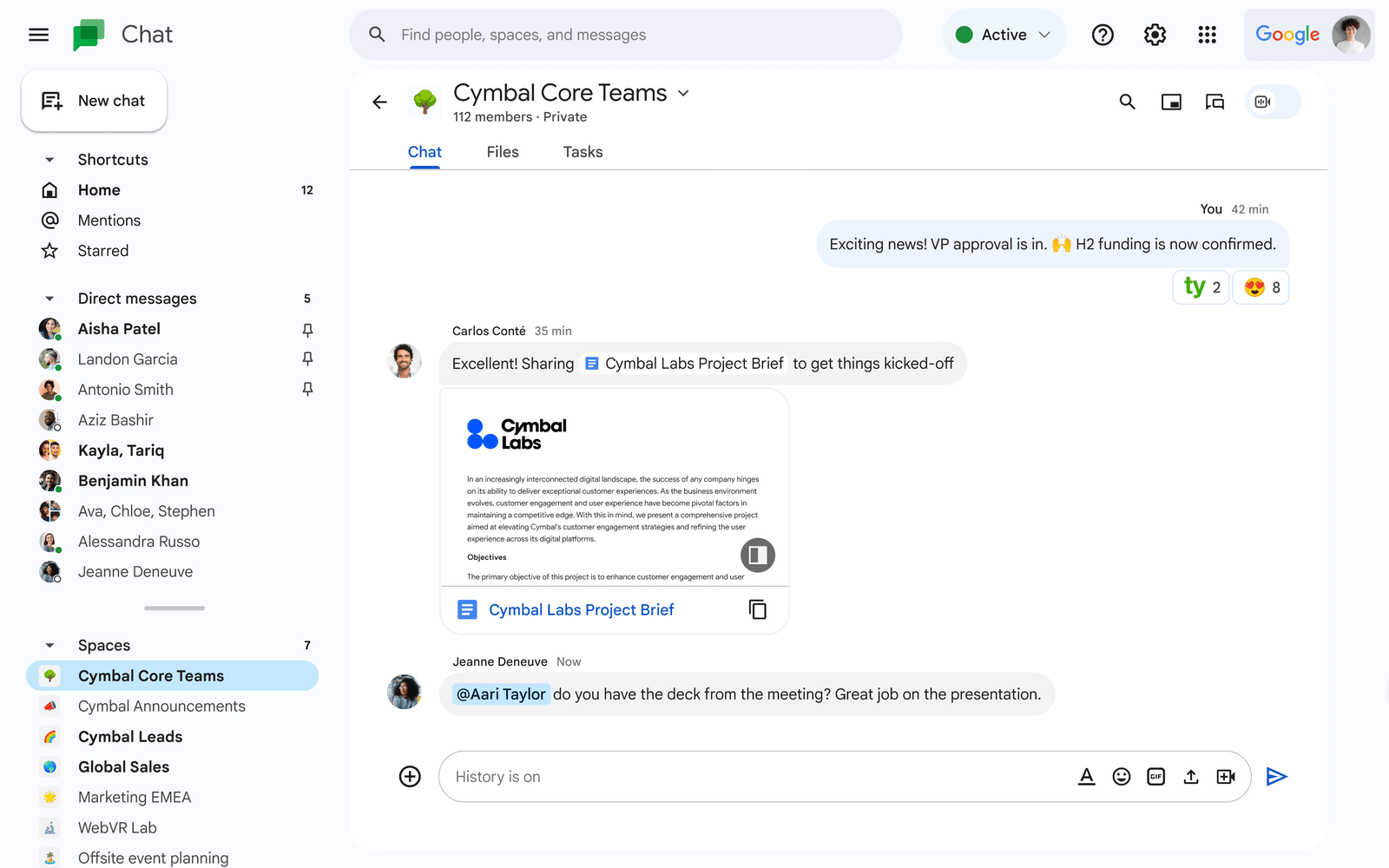 Improved message layout
In April, Google refreshed Chat's appearance. Changes included font style, layout, and panel sizes. Continuing this process, Google introduced a modified speech bubble layout, making it easier for users to differentiate between incoming and outgoing messages. Messages from senders and recipients will now have different background colours and align to different edges of the chat window.
Direct message links
Another feature to enhance efficient communication is the ability to copy a link to a specific message sent via Google Chat. To generate links, click the three-dot icon next to the message, then choose the "Copy link" option.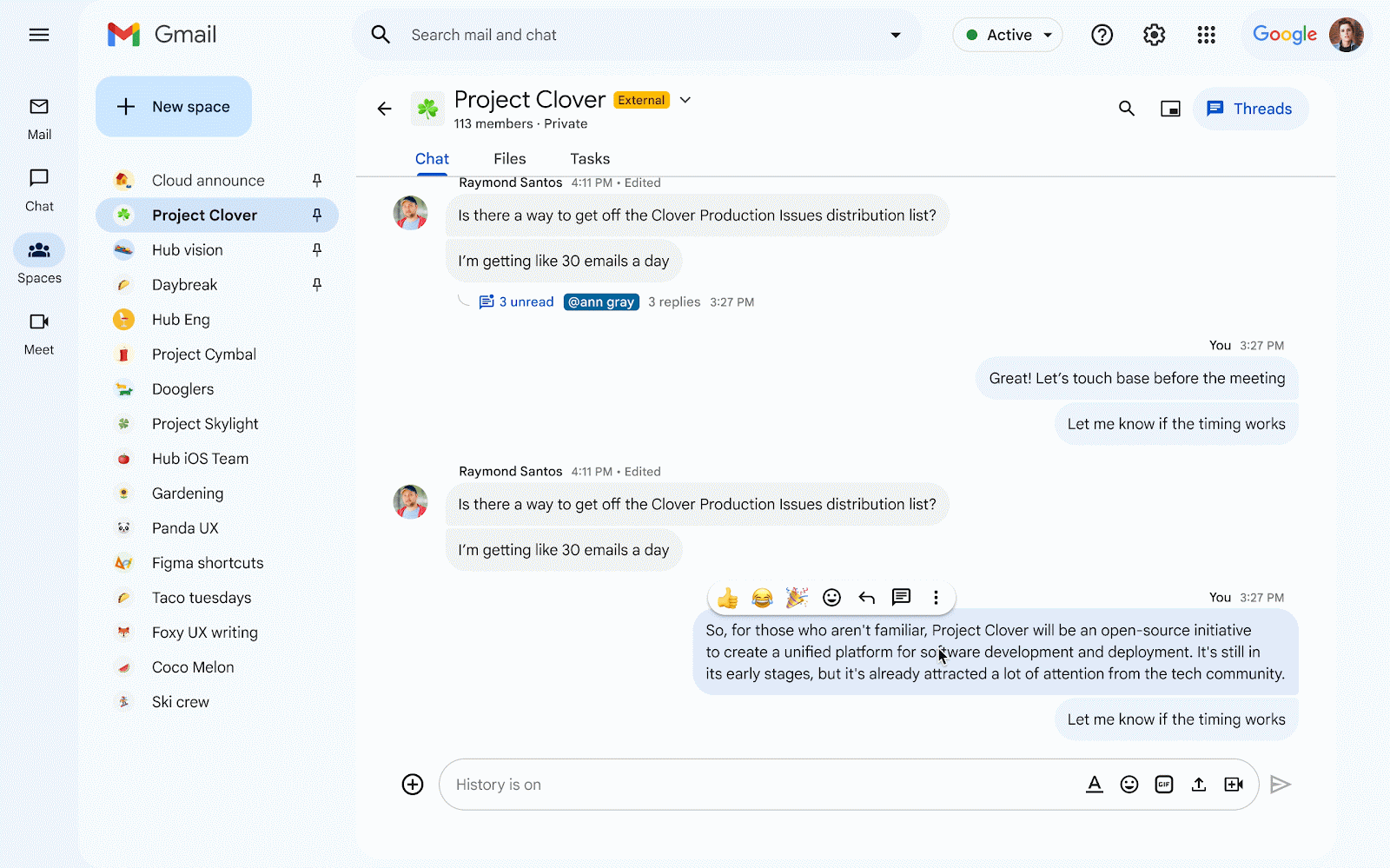 When you share the link with someone else, they will be redirected directly to that specific message, provided they are a member of the conversation where the message was sent.
Group discussions in Google Chat rooms
Google continues to enhance room functionality. In September, the ability to add discussion groups to Google Chat rooms was introduced. When you do this, all members of the group are added to the room. Moreover, any changes made to the group composition (adding or removing users) will automatically update in the room.
New room manager permissions
Room managers recently gained additional privileges. New options, "Manage apps" and "Manage webhooks," allow them to control the ability of room members to add or remove these elements.
Transition of thematic rooms to threads
In 2022, Google Chat introduced threads. Since March 2023, they have automatically appeared in all newly created rooms. Starting from September 30, 2023, existing rooms grouped according to conversation themes will be updated to the version equipped with threads.
The transition process will continue until March 2024. To minimise disruptions in daily work, Google will initiate updates outside of working hours and on weekends.
Administrators can indicate a specific month in this formfor this change and specify whether they prefer the update to occur on weekdays or weekends. This declaration must be submitted by October 15, 2023.
Adjustable thread width
In the coming months, further developments related to thread functionalities in rooms are planned. These enhancements include the ability to adjust the size of the panel used for side conversations, the introduction of a Home tab displaying the latest messages from your rooms, and displaying avatars of users who responded in a thread within the main message window.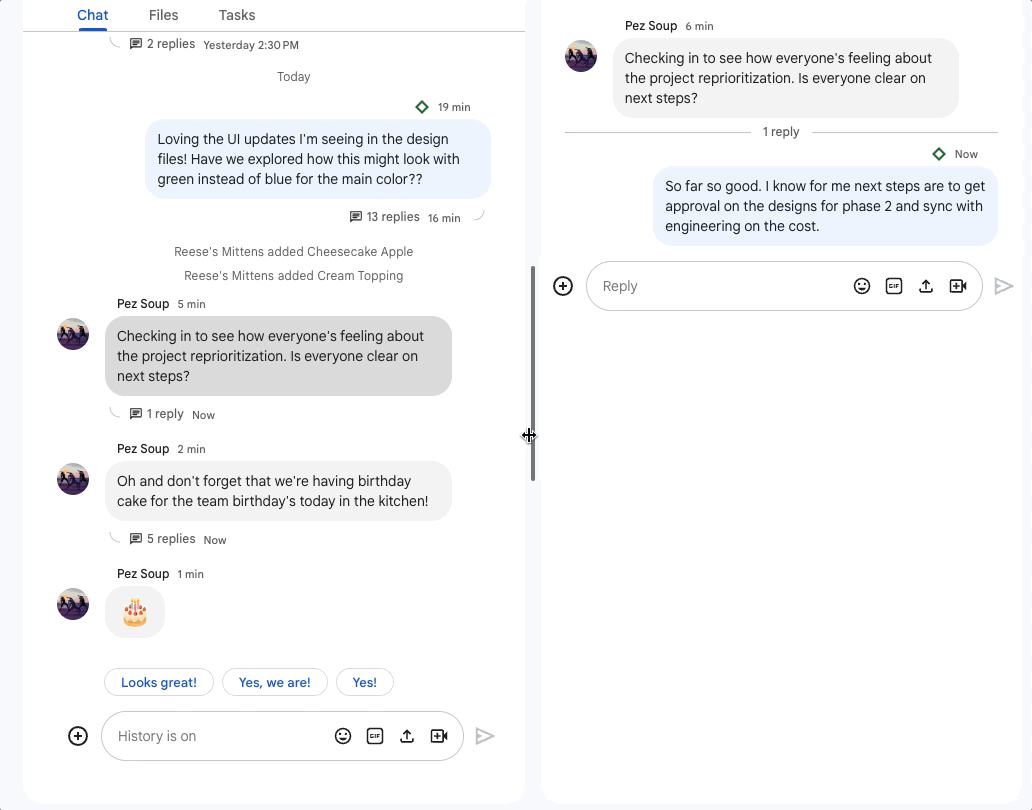 Bulk Member Manager on Google Workspace Marketplace
A new application has appeared on the Google Workspace Marketplace – Bulk Member Manager. This application allows room managers and room members with appropriate permissions to bulk add and remove users from rooms.
End of Jamboard support! A new era for interactive boards in Google Workspace
It's official! At the end of 2024, Jamboard will be removed from the Google Workspace package. Google has also upheld its earlier decision to end support for Jamboard devices.
In place of their own application for creating interactive boards, Google has introduced integrations with external tools of this type, such as FigJam, Lucidspark, and Miro, into the package. These tools will facilitate your work during Meet conversations, file sharing from Google Drive, or event planning in Google Calendar.
These add-ons will also be introduced to Avocor's Series One Board 65 and Desk 27 devices. This means you can use these tools with physical devices and styluses.
This announced change will not be abrupt. Google will ensure a proper data storage and migration path from Jamboard, so you won't lose any files created in this program. Admins will receive detailed information via email.
Google Meet add-ons
Google Meet has expanded its functionality. Now, you can find and install add-ons from other companies without leaving the application. Since September, you'll see a category called "Recommended Add-ons" at the top of the Activities panel. From here, it only takes two clicks to install and start using applications from brands like Confluence, Figma, Lucidspark, Miro, Polly, and Read.ai.
When you click on the logo of a specific application, a pop-up window will appear with a link to the Google Workspace Marketplace. Here, you can download the chosen Meet add-on. Moreover, in some cases, your Google Workspace instance's administrator can install add-ons from the console or block the use of specific applications.

So, whether you want to use the capabilities of interactive boards like Miro or Lucidspark or use Figma for real-time design – now you can do so without switching tabs or opening additional applications.
Easier file locking on Google Drive
Google Drive now allows you to lock files directly from the context menu. To use this feature, right-click on the selected documents and choose "File info" > "Lock." Reviewers cannot make changes or add comments and suggestions to locked documents.
This update streamlines the process of limiting access to files, which was previously possible through the Google Drive API or selected settings when sending a file approval request.
Improved file organisation Google Workspace apps
In April of this year, a new tool appeared on Google Drive, making it easier to change the location of a file. Soon, this tool will also make its debut in Docs, Sheets, Presentations, Drawings, Sites, and Gmail. This way, users will have access to useful suggestions for moving files, adding file shortcuts, or creating copies directly from these applications.
Visual branding on Sites
In August, we talked about the ability to set templates in Presentations and Forms that align with your brand's visual identity. Since September, Sites also have this feature.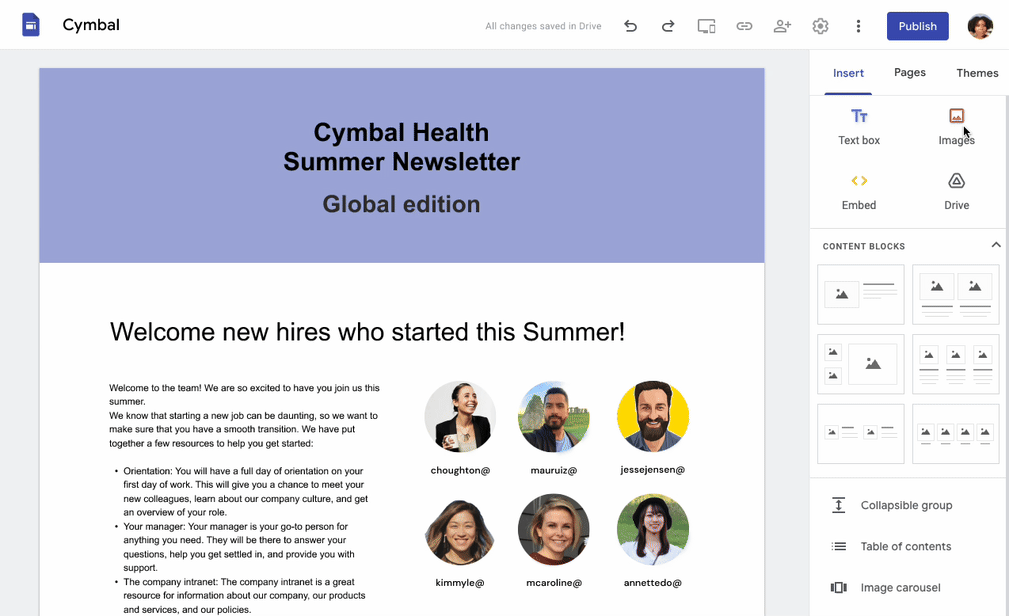 When an administrator sets visual templates for your organisation (Apps > Google Workspace > Drive and Docs > Templates > Organization Branding), users will have access to consistent brand elements. This includes font styles, colours, logos, header images, and even specific page widths and initial frame configurations.
Google Sheets
Increased rows limit in connected Google Sheets
Connected Sheets enable you to achieve BigQuery data warehouse scale and performance from Google Sheets. In September, Google increased the maximum number of rows returned from BigQuery for pivot tables and data fragments:
Pivot tables have been expanded to 50,000 rows (previously 30,000).
Data fragments have been expanded to 50,000 rows (previously 25,000).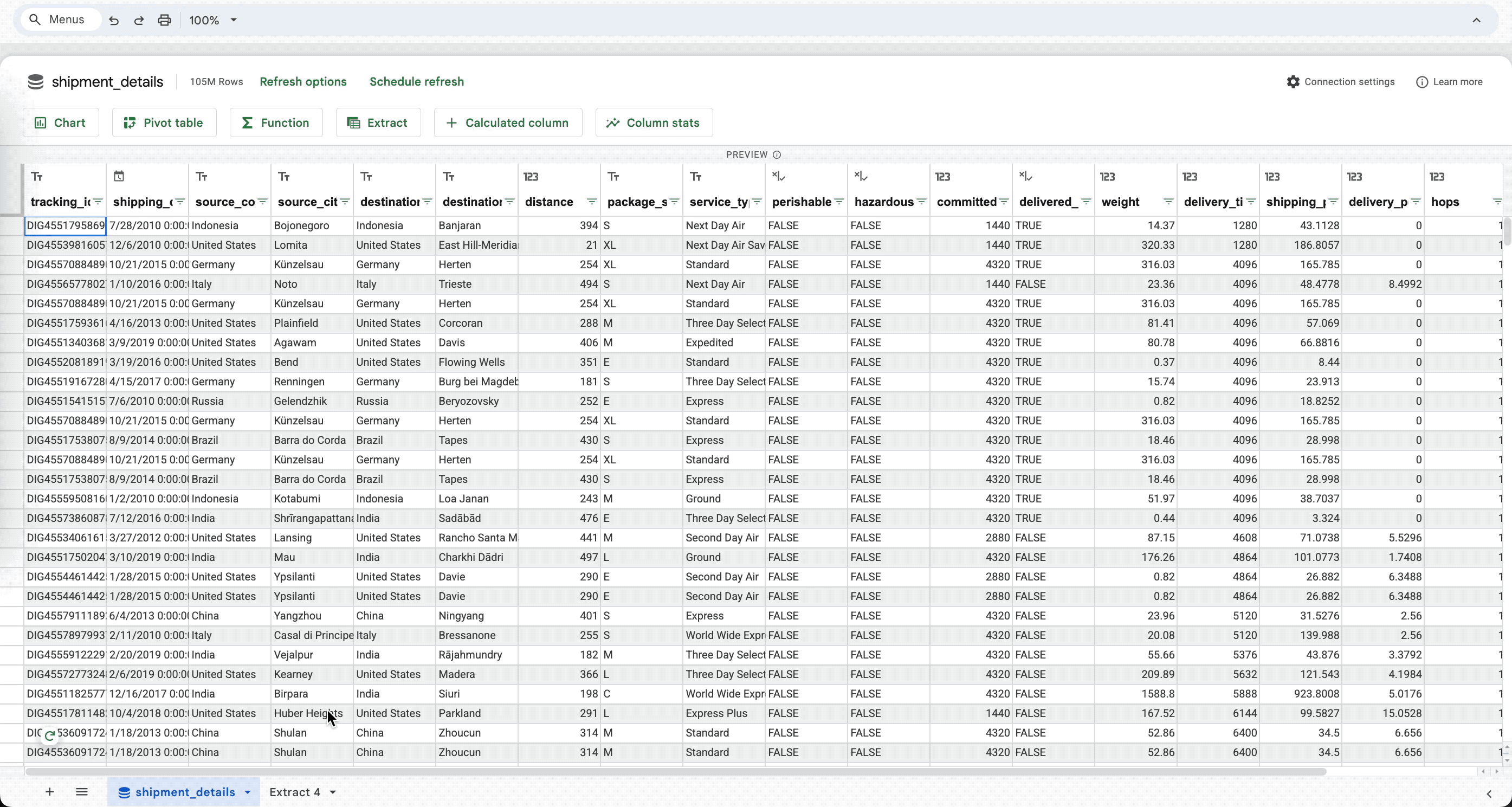 This means you can now analyse even more rows of results from petabytes of data stored in BigQuery within Google Sheets. Additionally, Google introduced performance improvements for pivot tables and data fragments in connected sheets. These updates include creating pivot tables, deleting fragments, cutting/copying/pasting data in pivot tables, inserting rows, or deleting columns.
Pasting numerical values in Google Sheets
Who hasn't had the problem when pasting a number in Google Sheets using Paste special > Values only? The option would result with only the text from of the original range of cells, e.g. a date value 9/21/2023 would become a serial number of 45190. Now, the default for paste values for numbers will retain their formatting.
End of Support for LSA and Google Sync
Starting from September 30, 2024, Google Workspace will no longer support login methods that require users to share their Google login and password with third-party applications and devices used by external company applications. Less Secure Apps (LSA) is one such login method that is outdated. Users employing LSA share their confidential data with third-party applications and devices, making it easier for cyber-criminals to gain unauthorised access to their accounts. As part of this change, Google Sync will also be discontinued.
A significantly more secure method for synchronising email with other applications is to use "Sign-In with Google." This method utilises standard and secure authentication called OAuth, which is already employed by the majority of applications and devices from other companies.
Save more on your Google accounts with FOTC
If you are a Google Workspace user, you probably know how well this set of tools performs in practice. What you might not know is that through collaboration with FOTC, you might be able to pay less for your remote work application package. Get in touch with us to see if we can negotiate a better price for you.