The past month was brimfull with Google Workspace novelty, especially Google Meet ones – from the launch of 1080p resolution in 1:1 meetings and live broadcasts, turning off video feed for certain participants or co-presenting Google Slides projects. Read the article below for even more about the latest Google Workspace innovations.
Google Chat: Enabling organisational communication with announcements
Recently Google announced new capabilities for Space Managers to ensure effective conversations within Google Chat. Staring now, they are also giving Space Managers the ability to configure spaces for sharing organisational announcements. Using the new announcement-only configuration, message posting and other capabilities are limited to designated Space Managers, who can:
Create a space with a restricted post setting
Post
Reply in thread
Add files
Designate another member as a Space Manager
Modify the space settings
A space must be configured as announcement-only during initial set-up by clicking "only Space Managers can post." However, at any time, an existing Space Manager can assign the role of Space Manager to another Space member, allowing them to post messages and perform other tasks as noted.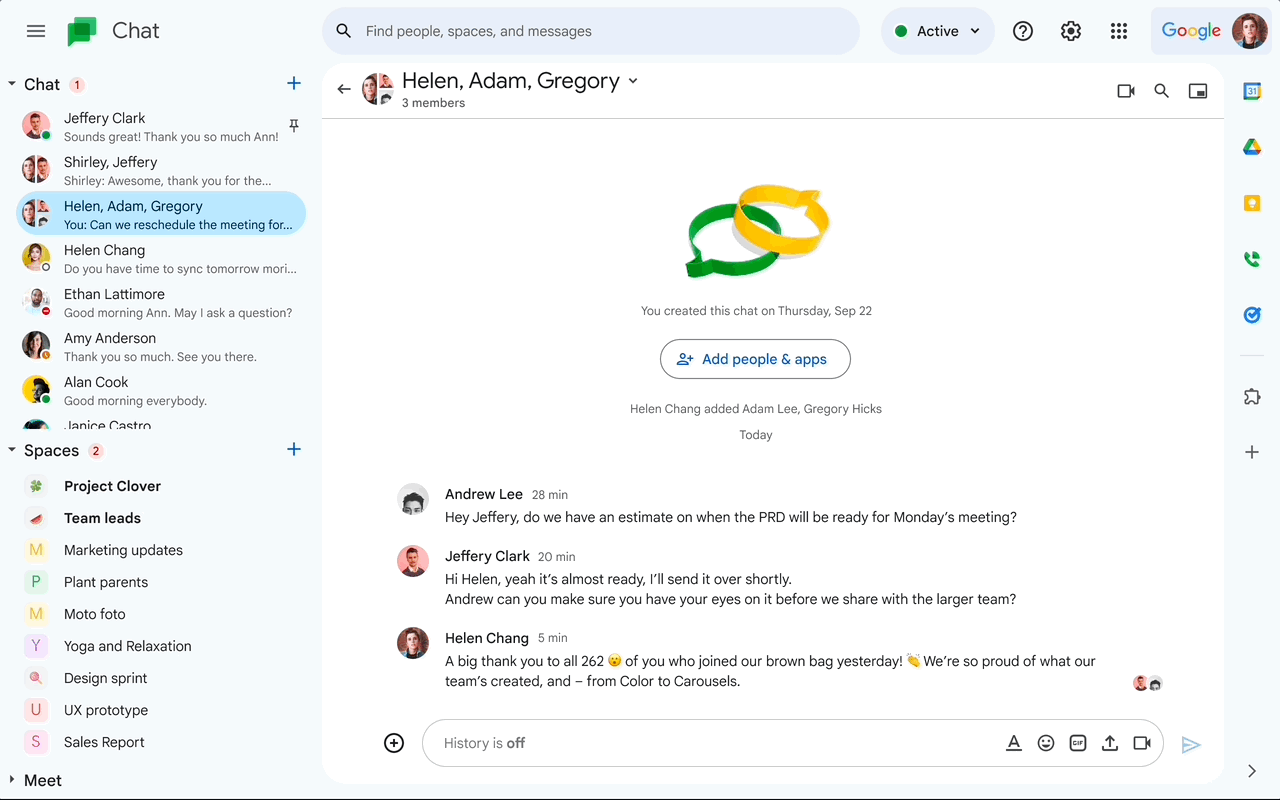 Google Drive: Streamlined file localisation with location picker
Organising and collaborating just got better within Google Workspace with Drive's new location picker.
The updates include a new visual experience and helpful suggestions when moving files and folders or adding shortcuts to items in Drive, but also:
"Suggested", "Starred", and "All locations" tabs. Upon navigating into a folder location, the tabs are replaced by a back button and the name of the location 
Details for the selected folder paths, an option to create a new folder, and an image notification if you're moving something into an empty folder 
Suggested locations and the option to reject the suggestion, which immediately removes it from the list 
Streamlined navigation that adds an inline button to complete the action of moving a file in one click 
A label if a folder is "view only" and explanations for why you might face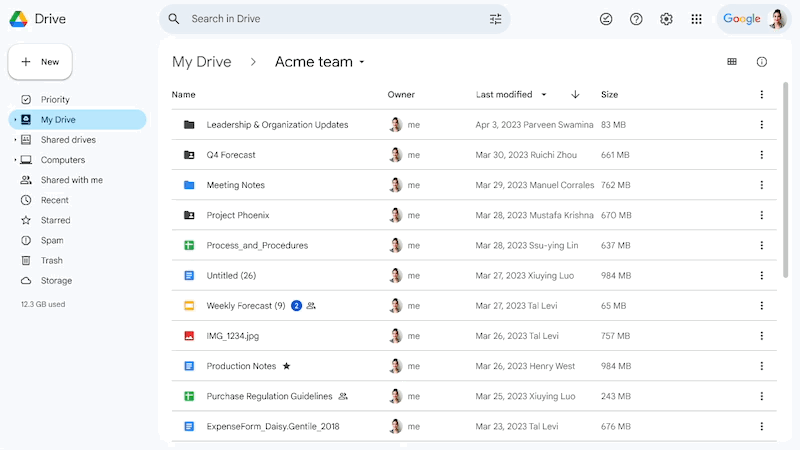 Turn off the video feed for select tiles in Meet
You can now turn off the video feed from other participants during a Google Meet call. This can be helpful in situations where you want to focus your meeting view on just the presenter or hide participants with distracting video feeds.
This will only impact your experience — other participants will not be notified nor will their experience change. This feature will be available on Google Meet on the web and mobile devices.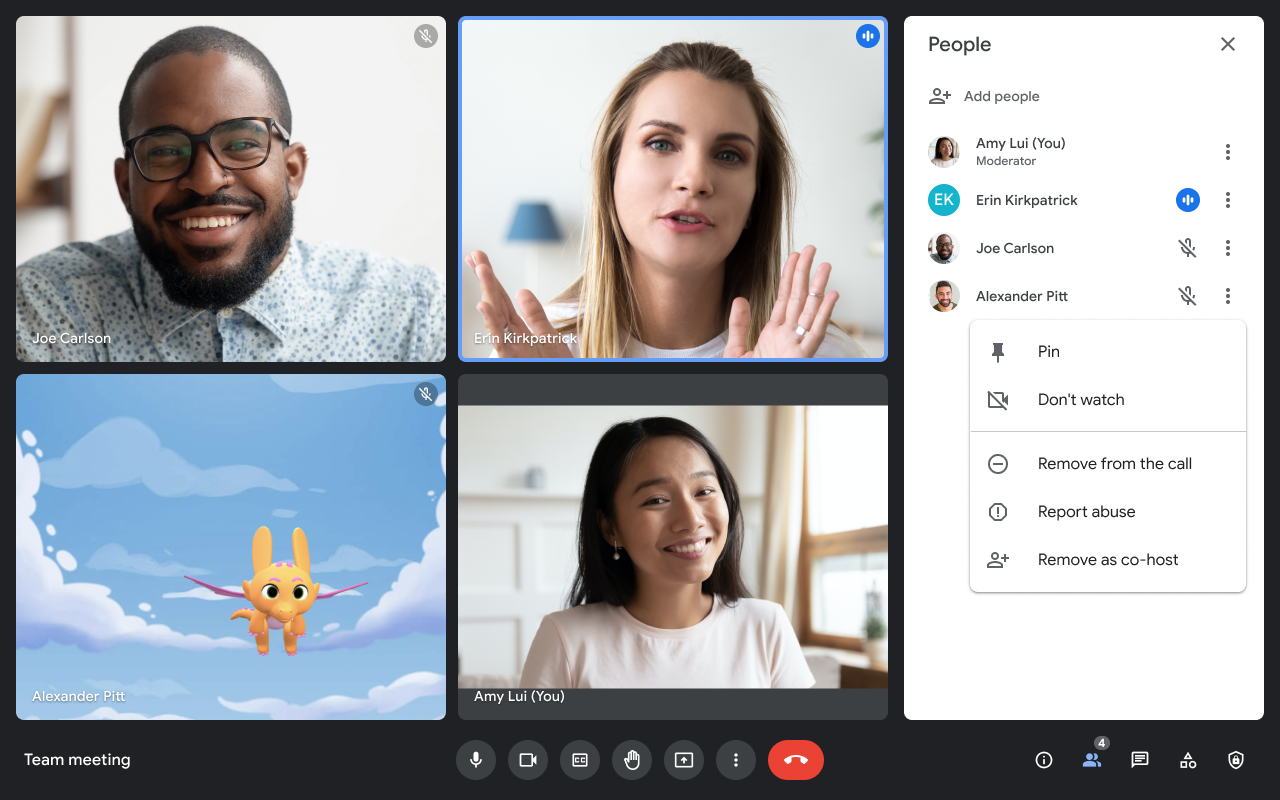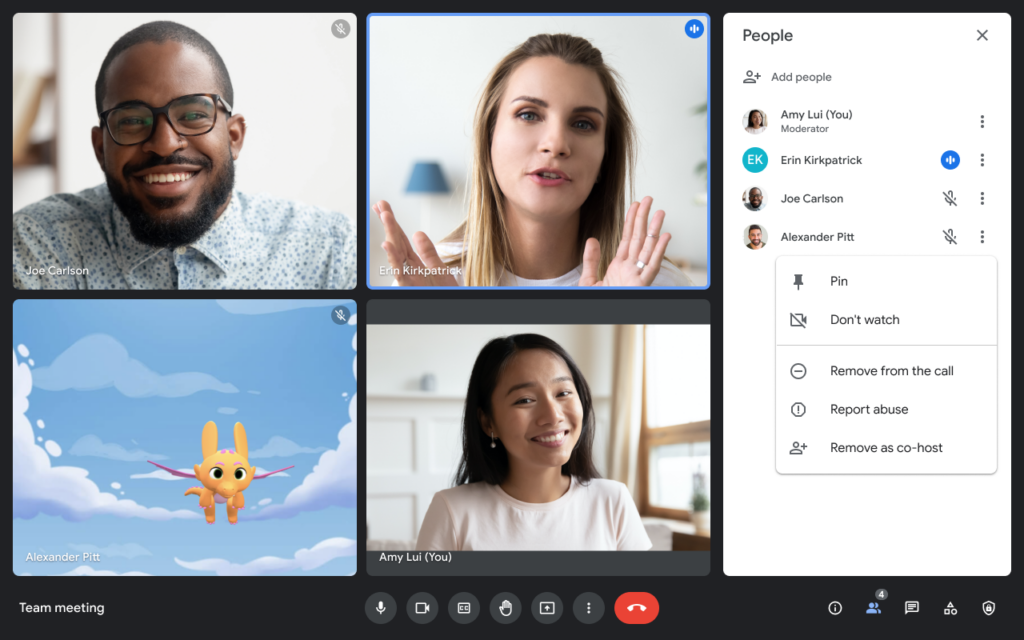 If you're joining a meeting from a mobile device, you can now select "Audio only", which will turn off all video feeds apart from tiles that are presenting content.
Google Chat: New fonts, colors, layouts, and more
Your favorite communication tool just got better. Google is introducing a more consistent, enhanced look and feel for Google Chat.
Get ready to notice updated fonts, colors, layouts, panel sizing and more. Some other changes include top app bar updates, left navigation, main message view, compose setup, new topic button, and the side panel for threads.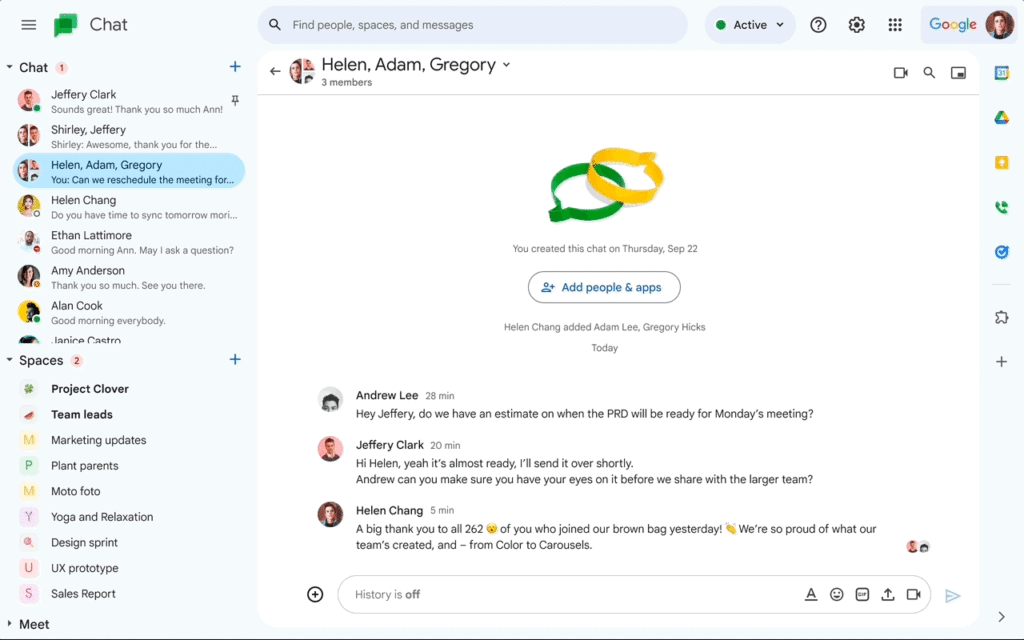 Assign admin roles to specific groups
You can now start assigning role-based access control with the new role assignments to groups. Admin roles can now be assigned to groups, in addition to or instead of individual users. For example, you can assign the service admin role to an existing group that contains all of the IT admins in your organization. 
There is currently a 500 role assignments limit, with groups already being able to contain unlimited members. 
This feature  is particularly helpful for larger organizations, allowing them to pare down their role assignments without exceeding the limits.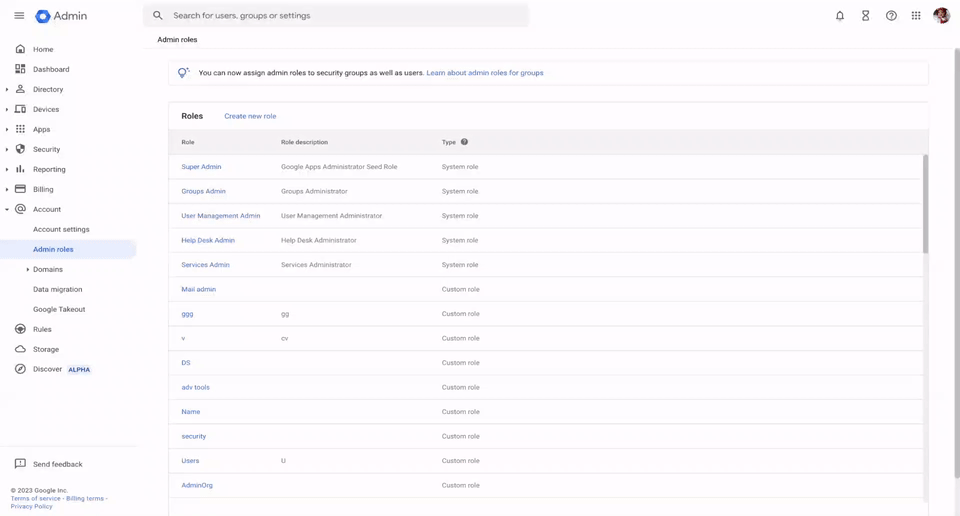 Gmail: Better location context for events and RSVPs
At the beginning of the year, RSPVs with work location became easier to use in Google Calendar.
The enhancement is now also available in Gmail. For users who have already filled in their work location in Calendar, this will be used as default join method for any RSVP.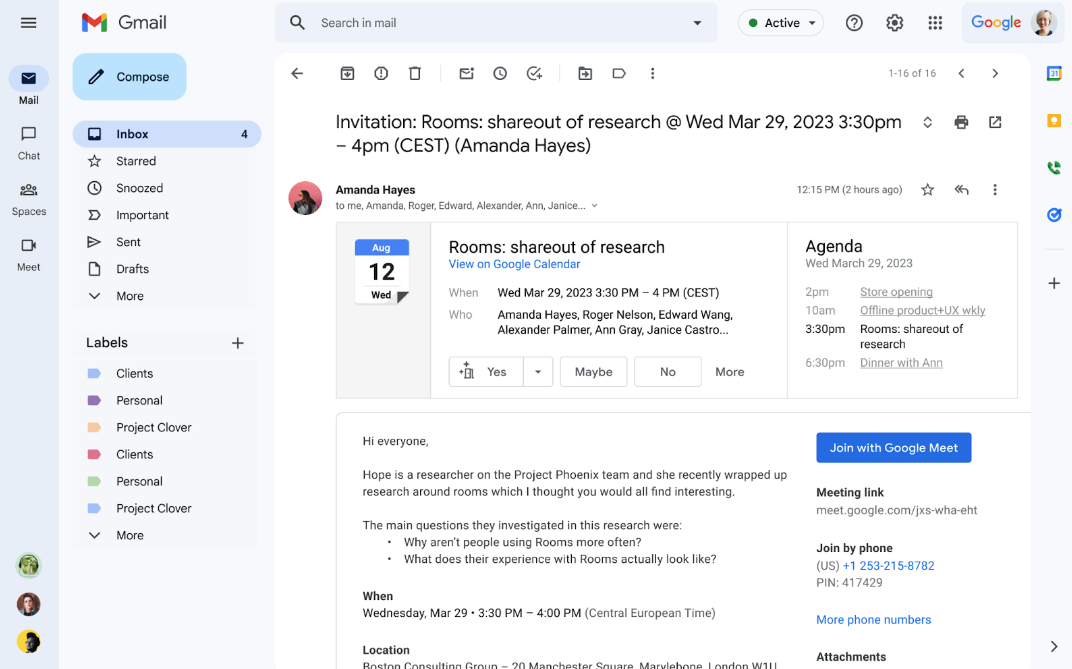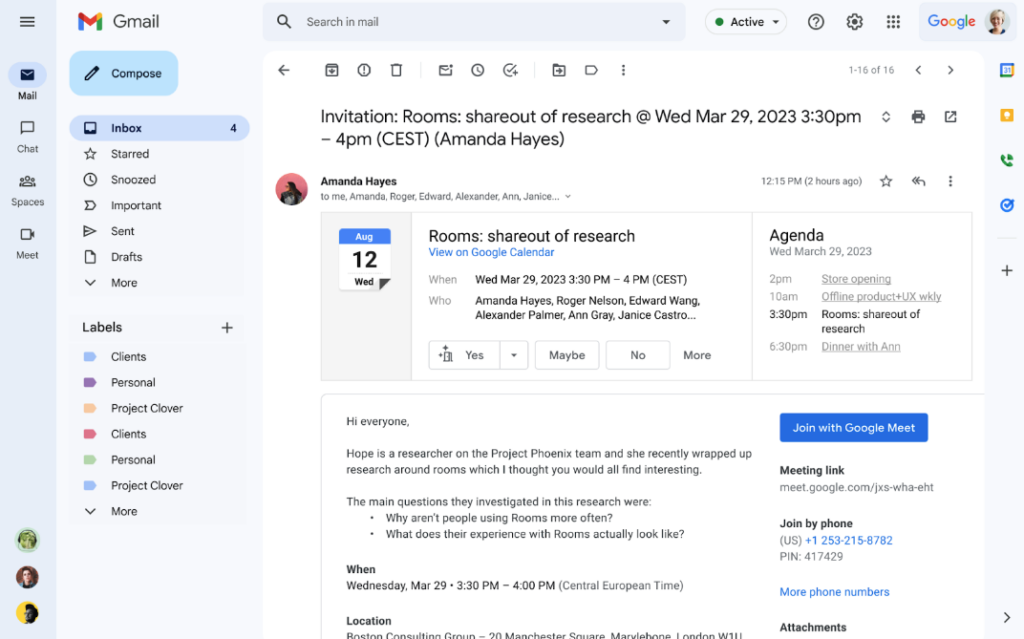 Co-present Google Slides in Google Meet
Building upon last year's announcement of presenting Google Slides directly in Google Meet and the latest ability to view your speaker notes within Meet, Google added a new feature that allows multiple people to present together in Meet. As the primary presenter, you can assign participants to co-present Slides with you. As a co-presenter, you can:
See the audience, presentation, and Slides controls in one window
Navigate the presentation
Start and stop media within the presentation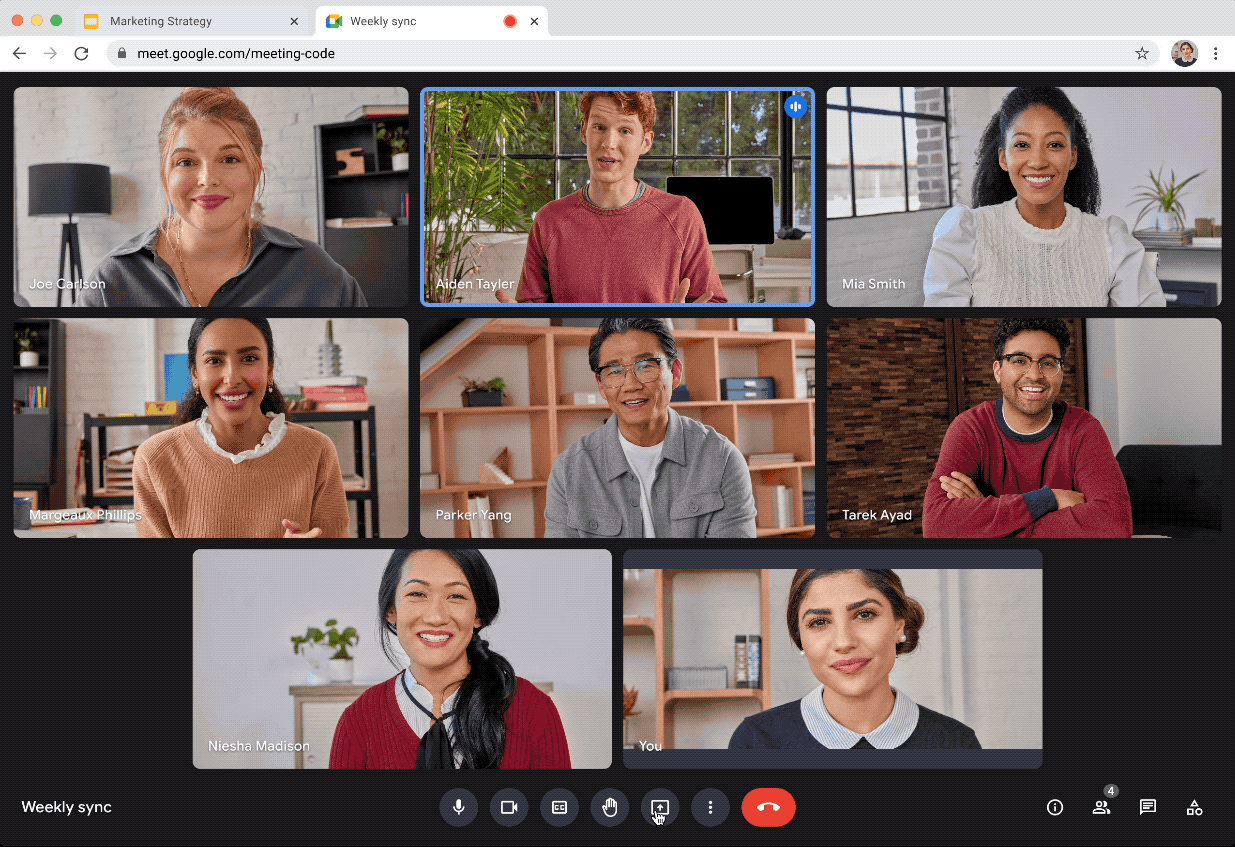 This eliminates the need to ask a colleague to move to the next slide in a presentation, leading to smoother transitions and minimal distractions. In addition, this feature further bridges the gap between people working from different locations.
Google Meet: Full HD resolutions for 1:1 meetings and livestreams
Make your daily and weekly calls an even smoother experience with the new Google Meet display resolutions.
Enable 1080p resolution for your 1:1 meetings, available on the web only Google Meet app, when using a computer with a 1080p camera. The new high definition resolution is disabled by default – eligible users will be prompted before entering a call about the new 1080p option. This can also be enabled or disabled through the settings menu.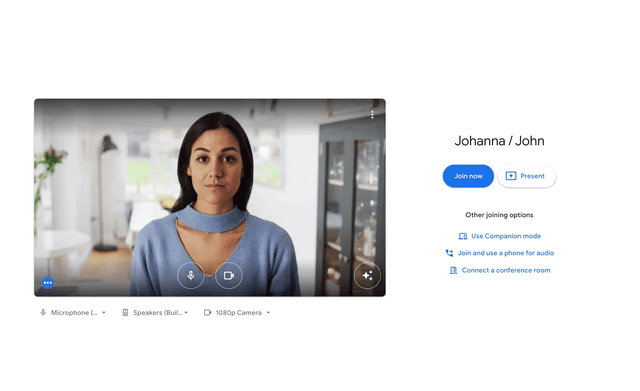 At the same time, Google has also decided to increase the resolution for Google Workspace livestreams organised through Meet – from 720p to 1080p.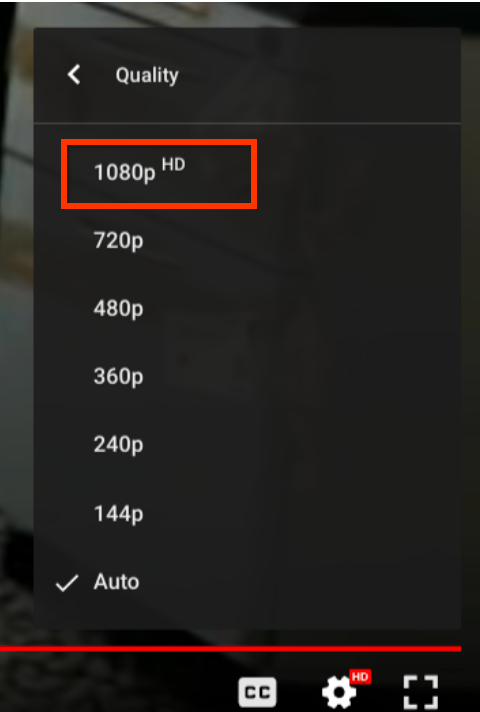 Google Chat: Set a custom time period for messages to be automatically deleted
For select Google Workspace editions, admins can now define a set period of time after which their users' messages in Google Chat will be deleted automatically.
This can apply to messages in 1:1 conversations, group conversations, and spaces — time periods can be assigned for each message type.
Note that this retention period only applies to messages sent when history is enabled. The auto-deletion timeframe can range from 30 days to several years.