August brought a few interesting features to Google Workspace apps, but most importantly it has brought about the roll-out of Google's long-awaited response to Microsoft 365 Co-Pilot. Here comes Duet AI, a multi-purpose AI tool that is designed specifically for Google Workspace users. Let's dive into August Google Workspace update.
Duet AI
Google's release of Duet AI is undeniably the biggest roll-out in Google Workspace this month. It's currently available as an add-on in the Google Workspace Enterprise package. The new AI tool's capabilities will range from:
Text generation based on textual prompt in Google Docs and Gmail
Summarising several input documents
Proofreading and translating
Image generation in Google Slides
Video enhancement in Google Meet
AI assistant capable of attending meetings in Google Meet and taking notes, and more.
Duet AI is currently available for testing.
eSignature for Google Docs and Google Drive
Every business deals with contracts and keeping track of important documents can be cumbersome. To aid with streamlining document workflow, Google has integrated verified signing software into its apps. Google Docs is the first app in the Google Workspace portfolio to make this service available.
After a phase of alpha testing, Google has launched beta testing for Google Workspace individual subscribers to test the native integration of eSignature in Google Docs.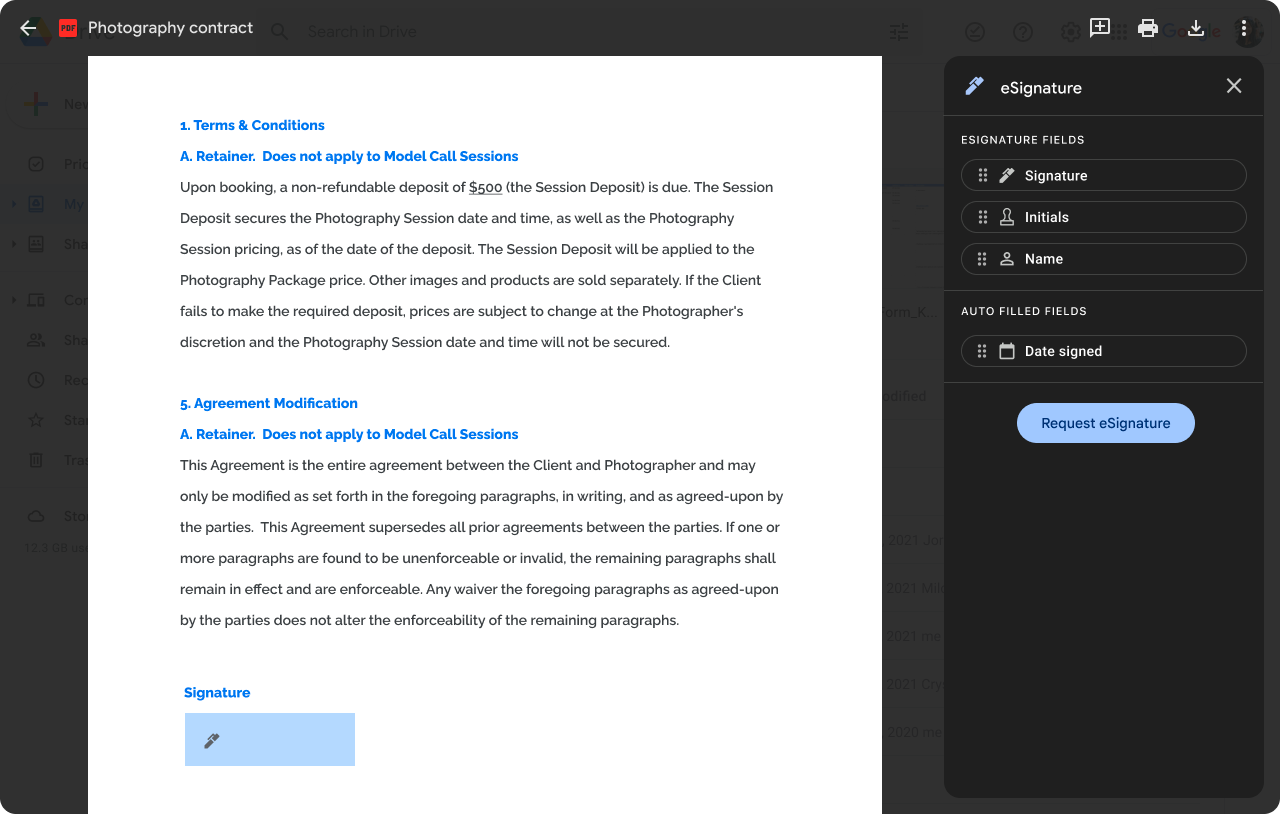 With the use of eSignature, Google has made it easier to sign binding documents in Google Docs as well as:
request signatures and track the status of document signing;
find completed agreements;
copy an existing contract and use it as a template for future eSignature requests.
What's next?
After the rollout of eSignature for Google Docs is completed, Google plans to expand its capabilities to:
PDF signing – allowing users to request eSignature on their PDF files in Google Drive;
Allow multiple signatories – requesting signatures from many users;
Enable the use of eSignature to non-Gmail users;
Automatic audit trail – an automatic audit trail report.
New security feature for admins
Context-aware security policies
A new feature for admins overseeing the security of their company's Google Workspace accounts. They can now make use of context-aware access to block users from accessing Workspace apps from either Google or third-party applications.
Google admin console will allow them to set different access levels to apps depending on who the user is, and the context of their access requests: location, IP address, device they are using etc.). It's another step in ramping up security controls and protect businesses from data leaks.
The new security feature is available to Google Workspace Enterprise Standard, Enterprise Plus, Education Standard, Education Plus, and Cloud Identity Premium customers.
Google Docs
Linkable headings
Google introduced a useful feature for referring your colleagues and clients to specific sections in your documents, especially long ones. If you want to point your client to a specific subsection in a white paper, you can now do it by using linkable headings in Google Docs.
In order to do it, mark the important section header as Heading 1 in Format > Paragraph styles: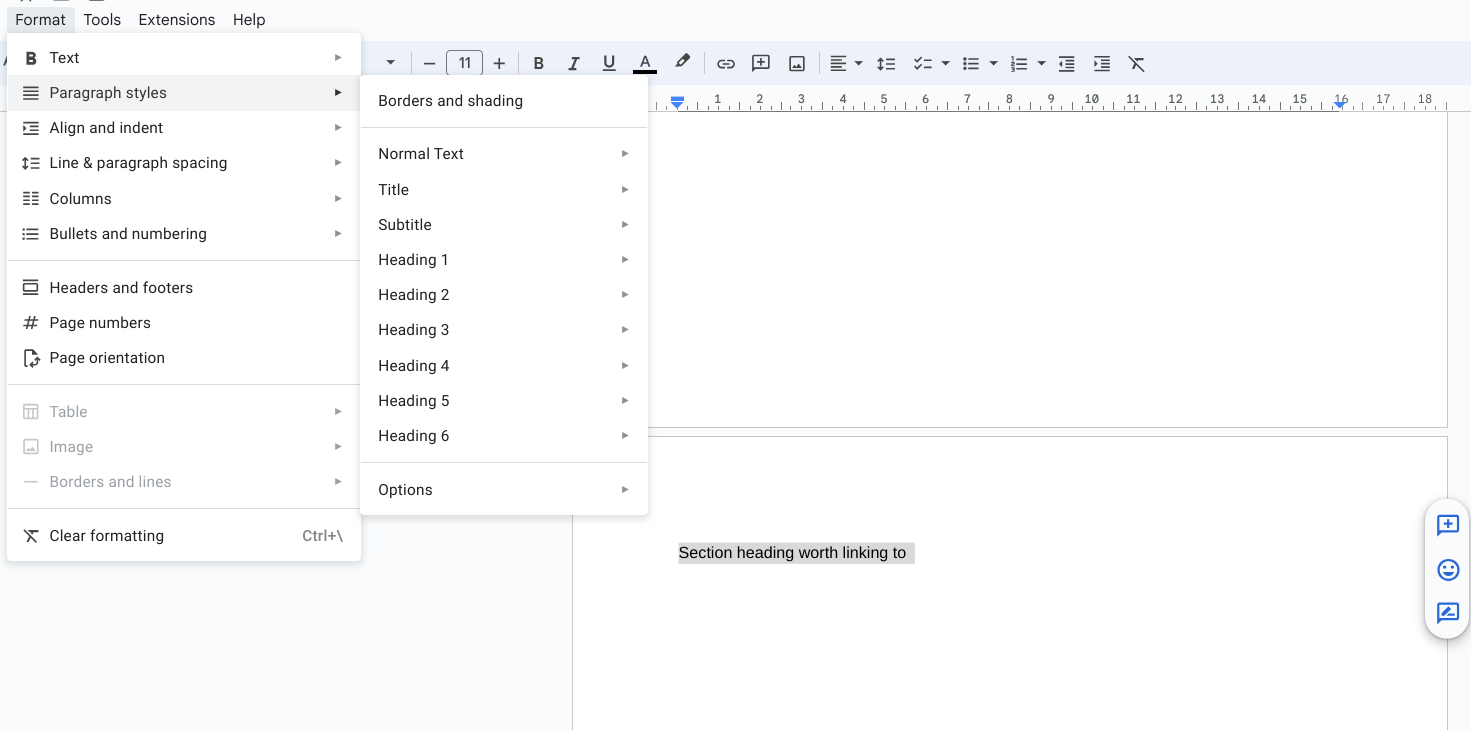 Then highlight the heading and click the Copy heading link button.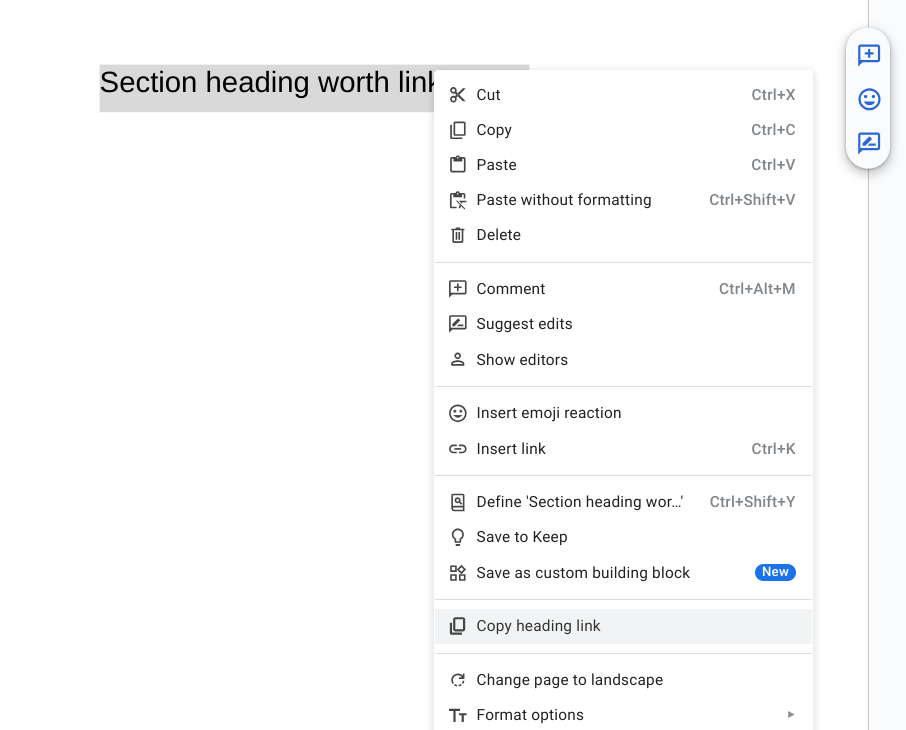 You can paste the link you have created into your email or anywhere else you want to use it. Upon clicking it, the reader will be taken directly to the desired section of your document.
Google Meet
Sharing Slide notes on Google Meet
Google Meet has supported multiple presenters co-presenting the same slides for a few months. Now, co-presenters will be able to use the same set of notes in order to eliminate the need to switch between Meet and Slides. This Google Workspace update works on computers with a Google Chrome or Edge browser.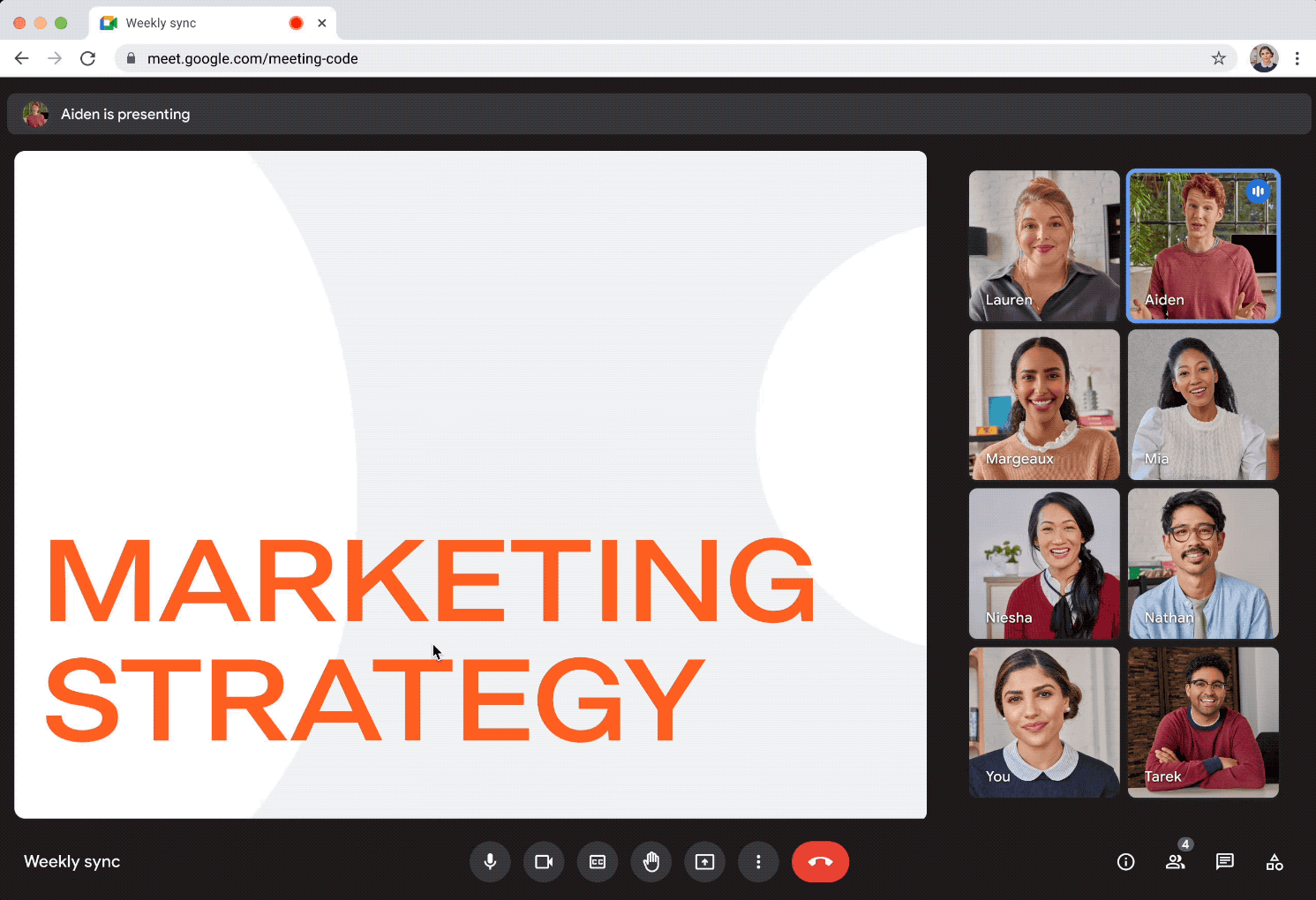 As the main presenter, you will need to select present a tab in Meet and then click start slideshow. You can then add a co-presenter from the drop-down menu of the people panel.
The co-presenter will be notified of the role assignment and will gain control of the presentation (provided they have access to edit it, so make sure you make it available to the co-presenters beforehand).
You can click to view the speaker notes button in the bottom corner (presentation controls).
Q&A moderation in Google Meet
When running a Q&A session after a meeting, you want your participants to stay on topic. Off-topic remarks and inappropriate comments can disrupt the flow of the meeting and undermine its goals. With the Q&A moderation feature, meeting hosts can now look through a list of audience questions pending approval and approve the ones they want displayed for all participants to see. Question moderation is supported for meetings on web and mobile devices, as well as for in-domain live streams.
In order to activate this feature, you will need to turn in on in the host controls Meeting activities section:
The meeting's attendees will be informed whether or not their questions must be approved by a moderator.
Google Slides
Annotations in Slides
In order to draw the attention to e.g. a specific data point in your presentation, you can now use a new pen tool to circle, underline or highlight, and even jot down quick notes directly on your slides.
To make use of the new update, click the Slideshow button in the appbar. This way you will open slideshow mode. Then hover over the bottom-left side of the viewer and click on the three dot menu. Then select Turn on the pen and you can start annotating. There is an eraser tool in the bottom left viewer menu in case you get carried away with your annotations.
Google Chat
Workday in Google Chat
In order to simplify processes for remote teams, such as vacation requests and looking up colleague availability, Google is integrating the Workday app to Google Chat. It allows Google Workspace users to request time off, file expense reports and check if their colleagues are at work, without switching to different apps. The Google Workspace update is available for all Google Workspace editions, for users with personal Google accounts.
Gmail
Native translation integration for mobile devices
Google announced that all Gmail users can now use a built-in translator on iOS and Android mobile devices. It the same feature that has been available for desktop Gmail users for years.
Gmail app will detect whenever the language of the message does not match the Google.com Mail display language and ask if you want the email translated. When a dismissible banner pops up under the message title, select Translate and choose your language. You can also use the option to always translated selected languages.
Don't worry if you accidentally dismiss the Translate banner. It will pop up again when the content of an email is in a different language from your settings.
Bilingual users might be interested in the option not to translated a specific language in the future. Just click the Don't translate [language] again prompt that appears once you've dismissed the translation banner.
Also, remember that you can always manually translate an email through the three dot menu.
Google Drive
Google has made it significantly easier to delete all unwanted messages in the trash folder on a shared drive. You can now empty the entire trash in one go. The files and folders will be deleted forever after 30 days.
Google Calendar
Displaying names of MS Outlook users
In order to increase interoperability with Microsoft's Office suite users, Google Calendar now displays the names of the attendees using Microsoft Outlook. With this Google Workspace update, you can see who received a Google Calendar invites regardless of what office software they use. The new feature is automatic for all Google Workspace plans.
Google Workspace for Education
Third-party apps for users under 18
As the school year has begun, Google is introducing another safety feature in its Google Workspace for Education edition. It is designed to protect users under the age of 18 from potentially malicious third-party software.
All Google Workspace admins have to review all third-party apps that their underage users have access to by October 23, 2023. There is a loophole for unconfigured apps that ask only basic profile information for authentication purposes.