This September's edition of Google Workspace updates is a shorter one, but just as interesting to browse. Discover the updates of the month for apps like Google Meet, Google Chat or Google Keep.
Work Insights reporting for Google Chat and Google Meet
Work Insights is a tool that provides data related to the adoption of applications, work patterns, and collaboration within the Google Workspace platform. Along with the recent upgrade of Hangouts updating permanently to Google Chat, Google also announced the release of Work Insights for Meet and Chat.
With these new measurements incoming from Insights, businesses will have an even better overview of how users are using apps like Chat and Meet. This could be an important step towards an even closer team collaboration.
Insert Google Maps place chips into Google Docs
It has been an year now since it became possible to enter a location into Google Docs by pasting a link from. Now, the same function is available through the insertion of location chips.
Now, you can insert such chips into your documents using the "@" quick menu.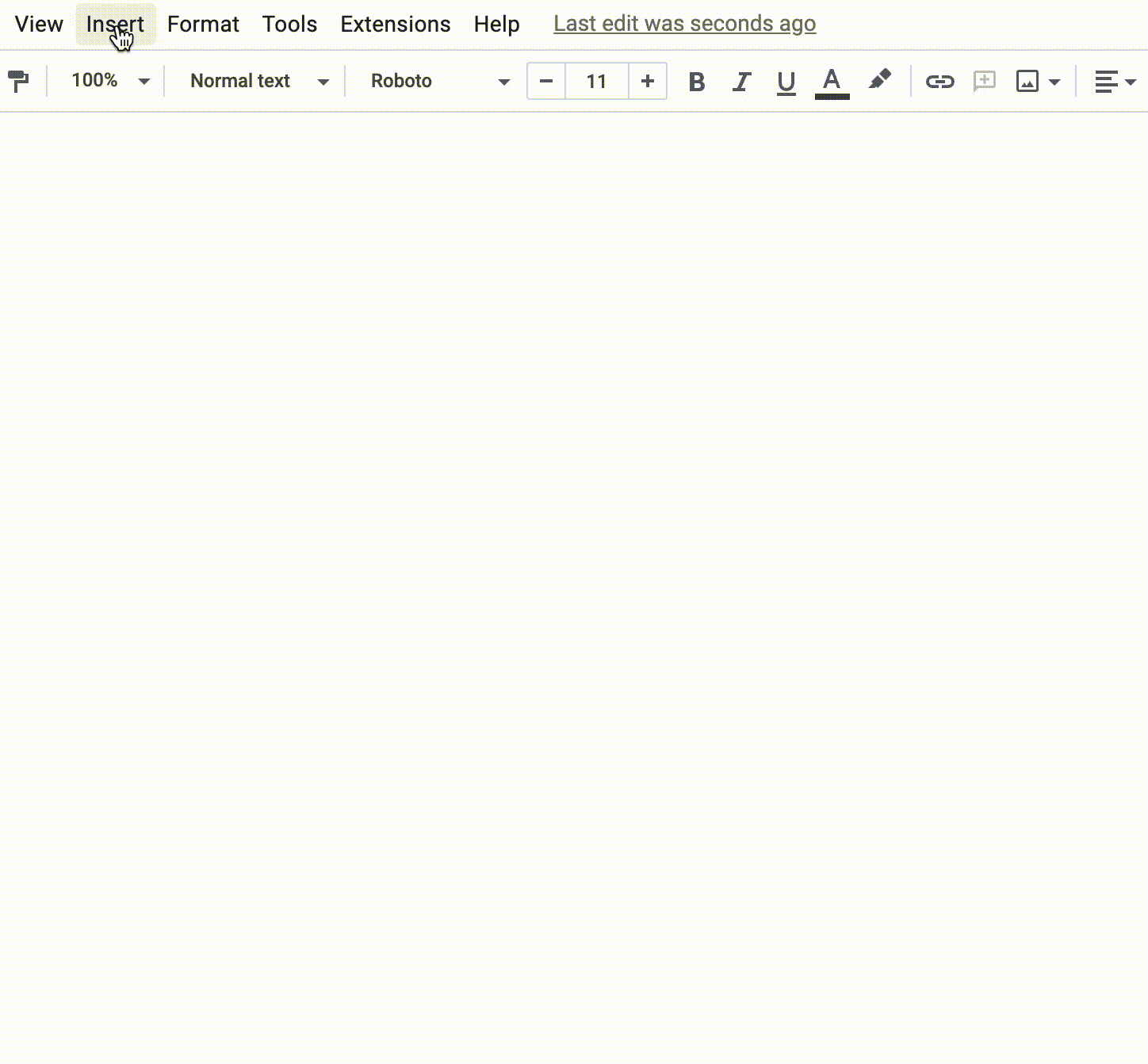 OPTION 1: BY CREATING A CHIP
To create a location chip, open a document in Google Docs.
You can: go to Insert, then Smart Chips, and then "Place" or you can use the "@" menu.
OPTION 2: BY ENTERING AN ADDRESS OR LOCATION
In the drop-down menu, select an option to create a location chip.
Copy a direct link from Google Maps.
From your browser, open Google Maps and find a location.
Once you've found a location, copy the link from the address bar.
Open a document in Google Docs.
Paste the link into the document.
Press Tab to create place chip.
GET INFORMATION ABOUT PLACES AND FIND DIRECTIONS
If you have a location chip in your Google Doc, you can open the location directly in Google Maps, see a preview of the location, or find directions towards it.
Send multiple images or videos at a time in Chat
You can now select multiple images or videos at once to include them in a single message in Google Chat. The feature is currently available on iOS devices. For Android devices, the rollout began on September 15, 2022, and is expected to be completed by October 3, 2022.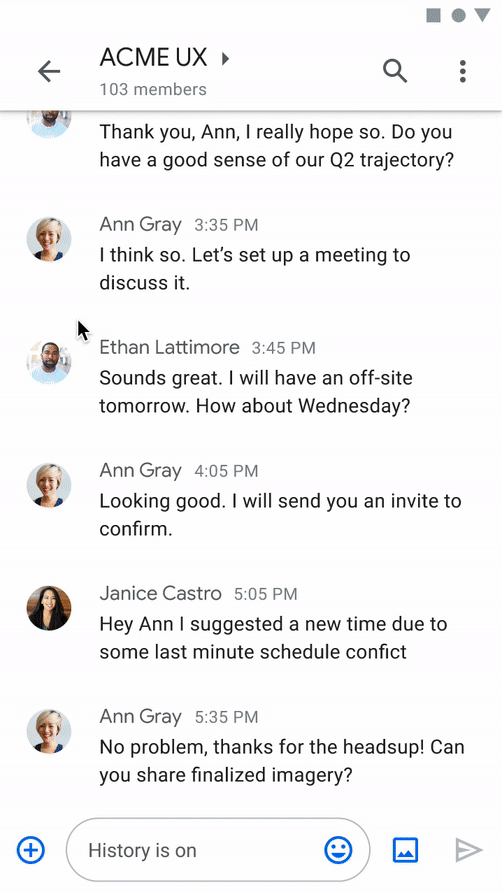 November 1st 2022: Hangouts will be fully upgraded to Google Chat
Starting in February, all Hangouts extensions in the mobile app or Gmail got redirected to Google Chat. Google has now announced the final step of this migration. Starting November 1, 2022, Google will permanently redirect all Hangouts messaging to Google Chat.
Introducing new spacing features on Google Sites
In addition to spacing content in Google Sites using the new theme density setting, you can now use similar settings to add blank space in specific places on your Sites. This feature provides additional flexibility, especially when designing a vertical layout for the web page and generally makes designing the template easier.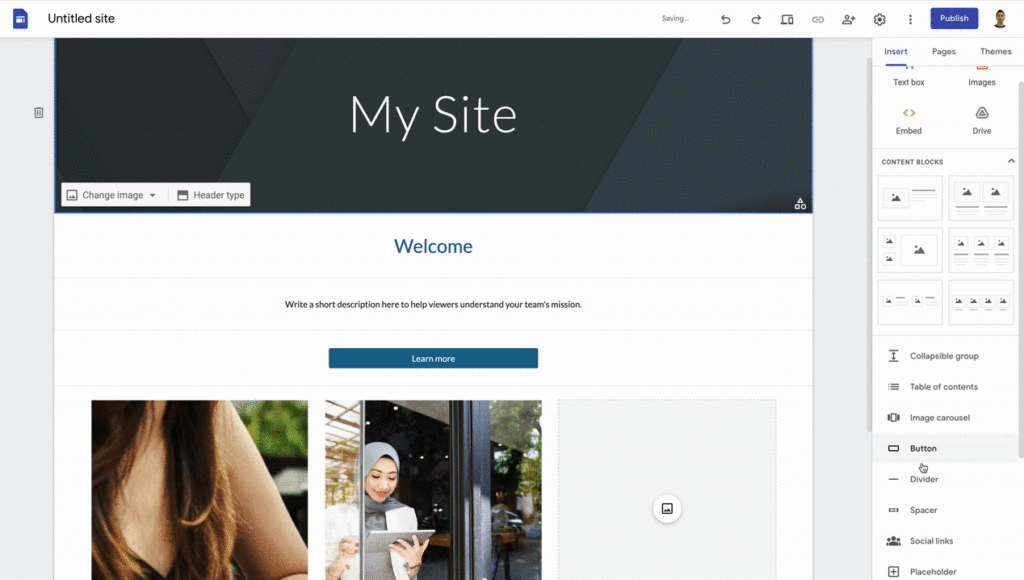 Dual pane view on Keep
In addition to a number of Keep features that support a top-notch experience for users on large-screen devices, Google is now introducing dual-pane view for the note keeping app.
This now allows you to keep notes on the left side of the screen while editing content on the right side of it.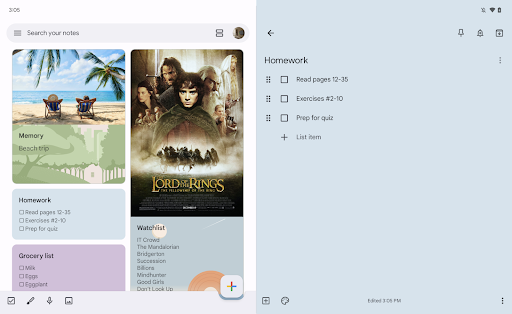 Keep contacts up to date with fewer clicks
You can now edit a person's contact informations within Google Workspace from apps like Gmail, Calendar, Voice, and Docs from your own Android device. After selecting the edit button, you will be prompted to make updates to the Contacts app.