The month of October is full of announcements made during Google Cloud Next '22 event, but not only. Read on to learn more about the latest Google Workspace innovations for digital office environments.
Break out rooms are now availabe for in-room meeting participants
People who join meetings in-room can now access break out rooms from a Google Meet hardware, joining all the remote users that were already using this feature.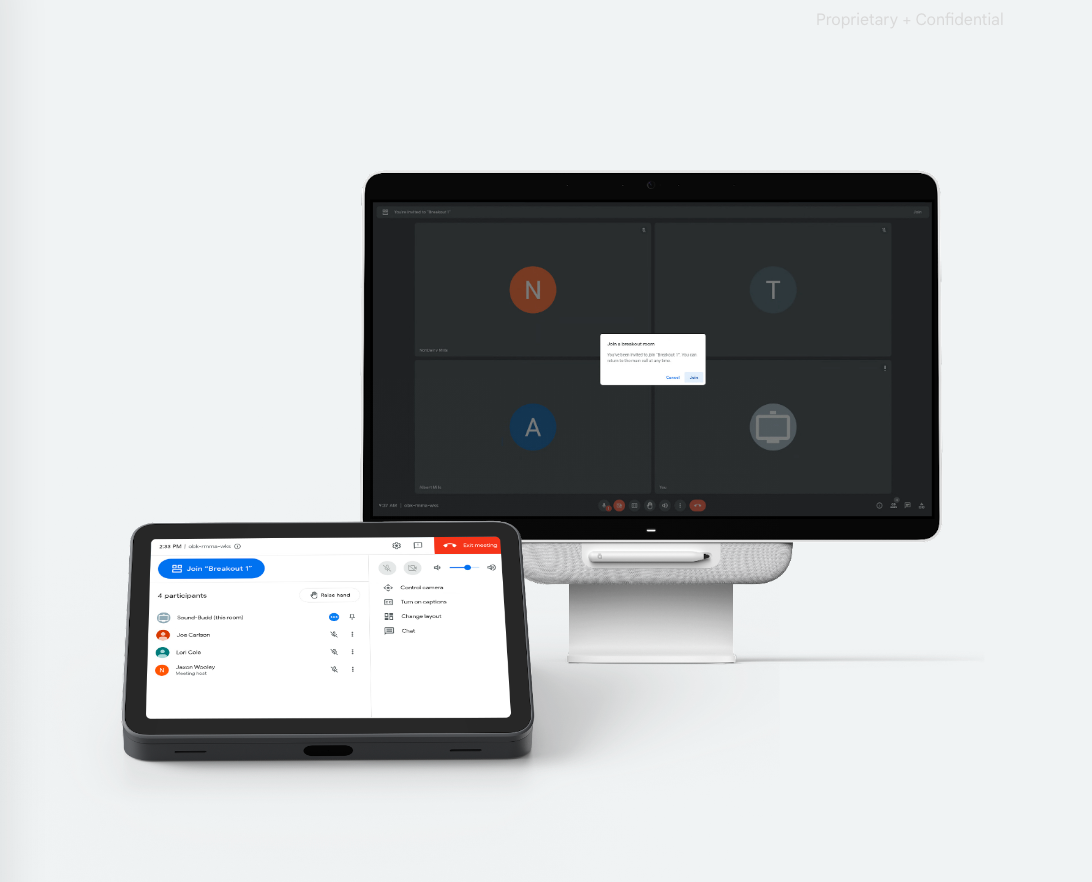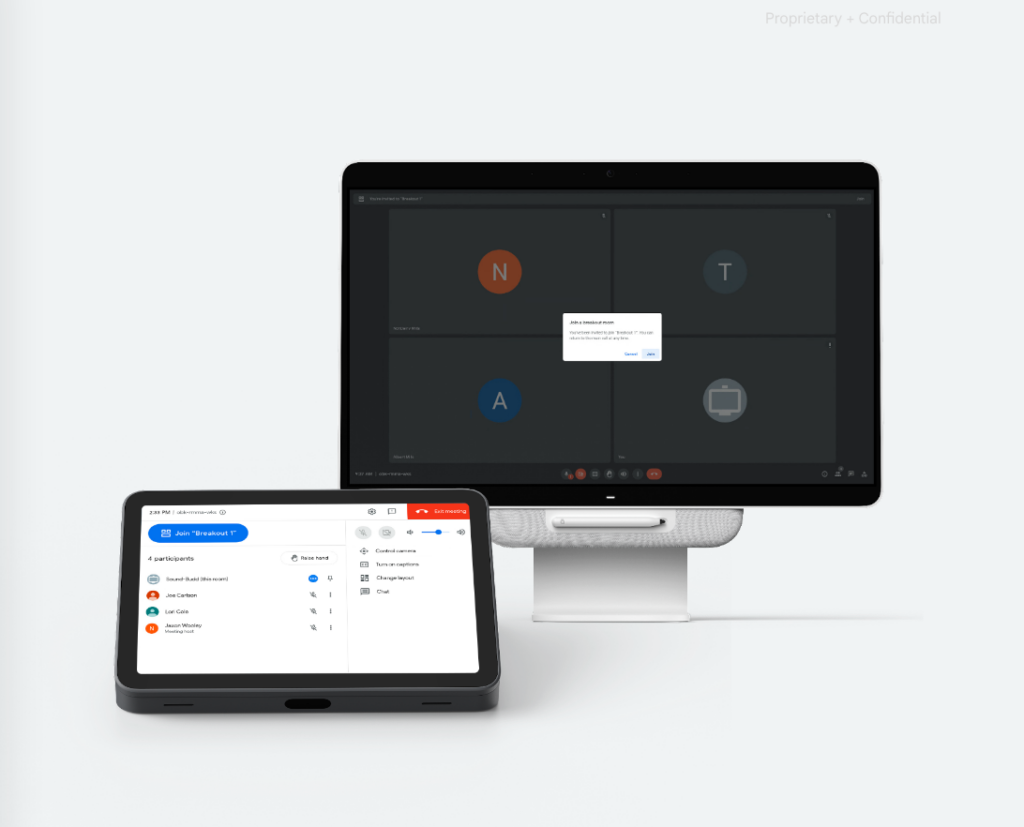 Extending breakout rooms to all meeting participants—whether they're joining remotely or in the office—ensures everyone can engage in collaborative working sessions.
Get a Google Doc transcript of your Google Meet calls
Meeting transcripts can help you capture the most important topics discussed and access them at a later time, whenever needed.
You can now get a transcript for any meeting with fewer than or equal to 200 invitees, automatically generated at the end of a meeting. The transcript will appear as a Google Docs document on the host's Google Drive, similar to a Google Meet recording.
For meetings with more than 200 attendees, the transcription will only be shared with the meeting organizers, host, and co-hosts, and individual users who initiated a transcription. For recurring meetings, new transcription documents will be continually added to the Calendar invite.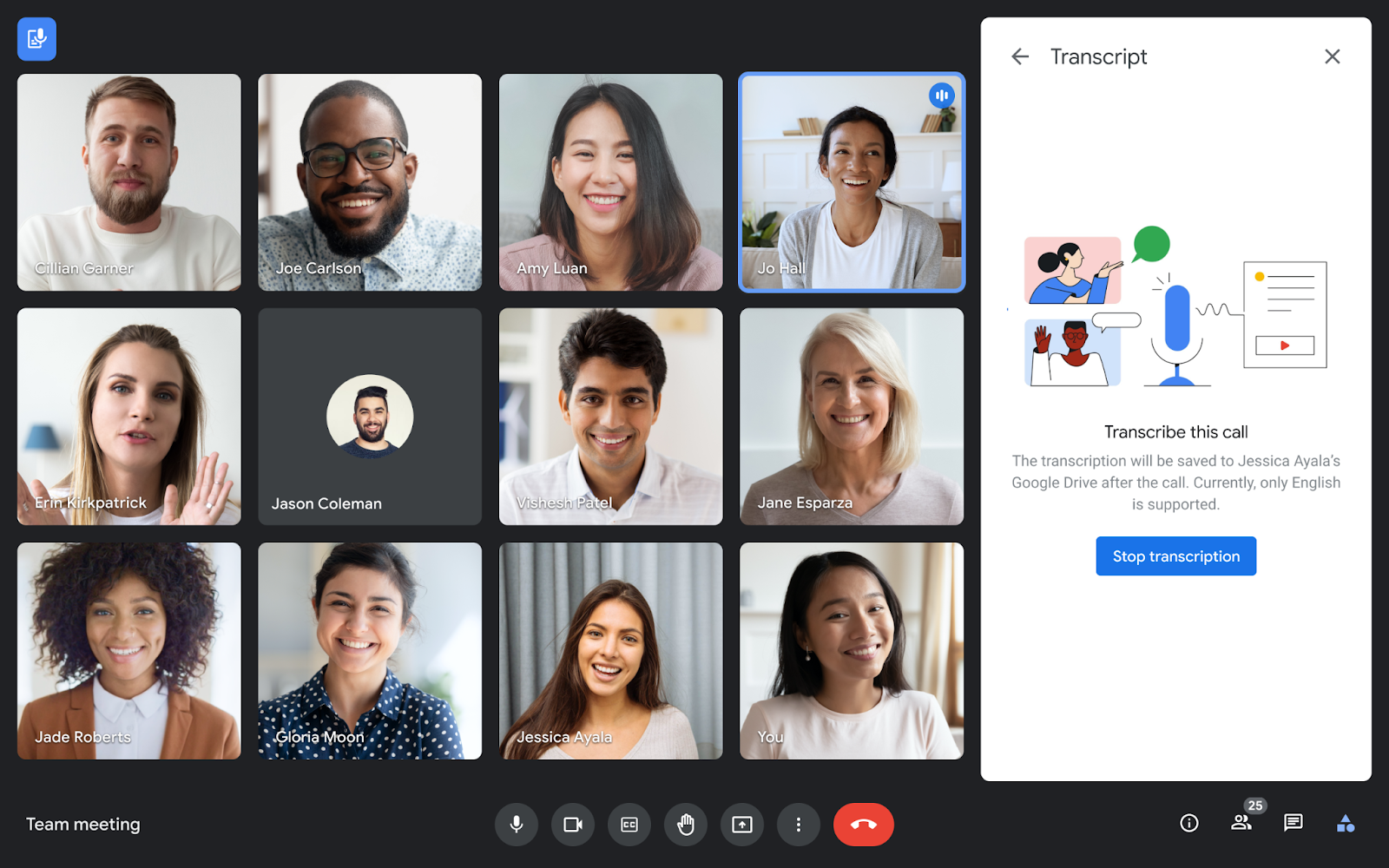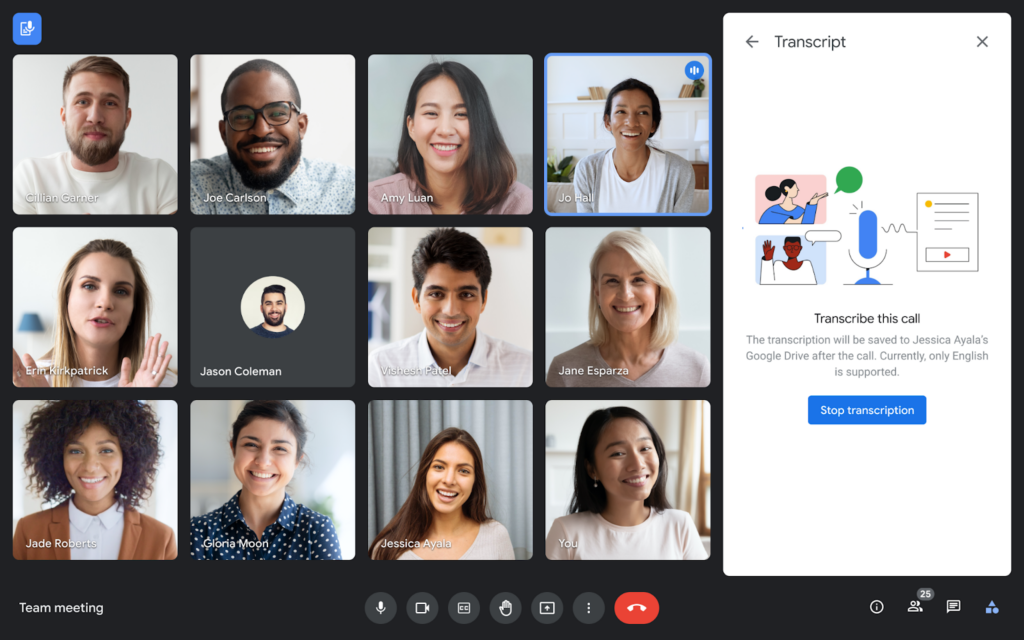 Improved visibility in Google Meet video calls
Depending on their camera placement, some meeting participants might be less visible than others during a Google Meet call. The app can now automatically frame your video before joining a call to ensure equal visibility for everyone in the call.
The framing is set before joining the call, so you can make sure everything looks good before signing in. If you feel like you need to manually reframe the video feed, you can do it any time from the settings.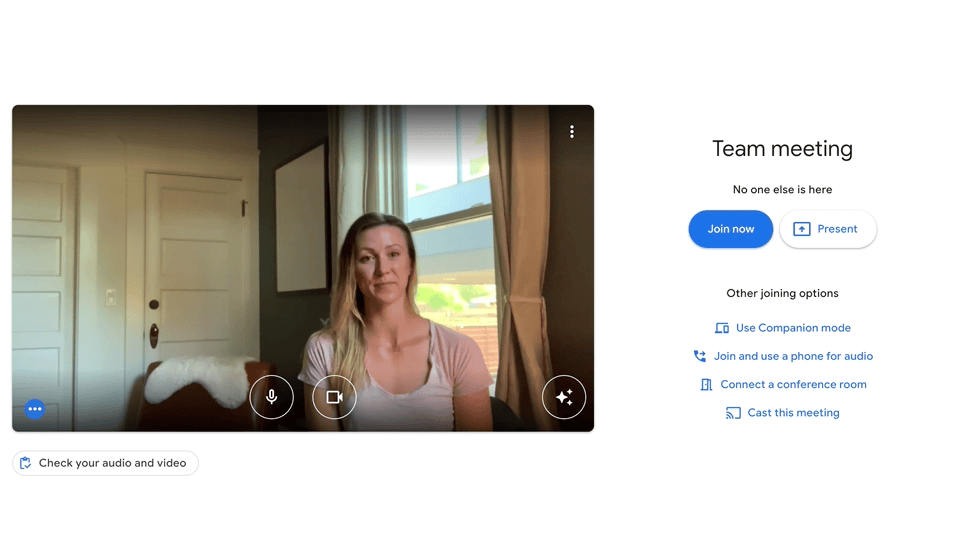 Preview and interact with files using smart chips in Google Sheets
After this feature became available for Google Docs in 2021, you can now insert, preview and interact with smart chips directly in Google Sheet.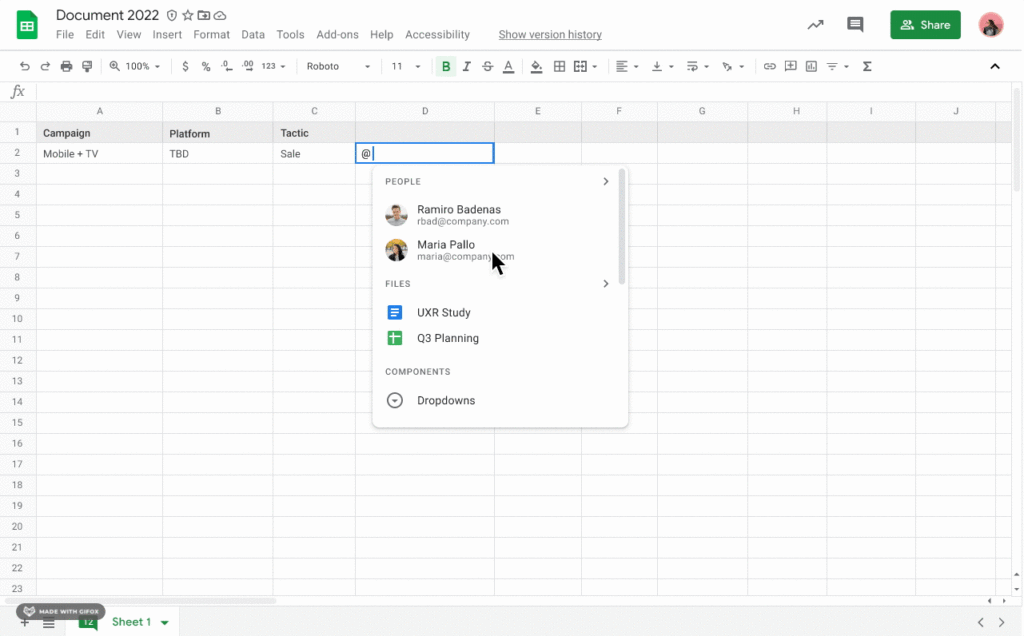 How to insert smart chips in a Google Sheets? Here are some ways:
Type "@" followed by a file name or keyword directly in the cell
Navigate to Insert > Smart Chips > File chip
Paste a Google Drive link directly in the cell, hover over the preview, right-click, and select "Convert to file chip."
Encouraging all users to update their Working Location
Google Workspace admins have now access to a new tool that aims to encourage Working Location usage across their organisations. By setting up this tool, users will see a customisable banner on their Calendars, either encouraging or requiring them to set up their working location.
With having everybody's working location available, the company will have better context for location planning, meeting room management, preparing meetings for virtual and in-room attendees, and more.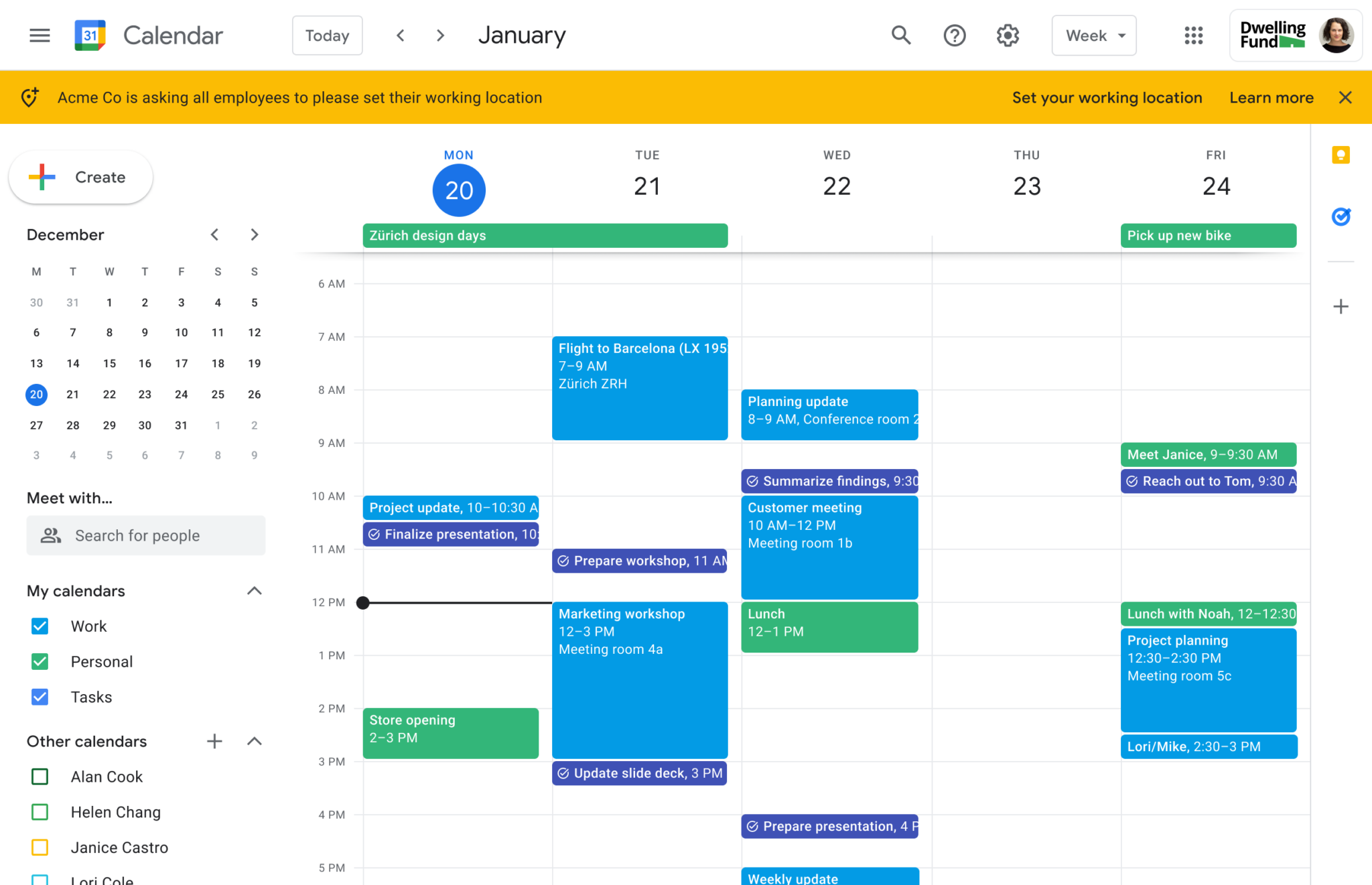 Better organise information in Google Docs with split cells feature
Now you can split table cells in Google Docs into any number of rows and columns. For example, you can create subtitle cells by splitting the cell below a title cell into two columns.
Google developers hope to improve the ability to organize information with tables in Docs with this new update.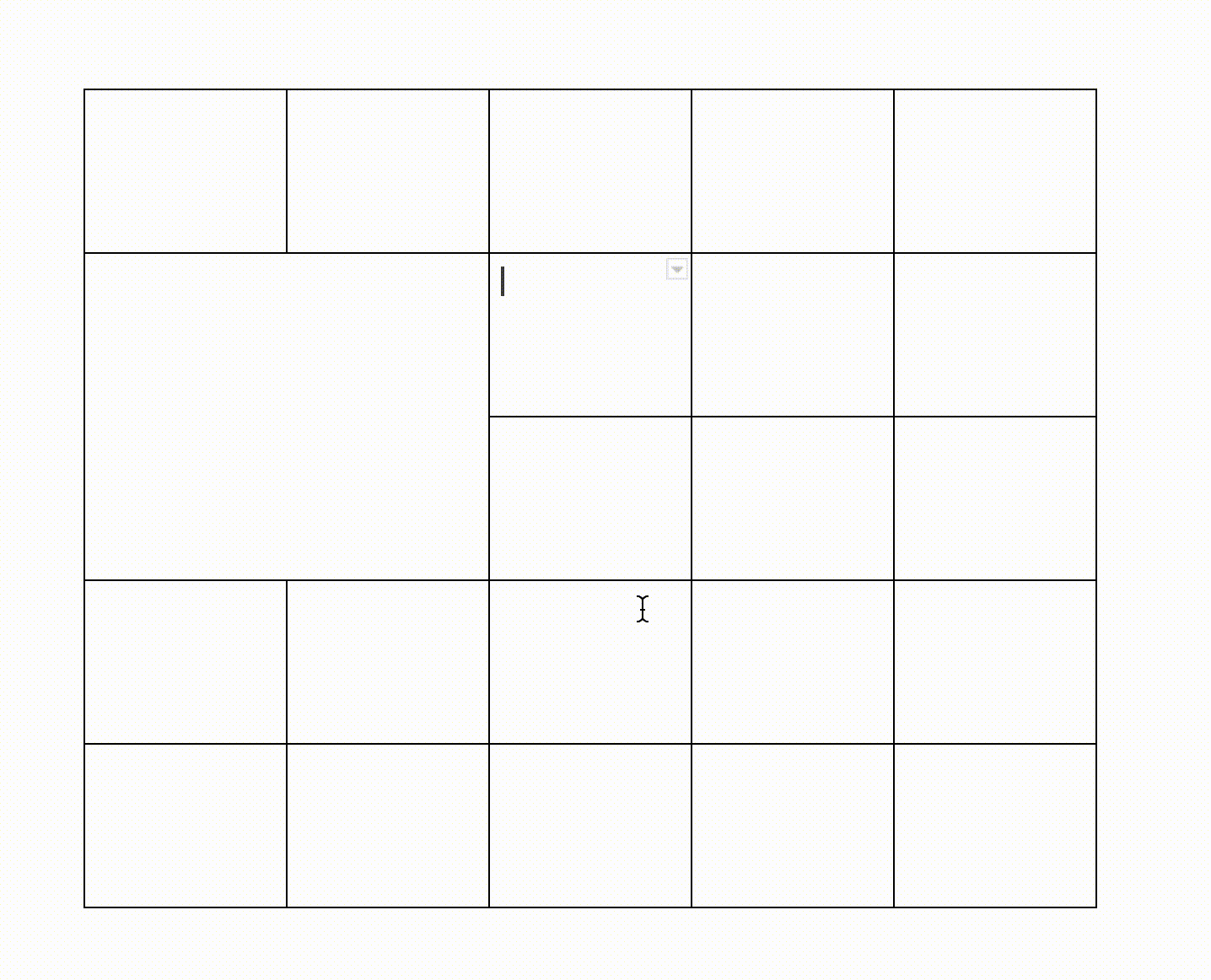 Stay on top of messages in Google Chat with conversation summaries
We often switch between too many meetings, emails and chat rooms during the day. Stay on top of the latest decisions and conversations with the Google Chat summary. It will help you quickly recall the topics discussed and the decisions made even if you did not have time to go through all the messages in Spaces.
You can see the summary in the chat Space, within a window above the message thread.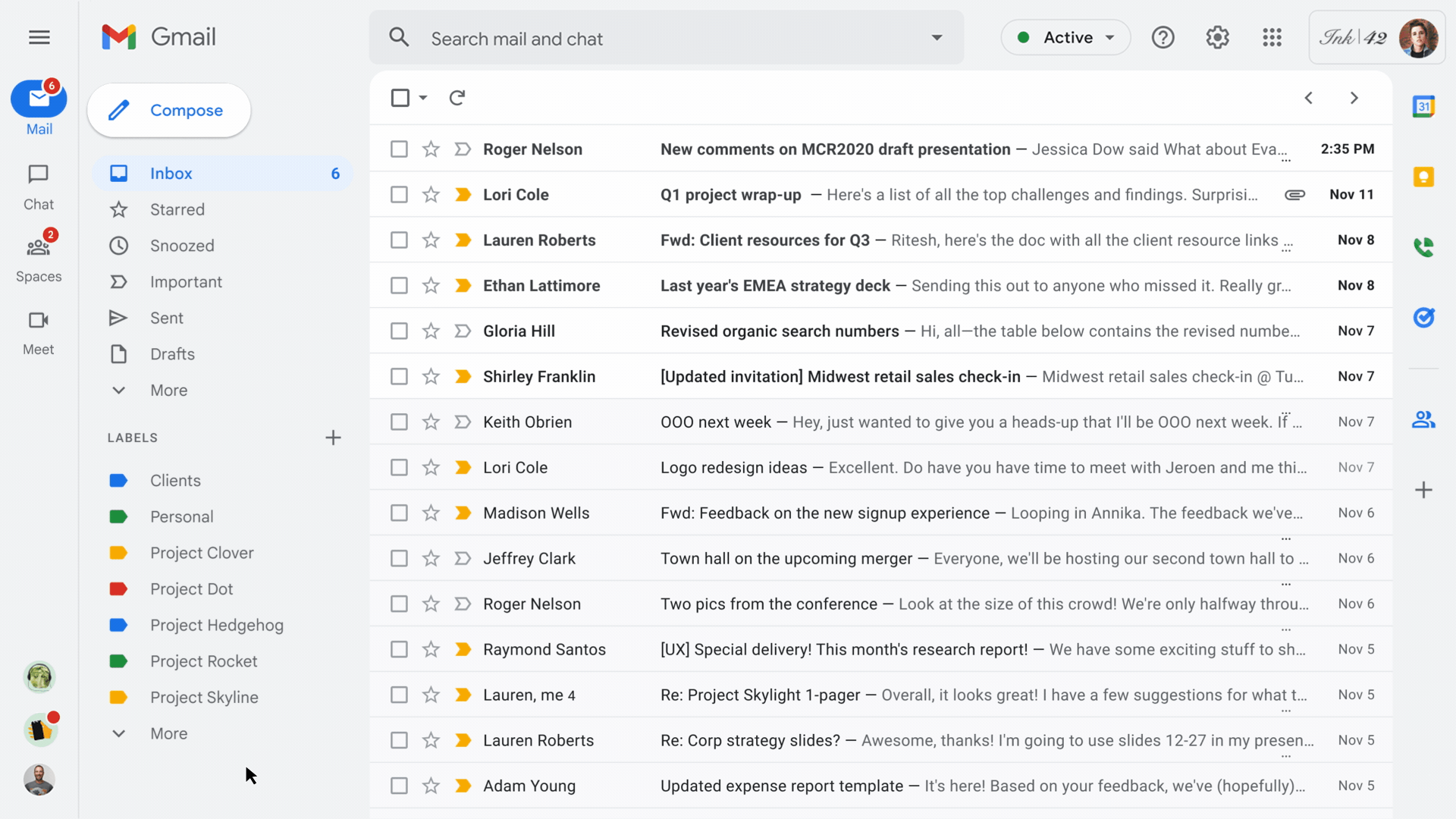 Present Google Slides directly into Google Meet
You can now moderate and present your Slides directly from Google Meet. This updated experience will allow you engage with your audience all in one screen, without needing to leave the tab.
The new Slides controls will be availabe in the lower right corner, so that you can manage your presentation start, end or browsing through the slides.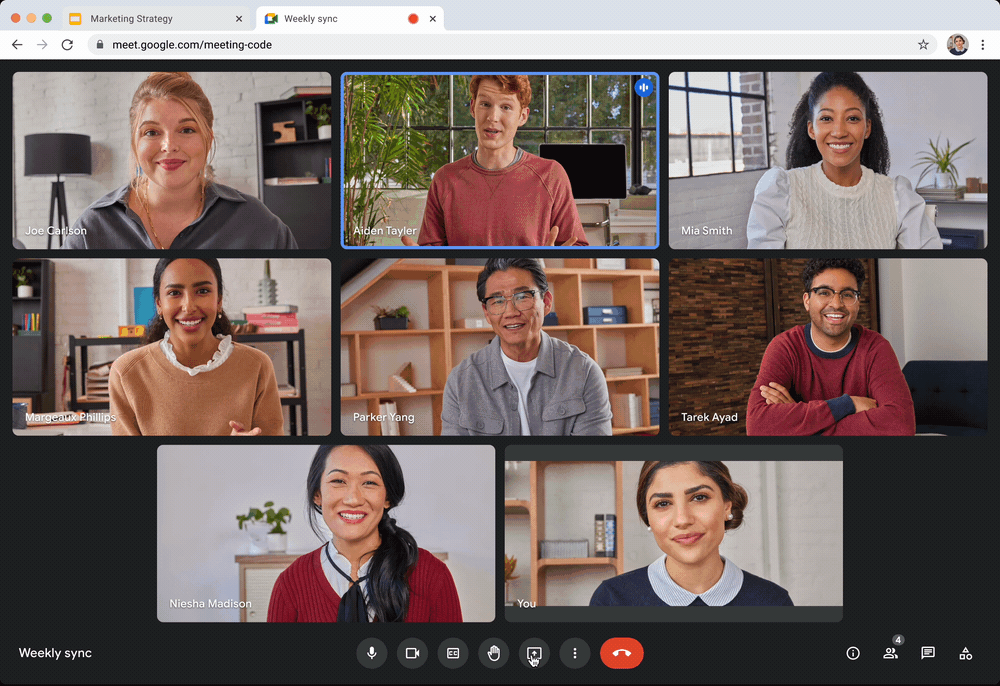 Use the enhanced search filters to find apps in Google Workspace Marketplace
Google developers worked on new enhanced search filters in the Google Marketplace. These new filters will allow you to quickly find relevant apps for your search.
You can now search apps by category, price, rating, if it works with other apps, and more.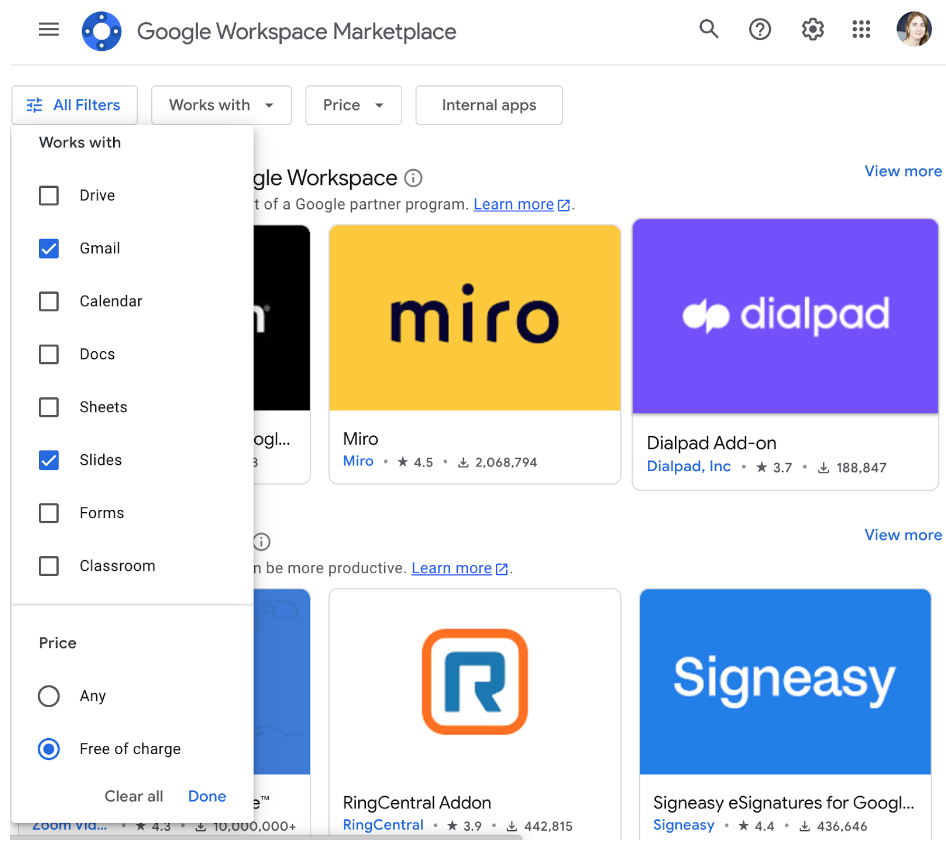 Better search experience in Google Chat and Gmail, for both mobile and web versions
To help you get better search sugesstions and results, Google is introducing three new features. Usign them, can help your search experience in both Chat and Gmail:
Search suggestions: Search-query suggestions based on your past search history in Chat will now appear as you type in the Chat search bar. This will help you quickly recall important messages, files, and more on mobile.
Gmail labels: You can now search messages under a specific Gmail label in the app to return results only within that label. You can also use search chips in the Gmail search bar to refine label searches.
Related results: For Gmail search-queries that return no results, related results will be shown to improve the overall search experience.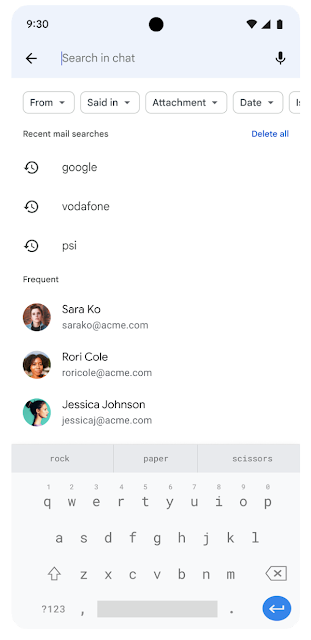 Multi-sending emails just gone more customisable with these new updates. You now have the ability to personalize multi-send emails with mail merge tags like @firstname and @lastname.
Whether you are organising an event or sending a newsletter, multi-send emails look more professional than using mass-BCC.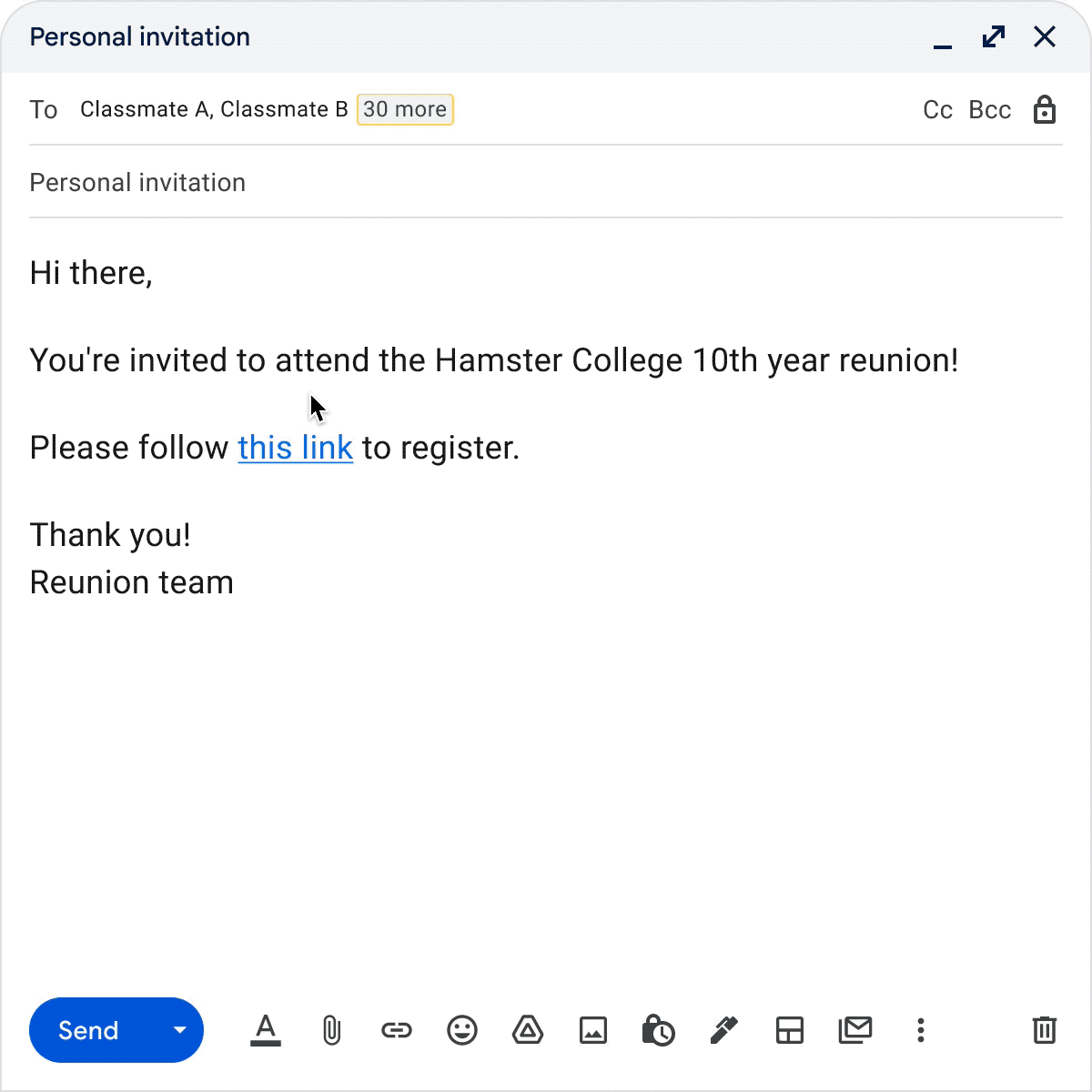 Custom emojis are coming to Google Chat
Emojis are a perfect way to express ourselves in Google Chat. So Google is announcing even more expressive and personalized emojis by allowing users to create them.
Once created, all users in the company will be able to see and use custom emojis uploaded by their colleagues in Chat messages and reactions.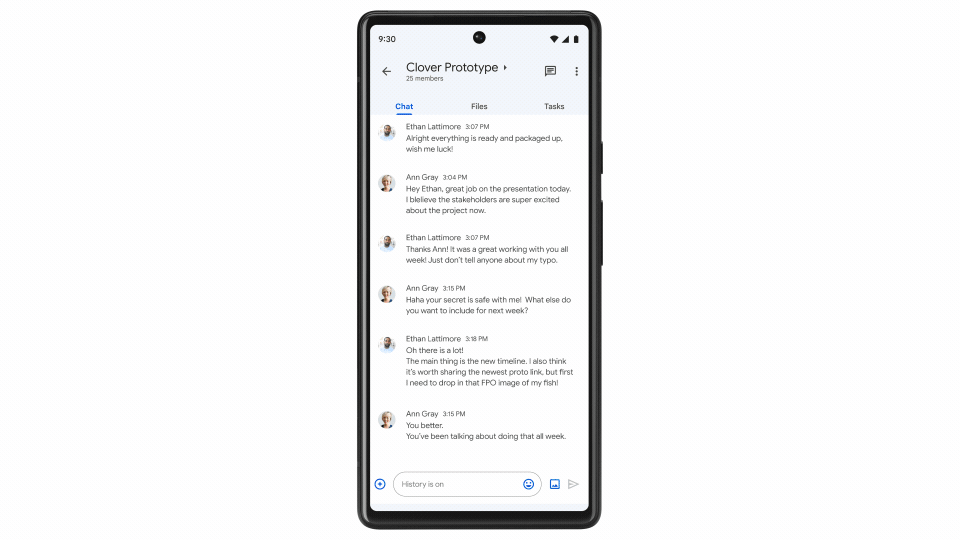 Before launching to end users, admins can set organizational guidelines and designate emoji managers who can browse and delete custom emojis that do not adhere to the company's guidelines. These admin controls will begin rolling out before the end user functionality to create custom emojis is available. See the "Rollout" section below for more information.