Streamline your workflow at the beginning of the year with better Google Meet presenting fetures, Calendar appointment tools and more. Learn more about the latest Google Chat, Meet or Docs innovations released in January 2023.
Google Docs: New option to view non-printing characters like breaks, tabs or spaces
When working or editing a Google Doc, you were not able to see non-printing characters such as line breaks, section breaks, tabs or space. Starting January, the option to display these characters in order to visualise how a document is laid out is available.
When turned on, you will see symbols or text to represent the following:
Paragraph/Hard break 
Line/Soft break 
Section break 
Page break 
Column break 
Tab 
Space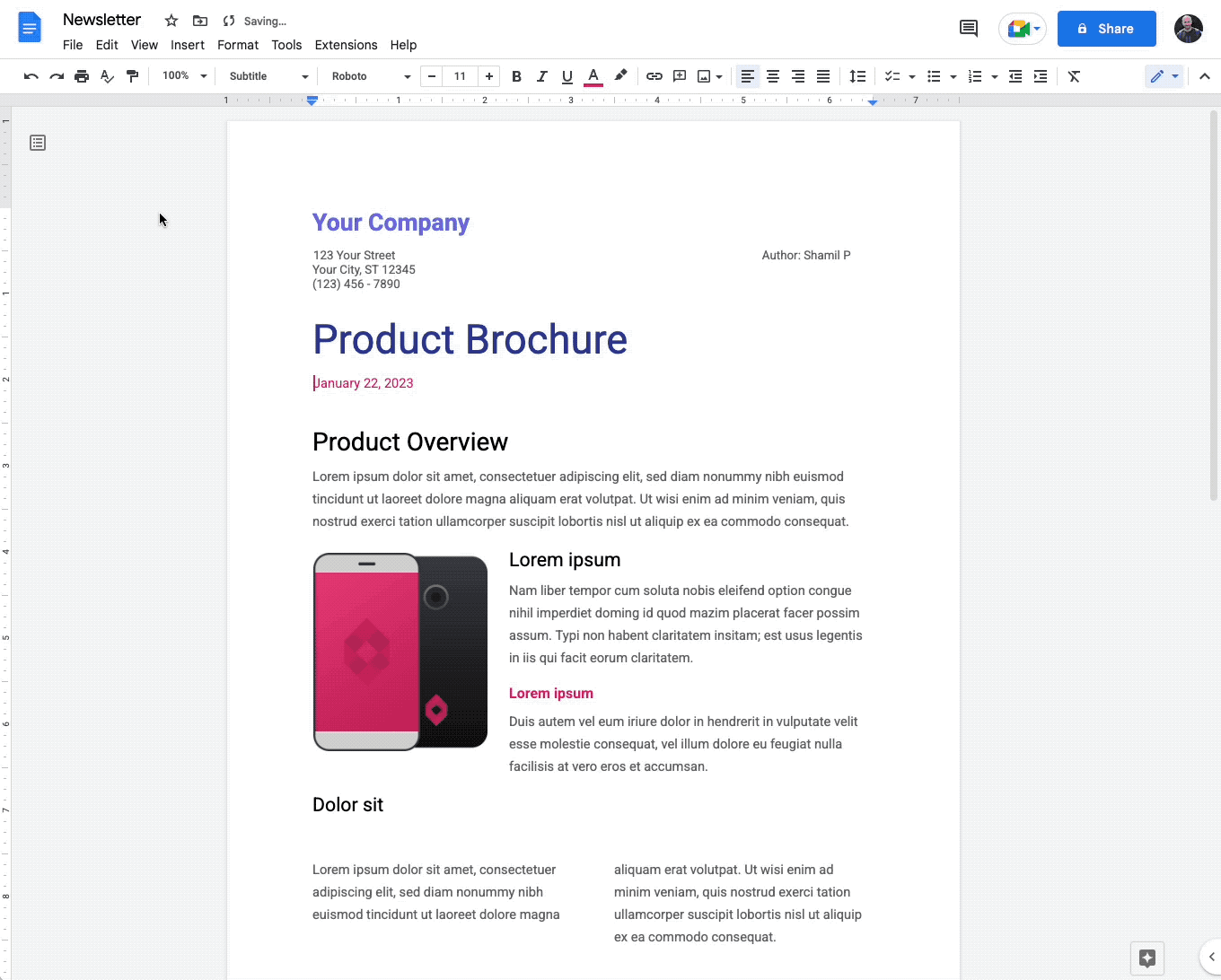 How to activate it: 
Go to View > Show non-printing characters.
Improvements to sharing presented content in Google Meet
You can now share access to the content you are presenting during a meeting with all attendees, including Calendar guest list, directly from Meet.
While presenting, you can share the file from the floating action menu or via the suggestion in the Meet Chat. This way, the attendees will be notified when you share a file, and a link to this document will be automatically shared in the meeting chat.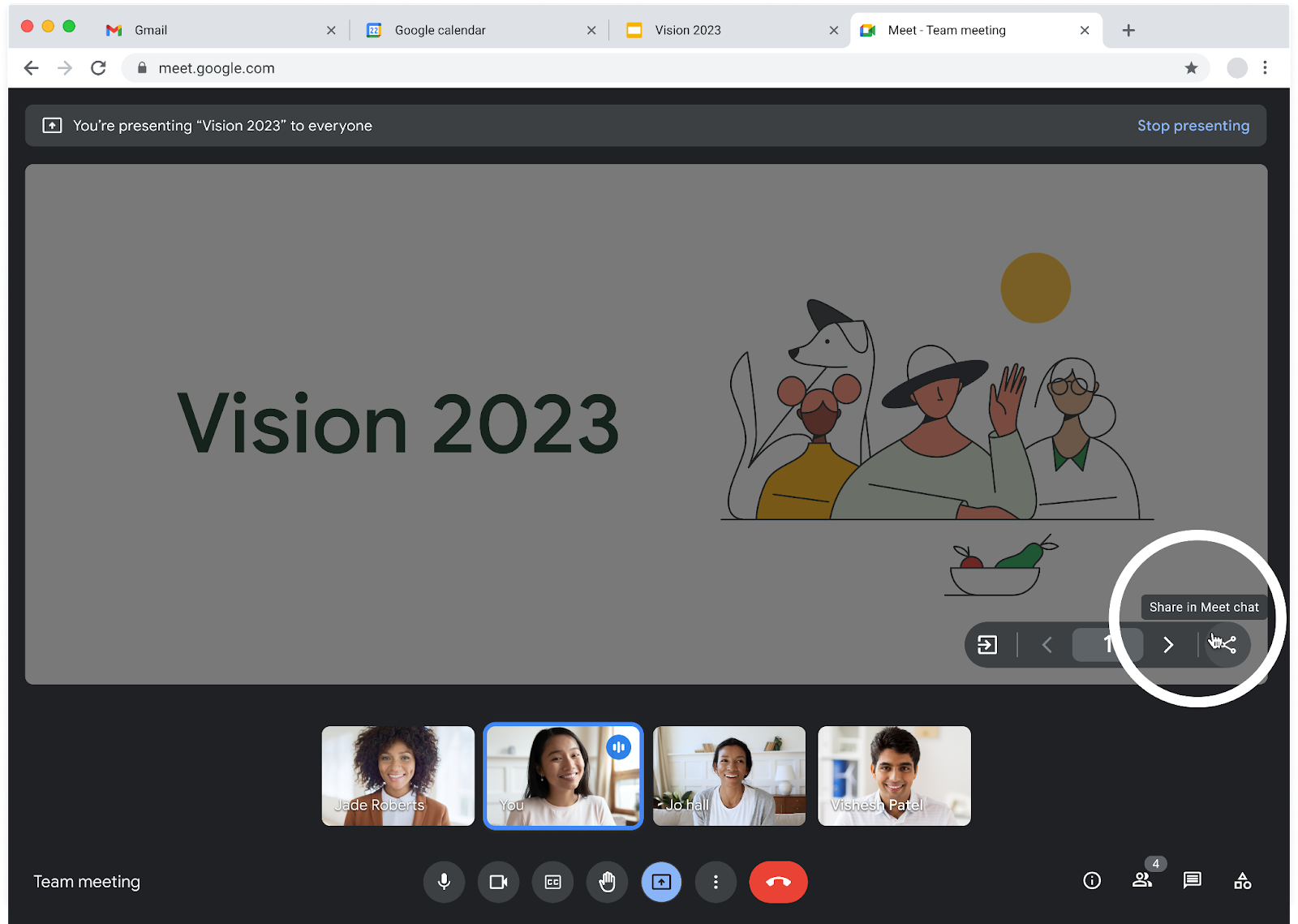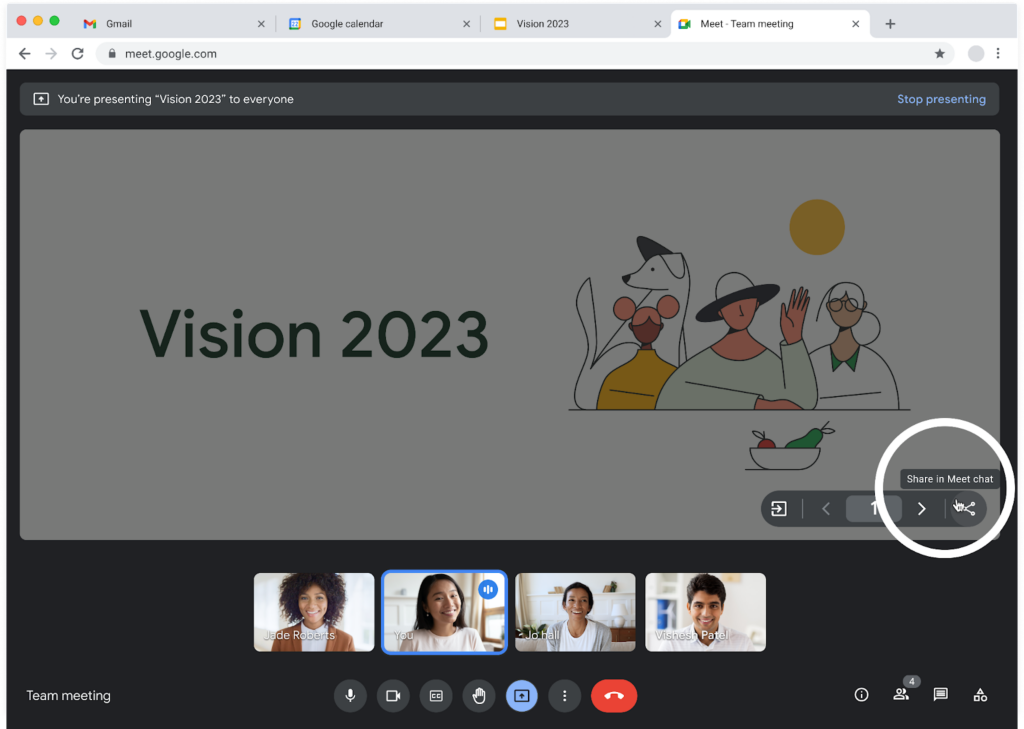 Moreso, whenever you paste a link into the Meet chat, you will be prompted with a pop up that can help you adjust access as needed and the option to attach the file to the calendar event.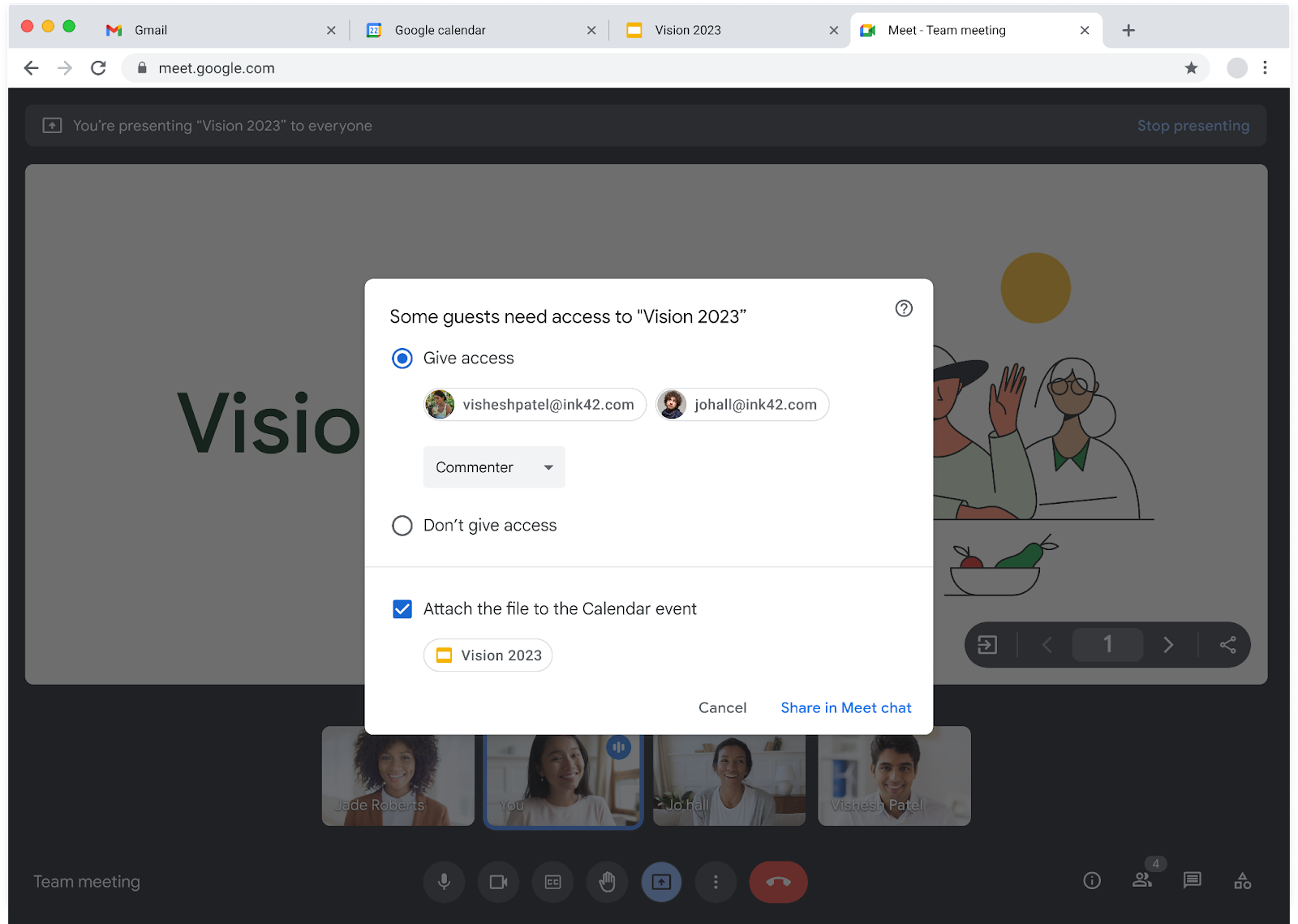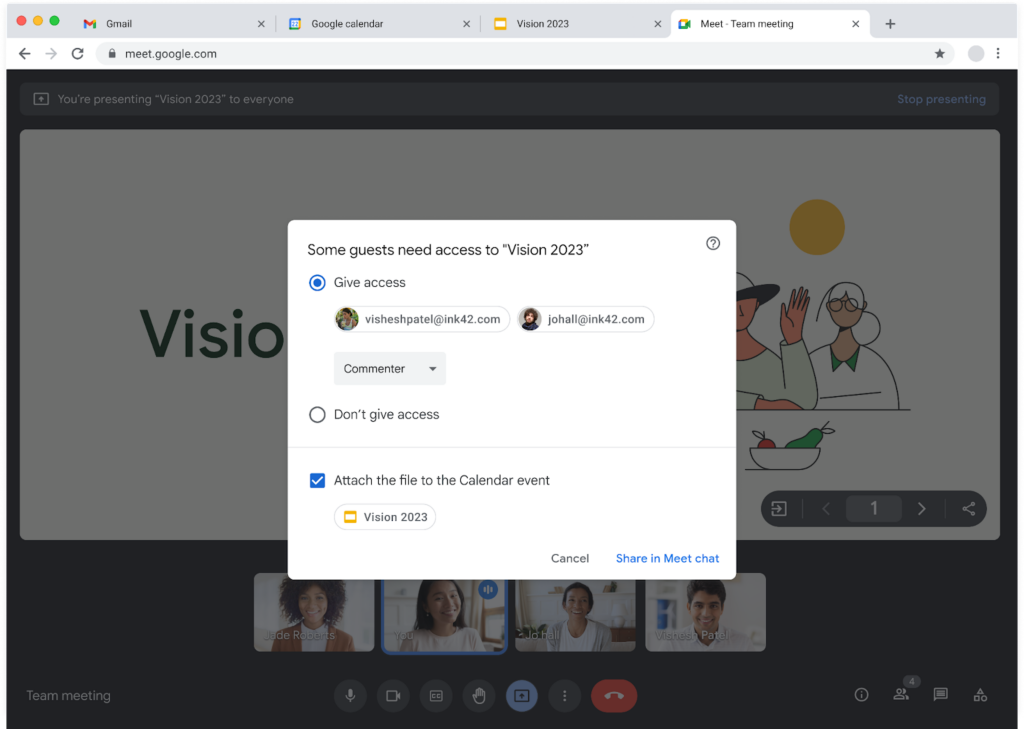 Google Docs & Slides: Improvements to voice features
Google launched some new features for Google Docs and Slides that will help reduce transcription errors and minimise lost audio during transcription. These Google Workspace updates will help make interactions more inclusive and accesible.
What is improving:
Typing and editing by speaking in Google Docs or Slides speaker notes
Presenting slides with automatic caption to display a speaker's words in real time
Google Calendar: Check availability across multiple calendars when using appointment schedules
This appointment scheduling feature will help you prevent scheduling conflicts by checking users availability over multiple calendars. With this tool, people will be allowed to share their free slots via a booking page that can be used by all their collaborators.
This way, all your colleagues, stakeholders, and clients will be able to preview multiple calendars for conflicts when proposing appointment times to you.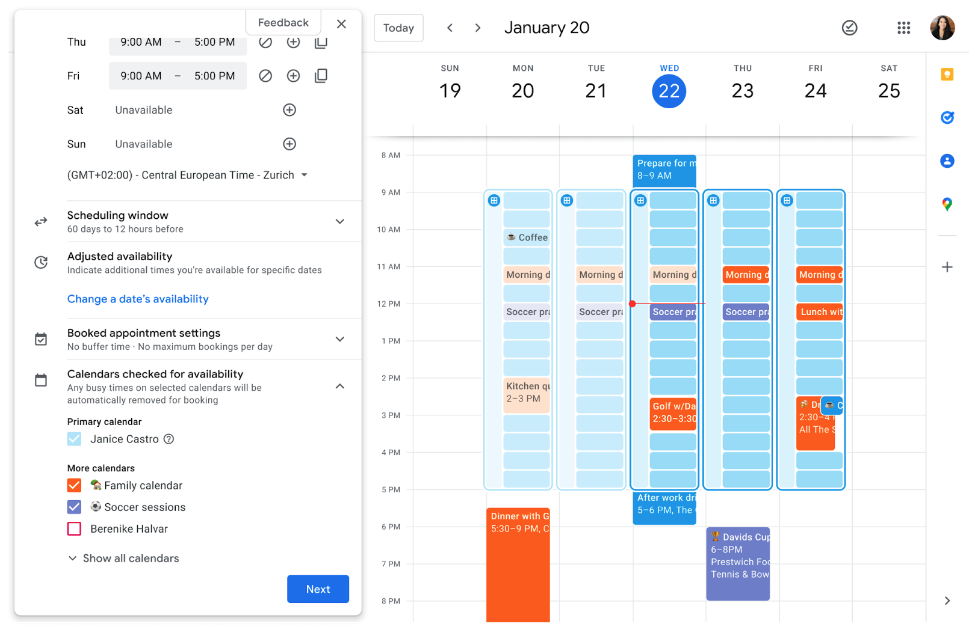 Your booking page will show you as unavailable when you're busy based on the calendars you choose. The tool is a premium feature for Google Workspace individual users only.
Better membership management for spaces
Google is introducing a new and improved experience for managing members in a space within Google Chat. Adding, removing, and organising members will be so much more effective with this new option.
By clicking the new "Manage members" option, users can view a list of those added and invited to the space, in addition to space settings. From there you can add or remove members and update settings.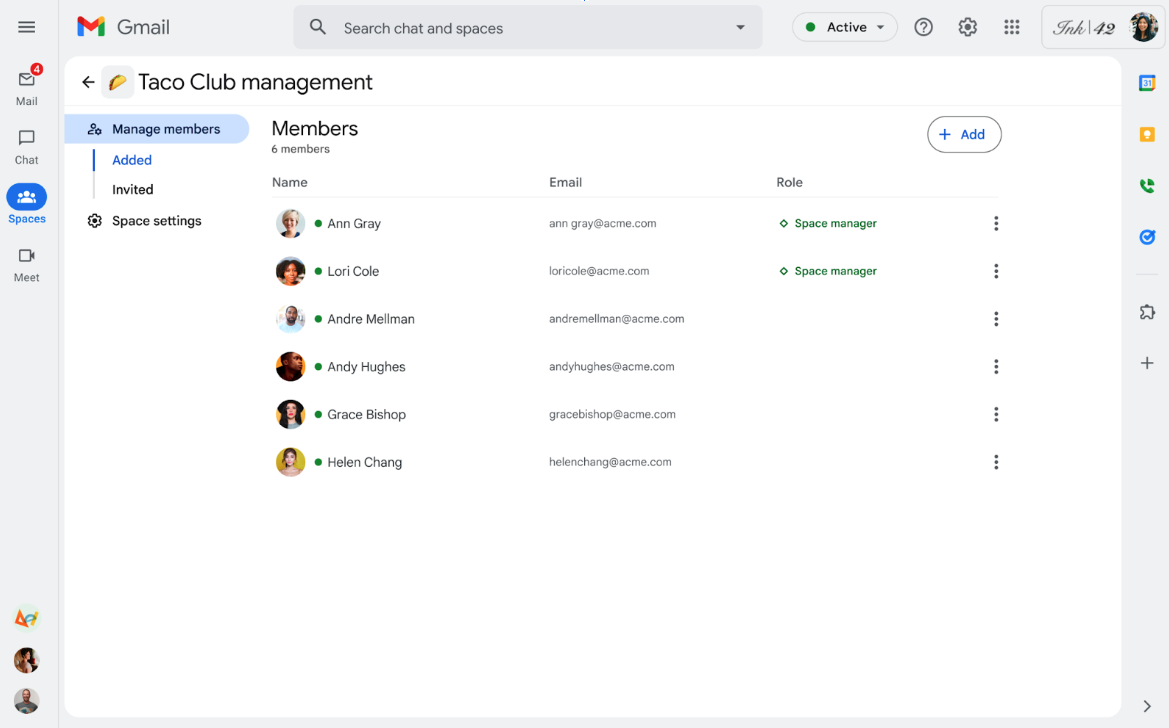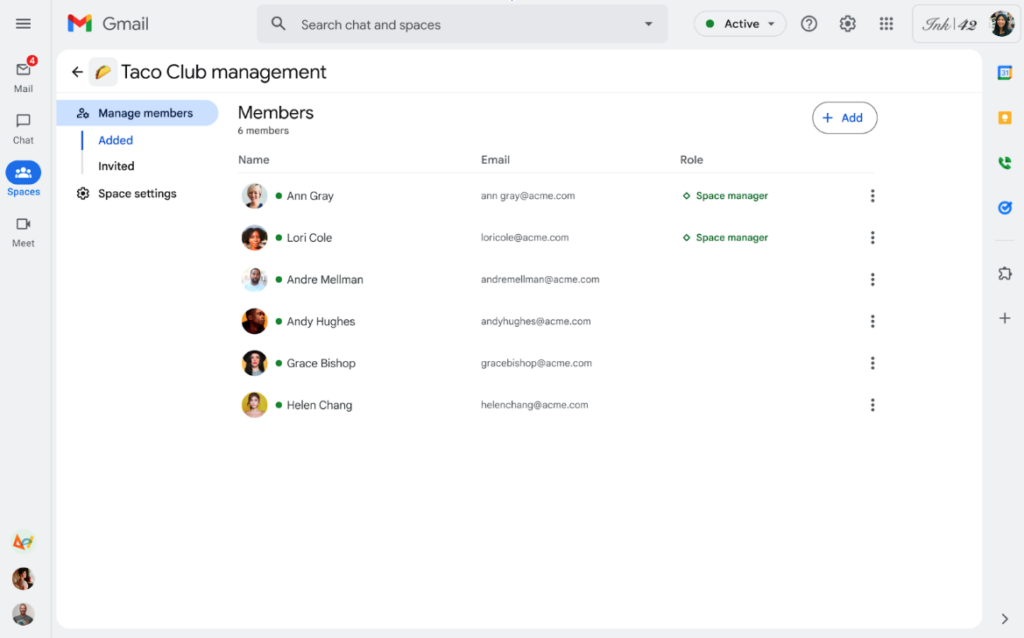 In addition, you can manage Chat apps or other Google Workspace integrations by using a newly added "Apps & integrations" option in the space menu.
Google Meet & Zoom: New built-in interoperability
As announced in October of last year, Google is launching video conferencing device interoperability for Meet and Zoom.
This way, users will be able to:
Join Zoom Meetings from Google Meet hardware devices
Join Google Meet meetings from Zoom Rooms
Do keep in mind that Zoom interoperability supports core video conferencing features. Some advanced features, such as polls, wired present, and dual-screen support may not be available when using Meet hardware to join Zoom Meetings and vice versa.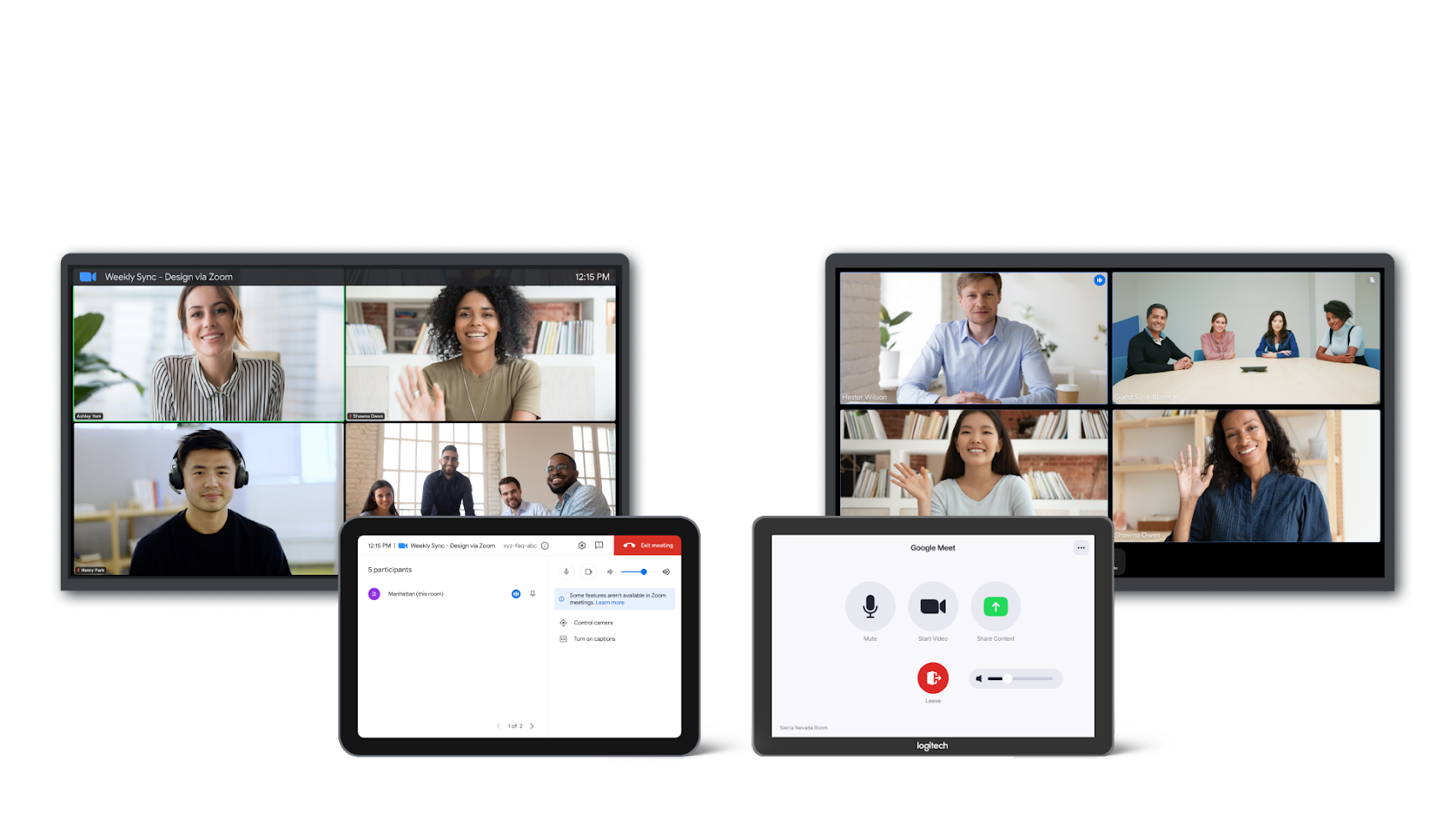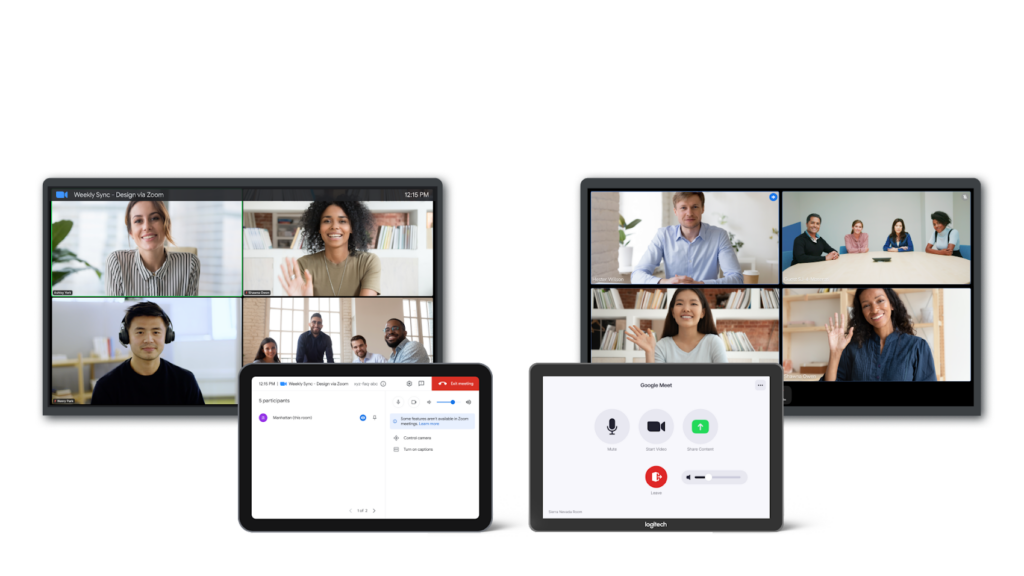 Make your Google Meet more interactive with in-meeting reactions
In-meeting reaction emojis are now available for use in Google Meet on the web. This is a lightweight, non-disruptive way to engage, encourage and participate in meetings without interrupting the presenter. 
By using them during the meetings, Meet will show a small badge with the user's profile picture in the video feed, floating up the left side of the screen.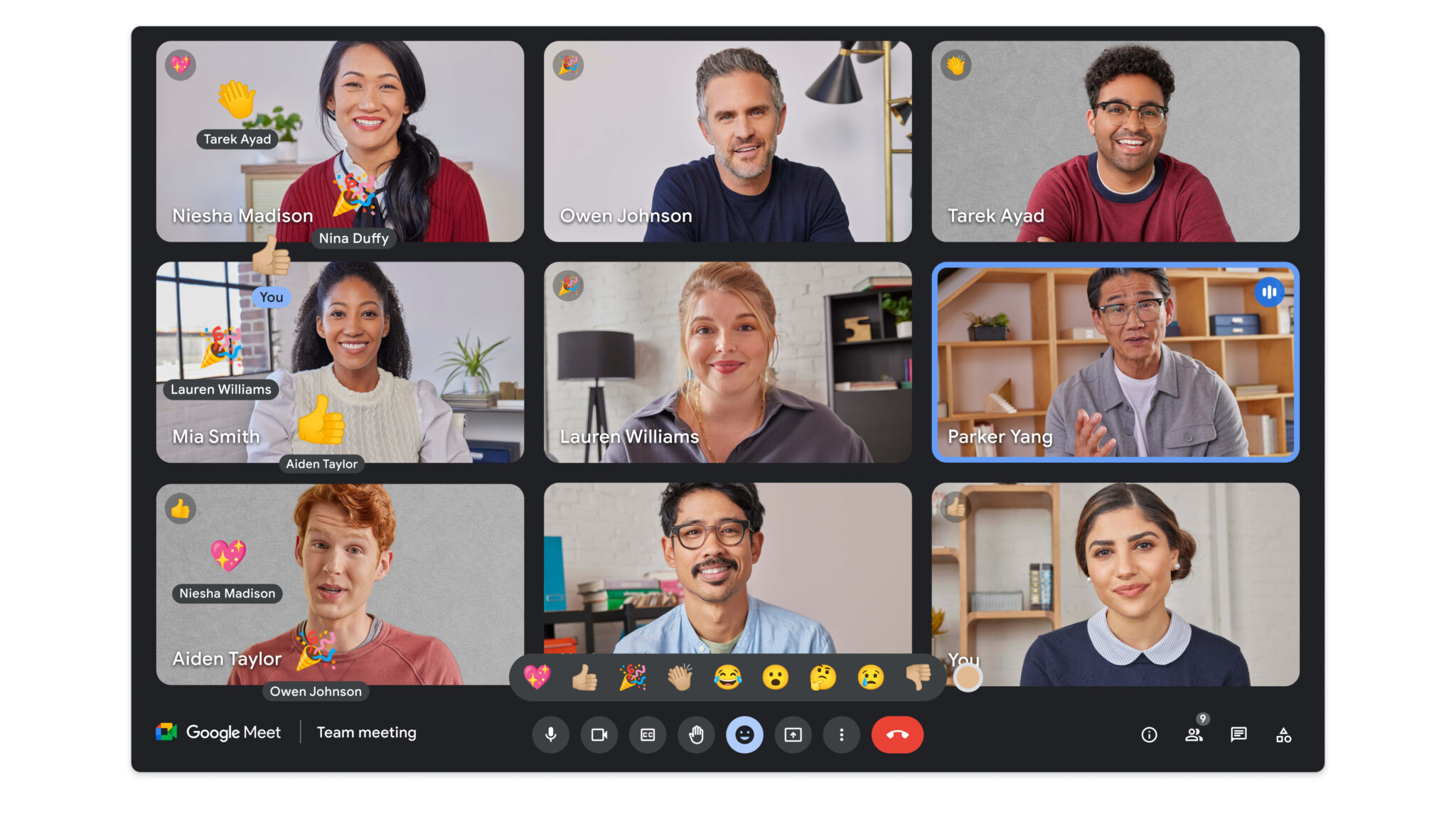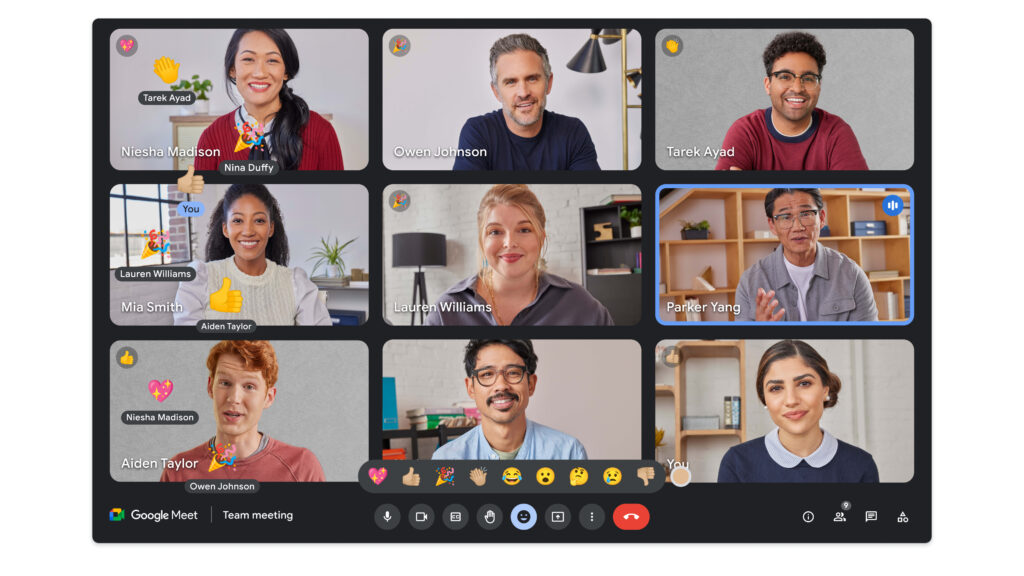 To share such a reaction, you can select the smile icon in the control bar and choose a reaction that best represents you and your participation. 
Simplify your conversation creation in Google Chat
Previously, you were prompted to select "Start group conversation" before even typing the name of the users who you'd like to chat with.
Google developers removed the "Start group conversation" option, enabling you to create conversations with the desired number of recipients right away by simply typing the names of the recipient(s).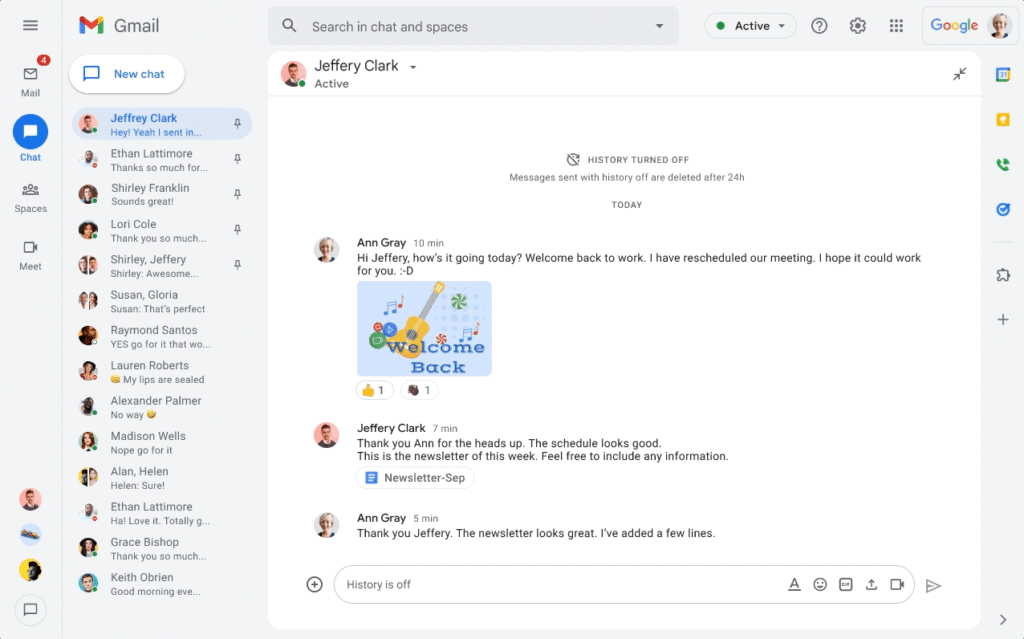 Google Meet: Visualise speaker notes while presenting Google Slides
With this new update, users will be able to view their speaker notes within Google Meet, helping them to better present their Google Slides work. 
How to use it?
Click on the new speaker notes button in the Slides controls bar in Meet
Use the notes to better present and engage with your audience