Most of us cannot imagine everyday life without efficient text communication and direct messages with family, friends, or colleagues. Research conducted by Nielsen shows that up to 64% of people prefer using a messenger instead of a phone or email.
Have text messages became ubiquitous? Yes, and there are plenty of proofs around us. Every day on the street we pass dozens of people writing on instant messengers, dealing with both private and business matters.
What is Google Chat, formerly known as Google Hangouts?
Google Chat is an instant communication app that Google created with business teams in mind. The service allows having individual and group conversations in virtual rooms that can accommodate up to 8000 people. The application makes our work easy and efficient, and the chat divided into threads allows you to monitor progress and summarize tasks. You can use it in a mobile version as Chat app or directly in browser.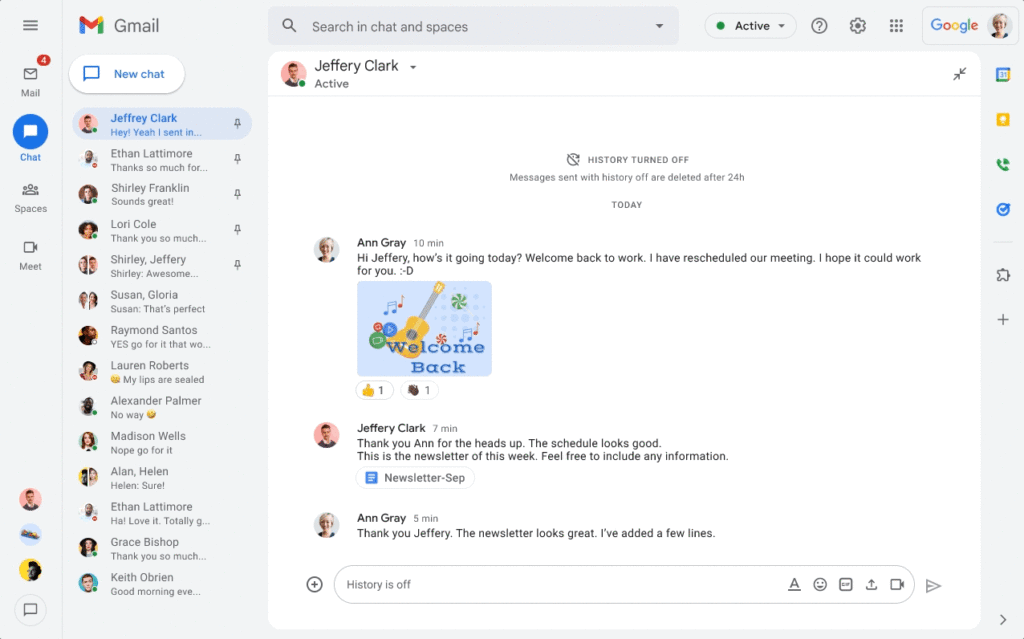 The messenger is fully integrated with Google Workspace. It gives you the ability to upload content from Drive, collaborate using Docs, Sheets and Presentations, and join online meetings in video chat form with Google Meet.
What is the difference between a group chat and a room in the Chat app?
If you want to talk to several people at the same time, you use this secure communications tool to create a group chat or a room.
In both group and rooms, business customers can write, edit, or delete messages, consult chat history, share automatically created Google Docs, assign tasks, and much more.
What is the difference between rooms and group chats in Google Chat?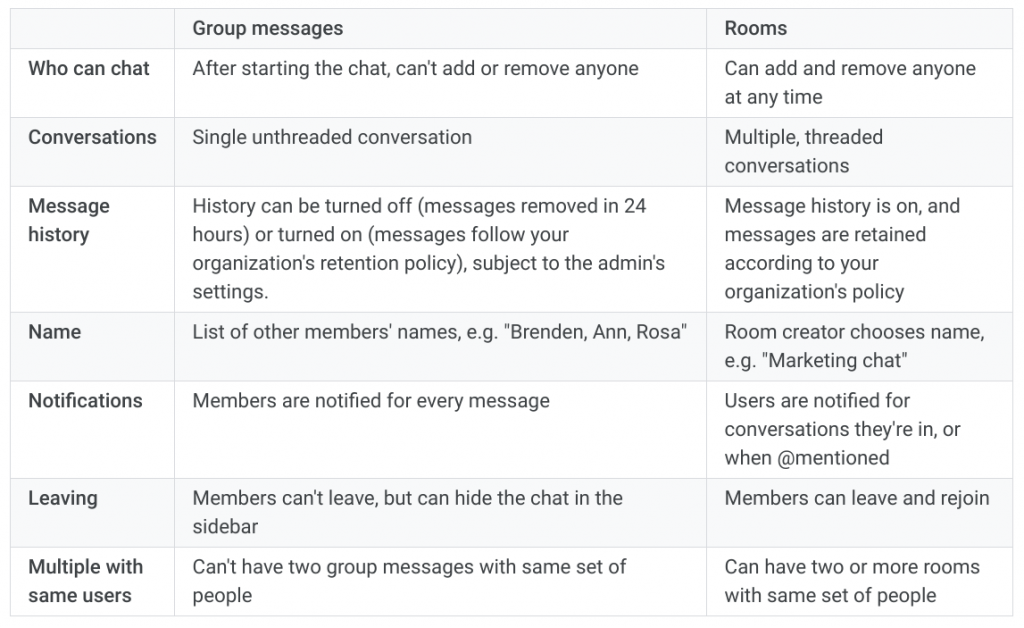 Adding and removing people from a room
With Google Workspace, a person can be added to a room in several ways:
by a mention – if a person, who does not belong to a room, is mentioned during a conversation, he or she can be automatically add to the room
by an invitation – to invite someone to the room, open the conversation and select "Add people and bots"

Inviting a discussion group – Google Chat is meant to be a collaboration tool. It is possible to invite a Google Group to a room by sending an invitation to its email address. Each member can join and leave the room on their own.

Viewing people in the room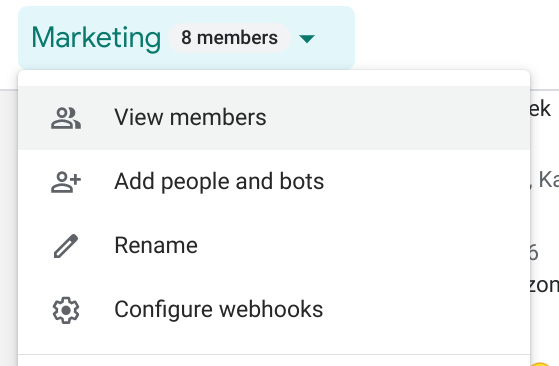 To view all users of a given room:
Choose a room
Click the down arrow on the left and then "View members"
Removing people from the room
The removed person will lose access to the room and conversation history.
To remove someone from a room:
Select the room name and click the down arrow, then "View Users"
Hover over the name of the person you want to remove and click "More" and then "Remove from room"
Leaving the room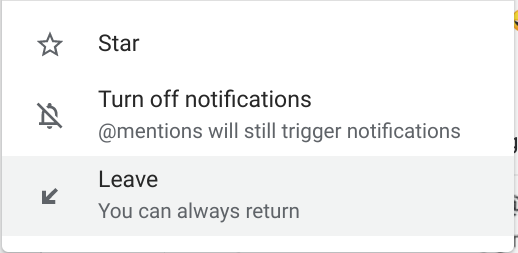 After leaving the room, the user loses the ability to post in the thread and will stop receiving notifications.
To leave the room:
Click "More" next to the room name, then select "Leave"
Click "Leave room"
Notification settings
To turn off notifications from one conversation, click on three dots on the right, and then select "Turn off notifications"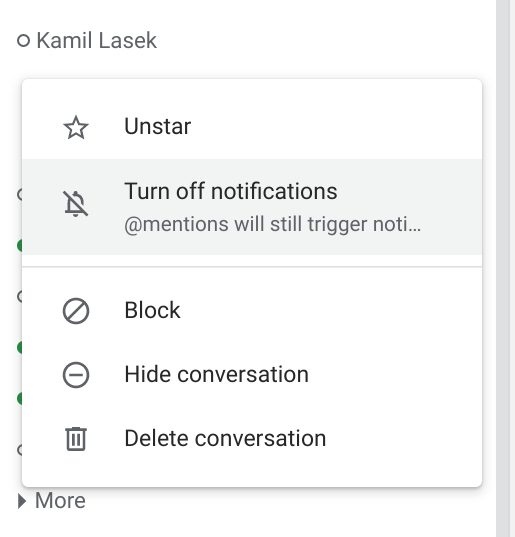 You can also mute notifications for all conversations. To do this, click on your status in the upper left corner, and then choose your preferred time to mute notifications.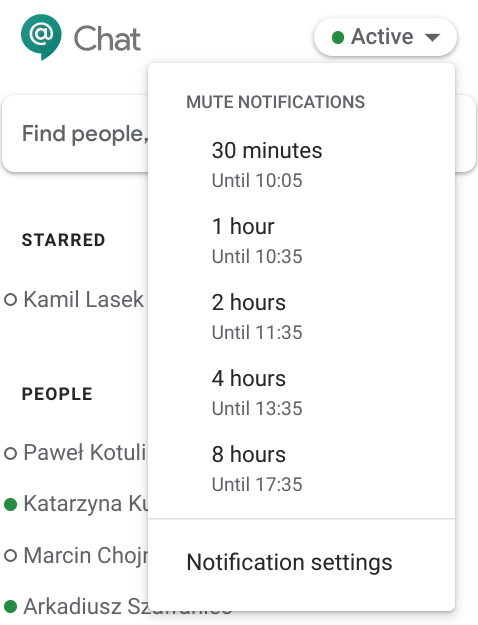 Users can also choose custom notification settings by selecting "Notification Settings".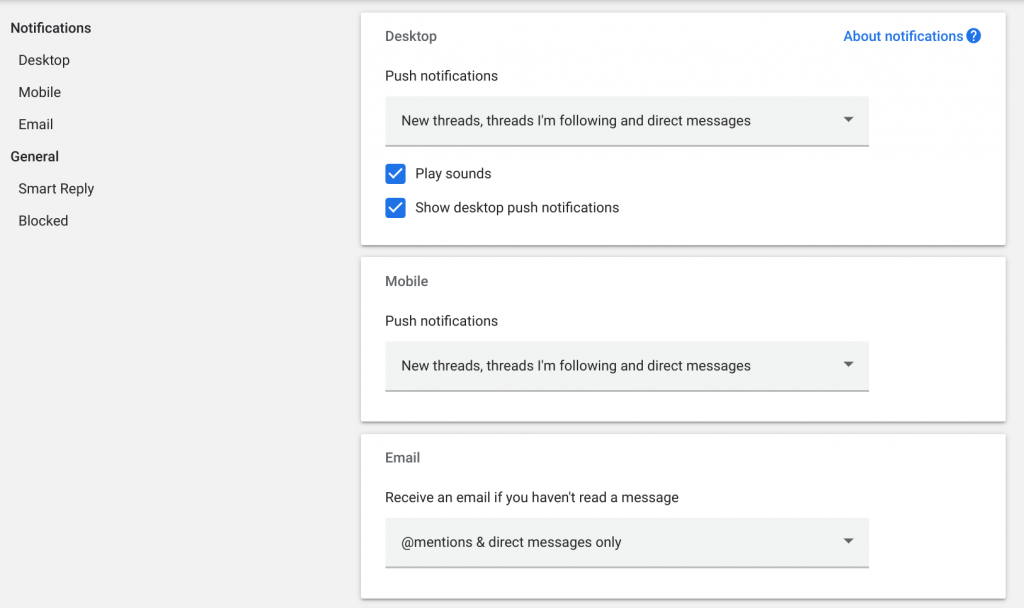 See also:
Using bots
Bots are special accounts that you can chat with, just like with normal people. They allow the use of additional application services, which include, among others, scheduling meetings, searching for information and performing tasks. Anyone can use bots like @meet.
The @meet bot gives us the ability to schedule, modify and cancel appointments, as well as to search the schedule.
Example of using the rebranded Hangouts chat:
"Schedule every day video meetings with Tom at 3pm"
"Find 30 minutes with Marek next week"
"Rename this meeting to "Marketing"
"Cancel my meeting with Katie"
"Am I free tomorrow morning for video conferencing the team?"
Receiving notifications from Google Drive as part of Google Workspace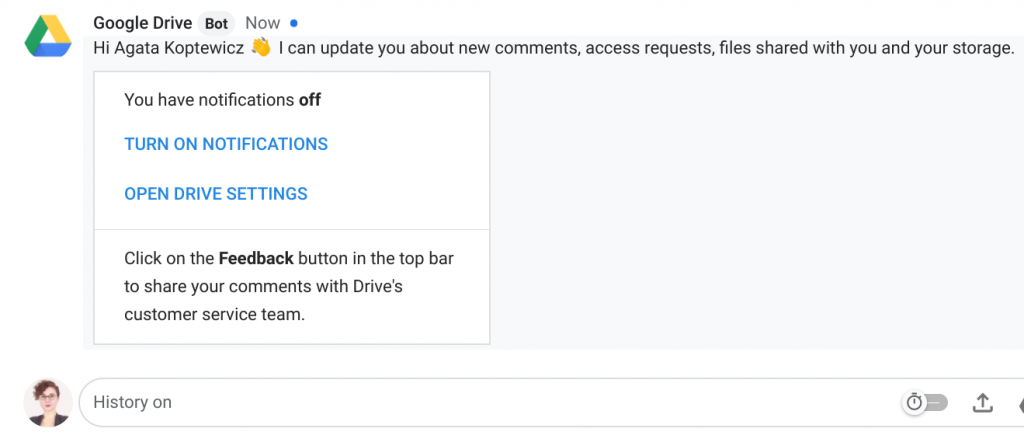 To enable Google Drive notifications in Google Chat, search for Google Drive in the list of rooms and bots.
When you turn on notifications, you'll be notified when:
someone shares a folder or file with you,
someone mentions you in a comment,
someone asks you for access to a file.
Use Google Chat as Google Workspace customers
If you'd like to learn more about Google apps from Google Workspace, previously known as G Suite, browse our free ebooks and feel free to download whatever looks interesting to you.
---