As artificial intelligence makes ever growing waves in internet search, many decision makers are faced with an important question. Is 2023 when I finally apply machine learning to my business? Am I missing out on an opportunity? How difficult and costly is AI to implement and to use? And most importantly: what real value can I get from AI-powered decision making?
With tech companies releasing another new AI powered tool every month now, it is only natural to feel a certain anxiety about missing out on the next revolutionary technology.
Whether you want to draft an email, summarise a meeting or generate a report from prompts, AI technology is becoming indispensable in the workplace.
Generative AI solutions
First of all, AI is not a new concept, but its use cases have been growing by leaps and bounds. Some we already see in our daily work. You must have noticed that Google Docs and Gmail has much more accurate suggestions to offer than it used to. It not only corrects your grammar and spelling. It can tell from context what you might want to say next in your text, and more.
In fact, Google has been touting its new generative AI for email and word processing tools. They may well transform both Google Workspace and the way we write. This new wave of interactive AI applications already allow users to create text, images, audio and video, from natural language prompts.
New toolkit on Google cloud
Recent developments in machine learning are predominantly adding AI-powered features to search engines and office software. However, tech giants have long applied their machine learning expertise to their cloud services.
Generative AI support in Vertex AI provides an extra tools for data scientists. It enables them to build and customise models they are already using in Google Cloud. You can use in your existing google datasets, you get all the surplus of large scale datasets and AI applications.
Generative AI App Builder (released in March 2023) has opened virtually unlimited possibilities for developers to build and deploy apps, including bots, chat interfaces, custom search engines, and digital assistants. Instead of putting them together piece by piece, they can start building them from out-of-the-box templates and customise them using an intuitive Google API. With the Generative AI app builder, creating a new machine learning model takes hours instead of weeks or months.
Check out Google AI tools
If you would like to implement some of these solutions or if you just want to play around with AI models and features to get an idea of what neural networks can do and how they might best serve your purposes, ask our experts.
What AI tools are out there?
In order to harness the power of the latest research in AI resources Google Cloud has to offer, it is worth taking a look at what cloud AI models are already available on the cloud. We will look at the most popular cloud-based AI technologies, their capabilities and the most typical uses of these machine learning models.
BigQuery
Most B2C companies collect swathes of raw data through their transactions systems, websites, and various customer interactions. Yet, while over 97% of companies claim to invest in big data, less than a quarter (24%) actually consider their businesses to be data-driven, according to a 2022 survey by Zippia. One of the main hurdles is figuring out how to analyse the wealth of data collected.
BigQuery is a cloud-based data warehouse where you can not only store but also analyse your data. By processing large datasets with the processing power that the cloud provides, using BigQuery ML, companies can analyse consumer behaviour and trends, and make decisions that are based on more than just a hunch.
For instance, you can perform much more detailed and accurate customer segmentation with K-means analysis, or predict sales figures using simple linear or logistic regression models.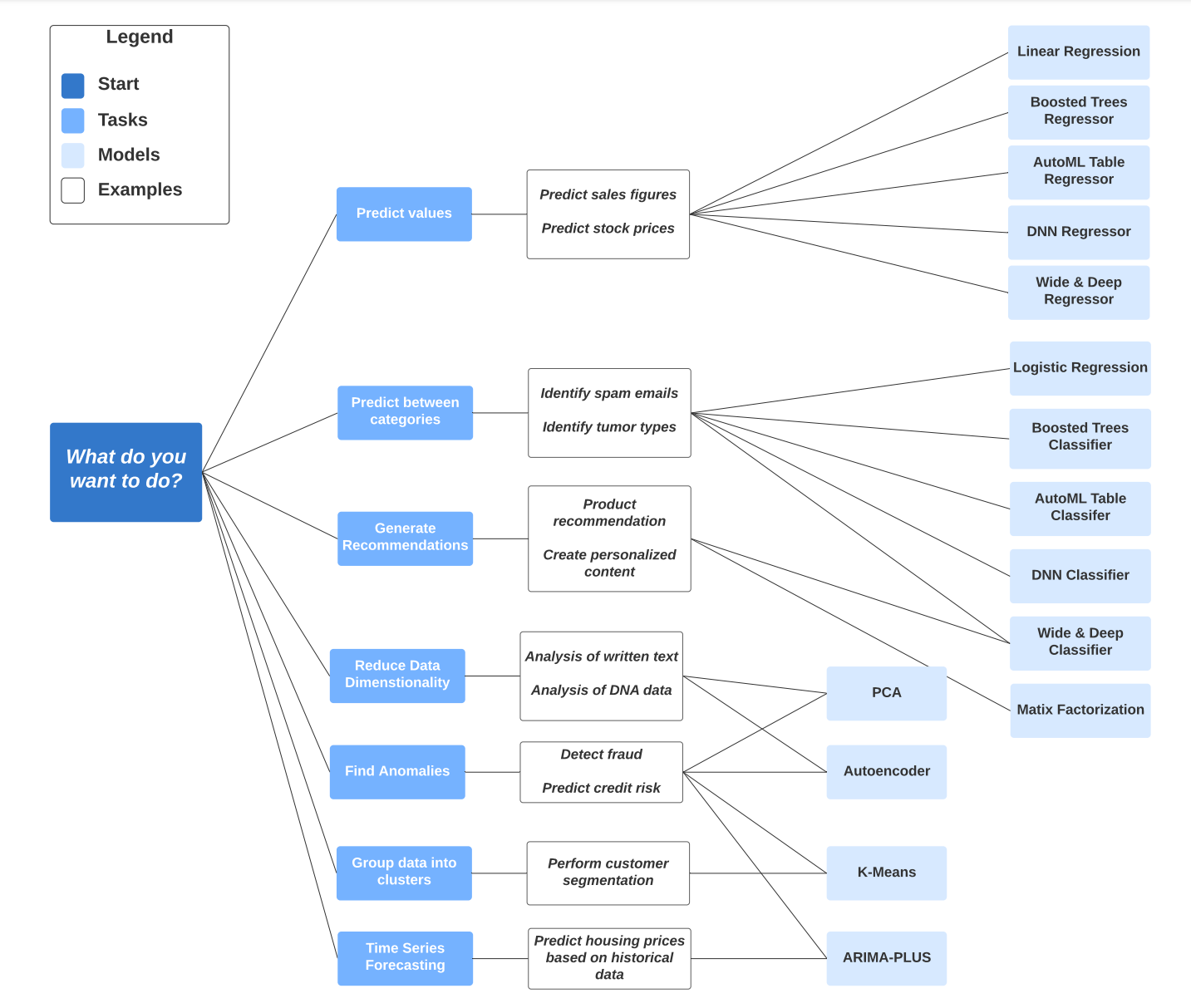 BigQuery ML allows you to build machine learning models using SQL queries on the data you already have stored in your Google BigQuery database, without having to move it, export to a different platform or refactor the data. And you don't need to understand how advanced statistics models work in order to use them to your advantage.
Vertex AI
Vertex AI is a comprehensive AI platform you can deploy to perform e.g. predictive maintenance or fraud detection. It offers a wide range of tools for data preparation (cleaning, feature engineering, data normalisation). It also supports multiple model training frameworks, including TensorFlow, PyTorch and scikit-learn.
Using features like hyperparameter tuning, model explainability and automated ML, you can create truly powerful predictive models that can help drive your business. Two of the commonly applied functionalities of Vertex AI are Vision AI and Speech-to-Text.
Vision AI
Vision AI coalesces images from a number of digital cameras. It then applies machine learning models to interpret and classify the images. We already use the technology every day when we unlock the screen with our face. Or when using Google Translate on a menu in a Chinese restaurant.
Does my company need Vision AI, though? How much added value does it present compared to its cost? Let's consider the cost first.
Building and training a model to recognise and classify images is a costly and time-consuming process. Not to mention the necessary skills it takes to develop a machine learning algorithm that would be accurate enough for business applications.
With a pre-trained AI, the cost is cut down to a fraction. Instead of months, it takes minutes to teach the model what it needs. E.g. how to classify items in an online store, how to make good-match recommendations to clients based on their search history and choices.
A pre-trained AI requires a set of labelled videos and images that are specific to a business and a few minutes to absorb them. It can apply the acquired knowledge to specific business cases within a day of its purchase.
What can Vision AI do for my business?
Maintenance and safety
Making sure faults are discovered and removed quickly can be essential for manufacturing businesses. Automated systems are much faster and more reliable than the human eye. Once they are trained, they can virtually eliminate the risk of faulty equipment hitting the shelves, followed by a costly return process.
Vision AI can also be applied to monitor large scale projects, like windmills, bridges and buildings with the use of drones. Preventing a failure is crucial for continued operations and for avoiding major damage and expensive repair.
Customer recommendations
Training your ML model to analyse product features and identify the best matches can keep your customers perusing your offerings and ultimately increase sales. Given that over 69% of shopping carts in e-commerce get abandoned, according to a 2022 study, a more targeted approach can make all the difference.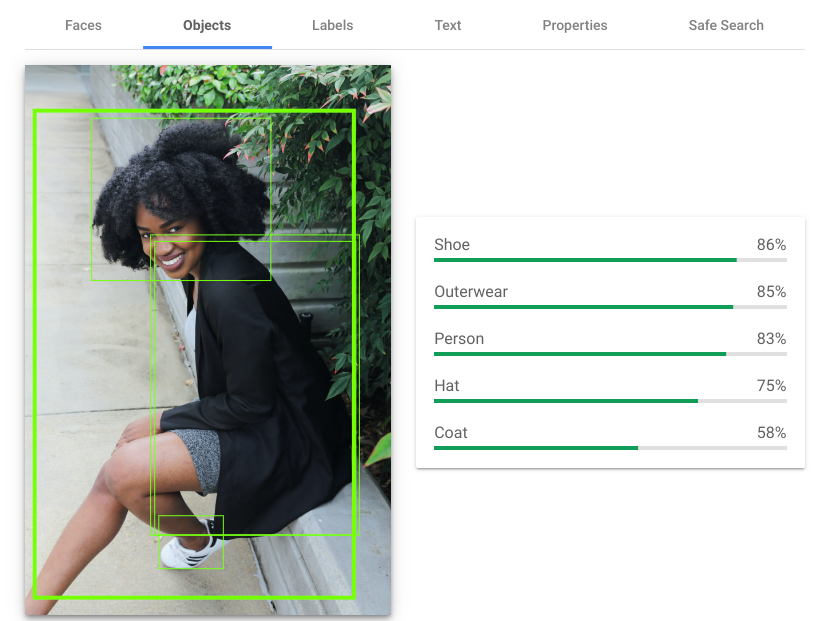 Sentiment analysis
Client opinions matter. A new, but quickly growing use of vision AI is for telling whether your clients are satisfied with your service, and for interpreting social media interactions with your brand. You want the ability to learn as quickly as possible about any potential public relations risk and act accordingly.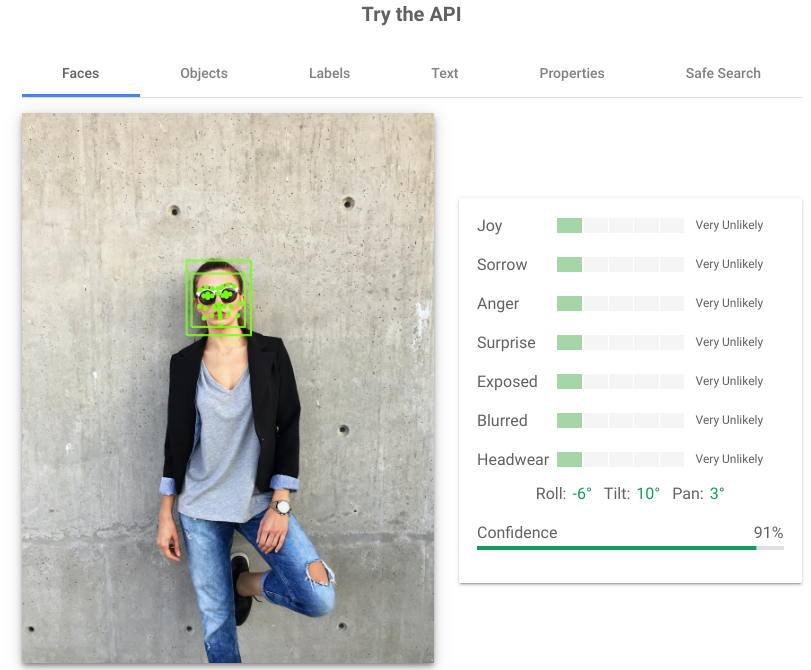 Speech-to-Text
Speech-to-Text and Text-to-Speech are more than just a fully automated way of dictating emails and listening to e-books. They can be powerful tools to improve decision-making as well.
One of the most common uses of speech-to-text is for transcribing customer phone conversations for sentiment analysis. This allows analysts to identify recurring customer issues that need to be addressed. Knowing what your customers are thinking and how they are responding to your offer can provide invaluable insights for your business.
As many as 50% of consumers are willing to switch to a competitor after just one bad experience. More importantly, 80% after more than one bad experience with customer service, according to a Zendesk study. Understanding your clients has never been more important.
Ask our experts about AI tools available on Google Cloud:
If you would like to implement some of these solutions,
play around with AI models and features to get an idea of what might best serve your purposes,
find out what other AI tools could make a difference for your company.