Do you want to extend the functionality of your Google apps to better adapt them to the needs of your company? Look no further. Discover in this following material what the Google Workspace Marketplace platform is and find out how it can help you further customize your productivity tools.
What is Google Marketplace and whom is it intended for?
Google Workspace Marketplace is an encyclopedia of applications that extend the functionality of Google's office programs. More so, Marketplace apps work similarly to the Chrome Web Store with browser plugins or the Google Play Store for Android devices. If you want to know how to access Google Marketplace, you can do it easily in your browser by opening this link.
Google Apps within the Marketplace are created by both Google developers and third-party providers using the Google API and Google Apps Script tools. As a user, you can browse, download, and review third-party Google Workspace apps—most of which are available for free, while some of them operate in a freemium model.Not all of these add-on extend the functionality of a single Google Workspace app. Some apply to Workspace's communication tools, others to file editors, and there are those that affect the functionality of the entire Google Workspace account.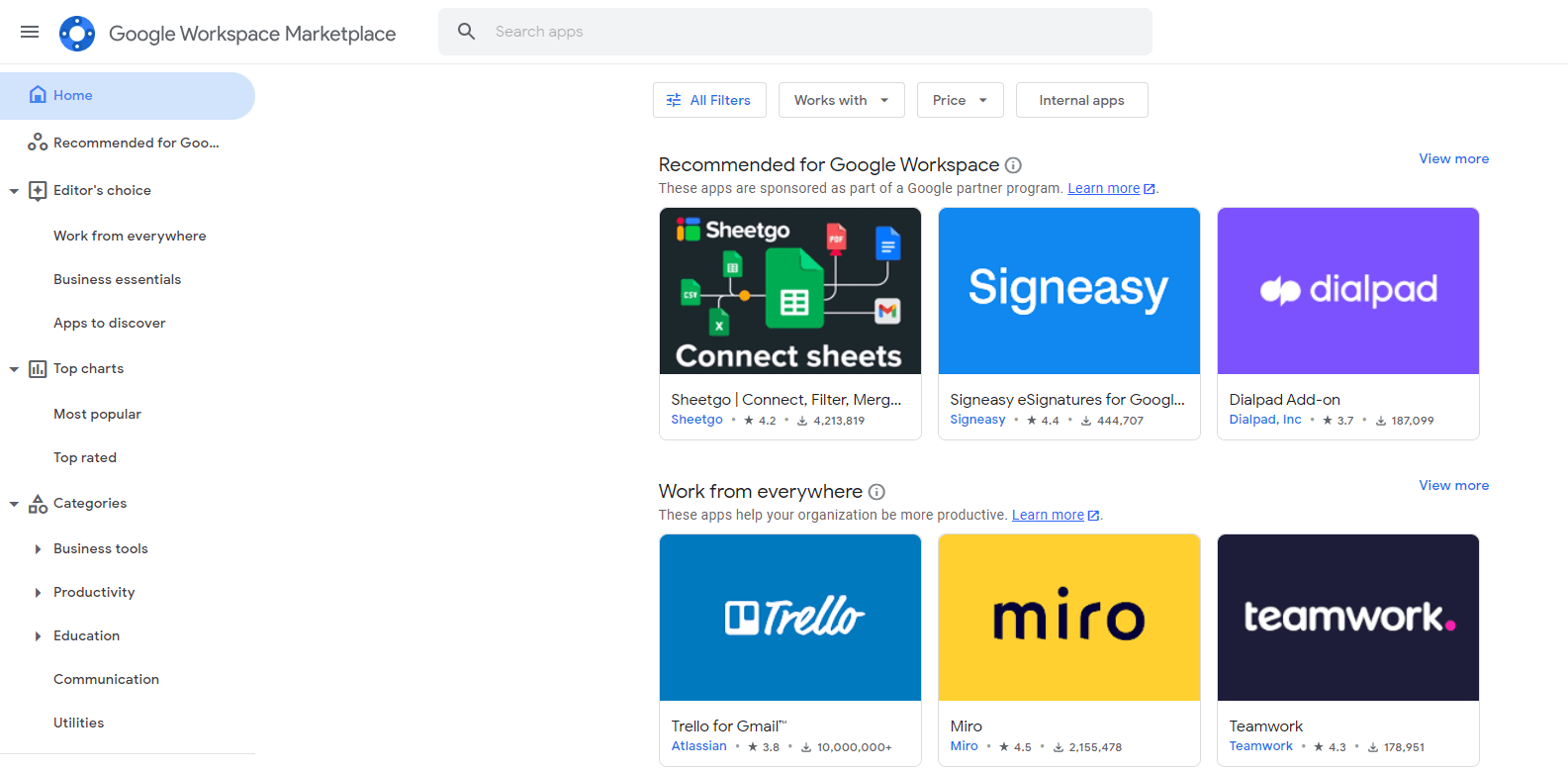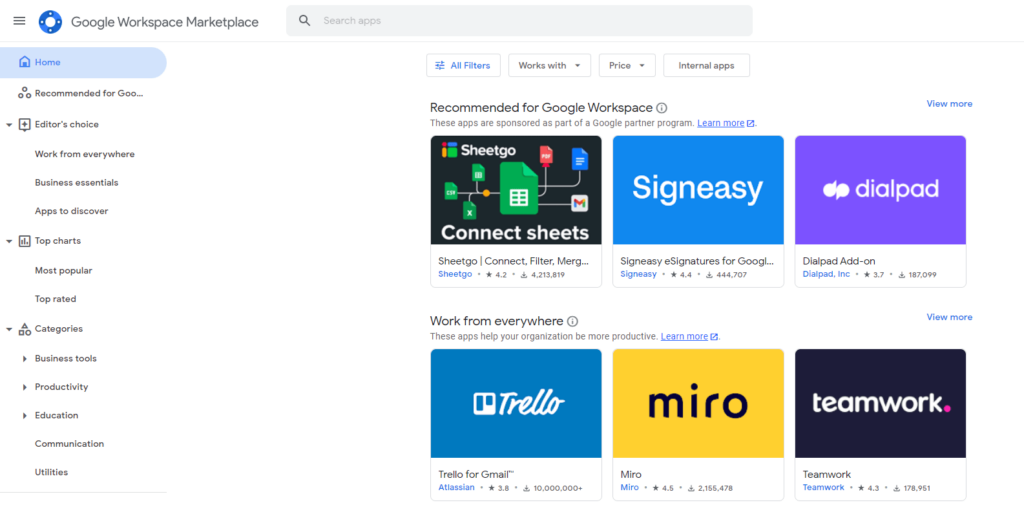 To browse amongst these add-ons available on the Google Workspace Marketplace, you can use the search engine, ratings, and popularity rankings. You can also use the category division (business, office, education, communication, utilities) or the filters built around individual applications (Drive, Gmail, Docs, Google Calendar etc.).
How does Google Marketplace work?
Before you start Google Marketplace shopping or browsing, you need to understand that these apps are designed with a single goal in mind. They're meant to enhance the functionality and features of every app you're already using within the Workspace suite.
The Marketplace will show you apps relevant to integrate in your work, based on your interests and needs. Thus, you will find applications classified according to:
Recommandations based on how you use an application. Apps in this category are recommended directly by Google.
Relevance. These apps are displayed based on how relevant the app name and description are to your search term, the app popularity, and user experience overall.
Popularity. This ranking is based on the number of users who have already installed the app. Separately, one can check the number of users for each individual application in the listing details of each one of them.
User experience. The apps are listed based on the number of ratings and average score the app has received.
The Google Workspace Marketplace generally offers tools for CRM, project management, marketing, or for pure administration purposes. Once you've selected exactly the services you need, you can install and uninstall apps easily, directly from your browser.
Installing add-ons can quickly become a habit – after all, you can find a large variety of apps that don't cost anything, with many of them worth testing. What should you do if you lose the count of your installed add-ons? Google Workspace Marketplace has a convenient panel for viewing all the add-ons assigned to your Google Account – you can launch it by clicking the gear icon in the upper right corner.
The advantages of Google Marketplace – is it a beneficial service for your business?
There are many ways your business can benefit from using Marketplace add-ons. You can find some of them listed below:
An application for every business need
With Google Workspace Marketplace, you will access a wide variety of applications useful to companies working in the digital space:
A list of add-ons to support working with files such as Google Docs, Sheets, Slides or Forms or to help you perform additional tasks
Third-party applications that can help you secure your team's cloud work
Applications that help you automate procedures after an employee leaves the company
Cloud storage and data management
Quick installation and easy app management
As we already mentioned, apps and add-ons can be installed from Marketplace with just a few clicks. Console administrators can also set permissions or prohibitions at application level to manage exactly which add-ons users in the company can use.
What settings can an administrator check?
Enabling or disabling apps for the entire domain
Enabling them for specific groups of users
Create a single listing of apps that users within the company can install
How secure are Marketplace add-ons?
As a user, you can install approved apps, while as an administrator you can own and control the list of allowed add-ons or publish your own extensions within your domain.
Regardless of permission level in Google Workspace – one should install the app only if they trust its developer or vendor.
Pay special attention to the following details:
Information about Google Marketplace app developers,
List of Google Workspace services the app will interact with,
Description of the app and attached screenshots,
Terms and conditions and privacy policy,
Permissions that the add- on, especially those related to data processing and storage, will have.
If all the information above does not raise any suspicions and is fully compliant with the existing security rules in your company, go ahead and install the add-on.
How to start using Google Marketplace?
Google Workspace Marketplace is a platform that helps users discover tools that make their work easier and better, no matter how big their team or their company is.
One last feature of the Google Workspace Marketplace that you should know about is the ability to build and publish your own custom app on the platform. If you want to support the work your employees do with Google Workspace and you have a team of developers who are proficient in building applications in Google App Engine, Big Query or Apps Script, then Google Workspace Marketplace will be the best tool for distributing this new solution worldwide. If you need help using any Marketplace solutions or launching new ones, rely on the support and experience of FOTC, a team of cloud engineers with more than 8 years of experience and a portfolio of more than 2,500 customers.