Are you looking to streamline your data management and compliance efforts within the company? Meet Google Vault, a tool developed by Google, that enables companies like yours to securely retain, search, and export their data, all within a centralised and easy-to-use platform.
Whether you are looking to enhance your eDiscovery process, improve data retention and archiving, or simply ensure data security, Google Vault can be the go-to solution for modern businesses looking to stay ahead in today's data-driven world. Find more information about Vault's advanced security features in the following article.
Google Vault as part of Google Workspace environment
Google Vault is a powerful tool that is included as part of Google Workspace, Google's cloud-based productivity and collaboration tools environment. With this information governance tool, users can easily search and retrieve information across multiple Google Workspace apps, including Gmail, Google Drive, and Google Meet.
This makes it an invaluable tool for organisations that need to meet regulatory and legal requirements, as well as for those that want to ensure that their data is always accessible and protected.
The use of the service does not require the installation of any additional software, all actions are hosted directly in the browser, as with all Google Workspace apps.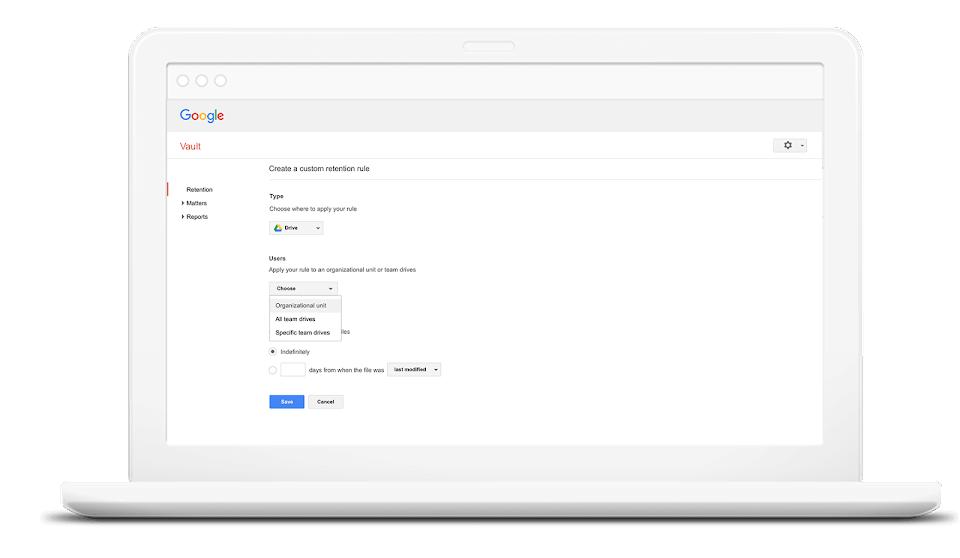 Why use Vault for your business data?
There are numerous advantages to using Google Vault. Firstly, it gives companies a centralised place to manage and export data, making it easy to access and control.
The service then allows teams to set internal data retention and archiving policies for each user account. This ensures that the data is kept safely for an appropriate period of time. This can help companies comply with various regulations and legal requirements related to data retention.
Last but not least, Google Vault gives companies the advantage of quickly searching and finding specific information. The ultimate goal of the application is not to quickly restore data, but to retain critical data in an organised manner. Thus, searching for certain data will become a much easier and prompt task.
What apps does Vault support and secure?
Google Vault offers the ability to manage the following types of data for Workspace Business and Enterprise editions:
e-mails from Gmail;
data and files stored in Google Drive;
Google Workspace text messages sent via Google Chat (those with history turned on);
recordings from Google Meet, along with other events that occur during the meeting (chat history, polls, Q&A sessions);
Google Groups messages;
call logs, voice messages (including transcripts), and text messages from Google Voice;
new Google Sites.
Basic features of Google Vault
Google Vault's core features —relevant to businesses and their teams— include searching, securing, and exporting data.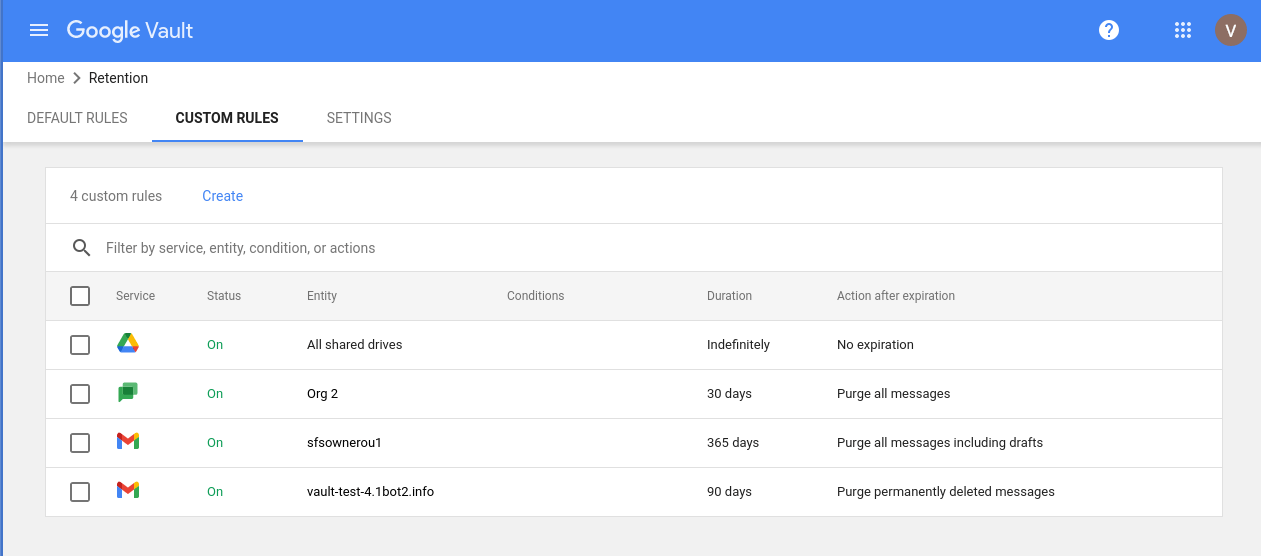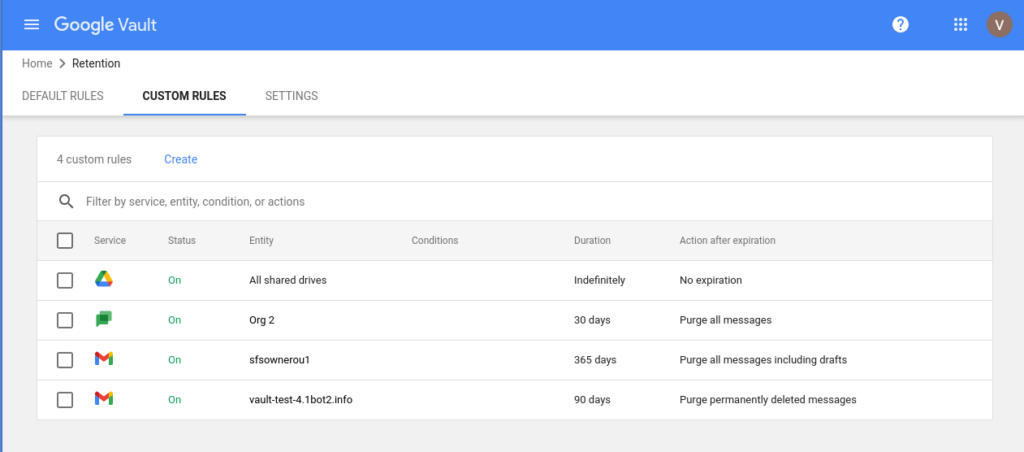 Searching, securing and exporting data
Vault lets you search many types of data saved in an organisation's Google Workspace instance. Information can be searched by filters such as individual user accounts, organisational units, periods of time or keywords. The administrator with Vault access has, among other things, the ability to preview messages and attachments.
In addition, a user with Vault access can search and retrieve, for example, data held in locked accounts. This can help prevent data loss due to employee turnover in the company.
Further, Google Vault lets admins to assign appropriate operating rules to individual user accounts, groups, and organisational units.
Read more on the subject of admins:
Data can be exported in standard formats (pdf, docx or csv) for further analysis or to use for further processing. Such exported data will contain:
a copy of all information that meets your search criteria;
the metadata necessary to associate the information obtained with individual users in the organisation;
confirmation that the data obtained is consistent with the information stored on Google servers.
Data storage and deletion
Vault itself does not store user data. For this to happen, the application needs to be configured accordingly. To set data retention rules, you have two options to choose from:
Retain data as long as needed – If you specify a certain amount of time to store information, it will be kept even after users delete it from their accounts. This feature is used to comply with certain regulations or other legal obligations.
Delete data that is no longer needed – You can also configure Vault so that the app deletes all the data from user accounts after a set period of time. This feature is especially useful if your organisation processes sensitive data that can only be stored for a limited period of time.
It is worth remembering that after the expiration of these retention rules, all data that has been deleted by administrators or users begins to be subject to standard deletion processes (except for information that has been secured against loss). Once information is permanently deleted from the data systems of each Google Workspace product, it cannot be restored.
Organisations can also use a Google Drive integration to manually upload files to Google Vault.
Read more about Google's security settings:
User activity tracking with Google Vault
Companies can search Google Vault for generated logs of user activity.The audit report allows the administrator to track what Google Vault users have done over a period of time of interest.
Activity monitoring is based on providing information about data export, content search and display, and other similar actions. This way, admins can obtain information about the activities performed by individual users at a given time. Reports can be exported to a CSV file (as a Sheets document).
License requirements for Google Vault
To access the app, go to vault.google.com. To actually access Vault, you need administrator rights, either to be a Google Workspace business licence user or also have Vault licences.
Google Vault is included for free in Google Workspace Enterprise, Google Workspace Business Plus, and all versions of Google Workspace for Education editions. If you are interested in an additional Google Vault license, you can purchase it for an additional monthly fee per user with access. Contact our FOTC sales team to find more about pricing and usability.
See the table below for the Google Workspace price list and the editions that include Google Vault: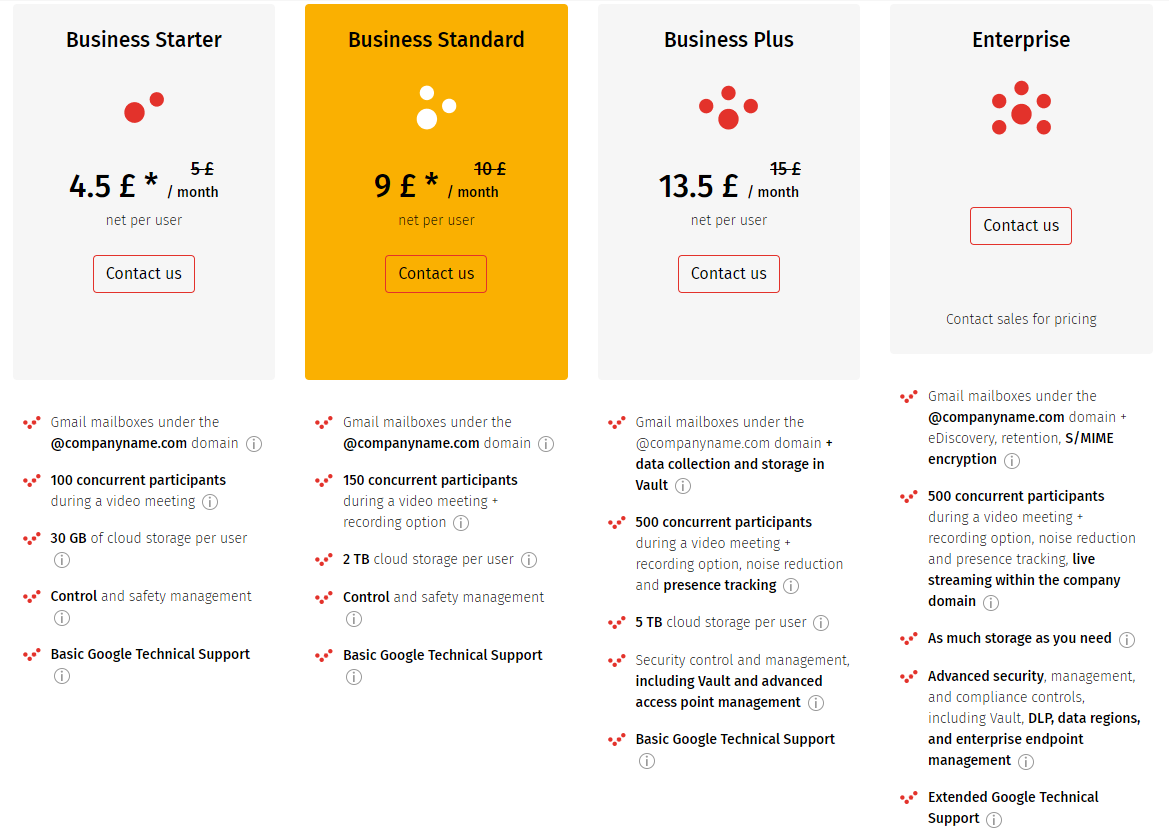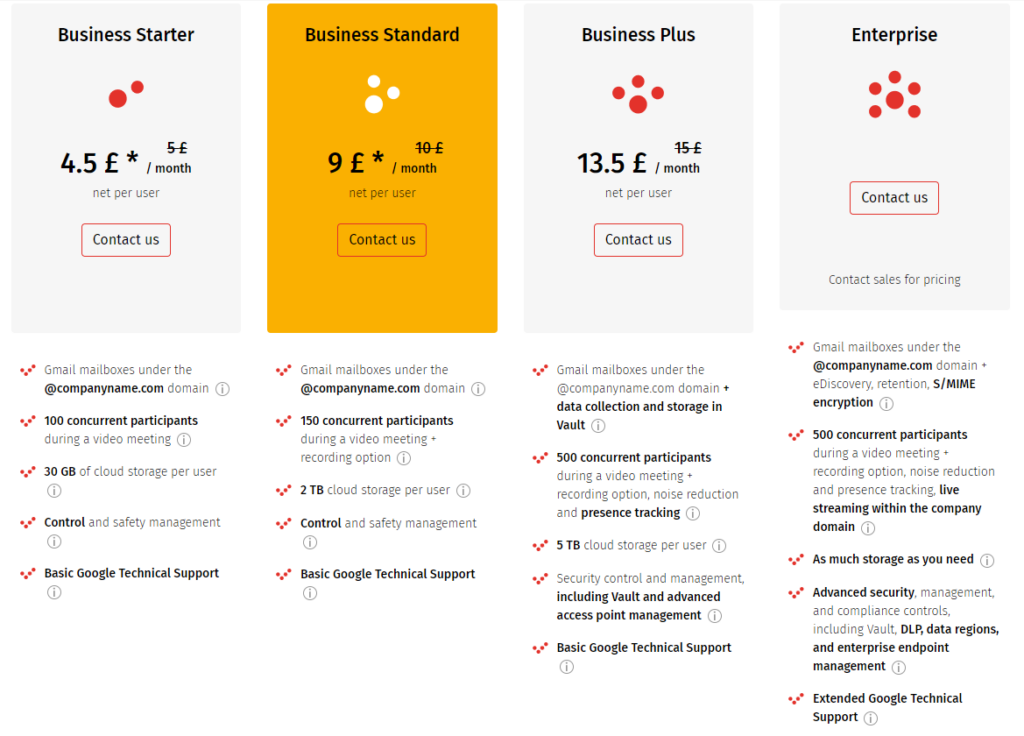 Practical uses of Google Vault within a company
Google Vault significantly supports the work of everyone in charge of securing the company's data. It also has many other practical uses for organisations that need to manage and protect their data. Here are some examples:
Employee departure and employee on boarding
Whenever an employee leaves the company, it's necessary for the successor to the position to receive access to all daily tasks, correspondence with the internal team, with persons of interest from outside the company and to any other documents related to ongoing projects. Although Google Vault is not a migration tool and you won't be able to transfer emails or content from another user's account, it can help you find archived information and pass it on.
Vault allows you to enable automatic storage of a specific employee's documents and emails. All files and messages are stored in the cloud, even if this user previously deleted these files from their account.
Preventing the malicious actions on behalf of an employee leaving the company
In addition to archiving data, Vault also allows you to define rules for storing it. These rules allow you to protect yourself from malicious or dangerous actions on behalf of employees departing from the company. In the case of particularly important data – e.g. key contracts or data requested in legal proceedings – it is also possible to archive files for an indefinite period. In addition, administrators have the power to lock that account in such a way that it is impossible to delete data from it.
Google Vault in court hearings
The topic of indefinite storage of data is so important that it deserves an individual approach. There are situations in which the dispute between the employer and the departing employee gets extremely heated, so that its resolution ends up in court. Due to the complete archiving of both correspondence and all data processed by the employee in question, it can be much easier for you to discover the truth and allow the court to make an objective, evidence-based decision.
Information archived in Google Vault can also be used in other legal proceedings, such as those related to financial crimes or acts of unfair competition. They are particularly useful in the first part of the procedure, involving the disclosure of all data stored in electronic form (eDiscovery). Internal audits can also used Vault stored.
Buy Vault licenses for your organisation with FOTC
Looking for a reliable and secure way to manage and secure your business data? Opt for Google Vault and Google Workspace licences. By working with a Google partner like FOTC, you can ensure a smooth implementation and learning of these powerful tools.