At the beginning of 2022, Google unexpectedly announced that it was finally shutting down the G Suite legacy service. Existing users still have time to decide what to do with their business Gmail accounts. If you're one of the customers who have yet to make that choice, read on to find out the available options.
Why has Google decided to terminate the free G Suite?
The option to set up Gmail accounts with a custom domain at no charge has not been available to new users for ten years. The legacy G Suite edition is only available to those who have been lucky enough to sign up before 2012, when Google rolled back the option to create free accounts. Therefore, the companies affected by this year's change have long experience with Gmail and Google's web applications.
Google Cloud has maintained the G Suite legacy infrastructure for these users while simultaneously developing its paid services for business, Google Workspace (known as G Suite before 2020). After ten years, the gap between these solutions has become so broad that users of the free variant are missing out on many new features. Some are crucial for comfortable collaboration in a hybrid work environment adapted to current market conditions.
However, Google does not want to give its customers an unpleasant shock. The transition process to the paid service is spread over six months, so everyone has time to consider all possible scenarios before taking further steps.
G Suite legacy will still be free, but only for personal use
Google recently softened its initial intentions to not impose additional costs on people who used Gmail in custom domain privately.
Individuals who use G Suite legacy for non-commercial purposes can opt-out of migrating to Google Workspace. For many users, the option to switch to a free version of the service has just appeared in the Google Admin console. If you confirm the intention to use G Suite for private purposes, you can retain access to no-cost services and continue using Gmail accounts in your domain.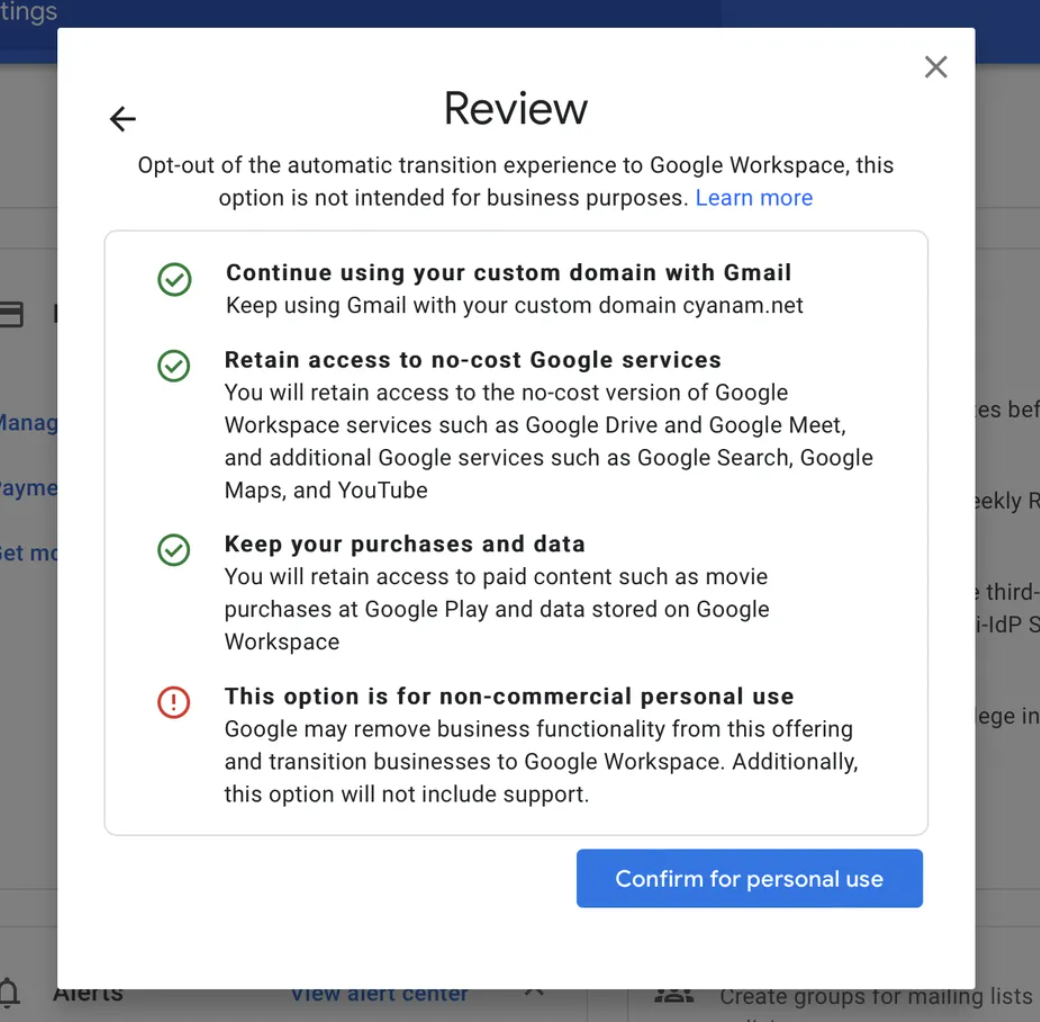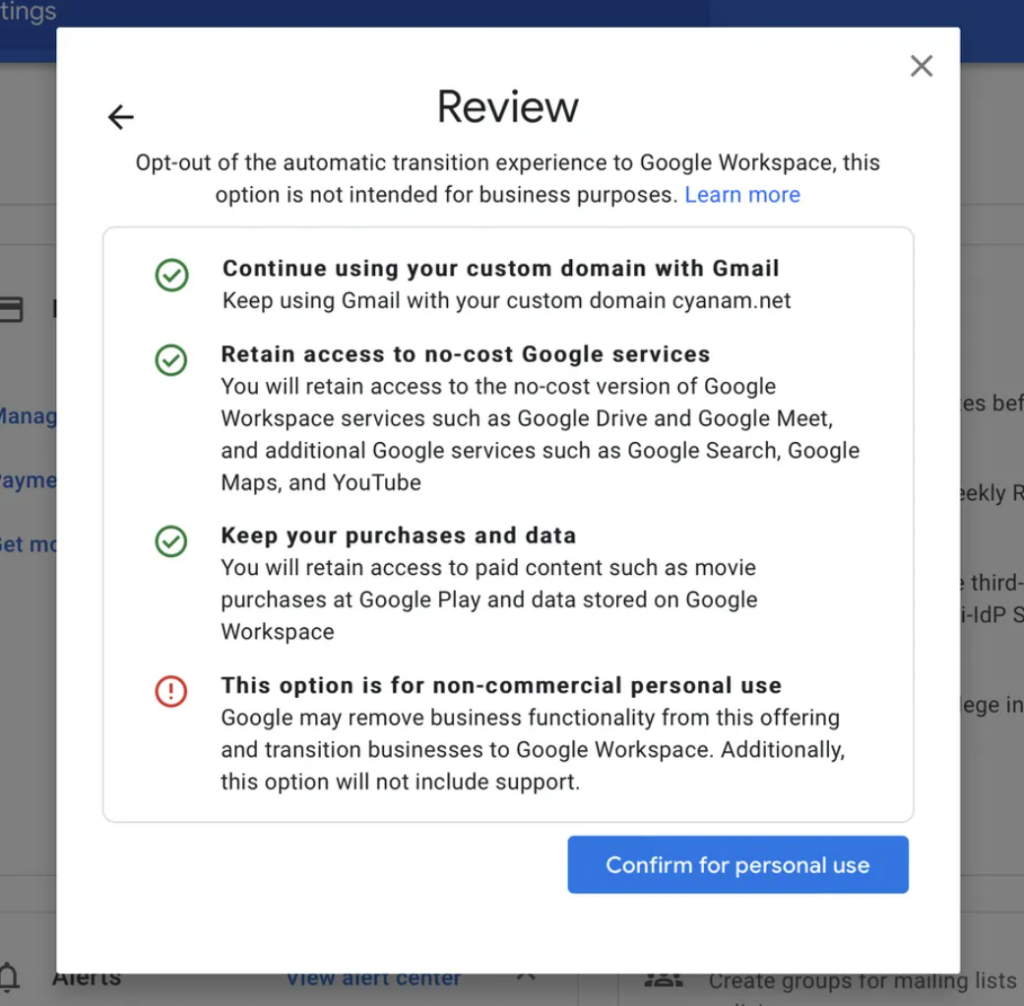 Although not explicitly stated, there is a suspicion that free G Suite will only be available for free to those with fewer than ten accounts. Where did this idea come from? In January, Google conducted a survey in which the company asked users how they use G Suite legacy. The survey was to determine how many people use the service privately, in a family or for hobby-related projects. At the same time, it was restricted only to administrators managing instances with no more than ten registered users.
In addition to keeping Gmail accounts with a custom domain, private users will retain access to their subscribed services on Google Play and free apps such as Drive and Meet. All data collected by users over the years will also remain in place.
What can business users of G Suite legacy do now?
Google grants G Suite legacy users who will move their accounts to Google Workspace a 50% discount for the first 12 months. This offer is a nice gesture, but it is still not enough for many companies, especially if they have created hundreds of accounts and the expected service fees will be counted in thousands of pounds.
However, as with Google Workspace deployments from scratch, working directly with Google is not the only option when transferring accounts from G Suite legacy.
FOTC can offer you a much better deal on the transition from G Suite legacy to Google Workspace
As a Google Cloud partner, we support Google Workspace customers in the British and CEE markets, and we can offer many-fold better conditions for switching to the paid service than Google Cloud itself.
If you have a minimum of ten legacy accounts that you want to transfer to Google Workspace, we can offer you discounts of up to 50% that will be effective three times longer than the standard offer – 36 months of paying half a price instead of 12. In addition to these long-term savings on subscription, you will gain:
Ongoing technical support from a team of certified cloud engineers,
Help with reducing the number of legacy accounts and consolidation of Drive data if it turns out that after transition, you don't need as many Google accounts as you currently have,
Invoices in the currency of your choice with flexible payment terms instead of automatic charges on a credit card connected to the console.
As a Google Cloud partner, we do not charge you any commission for brokering the transaction.
See also:
We consider the case of each company individually, so make an appointment for a free consultation with our professionals to talk about the needs of your business and get a personalised offer. To date, 414 companies have used FOTC's assistance in migrating from G Suite legacy to Google Workspace.
What other options are there?
Moving your G Suite legacy accounts to Google Workspace is the most beneficial and the least disruptive solution for organisations with ten or more employees. Your company will retain access to all the data and familiar apps while gaining more storage space and advanced features of a chosen Google Workspace edition. However, if someone doesn't want to do this, they still have three alternatives:
Deadline for deciding on further steps
Google's official announcement reads that on the 27th of June 2022, G Suite legacy accounts will be automatically moved to Google Workspace. If you, as an administrator, won't provide payment card details in the console by the 1st of August, your accounts will be suspended. To reactivate them, you would have to provide the required financial information or declare non-commercial use.
What about people who have already moved to Google Workspace, although they use G Suite legacy for private purposes? If they have subscribed to the commercial version of the service after the 19th of January, 2022, they can contact Google support to reverse this decision.