An email account is a basis for functioning on the Internet – it's your communication hub and identity provider. An email address not only allows you to manage your digital correspondence conveniently but also is necessary to log in to most other online services, like social media. Since every internet user needs to have at least one email account (and most of us have more email addresses), there is no shortage of free and paid email service providers. We've tested the best email accounts for companies and private users to help you answer the question, 'Which business email service would be the best for my team?'.
How to choose the best email service provider for business?
When it comes to a personal email account, you probably never lost sleep over choosing the provider – you simply tested all services that seemed interesting. Private users have a much easier task selecting an email provider than business owners because they risk nothing. Basic personal accounts on the most popular services are free and provide all the functionalities that an average user would need. Still, they usually don't offer custom domain addresses or management options – and those advanced features are crucial for professional teams.
The process of choosing email accounts for businesses looks different. Of course, as a business owner, you can set up email accounts with selected providers on a trial basis and test the most critical features before deciding on premium services. But even if you postpone paying the first service fees thanks to the free trial period, implementing the new solution (connecting the domain, configuring security, creating accounts and getting employees used to the change) costs valuable time and effort of your team. Therefore, before making a business decision, it is worth knowing all the pros and cons and comparing your favourite service email provider with the competition's offers.
Criteria for selecting the best business email service
Both private users and corporate clients can save time by reading comparisons of the best email services at trusted sites. For each person, 'the best business email' means something different – some value maximum privacy and protection from spam, others simplicity and convenience, and still others want the most extensive functionality possible.
We've based our email account ranking on the following criteria:
Best free email offering: an evaluation of the free plan of the service for the individuals using an email account only for everyday errands.
Popularity: choosing a popular email service provider means that you can always access online resources, add-ons, active community, and additional technical support services (for example, from a partner company).
Business accounts: differences between individual and business offerings, price lists, and evaluation of benefits evaluation for companies.
Mobile apps: these days, accessing business email should be just as convenient on a phone as it is in the browser.
Ease of use: we compare the user interface, search options, and features that help keep your email inbox organised.
Paid and free storage capacity: an email service must provide business users with enough space to store current and archived correspondence and file attachments.
Correspondence security: protection against spam, phishing attempts and malware in the inbox, and admin panel configurations that secure email accounts of all employees.
Additional services and integrations: most manufacturers now offer many more valuable tools that are built into the mailbox to create a coherent environment with other office productivity services, like file editing, storage, chat, and video conferencing apps.
We evaluated over a dozen well-known international business email providers and came up with five winners: Gmail, Outlook, Protonmail, Zoho, and Hover. These email services specialise in some areas to maintain a competitive edge in a specific niche of companies and individual users as a free email service providers. See how we ranked them on a 5-step podium and learn about the most significant advantages of using each of these services.
Top 5 email service providers ranked by FOTC
1. Gmail in Google Workspace – best email for business, as well as a free email service provider
Google Cloud's most significant advantage lies in its approach to the development of Gmail as a business email service provider. It offers a generous free version that quickly gets people accustomed to the convenience of cloud solutions and lowers the entry threshold for professionals. Still, its main focus is always on business solutions, with Gmail as a professional email address. Subscribers of paid plans can count on the high availability of the service (SLA 99.9%) and constant gradual updates. All that ensures that Gmail can meet newly emerging business needs on an ongoing basis.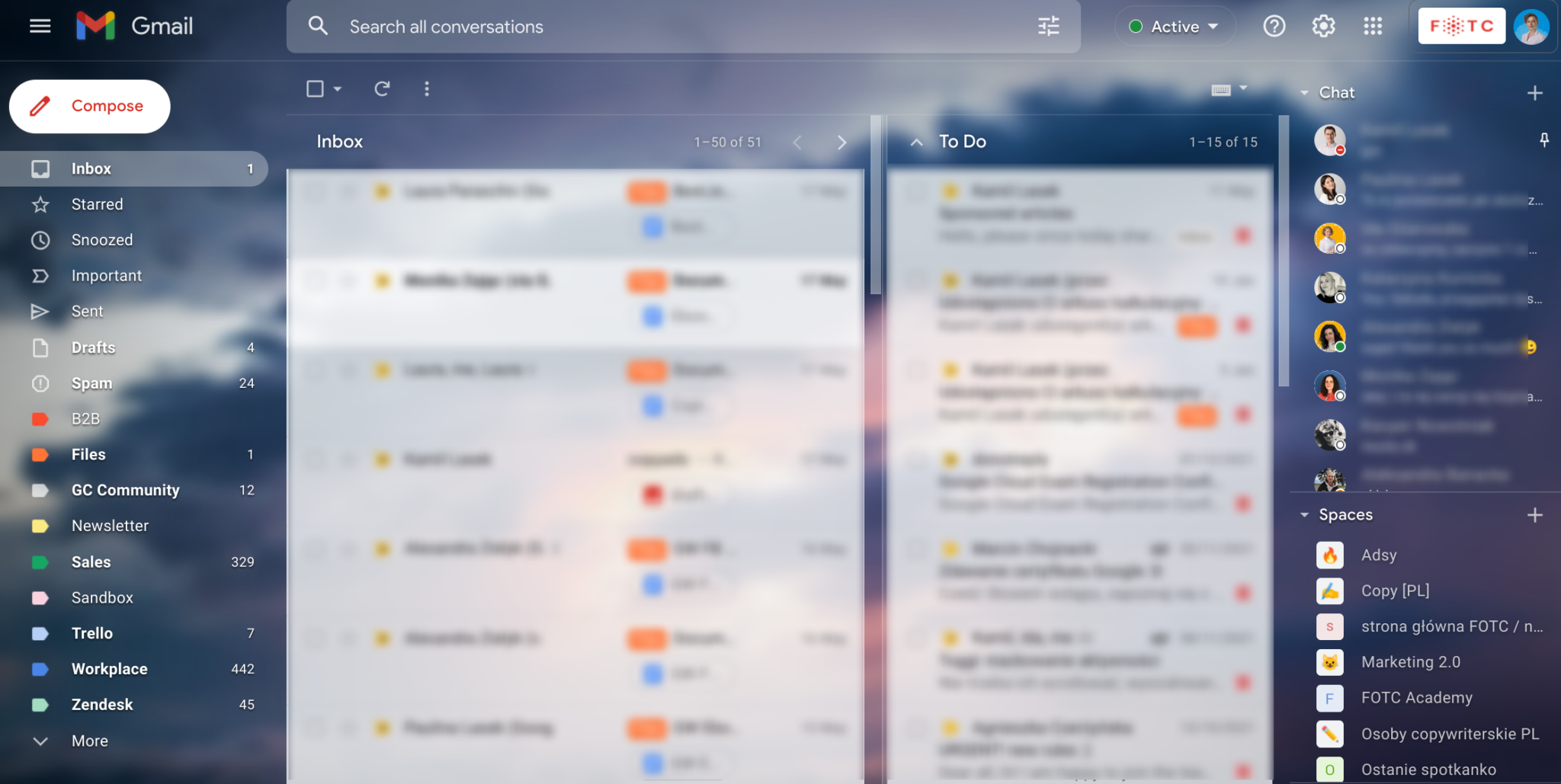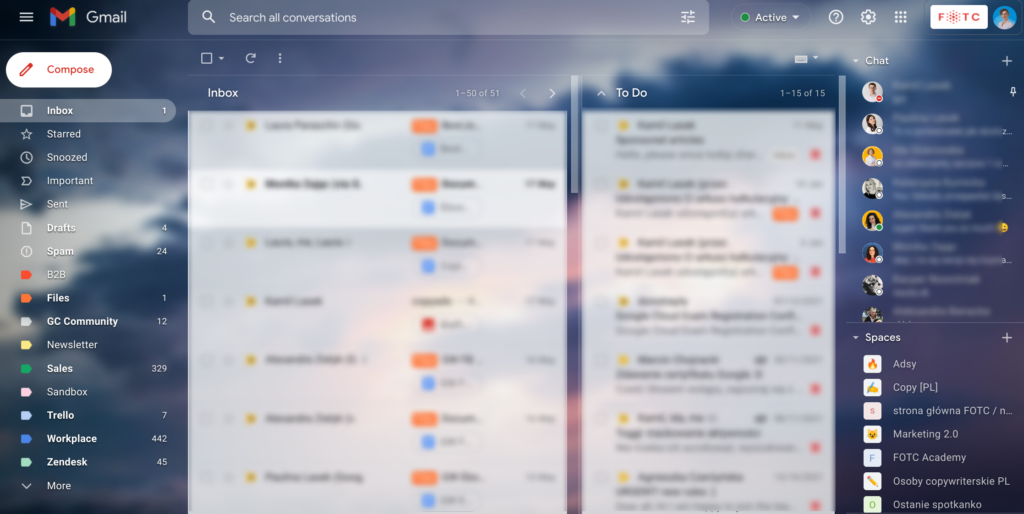 For whom a Gmail account will be the best?
As it's one of the best and most frequently used email services, it wouldn't be easy to find a person who is unhappy with its email services. In the third quarter of 2019, Gmail had over 1.6 billion active users. Its immense popularity indicates that it is the most versatile email service – all thanks to Google's wide range of offerings for both private users (free Gmail accounts) and businesses (in the form of the Google Workspace subscription, formerly known as G Suite).
The pros of using Gmail
Fast, modern and secure email in a browser and on mobile devices – your work in Google apps is synchronised in real-time, so you can close a laptop and pick up where you left off in the Gmail mobile app.
Extensive suite of cloud-based office applications – business Gmail is not a standalone service; it's firmly embedded in the cloud applications' ecosystem. By setting up Gmail accounts for your employees, you give them access to all the essential office productivity software: Docs, Sheets, Slides, Forms, Sites, Keep etc.
Gmail works as a communication hub – opening Gmail in a Chrome browser tab (or mobile app) gives you access not only to your inbox but also to Google Chat, Spaces, and videoconferences in Google Meet. You're always just one click away from Calendar, Drive, and file editing apps.
Gmail is ad-free and has the best spam filters on the market – automatic spam filtration and flagging of all suspicious emails are crucial for productive work. It eliminates distractions and risks of falling for malware or phishing attacks.
Advanced Search Box – intuitive, versatile, and lightspeed search in Gmail allows you to find exactly the message you were looking for. Search operators and intelligent search chips will make your inquiry even more precise.
Unlimited storage – you can use as much space in the cloud as you need if you have Enterprise Gmail accounts. Private users get 15 GB of free storage. Visit this article to learn more about all the storage space tiers between free and Enterprise editions. With that amount of cloud storage on each account, the 25 MB attachment size limit becomes irrelevant; you can attach files of any size to a message via a link to Google Drive.
Automatic categories keep your mailbox clean without effort, or you can use a wide range of advanced options for power users following the Inbox Zero principle.
The cons of using Gmail
Most catchy and straightforward email addresses in the @gmail.com domain are already taken; the solution to the problem for businesses is a Gmail address in a custom domain name.
Labels to organise messages instead of folders – some people are so used to folders that developing a habit of labelling email messages doesn't come easy to them.
No desktop email client – Google is committed to web-based design and doesn't provide a dedicated local client, but still, you can connect Gmail to third-party desktop email clients, like Thunderbird, Outlook, Spike, and so on.
A word of disclaimer: FOTC is a Google Cloud partner, so we're naturally biased in favour of Gmail.
Our team of certified cloud engineers specialises in implementing Google Workspace and Google Cloud Platforms for businesses in the UK and CEE markets. Years of work with Google gave us confidence in their solutions – we've seen how, with our help, these cloud services boosted the growth of thousands of businesses.
As a partner, our role is not only to sell and faciliAs a partner, our role is not only to sell and facilitate the implementation of business custom domain name Gmail but also to provide ongoing technical support, optimise costs, and organise training for business clients. Google Cloud recognised our experience in improving workflows – we've achieved the Work Transformation (SMB) partner specialisation, which proves our many successes in deploying and supporting Google Workspace in small- and medium-sized organisations.
Following clients' requests, we've developed Gmail Signature Manager – an app that allows Google Workspace administrators to standardise footers for all employees or members of a selected organisational unit. That handy solution (plus a $300 voucher for Google Cloud and Security best practices ebook) is available to our clients in the form of a Welcome Pack.
If we didn't believe that Gmail is the best solution for business, we wouldn't choose to specialise exclusively in the partnership with Google Cloud. Schedule a free consultation to see how our expertise can help your company thrive in the cloud, set up incoming and outgoing emails settings and learn all the ins and outs of business Gmail.
If you're interested in testing this Gmail business email address, then Google offers you 14 days of a free trial, while with a partner, like FOTC, you can try any Google Workspace edition for 30 days.
2. Microsoft Outlook and Exchange – ideal email service for traditionalists
We award a second place in our business email service providers ranking to another versatile, widespread, comprehensive software ecosystem and email provider. Microsoft is arguably the most established brand on the market of productivity tools, as its programs have been present in our homes, schools, and offices for over 30 years.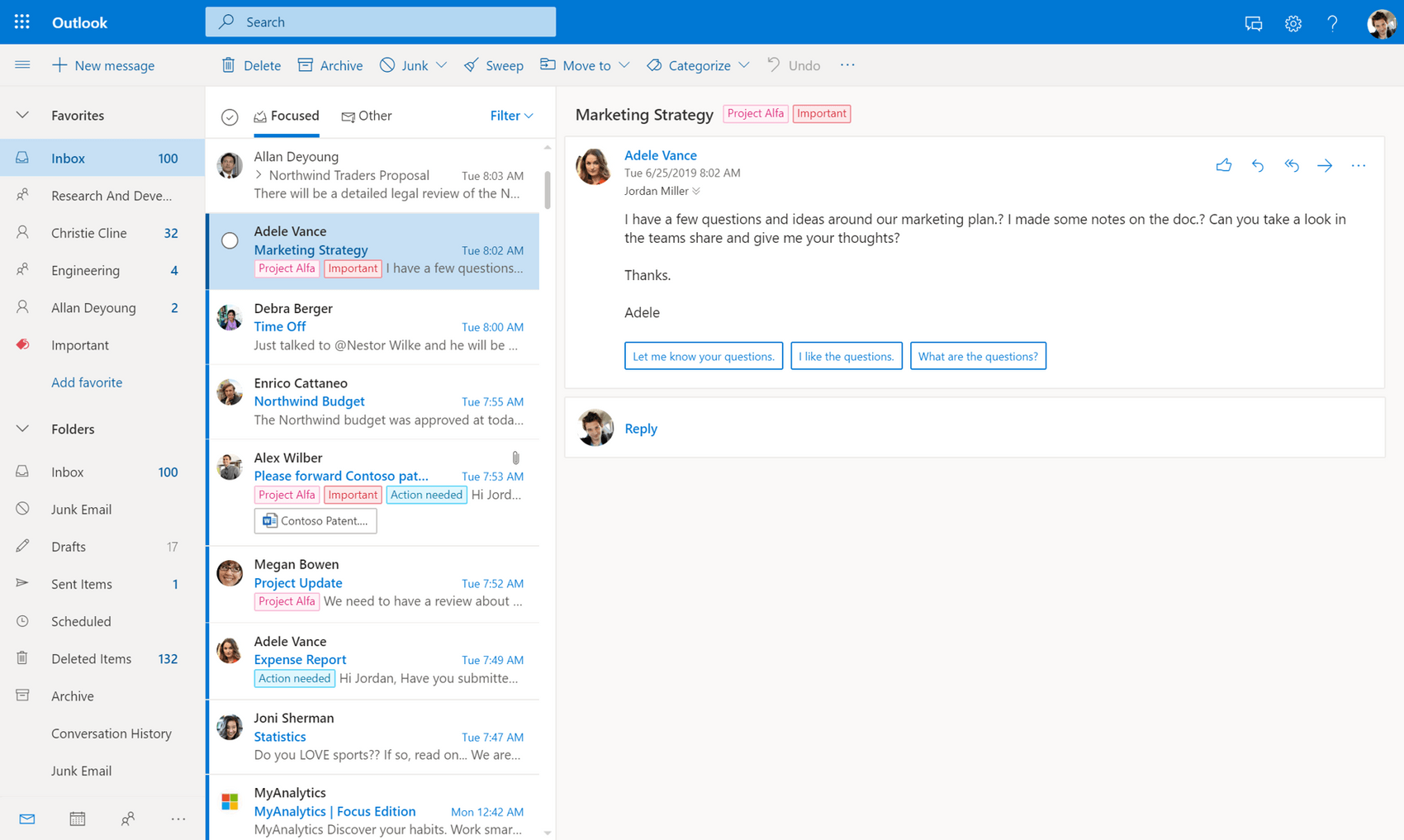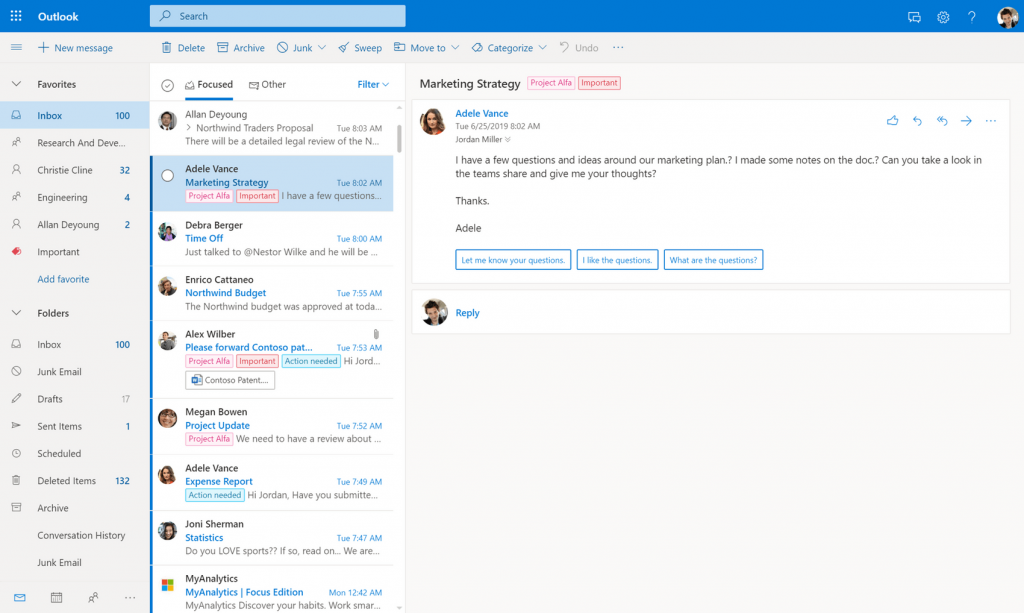 For whom do Microsoft email services work best?
Outlook email accounts within the Microsoft Exchange email hosting service in the Microsoft 365 suite of office productivity programs (formerly Microsoft Office) are still prevalent in large companies with a long tradition. It is particularly appreciated by people who prefer to use the desktop mail client rather than the browser application.
The advantages of Outlook mail:
The best desktop mail client – it is sophisticated and packed to the brim with features relevant to businesses but still fairly easy to use and perfectly embedded in the Microsoft ecosystem, so it should be your go-to local solution if you're working on a Windows computer.
Well-established brand – Microsoft is often the first software manufacturer that comes to mind when thinking about daily office tasks in a corporate environment. As in the case of Gmail, the popularity of the brand itself might make it easier for your team to get used to new professional email accounts.
Many options for organising mail into folders – Outlook mail is based on folders, so introducing a multi-tier structure for arranging messages and cleaning up the mailbox is as easy as on a personal computer.
50 GB of storage space in the mailbox – most users would find this limit very hard to exceed.
Well-known office applications for editing files – with each Microsoft 365 Business licence come programs like Word, Excel, PowerPoint, and OneNote on the web and in mobile apps.
The disadvantages of Outlook mail:
There's a limit on the number of devices accessing your professional Outlook account via mobile app. Yes, even as a paying customer, you can enjoy a synchronised Outlook, Word, Excel, or Powerpoint on no more than five phones and five tablets (Android or iOS).
Limited storage space – you can host email accounts with storage for messages and attachments capped at 50 GB, regardless of edition. Microsoft does not diversify space limits for service variants – OneDrive storage is also fixed at the same level (1 TB) for all business customers.
Less flexible subscription or higher prices – the official Microsoft Business pricing is always displayed with rates that apply to an annual commitment. Prices with a yearly subscription are very similar to the monthly costs of Google Workspace. If you'd prefer to be billed monthly, the subscription fee goes up.
Less intuitive interface from the perspective of new users – for some, Microsoft apps and email are so familiar that they have no problems navigating through the ribbons. However, for new employees who didn't work in Microsoft 365 before, the unique design of command bars in programs and the sheer volume of available options might be frustrating at first.
The free Outlook mail account is full of intrusive ads – although Microsoft provides some free services, they are still trying to push sales of their office suites for private users. Due to that reason, their free accounts are much less user-friendly than the competitors', who are committed to not-charging individuals for the basic stuff.
Are you still on the fence between 1st and 2nd place winners?
If, at this point, you're hesitating between choosing Microsoft 365 or Google Workspace, then check out articles that can help you make a good decision:
Did you know that you can adjust Gmail settings to accommodate routines developed in Outlook?
Gmail can make day-to-day work easier for those employees who have formed habits around Outlook and only recently switched to the Google email service. With just a couple of quick tweaks, you can adjust the key elements of Gmail to make such users feel more at home:
Disable conversation threads to make each message show in the mailbox separately.
Enable the reading pane (by default, emails open in full-screen mode).
Use calendar, notes, and to-do lists just like in Outlook – the difference is only in the location of the icons. In Gmail, you'll find them in the right panel.
Set up one or more signatures in the advanced settings.
Change the keyboard shortcuts to match those you used in your previous mail service.
These settings make the transition from Outlook to Gmail much more manageable than from Gmail to Outlook. Faster adoption of software translates into better productivity of the entire team and thus impacts the company's revenue.
3. ProtonMail – the best email accounts for those who prioritise privacy
The third spot on the podium goes to an email service provider that prioritises privacy over extensive functionality, thus winning the hearts of members of the confidentiality-loving niche among business owners.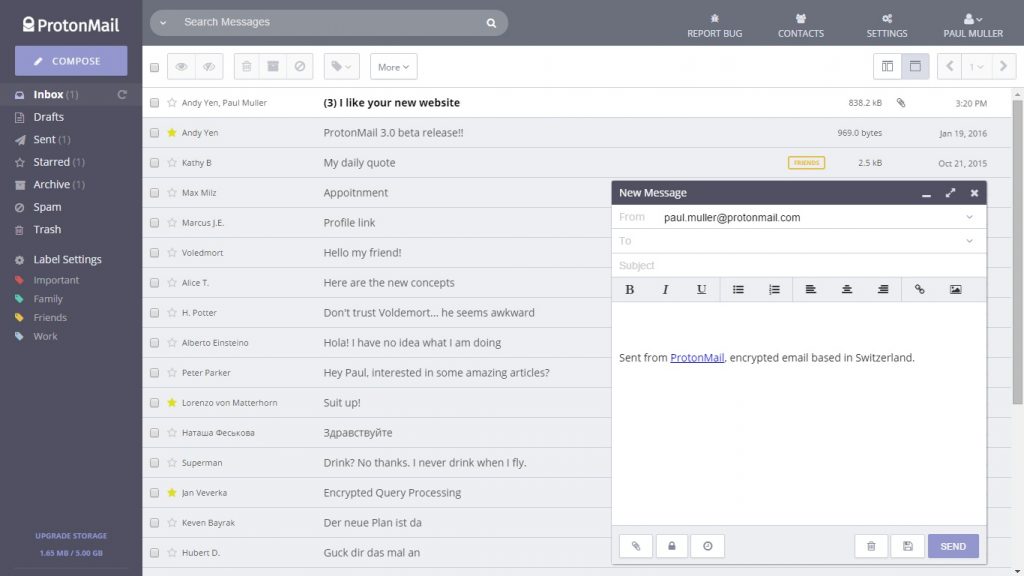 For whom will ProtonMail be the best?
If you care above all about the maximum security of your correspondence, then consider setting up your mailbox at ProtonMail. This Swiss company offers convenient, simple and encrypted mailboxes for both companies and individuals.
The advantages of ProtonMail:
Customer data is stored on servers in Swiss data centres with maximum protection.
The service is compliant with Swiss laws, which are one of the strictest in the world when it comes to security and privacy.
ProtonMail is in accordance with HIPAA and GDPR by design.
End-to-end encryption ensures confidentiality even if the correspondent is using another email service provider
A convenient mobile application upholds the same privacy standards and features as the web-based app.
The disadvantages of ProtonMail:
No additional applications – The ProtonMail email account is a standalone service, so you'd need to buy software licences elsewhere to equip your employees with all the necessary office tools, like cloud drive, text editing, spreadsheets, and presentations.
Only 5 GB of email space per user in the business plan – that's not a lot. On the bright side, you can allocate the pooled storage as you please within the team, and if you're short on space, there are expansion options available.
4. Hover – the most storage space at a low price (only for business)
Hover is a web and business email hosting service. This provider does not have a solution dedicated to private users but instead has a highly affordable and generous offer for businesses that need a lot of cloud storage space. This email will primarily benefit small businesses that create a lot of digital content and want to store and share it with their customers conveniently.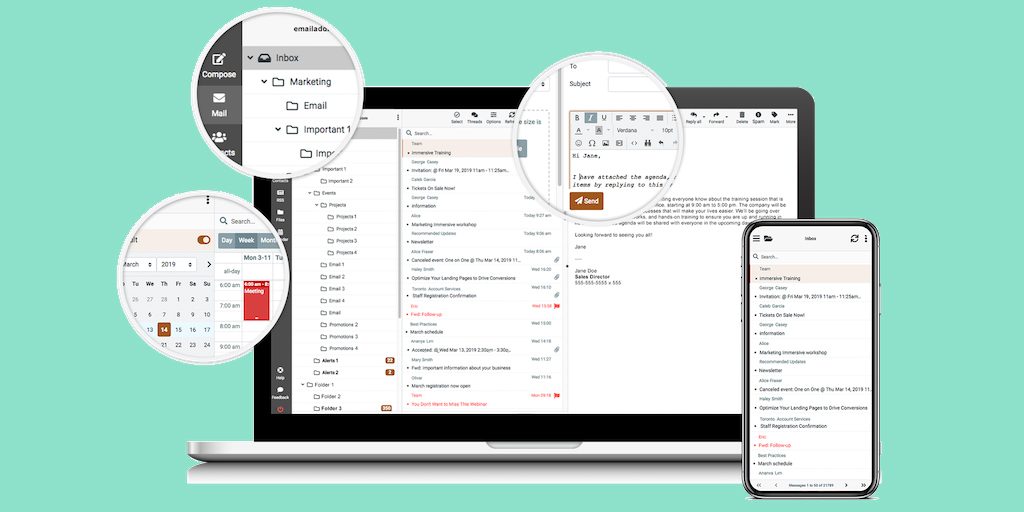 The pros of Hover webmail:
An account in a Big Mailbox plan offers as much as 1TB of space and costs only $29 per year. Yes, you've read that correctly – per year.
If you're just starting out, Hover has prepared an even more affordable service variant for you – 10 GB of storage for a $20 annual subscription fee.
And if you're really on a budget, you have an option to purchase a business mailing address with your domain that redirects all correspondence to your free private mailbox. This nice little workaround will cost you no more than $5 per year.
The cons of Hover webmail services:
There are no monthly subscription options, so you need to commit for a year. But to be fair, the annual fees are so low that it's still a good deal.
No additional applications – the Hover Webmail is a standalone service, so you'd need to buy software licences elsewhere to equip your employees with all the necessary office tools, like cloud drive, text editing, spreadsheets, and presentations.
5. Zoho mail – best free domain name email for small businesses
Last but not least, we present to you an email service provider with a free plan for businesses.
Are you starting your adventure with freelancing or running a small company for which the Internet presence is not the basis of activity but its supplement? You still need a professional email with an address in your domain, but investing in such a service is optional. With such people in mind, Zoho is offering the possibility of setting up a free business account.


The advantages of Zoho mail:
The Zoho Mail Forever Free plan allows creating domain email addresses for up to five users
Cheap plans for those who need more than five accounts – you can host multiple domains with multiple email addresses starting at less than a pound per month per account.
Additional applications: calendar, documents, task lists, notes, and contacts in a Zoho office suite.
High attachment limit size in paid plans – up to 1 GB per file in Business Premium.
Offline access
Convenient mobile app
Affordable all-in-one service plan called Workplace, starting at £2.4 per user per month and including all the necessary communication and productivity applications.
The disadvantages of Zoho mail:
IMAP, POP, and Active Sync are not included in the free plan
Sensitive and unbalanced spam filters – you might find yourself frequently unblocking legitimate addresses that were falsely flagged by a spam filter meant to protect you from unwanted email marketing and newsletters you didn't sign up for.
Images in emails need to be displayed manually – by default, images are hidden, and some users report this feature as an inconvenience.
Where is the best place to set up a business email?
Each ranking of email accounts will provide a different answer to this question because the best email box is the one that best fits the user's set of individual needs. For example, traditional companies with established day-to-day processes tend to opt for Outlook accounts. On the other hand, Gmail is the favourite email of young organisations whose employees value freedom and appreciate the collaboration features offered by the cloud-first environment of applications. Some companies don't care that much about the coherence of all-in-one services and are willing to pay extra for full email encryption, and there's no shortage of business owners who won't pay extra for anything – the best deal for them is the cheapest one.
Of course, there are other popular brands worth considering that didn't make it to our best email service providers list. If none of the above positions seems to fit your needs, then feel free to review offers of Yahoo Mail, iCloud Mail, GMX Mail, or AOL.