On August 3, 2021, we completed a rebranding that resulted in the evolution of Fly On The Cloud into three separate brands – including the FOTC brand, specializing exclusively in Google Cloud solutions. The article will show you how separating the specializations will allow us to better respond to market needs and what exactly is changing and what is staying the same.
The new is coming, and we're running with it. Why the need for change?
The last year and a half has seen accelerated digital transformation in many organizations. Schools that went into remote learning mode almost overnight. Companies that were forced to digitize documents, increase data security and ensure the fluidity of communication. E-commerce websites, which, along with an increase in load, had to also handle high quality customer service. Businesses that were looking to optimize costs to survive uncertain times.
We supported them all – and continue to do so – by selecting and configuring the right cloud services, conducting implementations and training, assisting with ongoing utilization, and optimizing the cost of using the tools.
The increased demand for cloud services has also impacted us. In just one year, as a partner company of Google Cloud, Zendesk and Facebook, we have more than doubled our size and expanded into additional CEE markets. We have made changes in the Supervisory Board, created a new department, and started rebuilding our organizational structure.
Creation of three brands
The high growth and changing needs of the market influenced our decision to set a specialization and transform Fly On The Cloud into three independent brands to be able to focus more effectively on developing competencies and supporting our customers.
In August 2021, we launched the following projects:
FOTC – a brand pooling Google Cloud services specialists, providing implementation, training and ongoing support for Google Workspace, Google Workspace for Education, Chrome Enterprise and Google Cloud Platform solutions.
Refolks – a team of experts leading the implementation of Workplace from Facebook – a social platform for employees.
Oh My Support – specialists supporting the implementation of individual and business customer service platforms Zendesk and Pipedrive.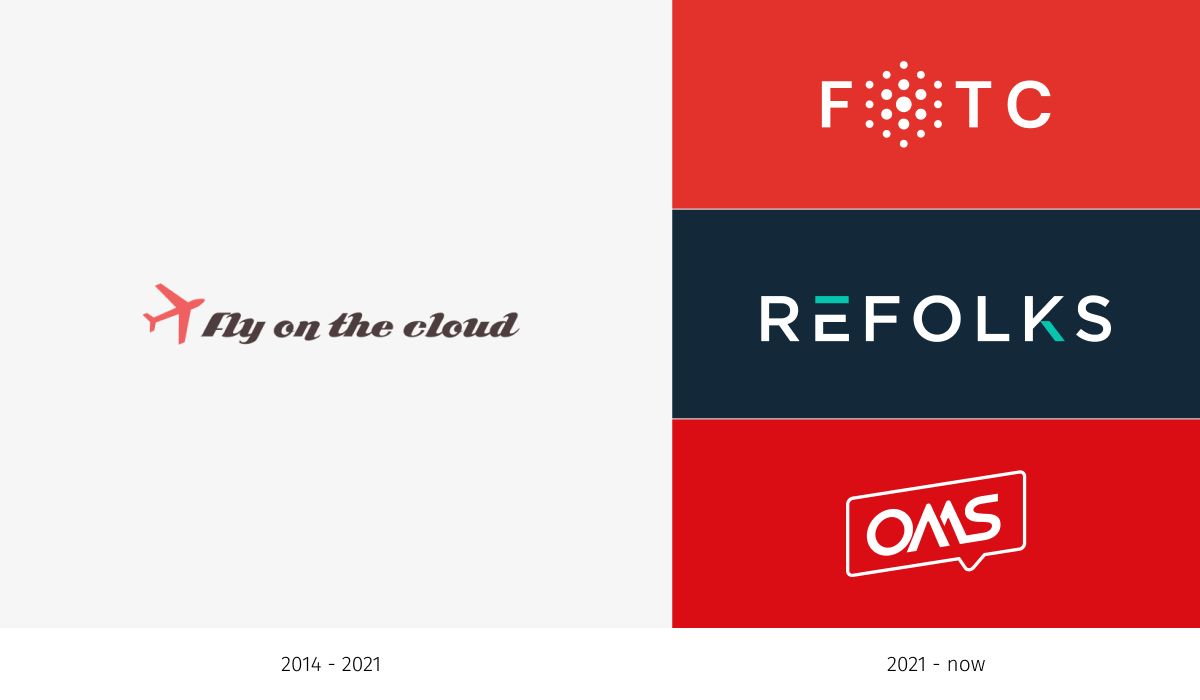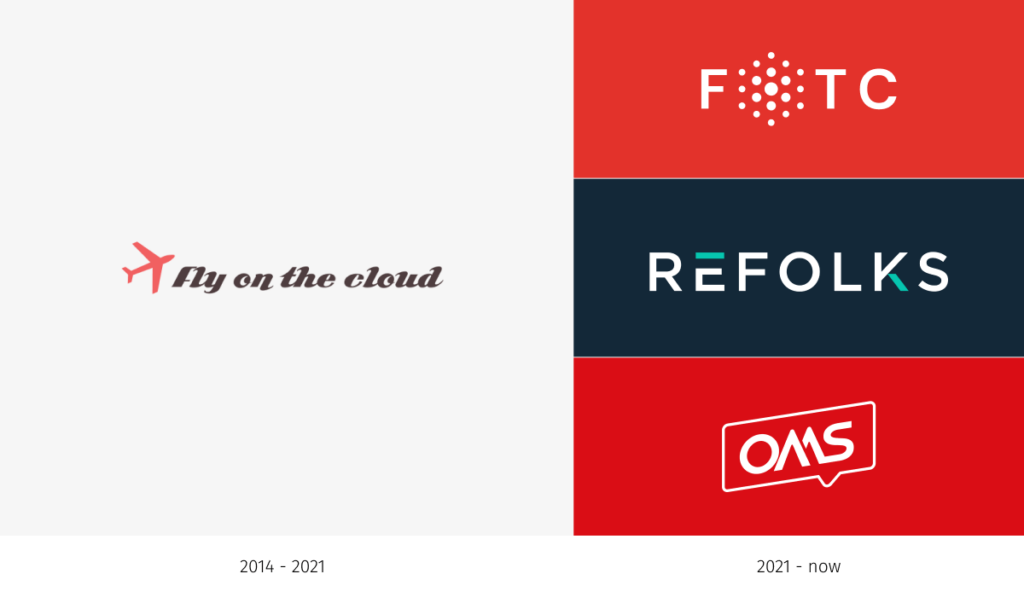 Designating a specialization was necessary in order to better and more comprehensively respond to the needs of our customers, says Piotr Wieczorek, CEO of FOTC. The rebuilding of the organization's structure affects each of us on a personal level. Each member of the team – be it FOTC, Refolks or OMS – can focus on developing a specific expertise. Adopting a one-Google strategy at FOTC will allow us to maintain full focus on one solution, further explore the ecosystem and develop dedicated strategies for our customers.
FOTC – Your Google Cloud travel partner
FOTC (formerly Fly On The Cloud) has been an official Google Cloud Partner since 2014. Since the beginning, our ambition has been to best support public organizations and small, medium and large private enterprises to effectively use Google's cloud services:
Google Workspace – a suite of business applications that increase productivity and fluidity of communication in organizations.
Google Workspace for Education – tools dedicated to students and teachers, supporting remote and hybrid education.
Chrome Enterprise – a set of tools for office work: laptops, computers, videoconferencing equipment, browser and Chrome OS.
Google Cloud Platform – a platform with more than 200 ready-to-use cloud services for building and developing IT products.
Google Maps Platform – a set of developer tools to leverage the power of Google Maps in their application.
In our seven years of business operations, we have opened branches in CEE countries: Poland, Romania, Bulgaria, Czech Republic, Slovakia, Hungary and Ukraine We have 70 experts on board, including certified engineers, architects and security and network specialists. Currently, our customer portfolio includes nearly 2,000 companies, with almost 80,000 users of cloud technologies utilizing our services.
In 2020, we were awarded the Work Transformation specialization granted to partner companies with a sufficiently high documented level of knowledge, competence and experience in leading Google Workspace implementations. Google Cloud conferred on us the 2020 EDU Cloud Impact award for helping schools and universities achieve digital transformation during the pandemic.
What is changing with the rebranding of Fly On The Cloud to FOTC?
Specialization. The FOTC brand is focused solely on developing expertise in Google Cloud Services and maintaining a partnership exclusively with Google Cloud.
Name. "Fly On The Cloud" has been replaced by "FOTC" – in the e-mail addresses of our specialists, on social media or in the website address.
New website. You are now on the new fotc.com website. The previous version of the site, flyonthecloud.com, has flown away along with the name and the airplane from the old logo.
Visual identification. Along with the new logo, we took on a new color scheme, shapes and fonts.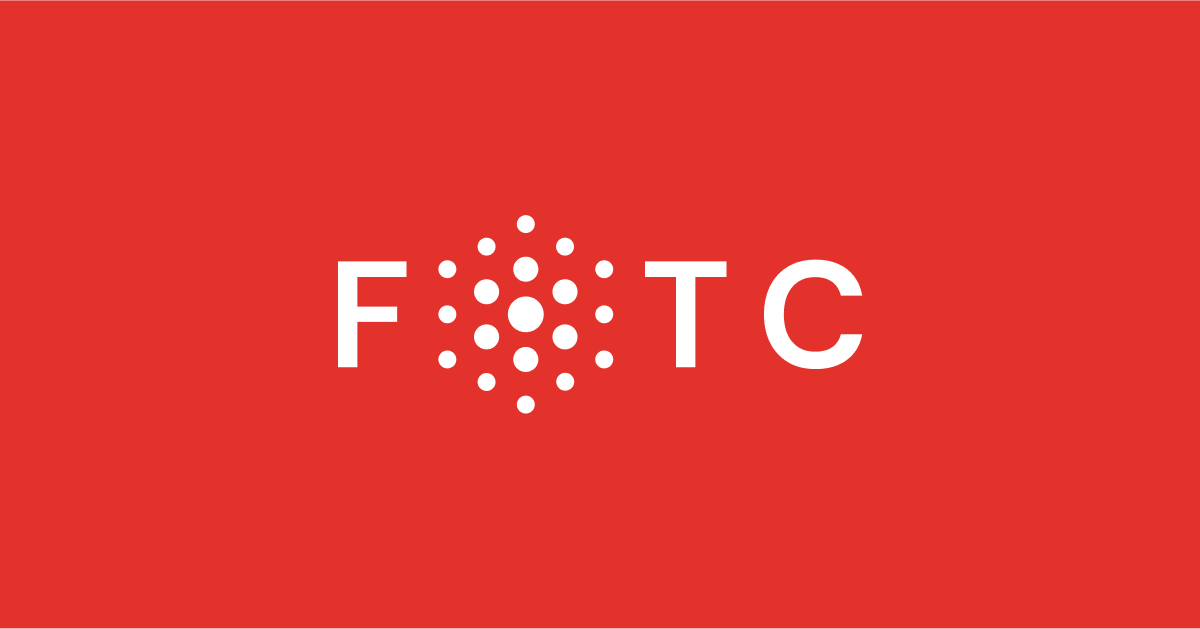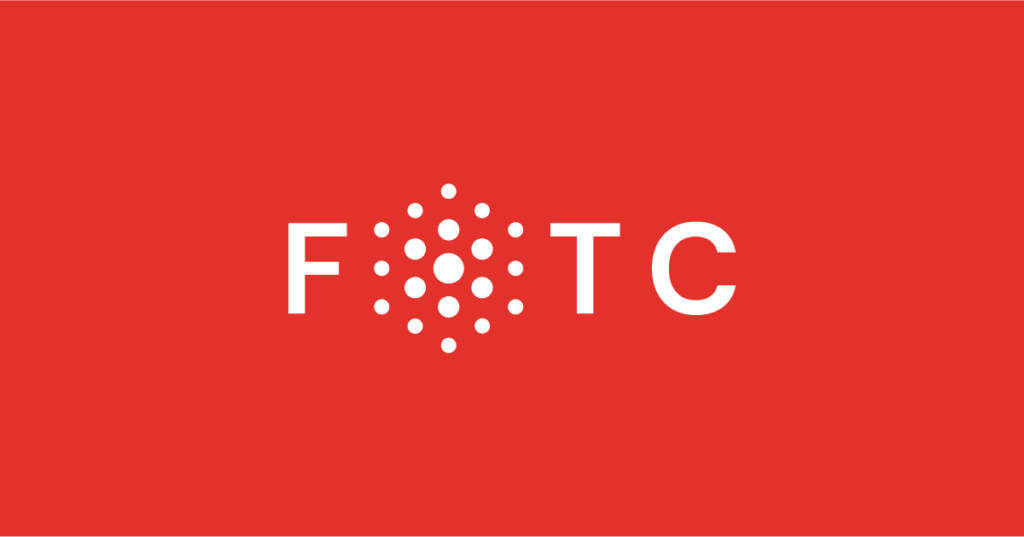 What stays the same?
Legal status. All three brands will continue to operate under one company, i.e. FOTC Sp. z o. o.
Prices of services and billing. We are preparing improvements in technical support, but our existing customers will not experience any changes in fees for Google Cloud products or FOTC services.
Presence in CEE markets. We maintain our existing offices in CEE countries and plan to expand into new markets.
People, knowledge and experience. The existing team remains unchanged and will be joined by new specialists over time. What will change is the pace of acquiring new competencies.
What's next?
The implementation of the one-Google strategy will translate into a deeper relationship with the service provider and turn it into better benefits for FOTC customers. Focusing on one specialization is also an opportunity to deepen knowledge, establish cooperation with other cloud experts, create and distribute more quality educational materials, and organize events and webinars. Our plans for the next quarter also include launching 24/7 support for Google Workspace and opening branches in other CEE countries.
This is an important time for us. We have summarized the path we have traveled so far, looked at our successes, learned from our mistakes and, based on all this, forged new trails. I am glad that FOTC is formed by dozens of specialists who together, consistently build our expertise in the field of cloud technologies – now with a new energy. This change opens new opportunities not only for us, but also for our customers, concludes Piotr Wieczorek, CEO of FOTC.