How to hold an online meeting? What should you pay special attention to before attending a video conference? And what to keep in mind during the session? These are questions that concern many entrepreneurs, managers and employees in companies where remote working has become an everyday occurrence.
Fortunately, a bit of preparation can make online meetings run smoothly so that productive conversations move the company forward. All that is needed is for all participants to follow a few simple rules. Here are ten ways to make online meetings more of a pleasure for everyone than an annoying position in the schedule.
1. Pick the right tool and try it out
One of the most important things to consider in the context of online meetings is the choice of the application through which participants will connect – several programmes on the market offer this possibility, and the two most popular are Zoom and Google Meet. When analysing which solution will work best for you, pay attention to three elements in particular:
Functionality. Check what features are available in the app. How many people can join the meeting in real-time? What can be the maximum length of the session? Does the app offer the possibility of recording a video conference? Does it mute background noises? Of course, focus on those features that will be particularly useful for your team.
Read also:
Security. This essential element is often overlooked, as we don't pay as much attention to the privacy of meetings as to the confidentiality of business files. After all, lots of sensitive internal company information is discussed during video calls, so pay attention to whether it would be easy for a third party to intercept or join the meeting. 
In Google Meet, for example, the connection is encrypted, and only participants using the company domain can join the meeting by themselves. The host must approve the entrance of any people from outside the organisation.
Availability. Price matters. When choosing a teleconferencing app, check how much it will cost you to use. Compare offers from different manufacturers and scrutinise additional costs for the essential features (like phone dial-in). Find out whether the tool is available separately or as a package.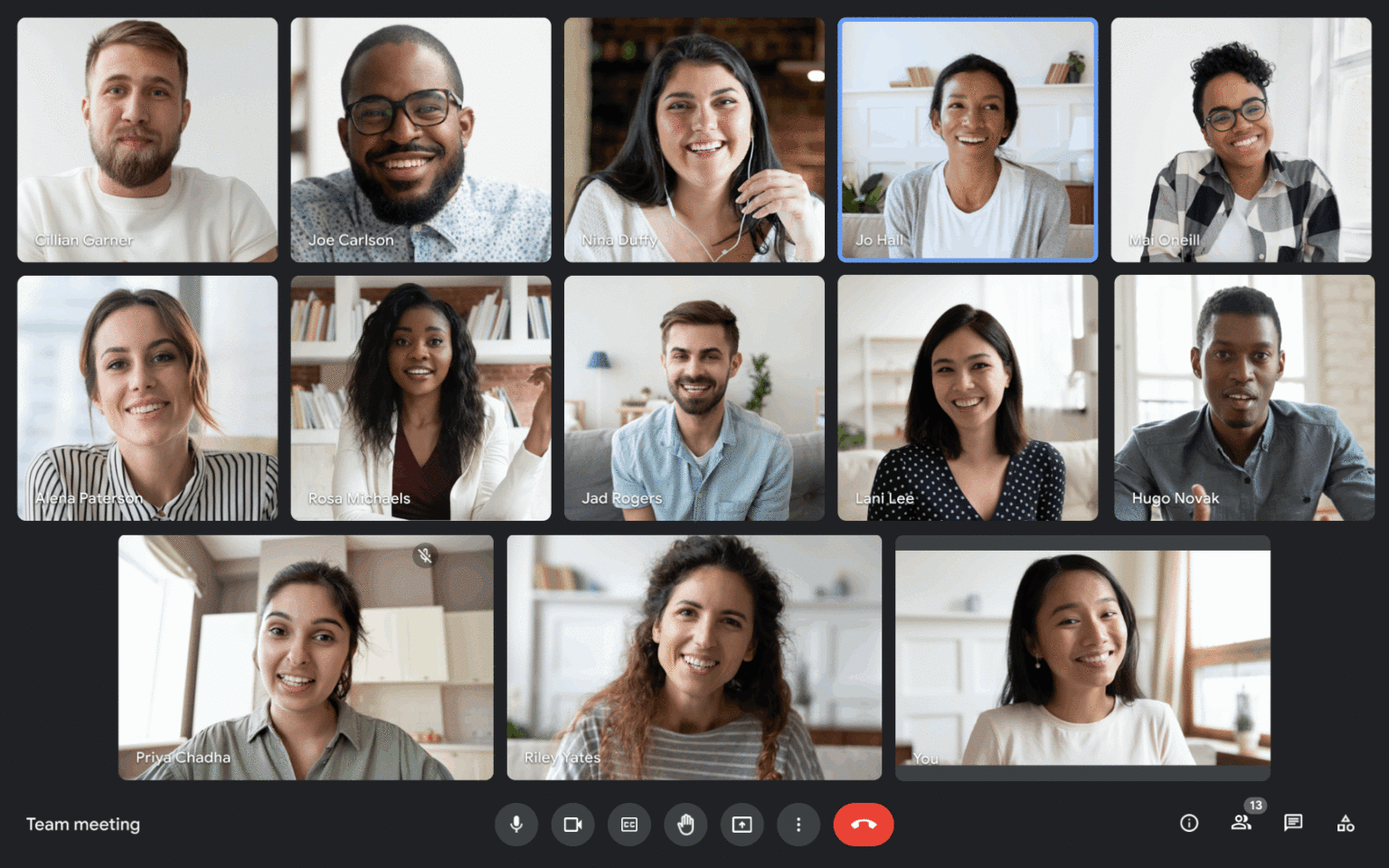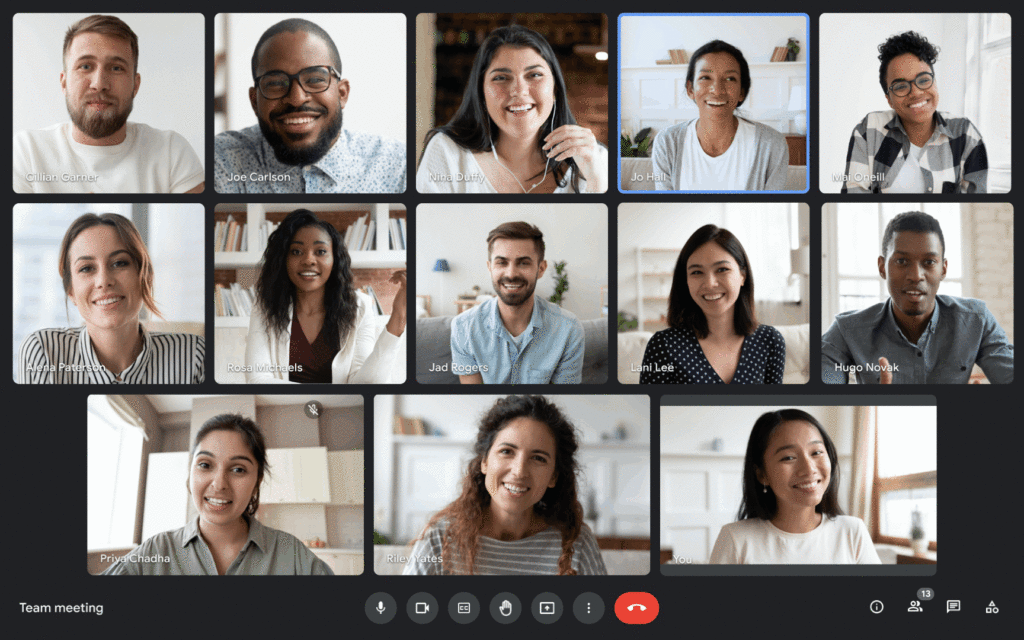 Google Meet is available as part of the Google Workspace plan. If you are curious about this tool's possibilities, go to the article where we have covered this topic extensively:
2. Develop company-wide good practices for video calls
Define clear rules for your company's employees to follow during online meetings. If all team members familiarise themselves with them in advance, you can avoid many awkward and unpleasant situations in the future. Here are some fundamental aspects to pay attention to here.
Using the camera
A switched-on camera makes communication much more natural. Seeing the person's facial expressions, posture, and gestures makes it easier to understand them and determine their intentions. Everyone sees each other in offline office meetings, so why would rules for remote work be any different?
Dress code
Just because a meeting isn't taking place in an office but on an online connection doesn't mean you should entirely abandon your dress code. Define how your team members should present themselves during the teleconference, especially with outside guests, like clients and investors.
Video feed background
One of the biggest mistakes you can make in an online meeting is showing up in an inappropriate setting. While some things may seem obvious, it is worth pointing out to colleagues that an unmade bed, a sink full of dishes or laundry hanging on the tumble dryer will effectively distract the other participants from the conversation.
Even a tidy space with too many objects can be distracting. That's why choosing a single-colour wall, or something equally neutral as a backdrop for a video call is best.
And what if the person is working on a desktop computer and their equipment setup makes it difficult to meet this expectation? Here one of the Google Meet features comes to the rescue. With a few clicks, the user can blur the background, replace it with a photo, a virtual backdrop, or a video. And the problem with distractions is over!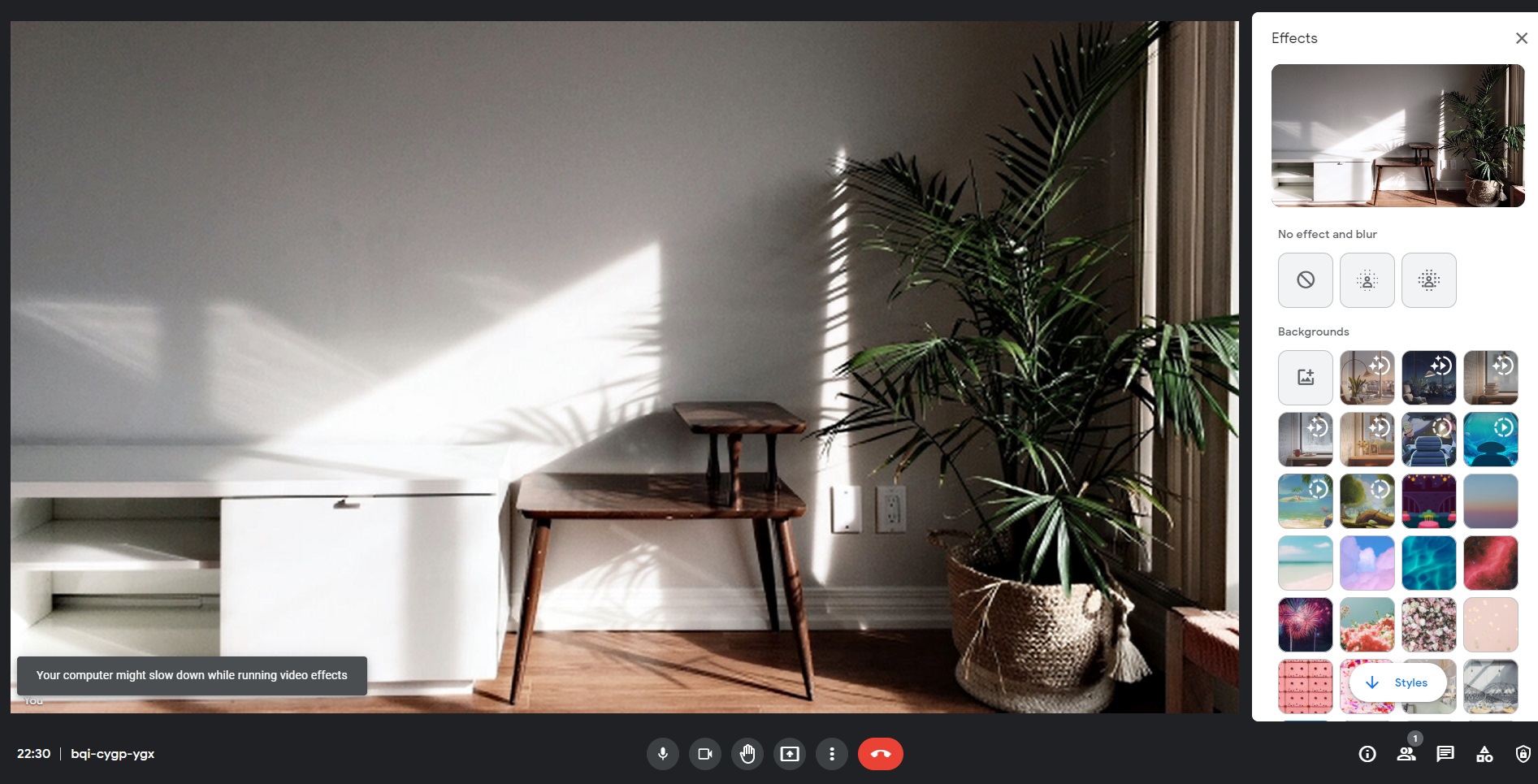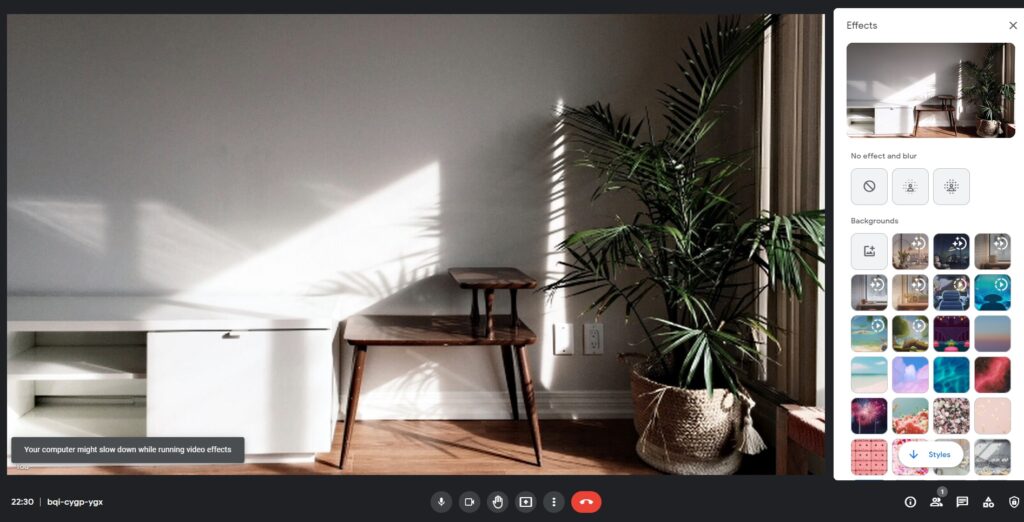 Punctuality
Timeliness is one way of expressing respect to those with whom you have an appointment. Therefore, it is a good idea to advise employees to always appear in front of the computer a few minutes before the scheduled start time of the meeting.
They can use this time to log in to the application, check the equipment and the stability of the internet connection, and make sure the camera is catching the right frame.
Using headphones with a microphone
Not everyone is aware of this, but using headphones with a microphone is less for the person using them and more for the other participants in the conversation. Microphone headsets reduce background noise (e.g. street sounds). By using them, everyone can hear each other better.
The application can also help ensure sound quality during your meeting. Google Meet detects ambient noises, hums, and banter in the background and automatically mutes it. This feature eliminates sounds such as a dog barking, keyboard and mouse clicks, notifications or children shouting.
External elements
As a matter of good practice, it is also worth reminding staff to inform family members and silence phones before an online meeting. A roommate strolling in the background can disrupt the focus of your interlocutors. The same goes for a ringing phone. 
3. Prepare an agenda
One of the critical elements of a successful online meeting is proper preparation. This element should be taken care of well in advance. So before organising a conference, think about its purpose and objectives.
It would be best to start with the end in mind. Think about what you want to achieve with the meeting. Based on this, decide what needs to be covered:
What topics should be mentioned?
What questions need to be answered?
Which details are important to discuss?
Then write down the plan and decide how much time you want to spend on each item.
4. Invite participants
When creating the plan for the online meeting, it is also worth considering whether all the potential guests should attend. At this stage, analyse whether you need support in moderating and specify the person who will take notes.
Establish a list of guests
Perhaps the presence of some people is not needed at all? Or maybe it is sufficient that someone else only gets a note of what has been agreed? Wasting colleagues' time is a formidable obstacle to the smooth running of the business and achieving targets within the deadline. Moreover, an employee who will have to stay after hours just because they lost a few dozens of minutes in an online meeting that didn't concern them will not be happy about such a turn of events.
Send out invitations
Once the list of participants is finally decided, it's time to send out invitations.
In the Google Workspace ecosystem, you can do this in several ways – all thanks to the fact that this is a package of many interconnected office applications. So you can create a meeting in Google Meet and then send a link to it via Chat or Gmail. But you can also use Calendar, for example. Frankly, that's our favourite way.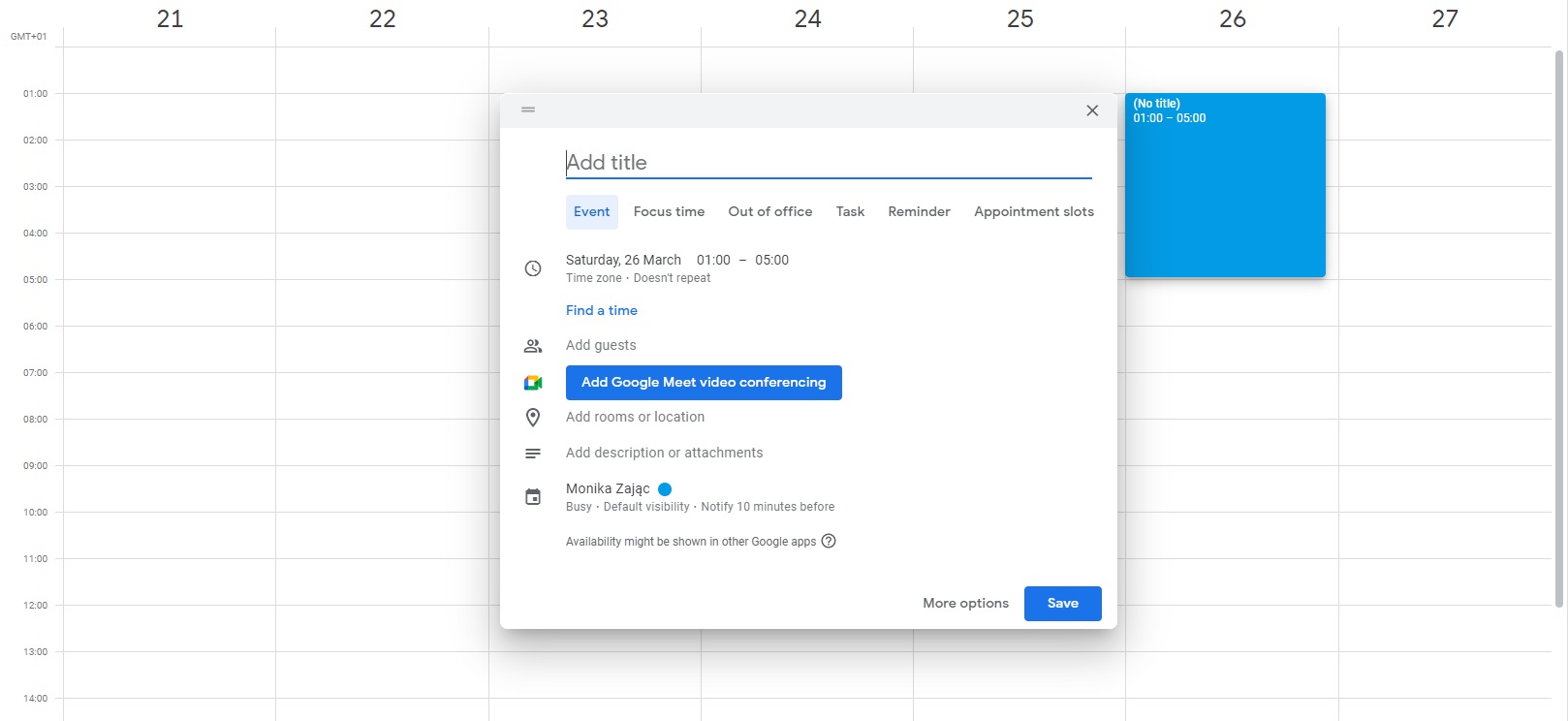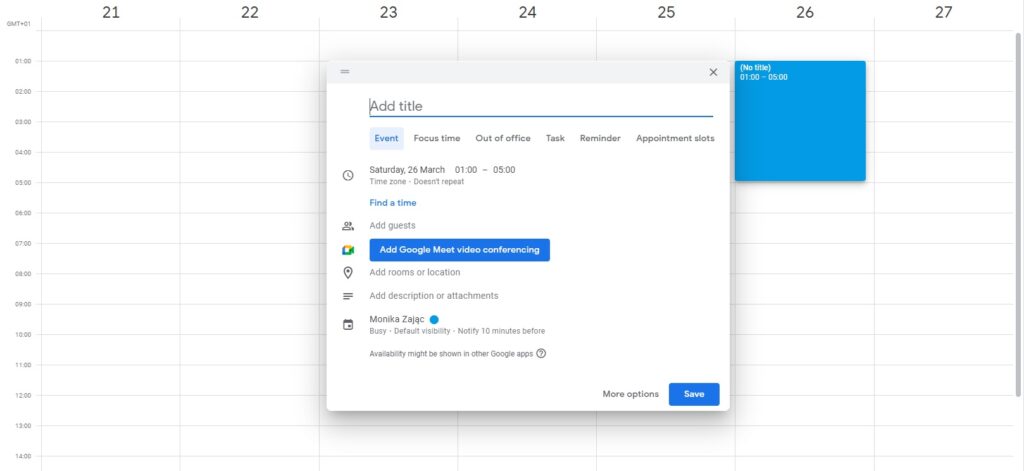 Simply open your Google Calendar and create a new block on the date you want to hold the meeting. A pop-up will appear where you can name the meeting, invite participants, create a link to the meeting in Google Meet and add notes and attachments. Remember to share the agenda with your colleagues and any other information they may need (for example, the organiser's phone number).
Once everything is ready, the Calendar will send a meeting invitation to the people you have indicated. Participants will therefore receive all the information they need quickly and efficiently and can confirm their participation in the meeting in the email. Moreover, the online conference will automatically appear in their personal Google Calendar.
5. Be technically prepared
Take care of your technical preparation too. Before you connect with colleagues, clients or customers:
Make sure your internet is stable. Remember that for your online meeting to be effective, you can't afford to have your connection constantly broken.
Check that you are sure the microphone, camera and headphones are working. You can test all these devices before entering the conference room.
And if you find that your connection leaves a lot to be desired, Meet will throw you a lifeline. Any participant invited to a call can join it via the telephone network. The phone number and an access code are generated automatically when the meeting is set up, and all invitees receive it in the email.
6. Open the necessary files in advance
If, in an online meeting, you want to show your interlocutors the files you have prepared in advance, open them before the conference starts. At the same time, close any unnecessary tabs in your browser.
The office applications available within Google Workspace, such as Documents, Sheets and Slides, have an option to share during the meeting. All you have to do is enter the tab with the open file during the conference at the Meet and click the share button (in the top right corner). This action will automatically share your screen, and others will see the document you want to present.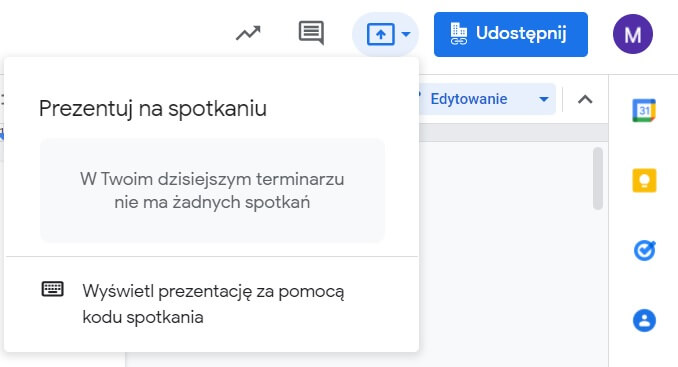 7. Define the rules
Once you have connected with the participants, briefly outline the essential rules that will apply during the meeting.
Ask the other conversation members not to interrupt others – if they want to speak, they can use the option to raise their hand.
Also, make sure that people who are not currently speaking use the option to mute their microphones. It helps avoid distracting sounds in the background during the conversation.
If you are going to record the meeting, let others know and make sure no one has any objections.
Also, set rules for using the chat room. For example, if you're going to be giving a presentation, let the other people know that they can ask questions there, which you'll answer once you've finished speaking.
8. Stick to the plan and moderate
During the meeting itself, remember first and foremost to stick to the agenda and the rules you have previously established. Make sure that participants do not digress. When you feel that a point has been covered, move smoothly on to the next one.
Also, remember to moderate the discussion. Study the mood, and break out quarrels if they get too heated. Encourage the more timid people whose opinions are relevant to the topic to speak up. When someone declares that they are going to do something, set a deadline together for when it will happen.
Of course, if all the objectives are met ahead of time, don't artificially extend the meeting and end it early. However, before you do so, ensure everyone has understood everything, and no one has questions. It will help avoid misunderstandings in the future.
9. Use an interactive whiteboard for brainstorming
What if you want to brainstorm remotely? In that case, Google Workspace has something for you. Use the Jamboard app during your meeting – you can conveniently launch this tool with one button in the Google Meet interface. It allows you to create an interactive whiteboard that everyone can see on the screen and within which they can create notes together.
10. Take notes and send a summary to participants
We have already mentioned that it is a good idea to designate a person to take notes during the video conference. Such a move will make the others better able to focus on the conversation. At the end of the meeting, this person should share their notes with all the participants. Moreover, it's worth specifying in advance when they will do this. 
Remember that an online meeting is a team effort
Online conferences are teamwork. For a meeting to be effective and run smoothly, all participants must follow the rules agreed upon beforehand. It is therefore worth promoting good practice within the company and, during the meetings themselves, making sure that no one breaks the collegial agreement to follow them.
We are convinced that after just a few productive online meetings, employees will notice a qualitative change in their work and will be all the more willing to pay attention not to disrupt well-organised meetings.