Giving your eyes a rest from the glare of screens in our times is a luxury. Luckily, amongst wearing anti-reflective glasses or setting the blue light filter after dark, we also have dark mode as an option on our device settings.
Dark mode swaps the standard colour schemes on computers and device screens from lighter to darker backgrounds. So instead of a dark font and a light background, dark mode will display a lighter font on a darker background.
As a more gentle option for the eye strain than the default setting, light mode, developers are now ensuring more and more applications can activate dark mode. Whether you are a fan of dark mode as an aesthetic for your screen or you want to be able to adjust brightness to help your eyesight, let's take a look at what we know about dark mode.
Is dark mode a new trend?
Starting in late 2019 and early 2020, the dark mode design gained popularity both in web and mobile design. Both iPhone and Android handsets or operating systems like Google Chrome started offering system-wide dark modes.
Dark theme has only recently become fashionable and in demand, but some of us still remember a time when it was not a choice, but an only option. By default, the cathode ray tube screens of the first computers displayed only green, orange, or white characters on a black background.
But if we are to place back in time the beginnings of a dark theme, we can agree that developers and their coding firstly made it possible. If you are a developer or have seen some at work, you must have noticed the dark background they are coding on. They do find it easier to crunch numbers on a dark background support rather than a white one.
Dark mode – is it better for your eyes?
There is empirical research confirming the preference for tracking objects against a brighter background. For example, most of us will have problems in recognising elements on a negative photograph compared to one in bright colours. Books, advertising, media – they all adapted our eyesight to highlighting dark objects against an illuminated background. Our eyes are naturally attracted to shadows in the first place.
Studies comparing night mode and other blue light filtering solutions are inconclusive still, yet it seems that dark mode might affect sleep rhythm more than eye strain. Some research has suggested that there may be some connection between blue light and how quickly you fall asleep.
Does Dark Mode save battery life on mobile devices and laptops?
We often meet the argument that using night mode will improve the battery life on our devices. That sounds reasonable – after all, the less light the screen emits, the less energy it needs.
However, it is often overlooked that this doesn't work with LED technology – which is still used in most screens. Such screens emit light even from "black" pixels. This is easy to check by running the Dark Mode application in a completely dark room, because the glow from the screen will still be visible.
The dark mode will not save energy as long as the device does not have an OLED screen. Currently, such screens can only be found in smartphones, laptops and TVs from the highest price ranges. It's enough to tap dark mode to help your battery out. Therefore, the battery will in fact take a breather after you enable dark mode for the most used applications, but only if it powers the most expensive devices available on the market. Meanwhile, most of us have nothing else to do but wait to switch to OLED technology.
Pros and cons of using dark mode – is it worth using it?
Let's see what are the actual advantages and disadvantages of using a screen that supports dark mode:
Advantages:
A dark theme is a better fit for low-light conditions; you can use Google's dark mode on your laptop, in bed, at night, without keeping your partner awake or distracting other people
Activating dark or black mode in your operating system will use less energy of your device, so the battery will last longer
Dark or black mode will use less energy of your device, so the battery will last longer
Can potentially reduce eye strain and help with dry eyes
Can help with a more lush user experience
Disadvantages:
Can be hard to read in a well-lit room
Can increase eye fatigue if longer pieces of data are consulted in dark mode
It is not a solution for energy consumption for devices with an older LCD screen
Even so, one will not register immediately any downsides of using dark mode for work or reading. Only the high frequency of using the non-contrast interface in bright rooms begins to disturb. The greatest enthusiasts of dark themes, however, are able to ignore minor discomfort in the name of aesthetic impressions or actually turn off dark mode occasionally.
Google did not fall behind the trends and is systematically adding dark mode to its applications and browser. In the Google Workspace suite, dark mode appeared firstly in Calendar, Keep notes, Gmail. Now you can set a different theme from the control centre of Google Docs, same for all the editor apps and Chat included. Individually open Google Chrome and enable a dark theme for the whole browser.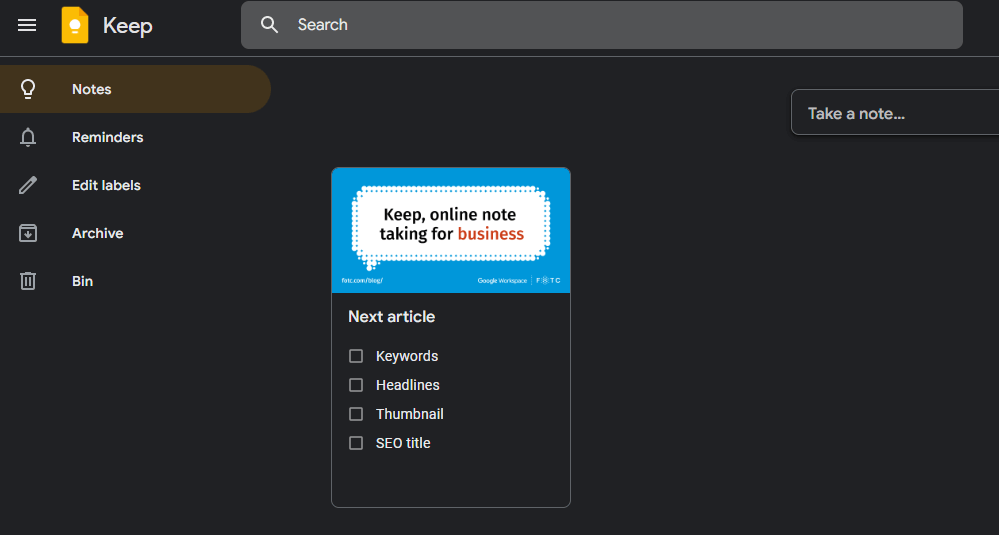 Ultimately, opinions remain split on dark mode. While there are some downsides of using it, we have not found any significant disadvantages of working with dark mode. Therefore, it is worth using this option consciously – that is, preferably after dark and when you do not plan to read long texts.
The dark mode in applications may look more attractive, but we should not expect it to improve our productivity or help maintain a fully healthy eyesight. Turn on dark mode from you system settings and test out the dark theme on individual apps to see if they improve your workflow.