"Competition never sleeps" has never been more accurate, quite literally. Researchers from SuperOffice found that nearly half of consumers (46%) expect feedback to inquiries they make to companies within 4 hours. For 12%, the expected time was even shorter, ranging from just 15 minutes or less. The study involved 3,000 consumers who were asked a multitude of question about customer service.
Furthermore, a vast majority (72%) of customers who have had a positive experience acquiring a product or a service will share their opinion with 6 or more people. Meanwhile, dissatisfied customers will likely keep their opinion to themselves (in fact only 1 in 26 unhappy consumers file a complaint). But they also might share it far and wide: 13% will tell 15 or more people about their bad experience.
What does it mean for salespeople? If your product or service is not one-of-a-kind (and in truth there are few of those with e-commerce dominated sales), there's a significant chance that a potential customer who doesn't receive a prompt response will choose a competitor's offer.
Just under a year ago, Shep Hyken, Chief Amazement Officer at Shepard Presentations, published the results of his research on Forbes.com. It claimed that 58% of customers are willing to pay more if it means receiving better quality service. It stands to reason that even if your prices are competitive, insufficient responsiveness to a customer's inquiry may lead them to choose a pricier option presented by a competitor who, quite literally, "never sleeps." How can we address this?
Contact Center AI – what is it?
Google's Contact Center AI is a solution created by Google Cloud that employs artificial intelligence to enhance customer service processes. It offers a range of tools and features that help automate and streamline interactions between customers and businesses.
Contact Center AI can be used to handle various communication channels such as phone calls, chats, SMS messages, emails, and many more. By leveraging advanced natural language processing, machine learning, and speech recognition technologies, Contact Center AI is able to analyze and respond to customer questions and requests in real time.
With the use of Contact Center AI, companies can automate certain aspects of customer service, such as providing answers to frequently asked questions, handling simple inquiries, scheduling appointments, tracking orders, and more. This allows agents to save time and focus on more complex and important tasks.
Furthermore, Contact Center AI can be integrated with existing CRM (Customer Relationship Management) systems and other tools to enable seamless information transfer and provide a consistent customer experience across different communication channels.
As a result, Contact Center AI helps businesses streamline customer service processes, increase customer satisfaction, optimise agent efficiency, and save time and resources.
How does Contact Center AI work?
In its simplest form, Contact Center AI consists of four components:
Conversational Core,
Virtual agent,
Consultant,
Analitics.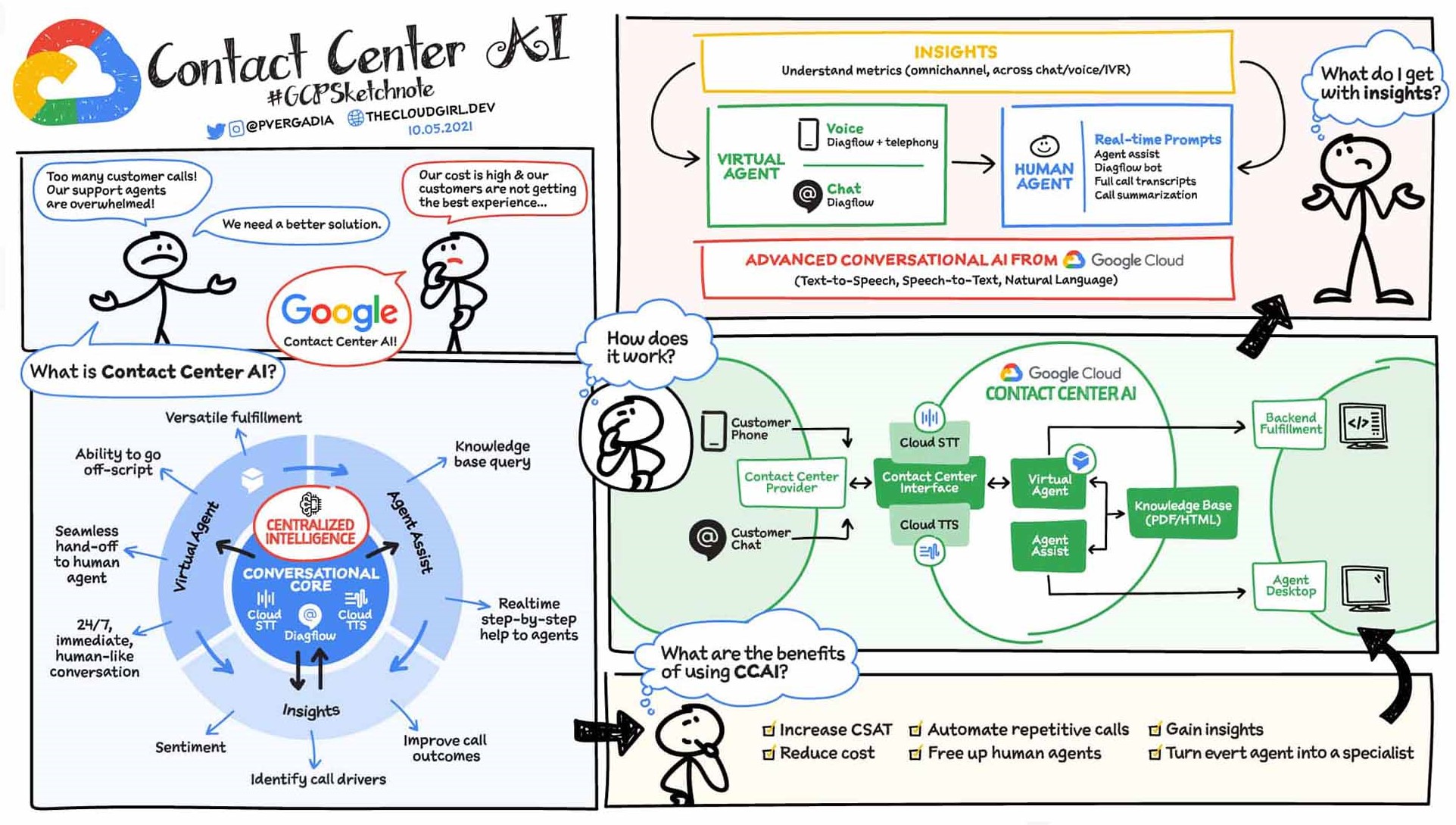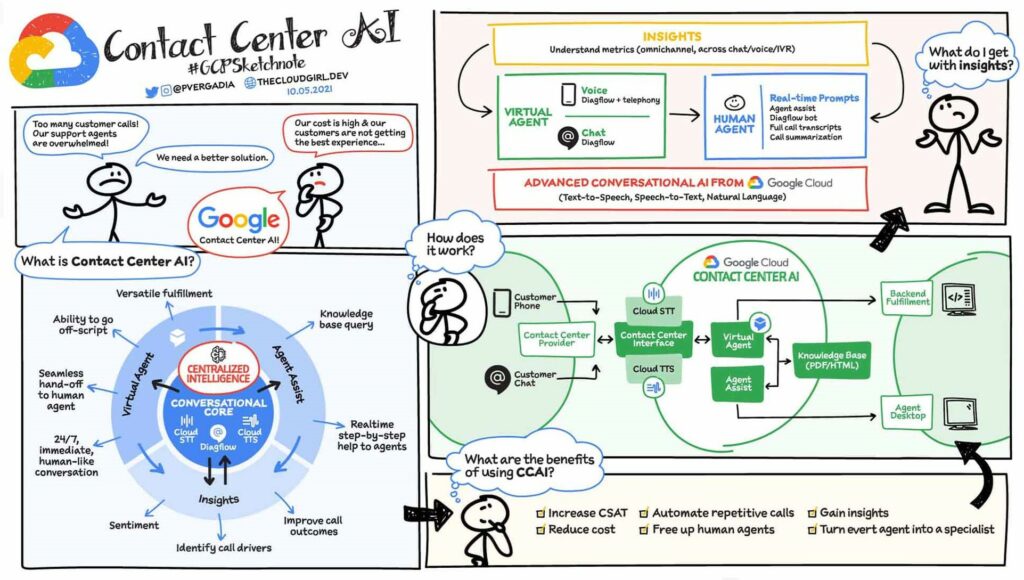 The Conversational Core is the brain behind the entire endeavor, enabling conversation. By using speech-to-text, it can accurately determine customer expectations of word choice or accent. The response is generated through text-to-speech. Recent developments have refined it to the point where it sounds natural. This way customers engage in a conversation without the frustrating feeling of talking to a robot. Along the way, Dialogflow helps your customer service specialists understand the speaker's intentions. It can also determine the course of the conversation based on them.
A virtual agent carries out in the conversation flow described above. In addition to conversing with the customer, the virtual agent can send surveys, collect contact information, and provide links to other materials. If the conversation indicates that live assistance is necessary, Google Cloud Contact Center AI initiates that interaction. The connecting agent receives a transcript of the previous conversation with the virtual agent, so they don't have to ask the same questions again. This also contributes to improving the quality of service, as who likes to answer the same questions multiple times?
Although a real consultant conducts the conversation with the customer, they receive additional support in the form of smart replies, such as suggested responses that best fit the customer's questions.
You can access insights, including statistics on completed conversations, in clear tables and charts familiar to all Google solution users. This helps better understand customer needs.
Who uses Contact Center AI?
Google's solution works best in all types of customer service centres, especially in the financial, telecommunications, and hospitality industries. American telecommunications operator T-Mobile employs Contact Center AI to streamline customer service processes and improve user experience. By leveraging artificial intelligence solutions, T-Mobile automates responses to repetitive questions and enables customer interaction through various channels such as chat and SMS.
Its German counterpart, Deutsche Telekom, uses Contact Center AI to automate customer service processes. With this solution, the company can efficiently handle a vast number of inquiries and provide fast and accurate responses to customer questions.
In the hotel industry, Best Western Hotels & Resorts, an international hotel chain, has implemented Contact Center AI to enhance customer service at its contact centers. With this solution, the company can quickly and effectively address inquiries regarding reservations, amenities, and other hotel information.
Meanwhile, Banco Bradesco, one of the largest banks in Brazil, can swiftly address simple customer queries and redirect more complex issues to the appropriate agents, thanks to automation and intelligent interactions.
What are the benefits of using Contact Center AI?
Contact Center AI enables companies to respond to their customers' questions and needs faster, easier, and more effectively.
Let consultants deal with actual problems
By allowing virtual agents to handle a portion of the conversations, consultants have more time to solve more complex customer issues. This improves work organisation.
Natural conversation flow
The technology provided by Google ensures high-quality experiences for customers. This sometimes makes them unaware that their problem has been resolved during the conversation with a virtual agent. And even if they do, the seamless dialogue and fast response is exactly what they are looking for.
Improving workflows through analytics
With the clearly presented data from customer conversations, you can quickly identify key trends and clarify whatever aspects clients found confusing in frequent customer inquiries. Improve your process and adjust your offer. Allow customers to make purchasing decisions without the need to contact the call center.
How can I implement Contact Center AI in my company?
Now you understand what Contact Center AI is and the benefits it brings. If you want to implement it but are unsure how, contacti a certified Google Cloud partner. With the help of experts from FOTC, you can learn how to implement Contact Center AI and integrate it with the wide range of capabilities offered by Google Cloud.
Reach out to us, request a Proof of Concept, and see if this solution is right for your company.