A refreshed interface for Drive, Docs, Sheets, and Slides, custom backgrounds in Meet, and new document encryption capabilities, learn more about the latest Google Workspace innovations.
Google Drive: Use smart chips for quicker files search
Google is helping you work faster and more efficiently with Google Drive's new experiences with smart canvas.
They are now introducing search chips in Drive that enable you to filter by criteria like file type, owner, and last modified date. Filtering by these criteria helps you narrow down and find relevant files faster in any view throughout Drive.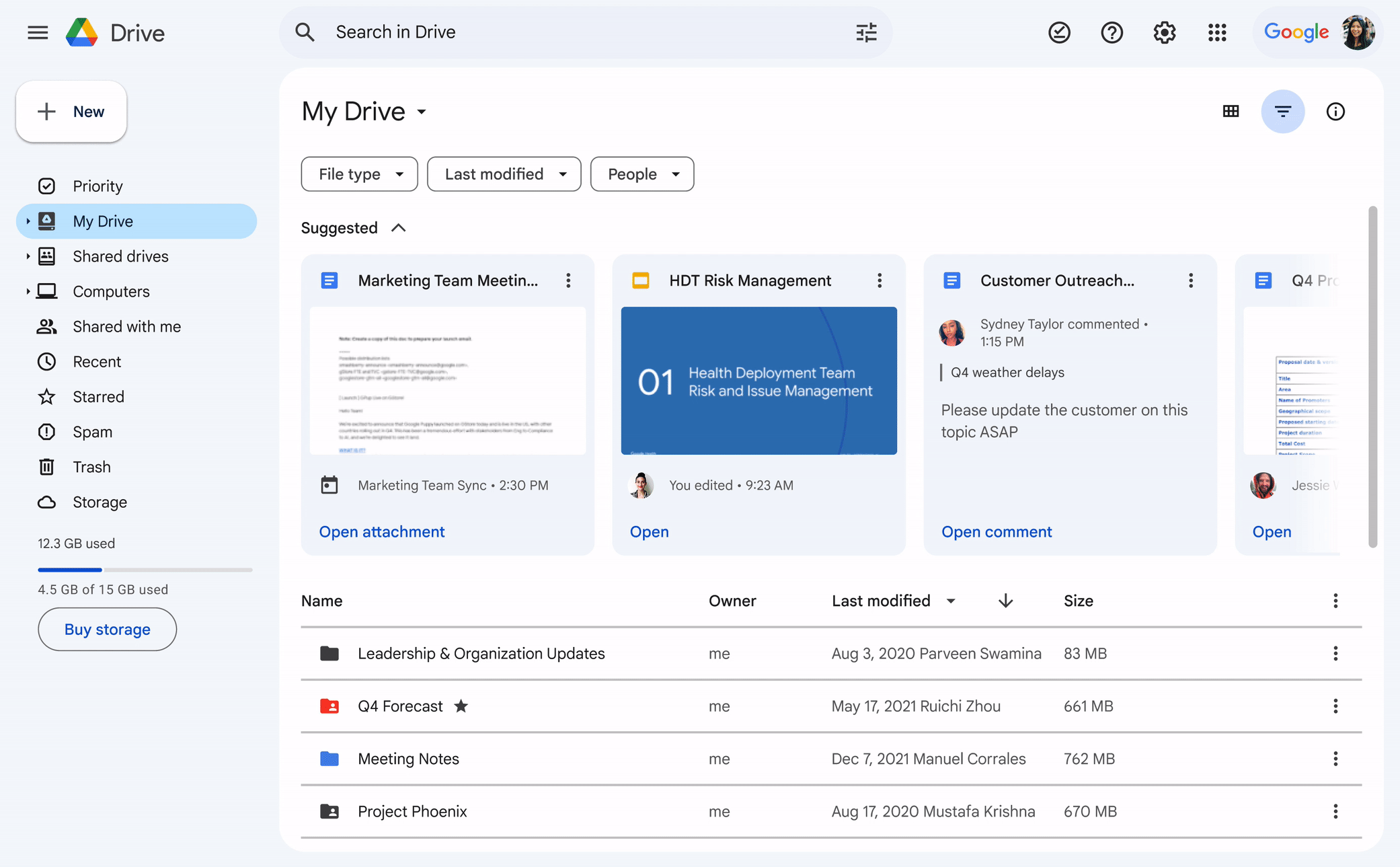 Available to all Google Workspace customers, as well as legacy G Suite Basic and Business customers 
Available to users with personal Google Accounts
Earlier this year, Google developers introduced a beta version that allows end users to move folders from their personal Drive to shared drives.
This feature is now also available for Google Workspace Essentials, Business Standard, Business Plus, Enterprise Essentials, Enterprise Standard, Enterprise Plus, Education Fundamentals, Education Plus, Education Standard, Teaching and Learning Upgrade and NGO accounts and legacy G Suite Business customers .
Admins can install Chat apps for use in direct messages
Google Chat can seamlessly integrate with other productivity tools that can be installed from Marketplace. Starting March, admins can install these Chat apps on behalf of users, cutting down time they previously spent individually installing such apps. 
Users will automatically see when an app has been enabled, eliminating the need to manually install the app themselves.

Beta version: Manage working locations with the Calendar API
You can now read working location data using the Calendar API, creating a more streamlined experience. Previously, this functionality would have been available only through a separate API.
Using the API to read a Calendar user's working location values can help you:
Analyze the flow and volume of people through physical campuses, helping you adapt on-site resources to the needs of your employees.
Share whereabouts across other internal or third-party surfaces, making it easier to enable tasks such as hot desk booking or schedule in-office or remote working days.
Google Docs: Improvements to content organisation
Google developers are rolling out new options for formatting and customisation for tables of contents in Google Docs:
Currently, here are the existing options:
Toggle between three default styles 
Toggle page numbers 
Toggle tab leader styling (adds lines between a heading and the page number) 
Include and indent headings based on levels 
Here is how you can further customise titles and headings: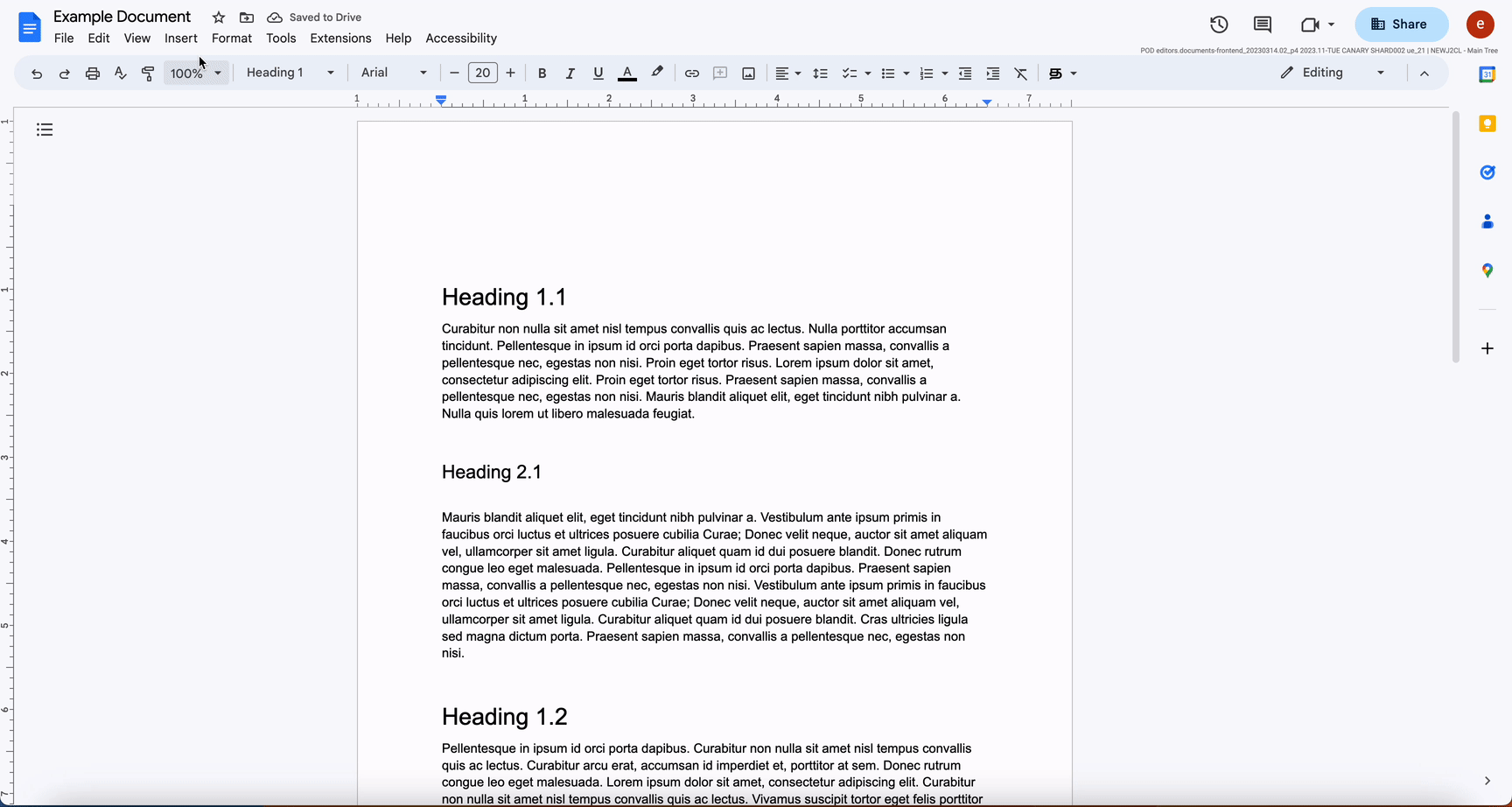 The table properties sidebar is also getting a facelift. When adding or editing a table, you can access the new "Table" section with alignment preferences and a new "Cell" section with cell-specific formatting options.

Google Docs: Adding or removing client-side encryption
You can now choose to add or remove client-side encryption on an existing document. With this update, you get the flexibility to control the encryption of documents and the progress of the projects you have rolling.
How to add/remove encryption?
File > Make a Copy > Add / Remove Additional Encryption.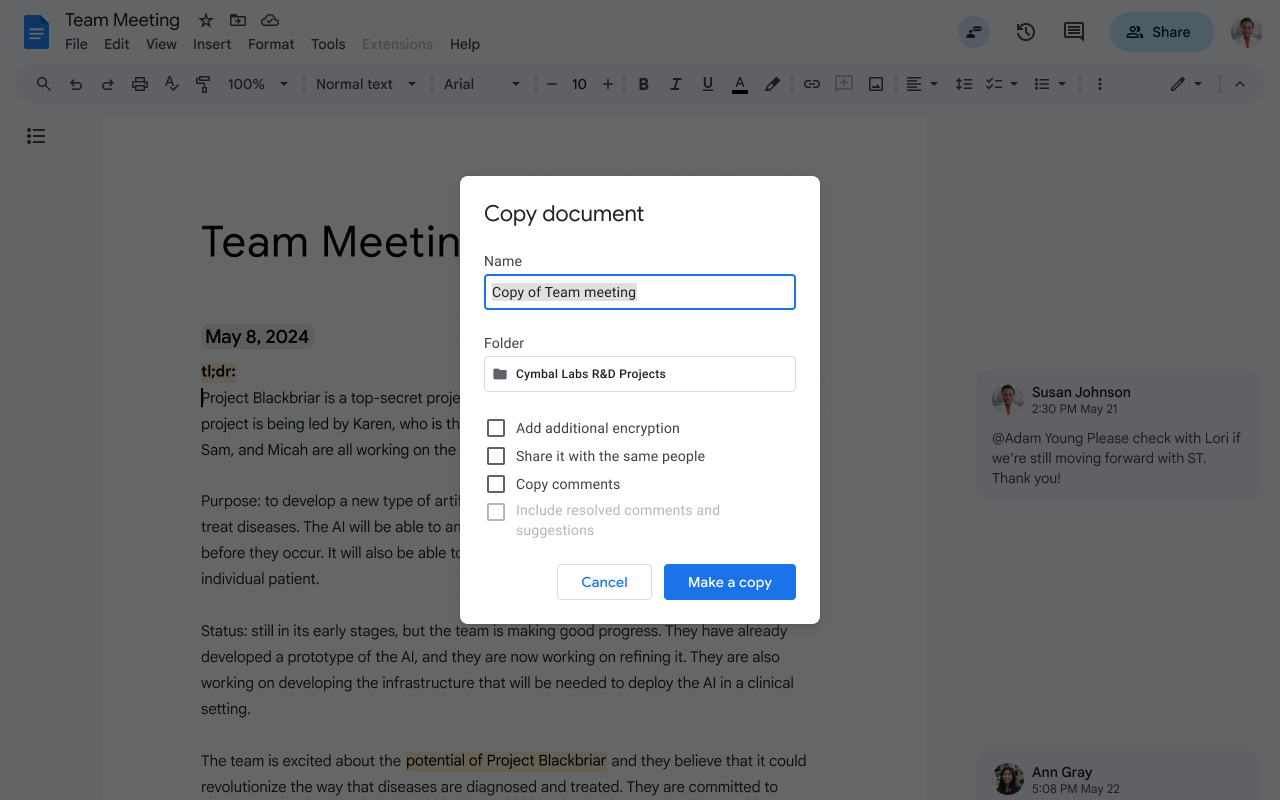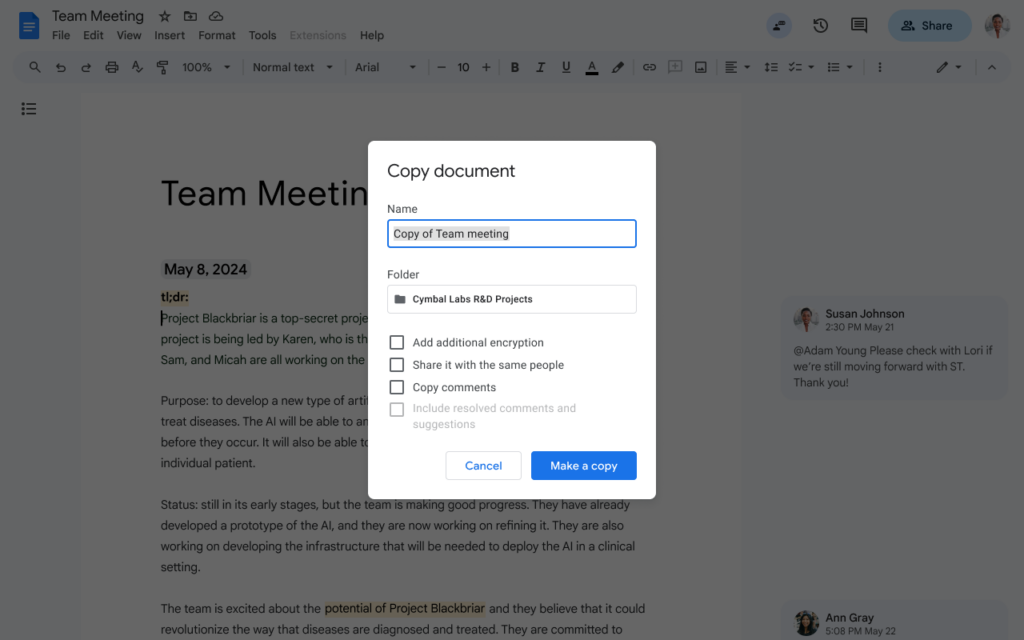 New capabilities for Spaces managers in Google Chat
A year ago, Google announced several improvements to Spaces in Google Chat to help you better organise people, topics, and projects, including the introduction of the Space Manager role.
Currently, managers can:
Remove and add participants
Assign or remove space manager
Delete a space
Delete messages
Edit the space description
Update space access from restricted to discoverable or vice versa
Starting now, the new capabilities will also allow them to:
Space setup: Managers will be able to choose whether members can change space details (name, icon, description and rules) or enable/disable chat history for the space.
Member management: Allows managers to decide whether members can add or remove members or groups from a space.
Conversation moderation: Allows space admins to determine whether members can use @all in a space.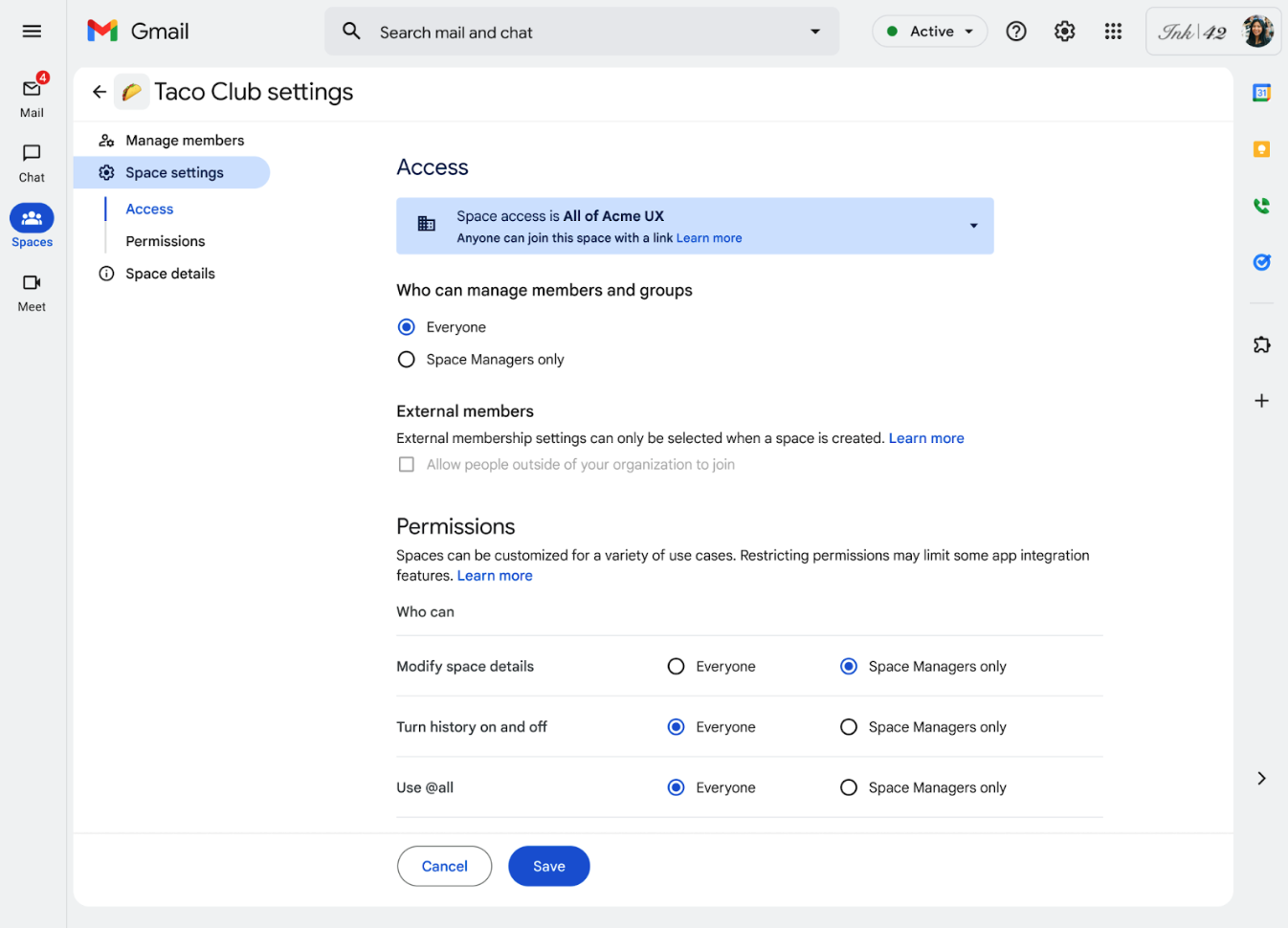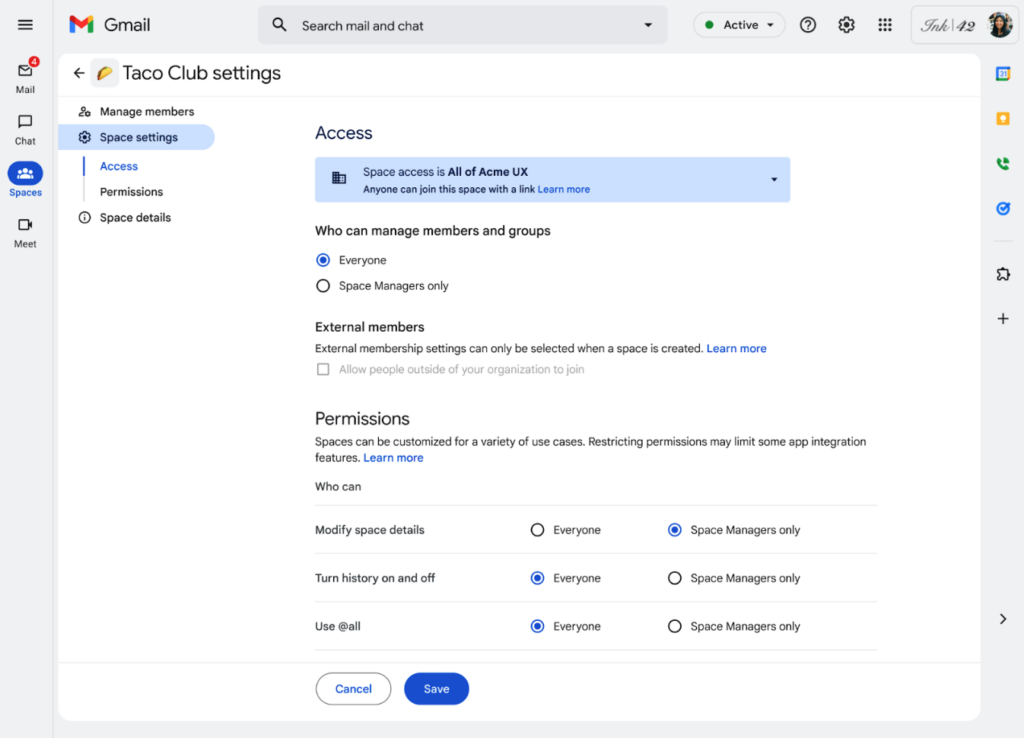 Google Meet: New external labels for participants
Do you often organise meetings with users outside the domain? You can now use the "external" labels to easily tell apart which participants are external to the meeting host's domain. 
These users will appear in the list with a yellow tag, which will also be displayed in the upper left corner of the screen when they take the word during the Meet.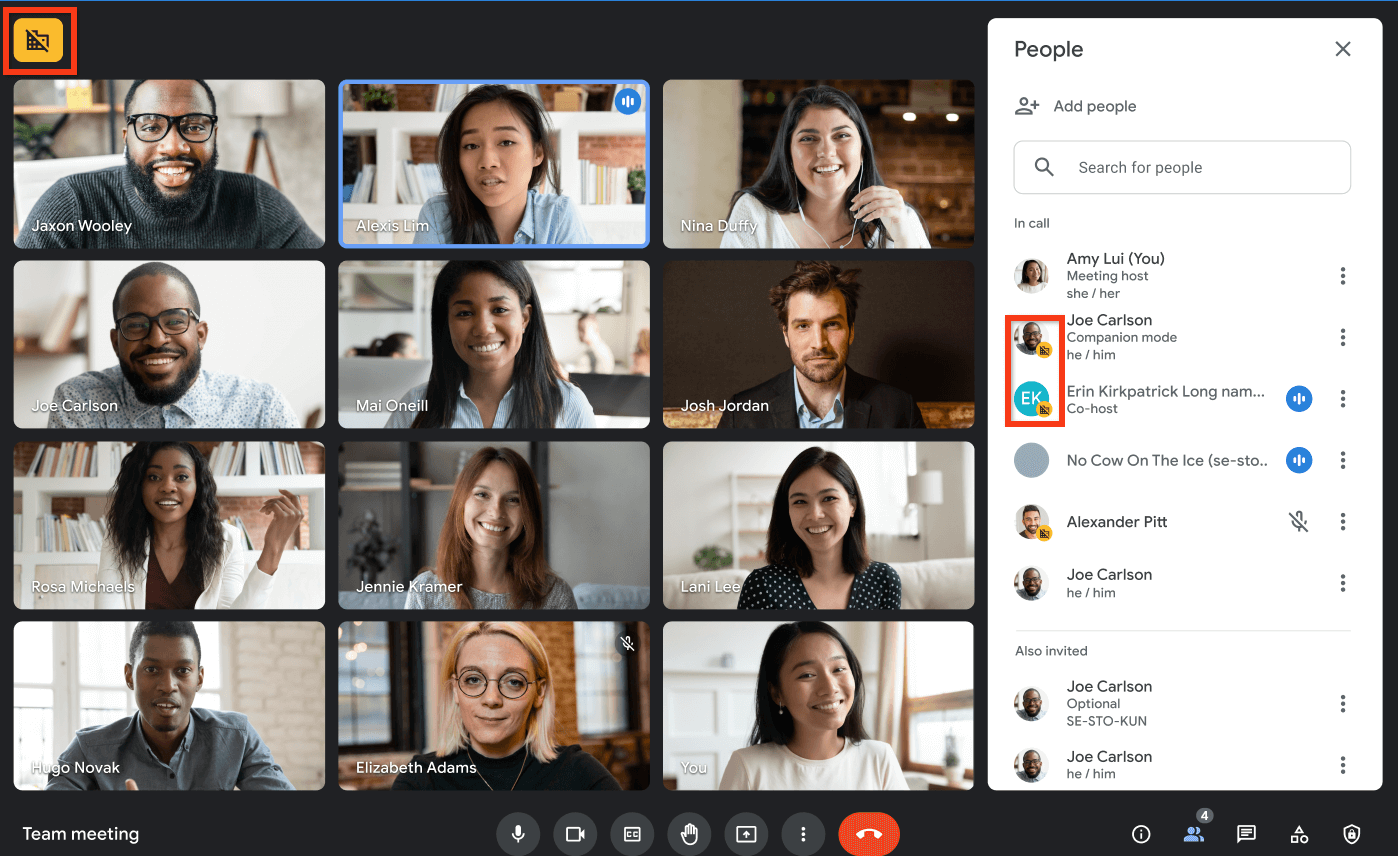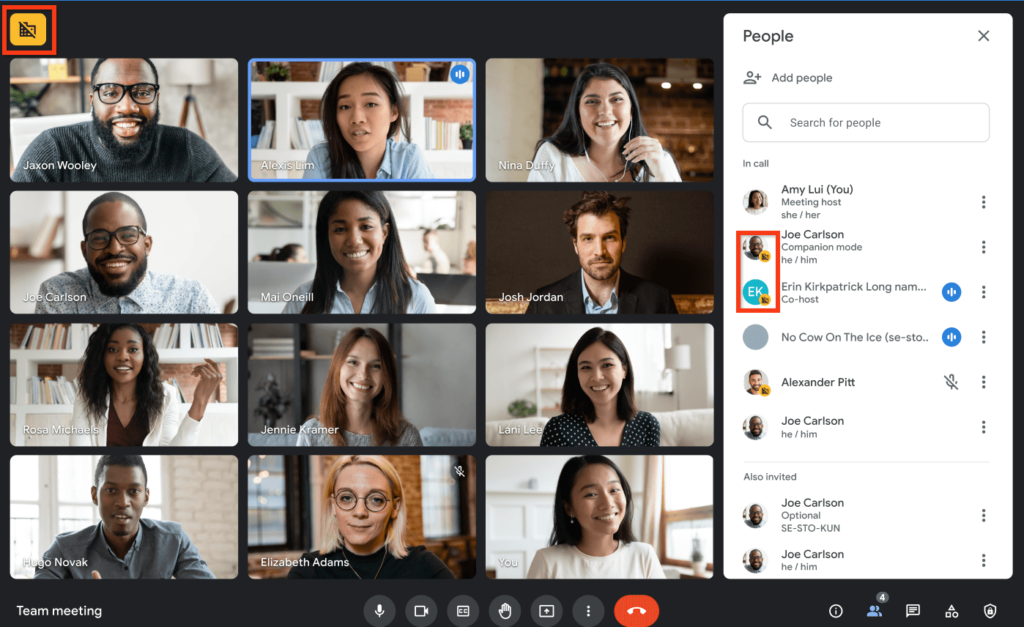 Provide custom Google Meet background images for users
Google understands how important it is for online meeting backgrounds to match the company's brand, especially for critical meetings.
Now, admins can now provide a set of images for the background replacement feature in Google Meet. This will allow users to easily select an image that properly represents their company's brand and style.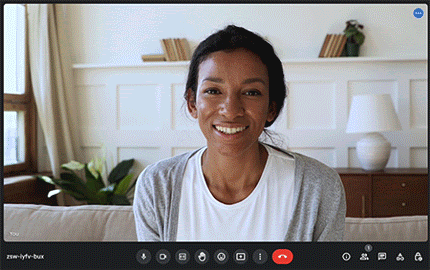 Google Drive, Docs, Sheets and Slides get a refreshed interface
Starting from early March, you will notice a new look for Google Workspace apps like Google Drive, Docs, Sheets, and Slides on the web version. 
In Docs, Sheets, and Slides, you'll see improvements such as:
A simplified user interface at the top of your docs, sheets, and slides, helping you find frequently used actions faster 
Additional user experience improvements in commenting, background, rulers, and gridlines. 
While there are no changes in functionality, some features have been relocated to reduce clutter within the new interface. Notably, you can find the latest status info for the doc, such as last edit and version history, via a single entry point: the clock icon in the top right corner.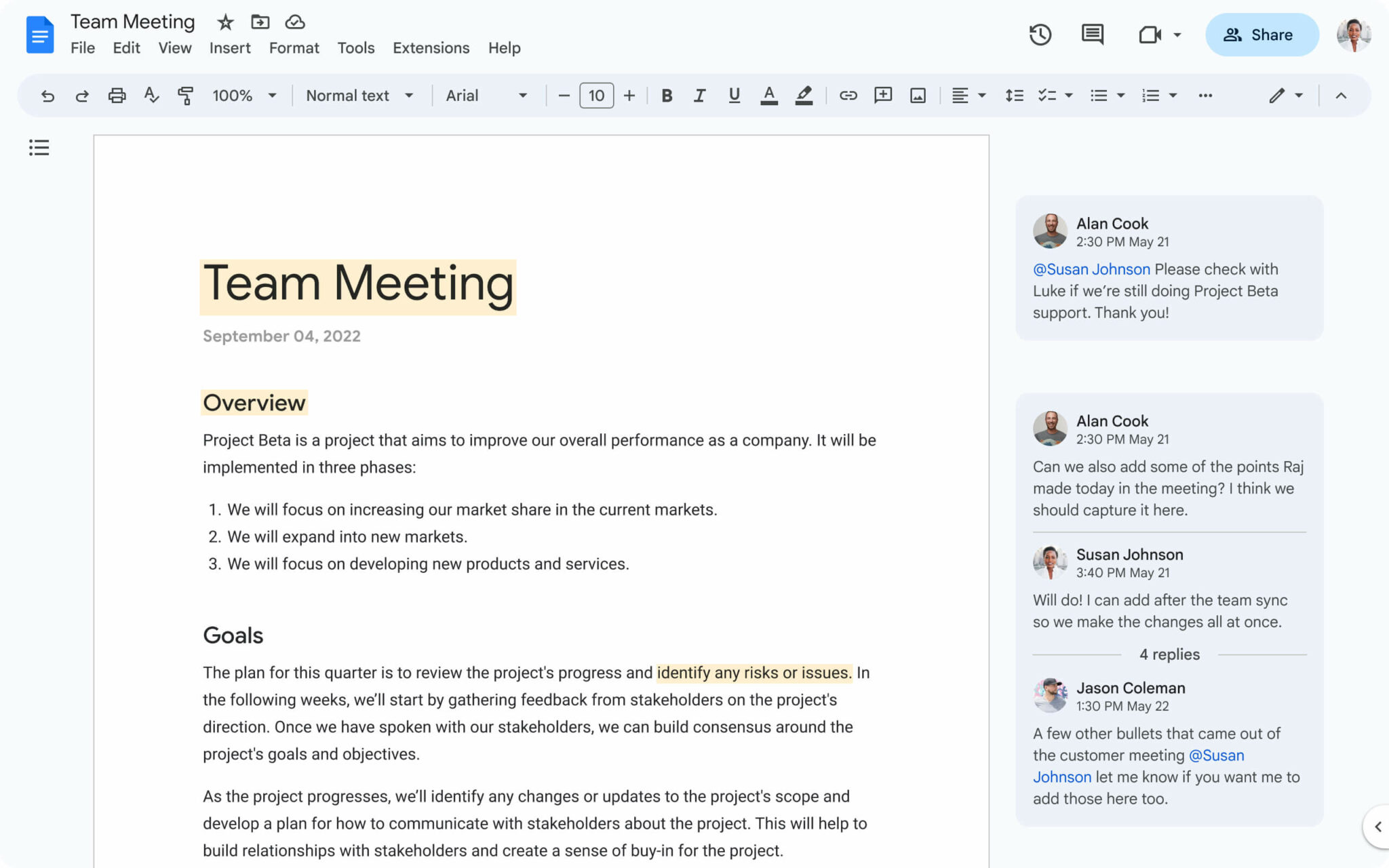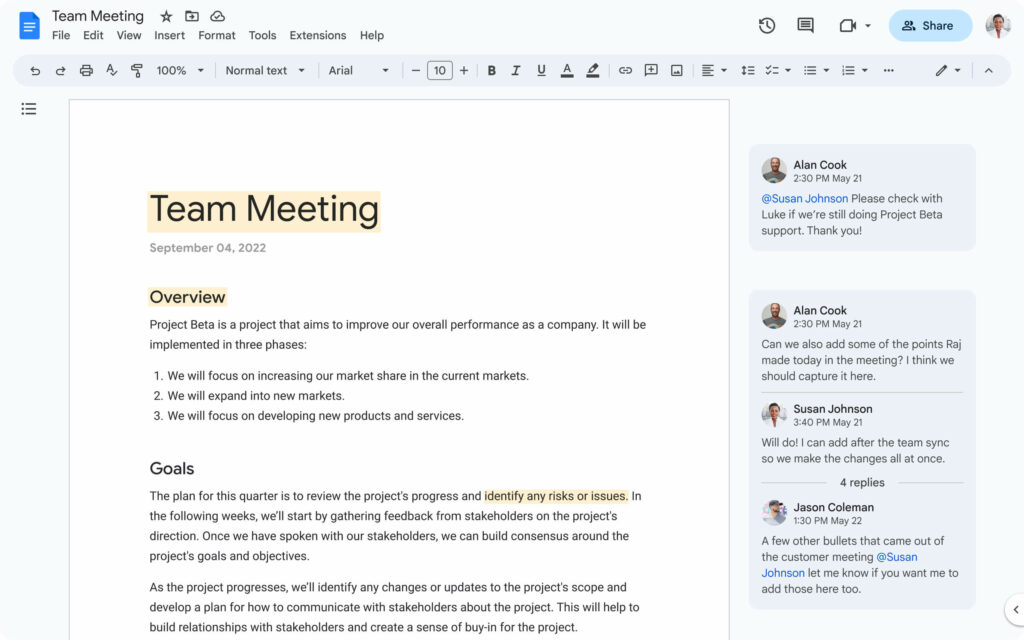 In Drive, expect improvements such as:
Key actions surfaced inline on files, for quick access and increased productivity. 
Ability to select multiple items at a time and undertake batch operations for frequent tasks.
New search chips (including type, owner, and last modified) to help you find files faster.