Google is committed to making it easier for its customers to work in hybrid mode, and you can see it in all of the Google Workspace app updates announced this month. Learn about the most interesting enhancements that will make Google's cloud-based application ecosystem even better suited to the needs of all office workers.
Dynamic e-mails thanks to the Gmail AppSheet
The integration of AppSheet with Gmail guarantees greater flexibility of the Google Workspace service, as it creates new possibilities for handling e-mail.
Gmail's AppSheet allows users – even those non-technical ones – to create dynamic messages without leaving their inbox, saving time and maximizing efficiency.
If you have a Google Workspace Enterprise Plus account or an AppSheet subscription, now you can:
Create applications in Google Sheets and implement them in Gmail,
Send forms and views from AppSheet with embedded and editable data fields to Gmail users,
Run a workflow – such as approving holidays or budgets – using the AppSheet automation.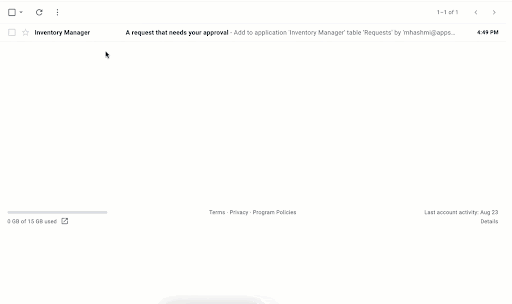 Learn more about co-workers in Google Contacts
Google Contacts will contain additional information about people in your organization:
Local time for a given user's time zone
Working Hours – Contacts will display a crescent moon indicator and a purple banner outside of the working hours you set in Google Calendar.
Relationships in the company structure – you can display additional non-managerial relationships in contacts.
Shared Files – list all files in the Drive that a user has shared with you
Non-standard attributes – administrator can configure additional contact attributes such as Team, Skills, or other information specific to your organization.
Mark messages in Google Chat as unread
In the web Google Chat and mobile Google Chat application, you will have the option to mark direct and group messages (in Spaces) as read or unread. You'll find this option in the message actions menu and in the conversation list menu.
This feature is useful when you don't have time to react to a message and want to come back to it later – you won't forget about it thanks to the fact that it will be highlighted in bold. On the other hand, marking messages as read will help you when you get a lot of notifications and want to get rid of them quickly.
As part of the development of the Smart Canvas project, further improvements in collaboration in the Google Docs application are gradually appearing. We have been using smart chips, i.e. interactive blocks to tag people, content or events, for some time.
Now, Google has implemented a universal insert menu that makes it easy to insert not only smart chips, but also tables and images directly into Google Docs. Just enter the "@" symbol in the text to bring up a list of featured files, people, meetings, and various content items and formats that you can insert into your work. You can also search through all available components.
Setting time to concentrate in Google Calendar
With the changes in the work environment over the past year, more chats and meetings make it difficult for people to find time for their core individual work. In the era of hybrid collaboration, it's worth making it easier to focus on your own tasks by using Google Workspace features to reduce distractions.
Google implements a new type of calendar entry – focus time. Thanks to this, you can reserve time for individual tasks and block co-workers from inviting you to other events.
As with the "Out of office" entry, the focus time block will have a distinctive appearance in the daily schedule and will give you the option to enable automatic rejection of conflicting events.
Visual changes to the TO, CC, and BCC fields in Gmail
There will appear minor changes to Gmail to make your daily mail handling even more efficient. When you interact with the "TO", "CC", and "BCC" fields, you'll notice:
New menu available by clicking the right mouse button This menu will allow you to easily display the recipient's name and email address, edit contact names, copy addresses, or open the recipient's information card.
Chip with a thumbnail photo for each recipient.
Better tags when adding a user from outside of your organization and outside of contacts.
Visual indicators in the list of proposed contacts for a user that has already been added to recipients.
These UI updates will help users communicate with colleagues quickly and confidently. Thanks to them you can more easily:
View the recipient's entire email address and edit it if necessary,
Copy the email address,
Access the user information card.
Adding a page break before a paragraph in Google Docs
Now you can tag a paragraph that should always start on a new page using the new "Add page break before" option in Google Docs. This is especially useful if you want certain paragraph styles such as titles and headings to always create a new page. Importantly, these formatting settings are retained when importing and exporting files from Microsoft Word and other producers text editors.
More control over audio and video channels for meeting organizers in Google Meet.
Since the beginning of this year, meeting hosts can mute all participants simultaneously in Google Meet in the browser. From now on, they can also use audio and video lock to disable the microphones or cameras of individual meeting members permanently. A blocked channel cannot be re-enabled by the participant himself – only the organizer can remove the block. This feature works in the main chat room as well as in subgroups.
The new look of the menu in Google Sheets improves the ability to search for key functions, making the use of this application faster and more convenient, especially on devices with smaller screens.
Updates in Google Sheets include:
Shortening of the menu bar and right-click menus to better fit the screen.
Reorganization of the layout of some functions to make their localization more intuitive – for example, column and row freezing can now be found in the right-click menu.
Shortening of some menu descriptions to speed up recognition of functions.
Adding icons to help locate functions.
The changes are visible in all menu tabs: File, Edit, View, Insert, Format, Data, Tools, Extensions, Help and Accessibility.
Raising hand during meetings in Google Meet Hardware
The virtual hand raising function during video conferences in the Google Meet application has been improving team interactions and preventing disruptions in the course of conversations for a year now. Now this option will also be available on all Google Meet Hardware devices. Thanks to this, people in the conference room in the office will be able to line up to speak in the same way as people joining remotely, ensuring a more unified hybrid work environment.
A Raise Hand button will appear on the touch panel during a video call. When you raise your hand, the moderator and all other attendees will see the list of participants in the order in which they raised their hands.
The Raise Hand function in the Meet application interface is also easily accessible with the Meet Hardware remote control. Just open the list of participants and click "Raise Hand".