Google is kicking off the new year by releasing further updates to its file editing and online communication apps. As each month, we are reviewing the latest improvements introduced in Google Workspace packages for companies and schools. 
Companion mode on Google Meet devices
Last year, Google introduced companion mode in the browser to make it easier for clients to join calls from two devices simultaneously. Starting in January, users of Google Meet devices (such as Google Nest Hub Max or Asus Google Meet hardware) can start using this mode in corporate conference rooms, classrooms, or their home offices.
Companion Mode facilitates hybrid cooperation for people joining meetings from multiple devices. It equalizes access to all interactive features, so Meet hardware users can participate in discussions as actively as their colleagues on computers or smartphones.
Companion mode complements the functions of dedicated Google Meet devices, allowing meeting participants to:
zoom in the presentation,
use the chat,
share their screen,
vote in polls and independently set them up,
hand raise individually,
use the meeting host's panel,
turn on subtitles in their preferred language.
You can join a meeting in companion mode from the "waiting room" before the meeting or by typing g.co/companion in the browser search bar. If you want to share content immediately, you can join the meeting and hold a presentation in companion mode at the same time using the address g.co/present.
Tiles of participants using companion mode will be hidden in the video grid to maximize screen space for people with the camera on. On the list of participants you can see who is using the companion mode.
The companion device is counted as an additional participant. It is worth noting that this also counts towards the limit of simultaneous videoconference participants (depending on the Meet package, it can accommodate up to 100, 150 or 250 users). For example, if you join a conversation using Meet hardware in a conference room, but you are viewing your presentation in companion mode on a laptop, it is as if two participants have entered the room.
Live translation of Meet subtitles into 4 European languages
Although we still have to wait for automatically generated Polish subtitles (which is not surprising, as our language is not the simplest or most popular), it is still worth enjoying four additionally available live translation languages. From now on, you can read English statements of Meet conference participants:
in French,
in German,
in Spanish,
and in Portuguese.
This Google Meet update will improve collaboration and communication in multinational companies. Even if all the staff can communicate in English, there is always someone who will feel more comfortable talking about technical matters in their native language. The translations work both ways, so from now on you can see a live English translation of what your friend from Spain or France is saying.
Suspicious file warnings in Google Drive
Google tries to combat dangerous or offensive content stored in the cloud, which is why it equips users with new tools to recognize files that are better left unopened. From now on, attempting to open potentially suspicious files in Drive will automatically trigger a warning banner similar to the one that indicates a threat in your Gmail inbox.
This additional signal is designed to increase user caution, which will translate into better protection of corporate accounts from hackers, phishing, ransomware, and other harmful content.
Watermark creation and export in Google Docs
For some time now, we've been able to insert watermarks in Google Docs in the form of graphics sent from your hard drive, and this month, Google also enabled creation of text watermarks, i.e. words that the user enters on their own. You can also combine text and an image in a watermark.
The watermark is repeated on every page, so you may want to use textual marks to indicate the file status. Words like "confidential" or "draft" will help your co-workers understand the intent of the document. When importing or exporting files in Microsoft Word formats, the text watermarks will be kept unchanged.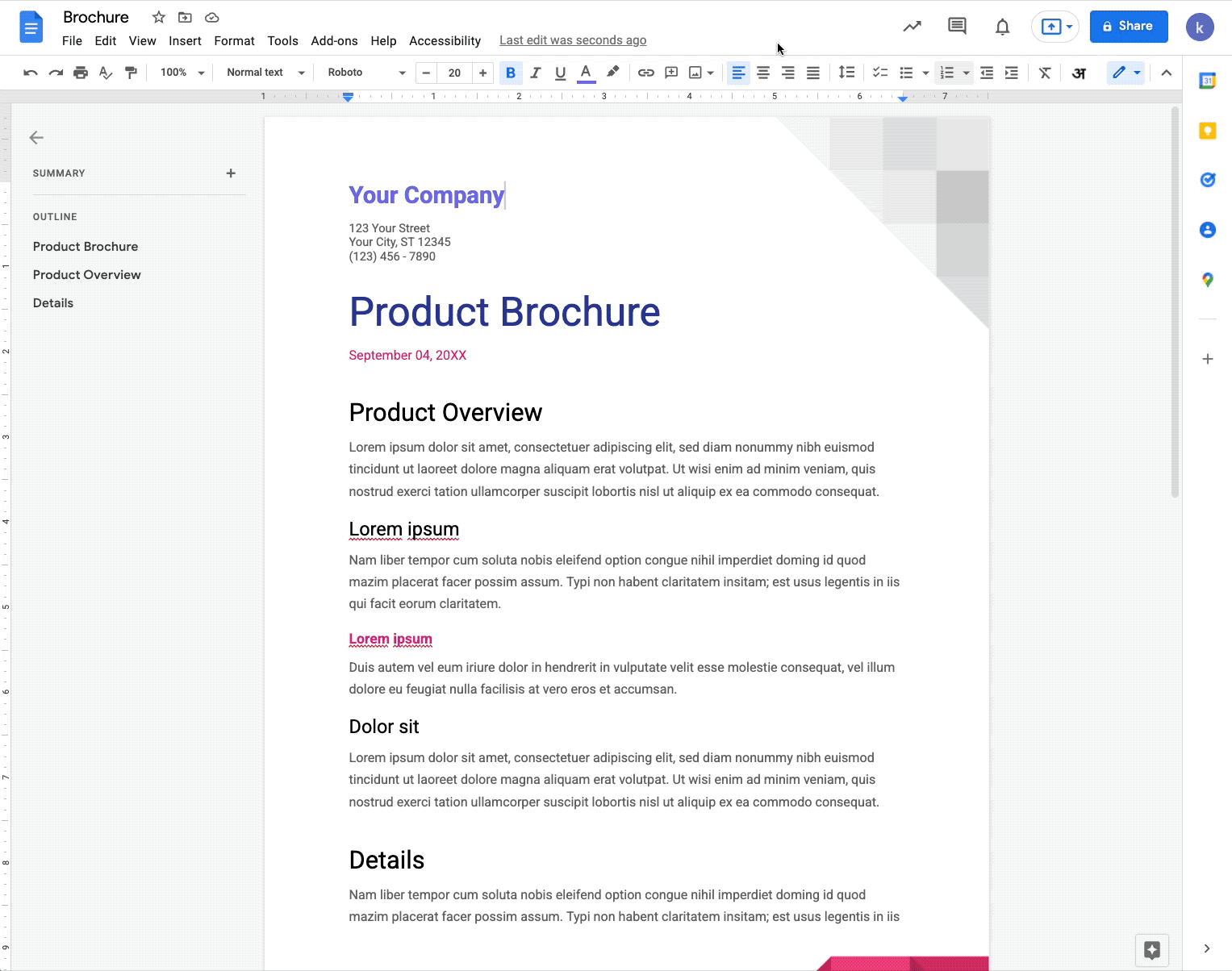 More text formatting options in Google Chat
This news will please companies that, like FOTC, treat Google Chat as the main channel of quick written communication. A formatting icon will appear in the app's workspace (both in Gmail and in a separate window) that allows the user to bold, italicize or underline a selected message fragment. When you see this new icon on your workstation, you can also use the keyboard shortcuts known from text editors:
[Ctrl] + [b] – bold
[Ctrl] + [i] – italics
[Ctrl] + [u] – underline
A page break before a paragraph in the Google Docs mobile app
A feature that recently appeared in the web version of Google Docs will now also be available to users who like to type on smartphone keyboards.
After selecting a piece of text, you can find the new option in the paragraph editing menu.
The addition of this function also means that Microsoft Word files with non-standard page breaks will be displayed correctly – also in the mobile app.
Originality reports in Google Slides
In January, there was also a useful new addition for schools using free and paid Google Workspace for Edu packages. Teachers will be able to generate an originality report for slide shows that students submit as assignments. Checking a work through the Google algorithm compares its content with billions of pages and Internet publications, making it is easy to assess the academic integrity of a student's assignment. Until now, such anti-plagiarism reports were only available in Google Docs.
Higher PPTX file size limit in Google Slides
So far, files with the characteristic Microsoft PowerPoint extension could be edited in Google Slides only if their size did not exceed 100 MB – now this limit has been increased threefold. You can import, edit and (if necessary) re-save files up to 300 MB in .pptx format.