September in Google Workspace was a time of deepening integration between applications to increase work productivity and communication productivity in teams. There was also an interface update and new administrative options that help to take care of data security in a better way. Learn about 15 Google app improvements announced in the last 30 days.
Rooms in Google Chat turn into Spaces
The name of group conversations in Google Chat changes from 'Rooms' to 'Spaces'. This is just the beginning of the evolution that will gradually transform Google Chat into an even better hybrid collaboration tool. In the upcoming months, customers using this messenger are going to see numerous significant changes:
Improved navigation: The flexible interface will help users easily access their Inbox, Chats, Spaces, and Meetings – all from one place so they can keep up to date with everything that matters.
Viewing Spaces: Spaces and their contents can be discovered by all members of the organization, so that other people can find them and join the conversation. Administrators can also make default browsing for their organization.
Extended search: It allows users to easily find content within and between Spaces. The 'Search all' feature in Spaces provides powerful new collaboration opportunities and makes it easy to access your team's collective knowledge base.
Improved threading: A possibility of replying to any message within Spaces drives deeper discussions and collaboration between teams and organizations.
New security and administrative features: Tools for moderating content, managing Spaces and establishing communication rules between domains and companies.
Now you can easily customize the settings of your survey, test or quiz in Google Forms thanks to a more prominent settings tab and an improved layout of the available configuration options.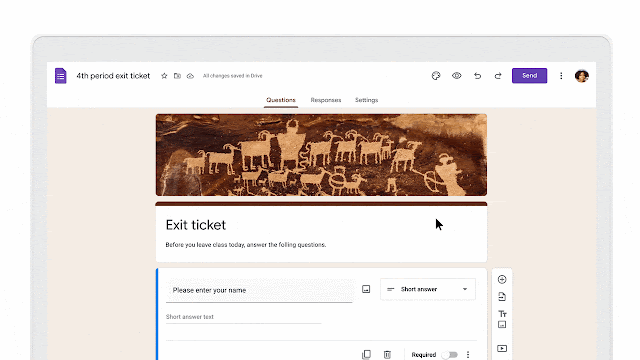 An automatic adjustment of image brightness in Google Meet in the browser
The new Google Meet feature in the browser uses artificial intelligence to detect underexposure of the user's webcam image and it dynamically adjusts the brightness. This will improve the visibility of participants' facial expressions during meetings and help them communicate better with each other.
Restore pages thanks to history of version on Google Sites
Google Sites now has the option to restore a single-page version from the edit history – previously, you could only restore the entire site. This additional feature will make it easier to find, edit and republish specific pages that may have been changed by mistake or deleted.
New methods of measuring activity in Google Classroom in Big Query and audit trails
Administrators of Google Workspace school domains will gain new tools to monitor the use of Google Classroom platform in their organization:
Classroom audit trails in the Google Admin console,
Classroom activity logs in Big Query,
Classroom activity report template in Google Data Studio.
By viewing Classroom audit trails, administrators can quickly determine what changes have been made to the platform and by whom. For example, you can easily check who removed a student from a class or who archived the class on a particular day. This feature is available to customers of all variants of Google Workspace, both educational and business ones.
School administrators using Google Workspace for Education Standard and Plus versions can also export Classroom audit trails information from the Admin Console to Big Query for convenient database searches.
There is also a new report template in Google Data Studio that presents Classroom activity data in a digestible form, making it easier to see trends and learn constructively from them. Template is available here – the administrator can copy it and adapt it to the needs of his school in the Data Studio.
Improved Gmail search on Android
Now Gmail app users can more easily filter messages and search results on Android mobile devices in order to find the information they need very fast. New filters can be applied independently or after an initial search.
For example, you can enter a search item and then narrow down your results by selecting filters such as: a colleague's first and last name or a specific time period. When searching for messages by sender, users can choose from a list of suggested people or search for emails from multiple senders.
Chat with guests of the meeting in Google Calendar
For each event in Google Calendar, a button with a chat icon appears next to the meeting's guest list. Clicking this button will create a group chat room containing all event participants who belong to your organization. This feature speeds up the creation of a space for written conversation with the team before, during and after the meeting.
Set effects faster in Google Meet
A new settings panel has been introduced in the Google Meet application, which gives you a fast access to effects such as smart background blur, styles and background image. Users can open these settings both in the 'waiting room' before joining a Meet conversation and during a video conference.
Material You – a new design of the Google application for Android
In mid-September, Google introduced Material You, a new way to design Google Workspace apps on Android devices. For users, this means an updated look and better application performance, as well as additional personalization options.
The changes that owners of Android smart phones will notice include:
Updated navigation bars,
Improved floating action buttons,
Use of the Google Sans font to make smaller text easier to read.
Material You will facilitate the use of the Google application by disabled people because it will automatically adjust the contrast, text size and line width to the user's preferences and the context of the application. The existing colour schemes, such as the colours of folders, file types or warnings in the application, will remain unchanged.
Owners of Pixel devices with Android 12 system or later will also have the option to turn on dynamic colour matching of the app to the phone's wallpaper in order to obtain an even more personalized look.
Changes to Gmail in version 2021/08/24 and later
Material You in Google Meet version 2021/09/19 and later
Material You in Google Drive in version 2.21.330 and later
Material You in Docs, Sheets, and Slides in version 1.21.342 and later
Material You in Calendar in version 2021.37 and later
Material You in Google Keep in version 5.21.361 and later
Better interface of presentation display on iOS
If you use the Google Slides mobile app on an iPhone, you will notice changes that improve the visual experience and functionality when viewing your presentation. Thanks to the latest update you can:
Scroll the vertical stream of slides
Switch between edit, view, or transfer modes,
Use the pinch gesture on the screen to zoom in the selected area and take a closer look at it.
All this makes creating presentations, reading the content of slides, as well as adding and viewing comments easier on iOS mobile devices. Android users have been using these Google Slides feature for a year now.
'End meeting for everyone' in the Threat Intelligence Tool
Administrators of companies and schools using the packages of Google Workspace Enterprise Plus, Education Standard and Education Plus can now use the Google Admin Console Threat Intelligence Tool to end any ongoing meeting and remove all users from the Meet room. This feature can be useful when you need to:
end multiple meetings in the organization at the same time,
find and finish old meetings that are being used inappropriately
configure an auto-end meeting rule based on specific user actions, for example, when one of the users reports abuse.
What are the consequences of using the 'End Meeting for Everyone' action? The Google Meet chat room and subgroup rooms will be closed. Users will not be able to rejoin this meeting without the host being present. People who are not on the Google Calendar guest list will have to knock to re-enter the meeting.
This update only affects the functionality of the Threat Intelligence Tool in the administration console. Meeting hosts can still end a meeting for everyone during a video conference using the Meet interface.
One-click entry of recommended actions in the Alert Center
The Alert Center helps protect your organization from security threats by allowing administrators to view notifications regarding potential domain issues and take action.
Now administrators will see suggested actions next to the alerts that they can implement with a one click button without leaving the Alert Center. These activities include:
Marking the message as phishing,
Entrusting the user or restoring him or her after suspension,
Blocking devices,
Deleting e-mail messages.
Using suggested actions will speed up the sorting of alerts, taking actions and removing incidents related to data security in the organization. This Alert Center update applies to Google Workspace Enterprise Plus, Education Standard and Education Plus variants.
Customized themes on Google Sites
There are six pre-built themes in Google Sites with limited customization options to help you quickly create a consistent look and operation of your websites. Now users can build their own themes to match the brand's visual identity or personal preferences.
Thanks to customized themes, you have more control over things like:
typefaces and text style,
colours,
images,
navigation settings,
style of components such as buttons and more.
Inserting a watermark in Google Docs
Now you can add watermarks on pages of text documents directly in the Google Docs app. It is worth using this feature to create non-standard document projects or brand files with a company or a product logo.
The image applied as a watermark will be visible behind the text on each page of the document and it will be retained even after importing or exporting documents from Microsoft Word.
New Google Tasks logo
The To Do List tool, which is available in the sidebar of Gmail and Google file editors, has a new, modernized logo now.
Until recently, the To Do List logo looked like this:
Now the Google Tasks logo has been adapted to the visual identity of other Google Workspace services: