Dropbox is a cloud-based data storage and synchronization service that, until recently, was one of the most used tools for sharing large files. If you're one of the people who still use Dropbox, this article explains what its integration with Gmail opens up for you.
How does Dropbox work?
Dropbox is a specialized application with a wide range of uses.
What does Dropbox do? It stores files in the cloud. Since 2007, it has been solving the problems of all students and office workers who tend to forget to take a USB flash drive with them. Saving an important file in Dropbox guarantees access to it from any device connected to the Internet.
Why should you use it? First of all, it works on many platforms as a web or mobile app – you can use it on Windows, Linux, macOS, Android, or iOS. It's convenient cloud storage for any device. Secondly, Dropbox Basic gives you 2 GB of free storage. It's not much (for comparison, free Google Drive grants 15 GB), but it's enough to test the features and decide if it's the right service for you.
So why has it been gradually losing popularity in recent years? Dropbox is still a reliable service, but it fails to keep up with the growing competition. It is stand-alone cloud-based storage – and nothing else. Other cloud service designers have gone the extra mile, offering more free space, an array of complementary apps, and building coherent environments.
The advantage of all-in-one services
It's not uncommon to use Dropbox alongside a more comprehensive suite of cloud productivity tools, like Google Workspace. Google meets all the needs of office workers within one convenient subscription. As a flexible cloud-native service, Google Workspace inherits little from early offers of local software. Unlike Microsoft 365, this bundle of apps was designed with online collaboration and mobility in mind.
See also:
The ubiquity of Google Workspace has made other manufacturers of web solutions treat integration with Google applications as a priority. That's why every user of Gmail has access to hundreds of add-ons that make work easier.
Dropbox did not miss this chance either. Although it doesn't offer email or productivity programs, it created the Dropbox for Gmail plugin. Anyone with a Google account can connect their mailbox with all the files stored in Dropbox.
Installing Dropbox for Gmail
Go to the Dropbox for Gmail Add-on page in the Google Workspace Marketplace and click Install. In the pop-up window, select the appropriate Google account and consent to the processing of data by the add-on. The next time you visit your mailbox, you'll see this in the bar on the right: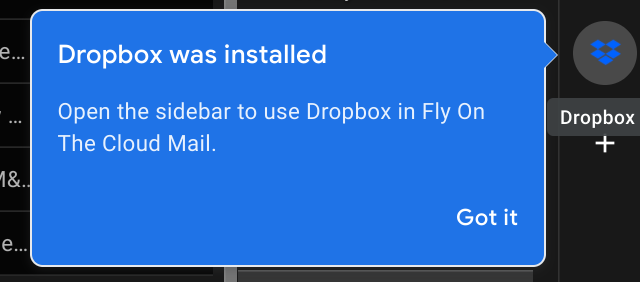 Log in to your Dropbox account in Gmail to access all your files without leaving the mailbox.
Features of the Dropbox for Gmail plugin
Adding attachments as links – select any Dropbox file from the side panel in Gmail, generate a unique sharing link, and paste in the message. It is one of the best ways to share files (except maybe sharing them straight from Google Drive). The file is available instantly and doesn't use up your mailbox capacity.
Uploading received attachments to Dropbox – the add-on also allows you to place the attachment in the Dropbox cloud with one click, without having to download it to your computer's hard drive first.
Full synchronization – when you make corrections to a shared file, everyone who has access will see it. You don't need to send them an update.
Access management – even after sharing a file, you retain complete control over it, and you can revoke access to viewing or editing it.
Instance-wide deployment – you can install the Dropbox for Gmail plug-in for your account, or, if you're a Google Workspace admin, you can quickly add it to all users' accounts in the company's domain.
Dropbox for Gmail – security
Every time you consider installing a third-party add-on in Google Workspace, double-check the app's permissions. Plugins that process corporate data should always come from trusted sources.
In the case of Dropbox for Gmail, you must take into account that the application has access to:
Information about your contacts;

Managing drafts and viewing emails (temporary access; only when you use the add-on);

Connecting to external servers;

Information about the language, country, and time zone.
If your inbox contains sensitive company or customer data, do not risk sharing it with other service providers. Remember that it's safer to keep all your data in one ecosystem – so consider storing files in Google Drive.