Diagrams are a well-known tool to improve assimilation of data using a visual and easily understandable format. They can make it easier to understand complex systems, processes, or structures, and can be used to communicate information more effectively to others. Used in a business sense, diagrams can be useful for professional planning, organising, and problem solving. This is why we will introduce you to Draw.io online, a free browser application with strong collaboration features via Google.
With a few strategically placed arrows and text blocks, a diagram helps you easily understand and communicate complex topics within your team. So let's discover what Draw.io is and how you can use it for your business.
What is Draw.io?
Draw.io is a free, online diagramming tool that allows you to create flowcharts, diagrams, mind maps, organisation charts, and much more. A web-based application, Draw.io is fully integrated with Google Drive. This means that you can automatically save the results of your work in your Google Workspace or Gmail account.
This is an open source, self hosted, diagramming tool that can help your team create visual charts using pre-designed templates on a drag-and-drop interface, while also being able to import and export diagrams in various formats.
What can you use Draw.io for?
A picture is worth a thousand words, so Draw.io can help you convey all those words with diagrams and flowcharts. Some specific examples of what businesses might use Draw.io for include:
Creating a flowchart to illustrate a process or the workflow of a project
Designing an organisational chart to show the structure or hierarchy of the company
Mapping out ideas or concepts via a mind map
Visualising a network using a network diagram
Sketching out the design of a website or user interface
Creating a floor plan or layout diagram as proof of concept
Illustrating a scientific or technical concept
Generally, Draw.io is a powerful tool for creating diagrams that convey information visually.
How to create a diagram in Draw.io?
Let's quickly guide you through designing diagrams with Draw.io as a point of reference.
Choose a place to save your project
With Draw.io being a software tool accessible via a web browser, you do not need to register an account. When entering the page, you are greeted by a first pop up asking you to choose where to save your project.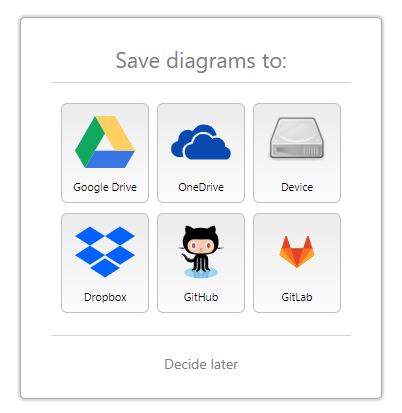 Choosing either Google Drive or Microsoft OneDrive, you will need to authorise the app to connect to your respective account. Keep in mind that Google Drive is a perk that comes with having a Google account. Many Gmail users that use Google tools for business don't realise that they can extend their productivity using the Google Workspace suite. With Workspace, you can access a whole range of office applications, have an email address with a corporate domain and lots more storage space in the cloud.
After selecting the destination folder, click on "Create New Diagram".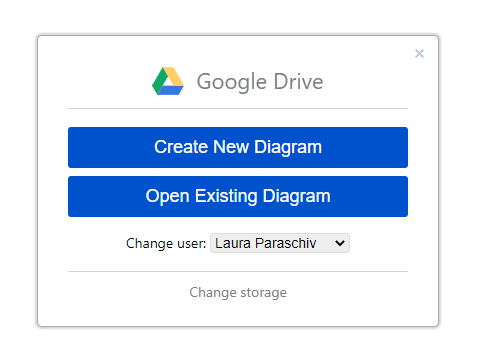 Select a preset for your diagram
In the next step, you can set up the basic parameters of your diagram. Name your file, select the format, choose a category, and a template. Amongst those over 140 ready-made templates, you will find tables, mind maps, Venn diagrams, and many more. Saving the right alternative can save you a lot of work ahead, so carefully review all categories.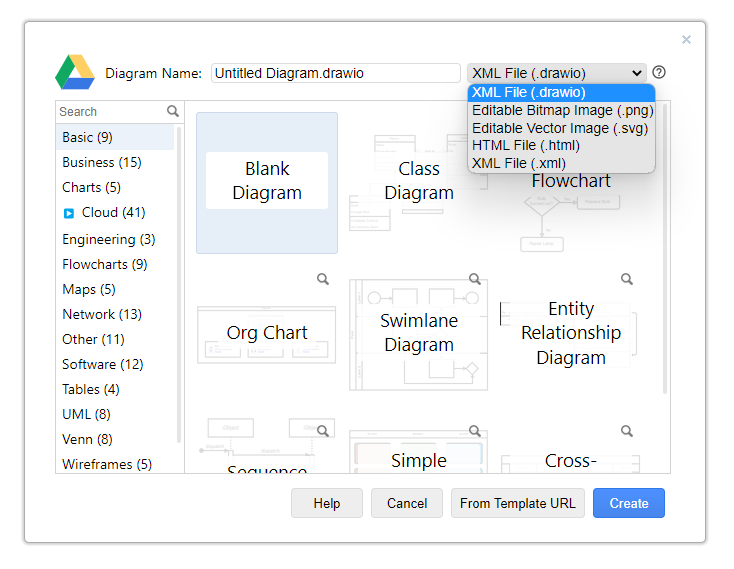 Start using the Draw.io interface for your diagrams
If you are a Google app user, you will find the Draw.io editor very similar to all Google file editors. The men bar lists all features in five categories, beyond the help tab:
File – here you will find options related to the file, i.e. import, publishing, synchronise .etc
Edit – here you will find options related to editing settings like selection of data, editing style, geometry or more
View – here you can choose tools and interface elements that are to be permanently visible in the application window.
Arrange – in this tab, you can set the order of chart objects, you can choose to transform them or group them, and more.
Extras – here you will find all the advanced options and the ability to install specialised add-ons.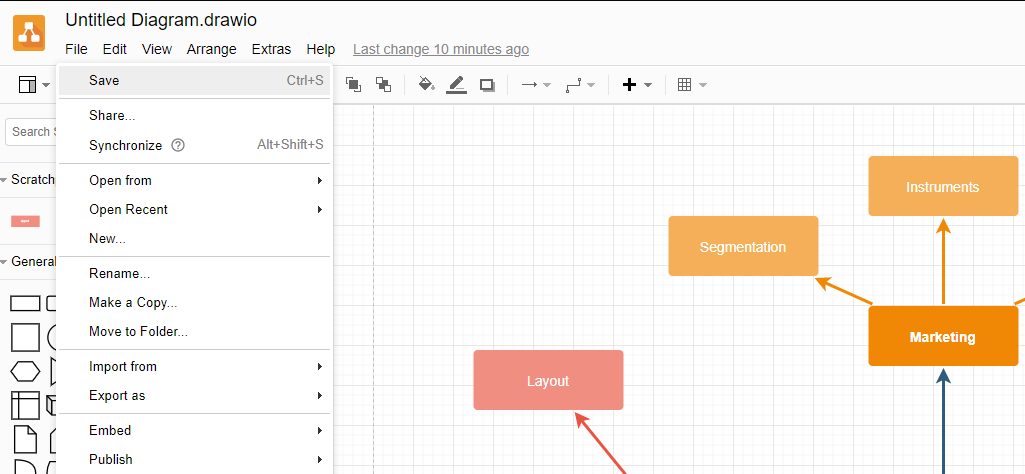 Draw.io functions
You now have a better understanding of how to use the diagramming software on your device. Let's see what are some of the functions it can perform.
Shapes: Starting with rectangles, ellipses and diamonds, you can use a variety of predefined shapes. At the same time, you can create custom shapes to personalise your experience.
Text: You can add text to your diagrams to provide labels, annotations, and explanations for all languages. You can format the text using a variety of options, such as font, size, and colour.
Automation: You can use the built-in scripting technology to automate repetitive tasks or to create diagrams that automatically update based on external data.
Connectors: You can connect shapes in your diagrams using lines, arrows, and other floating or fixed connectors.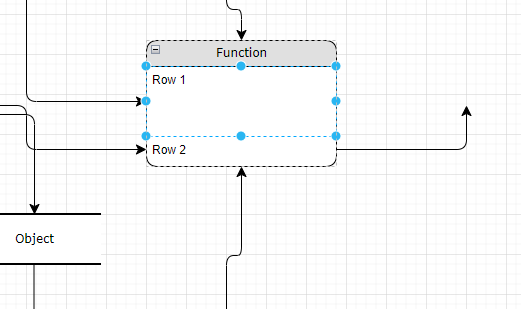 Collaboration: Within Draw.io, you can collaborate on the same project with other people in real-time, making feedback way easier to implement.
How much does Draw.io cost?
This is a free, open-source project with source code that anyone can view and modify. However, you can get a pro version designed for business purposes. This way, your company can benefit from additional features and functionalities that are not available on the no-charge version.
Draw.io pricing plans include a cloud plan, data centre plan and a server plan, depending on the number of users: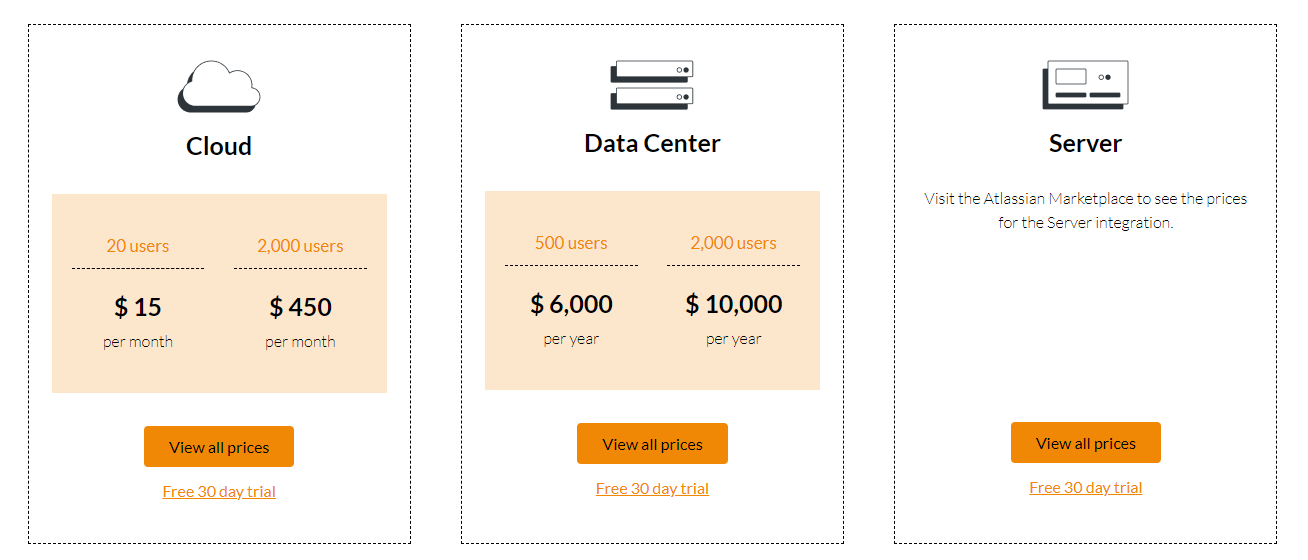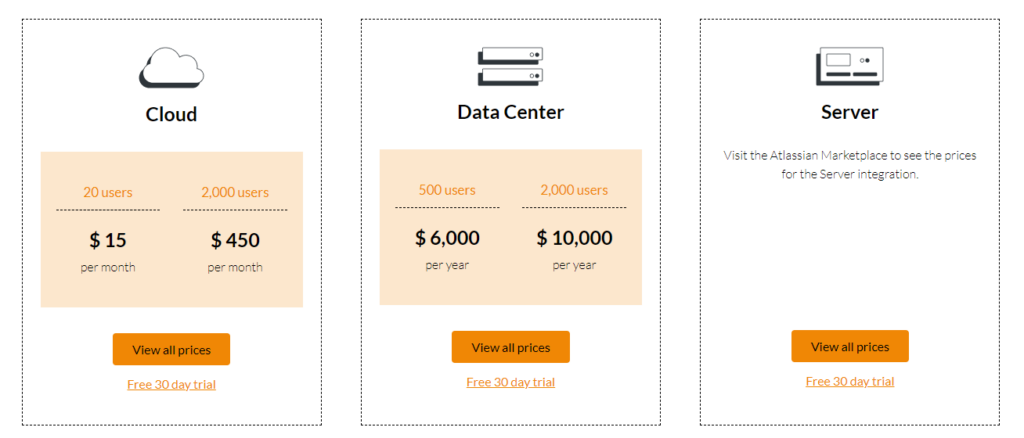 Advantages and disadvantages of using Draw.io
What are the pros and cons of this simple and user-friendly web-based diagram app?
Advantages of using it:
Guarantees real-time collaboration: Makes it easier to work on projects for remote teams.
Cross-platform: Being a web-based tool, it can be used on either Windows, Mac, Linux, or mobile devices.
Customisable: With a lot of predefined shapes and templates, every company can tailor its own specific diagrams to use.
Disadvantages of using it:
Limited import and export options for the free version, as well for features: the number of file formats is limited to .png, .jpg, and .pdf.
Limited third party integrations: the amount of integrations is relatively small compared to other alternatives.
Overall, draw.io is a solid tool for creating diagrams and other charting models. It is suitable for a wide variety of users and use-cases, but it does have its limitations. Other options may be necessary if you need more advanced features and integration options.