Here at FOTC, you know us as one of Europe's best providers of technical consulting in the IT industry. As a certified partner of Google, we are Eastern Europe's leading consultants for cloud services, IT strategy, big data, CRM, and more! We have a dedicated staff across Europe, with branches in Wrocław, Warsaw, Bucharest, Budapest and Sofia.
The importance of small businesses
We serve businesses of all sizes, but today we want to praise small businesses! Small businesses drive the economies of Poland, Romania, Hungary, Bulgaria, Europe, and the entire world. In Poland, small businesses play a particularly key role in shaping the economy, as their innovation and entrepreneurship keep Poland moving forward.
Small businesses are hurting right now in response to the COVID 19 pandemic and the ensuing economic fallout. Here at FOTC, we are stepping up to help small businesses across Poland and Europe improve their IT and cloud setups so that they can hit the ground running when this crisis is over.
Show appreciation and help others find the business you like
One easy way that you can help small businesses during this time is to leave a rating or review for your favourite small businesses! If you love your corner bar, leave them a review on Google Reviews. Have a favourite restaurant? Head on over to Trip Advisor and give them a review. Also, if you love your B2B service provider, cloud consultant, or IT firm, leave them a review on Clutch!
Clutch, and their sister site The Manifest, are our preferred ratings and reviews platform of choice! Clutch highlights top companies across an array of B2B services. They have a team of dedicated analysts who take the time to conduct reviews with independently verified clients from around the world. Then, their editors curate the content into a case study style format, publishing the reviews in an easy to read manner! We are so honoured to have a perfect 5.0-star rating from our customers!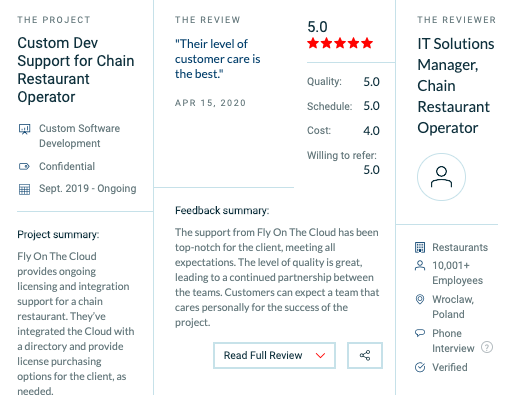 After we've provided custom development support for a chain restaurant, their IT solutions manager praised us on Clutch! Noting that our support was top-notch, they praised how our team personally cared about the success of the project. Read more about this case in AmRest's success story on our website.
We're incredibly grateful for the positive reviews. If you're looking to support your small business, contact us today!