July brought another set of improvements for Google Workspace users. From more widely available AppSheet Core licences, more convenient meeting scheduling, Chat announcements, through to credit card payment via Calendar, and numbered rows in Docs. Google engineers are making sure both large corporations and SMEs benefit from the new additions. Let's dive into July Google Workspace updates and find out how each new feature can help you grow your business.
Licences for AppSheet Core become free for more users
AppSheet is a platform that allows you to create your own applications and automate processes, even if you don't know how to program. The tool is available in four subscription plans – Starter, Core, Enterprise Standard, and Enterprise Plus.
Until recently, users of Google Workspace Enterprise Plus and Education Plus could use the AppSheet Core package for free. Now, the free licence is being extended to the following plans:
Business Starter, Standard, and Plus;
Enterprise Starter and Standard;
Frontline Starter and Standard;
Google Workspace for non-profit organisations;
Education Standard.
With this change, administrators also gained more control over configuring organisation-level settings. They now have the ability to decide, among other things, how users can use the AppSheet Core licence, including whether the application data can be shared externally.
Direct meeting scheduling from Gmail
A few weeks ago, a new feature was introduced in Gmail that helps find convenient meeting times more quickly. This improvement is particularly useful for individuals planning meetings with clients, partners, or team members whose Google Calendars are not visible to them.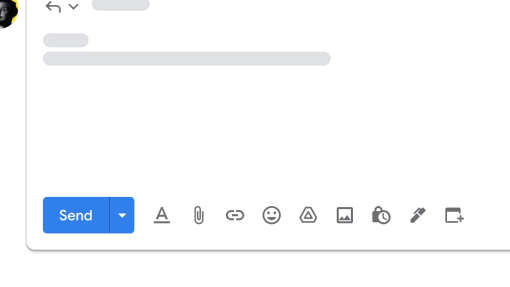 Now, while composing an email, you will see a new calendar icon through which you can:
Propose available meeting times
By selecting this option, your calendar will open in a sidebar, and you can choose proposed meeting hours. These will be added to the email. The recipient can then review the proposed dates and automatically accept a chosen time slot.
Create a new event
This is a quick way to schedule a meeting and share the event information within the email. Selecting this option opens a panel on the right side with a new event form pre-populated with recipients and the subject from the email.


Event details will be automatically inserted. Previously, this feature was available under the three-dot icon (More) in the main conversation menu.
Chat improvements
Up to 50,000 participants in a room and a new search option
Previously, in a Chat room, you could add a maximum of 8,000 participants. As of the end of July, this number has been increased to accommodate up to 50,000 people.
This change was made with large organisations in mind, where significant communities exist, technical support rooms are in operation, or public announcements are frequently made across the entire organisation.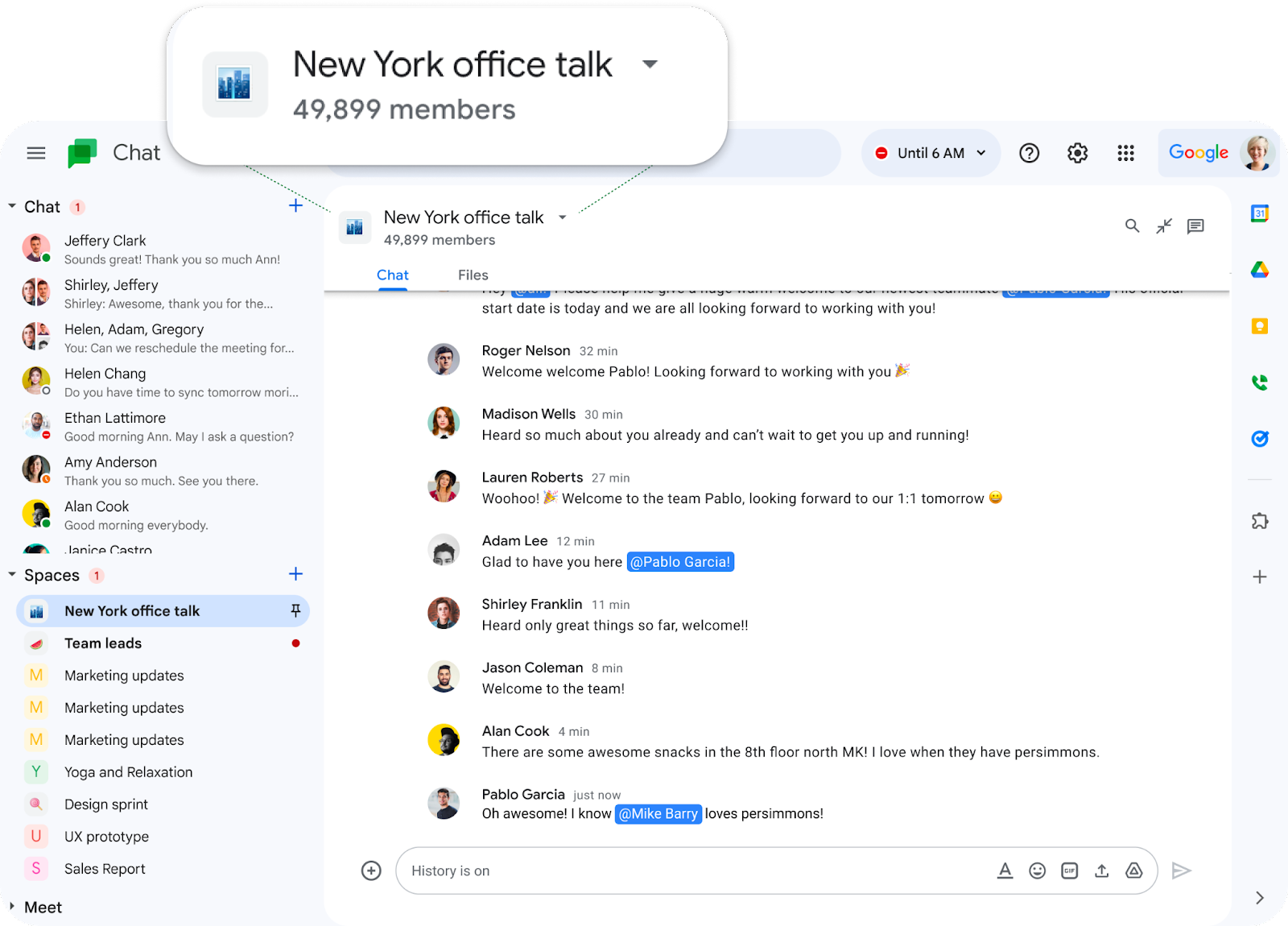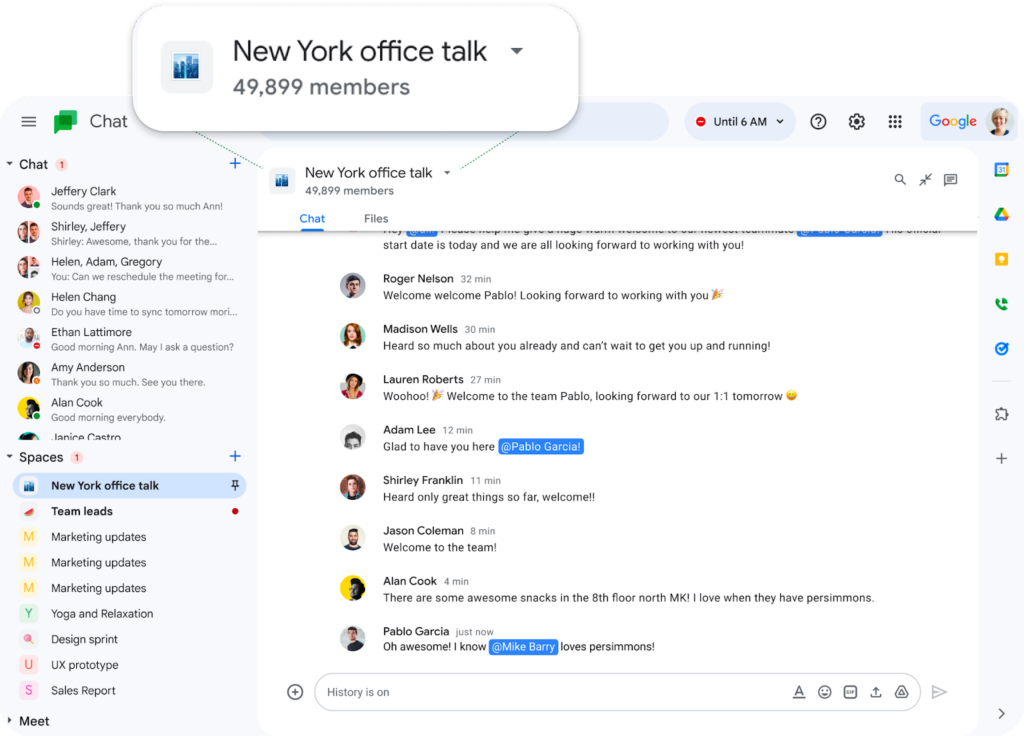 In addition, a search function has been added to rooms. It will quickly help determine if a person is a member of a particular space or check the role they hold within that space.
Adding links to messages
Since July, you can add links to text messages in Chat. This new feature is available both on the web and on Android mobile devices. Moreover, this change allows copying linked content from other applications, such as Gmail, Docs, Sheets, or Slides.
To add a link to text, simply click on the appropriate icon added to the message formatting menu.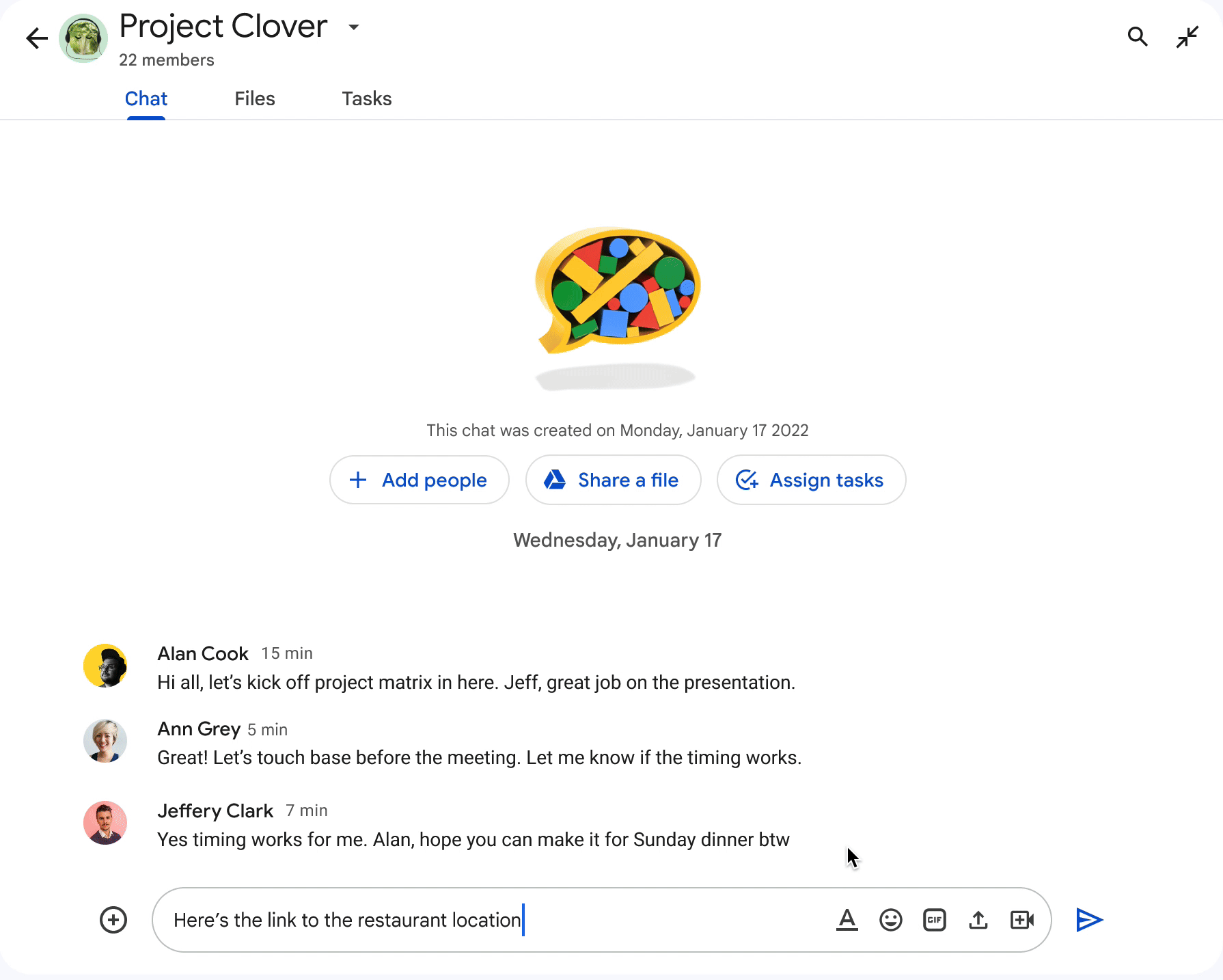 Direct replies in announcement mode
In April of this year, it was announced that Chat rooms would have an announcement mode. This mode facilitates one-way, controlled communication. However, in July, Google engineers decided to enrich it with a reply feature, making it easier for team members to discuss the contents of published announcements.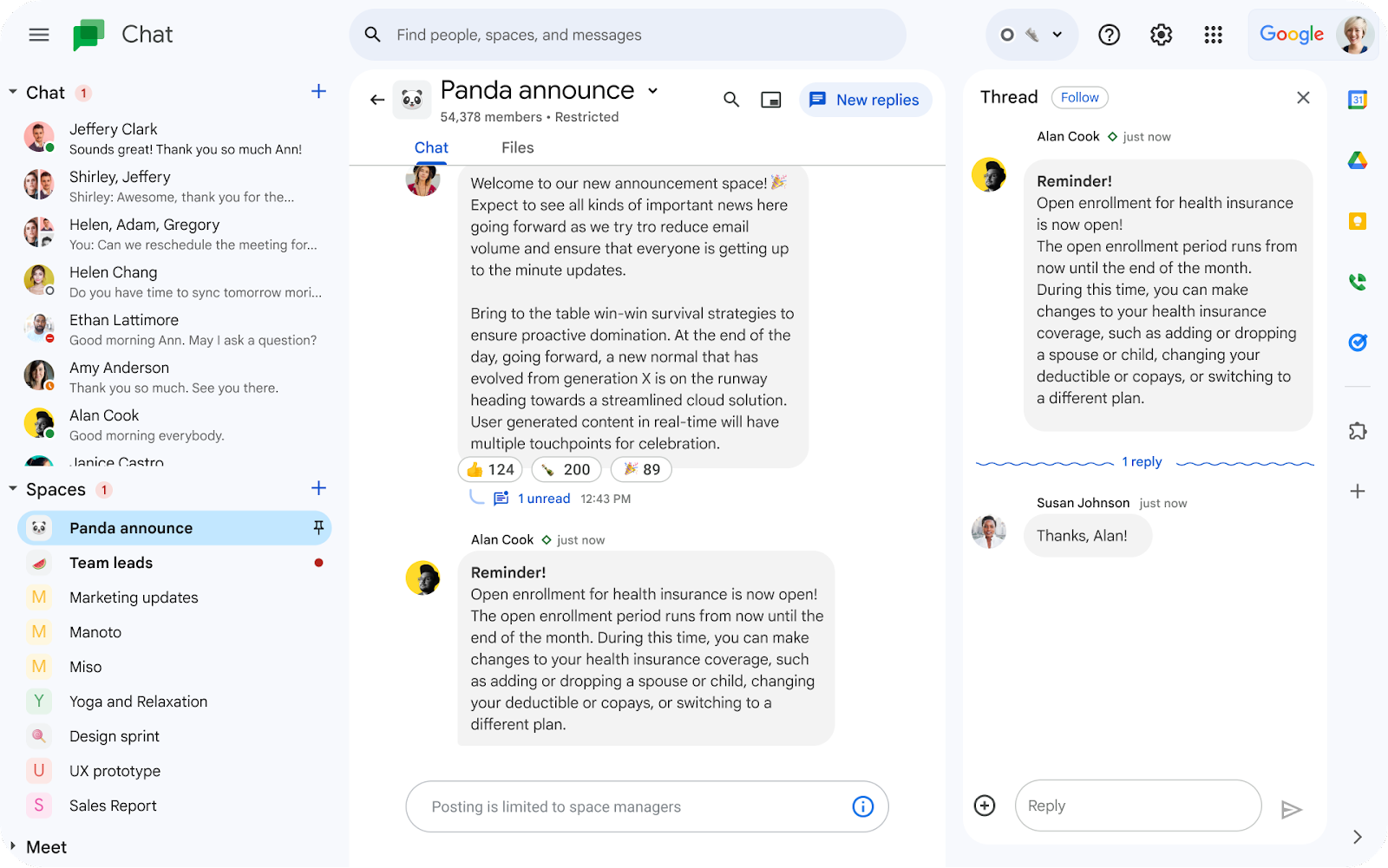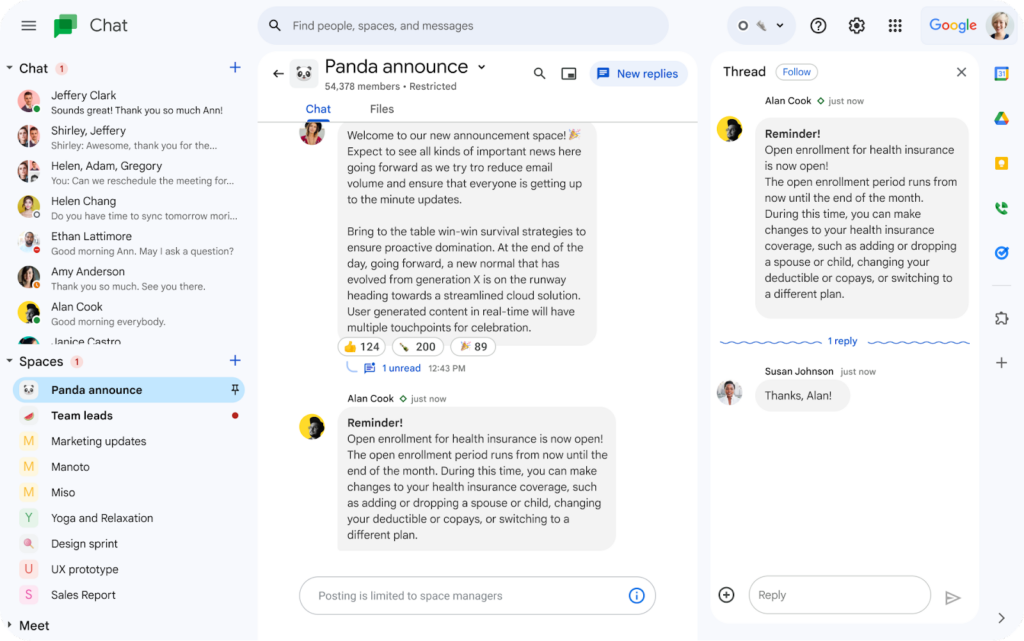 Create rooms, group conversations, and add members using the API
Last year, Google announced that developers could use the Google Chat API to automatically create new spaces and add members to them as part of the Google Workspace Developer Preview Program.
In July 2023, the general availability of the Google Chat API was expanded to include creating new rooms and adding members to them. Developers can also use the API to automate many other tasks, and a full list with descriptions can be found here.
Calendar
Booking paid meetings
It has been over a year since Google introduced appointment slots in Calendar, a feature that allows users to publish information about their availability through a reservation page. In July, this feature was integrated with the Stripe platform, which allows:
Individuals offering paid consultations to connect their Stripe account with Calendar and provide a schedule displaying the price for the booking.
When booking a visit, customers will be able to make payments using their credit cards.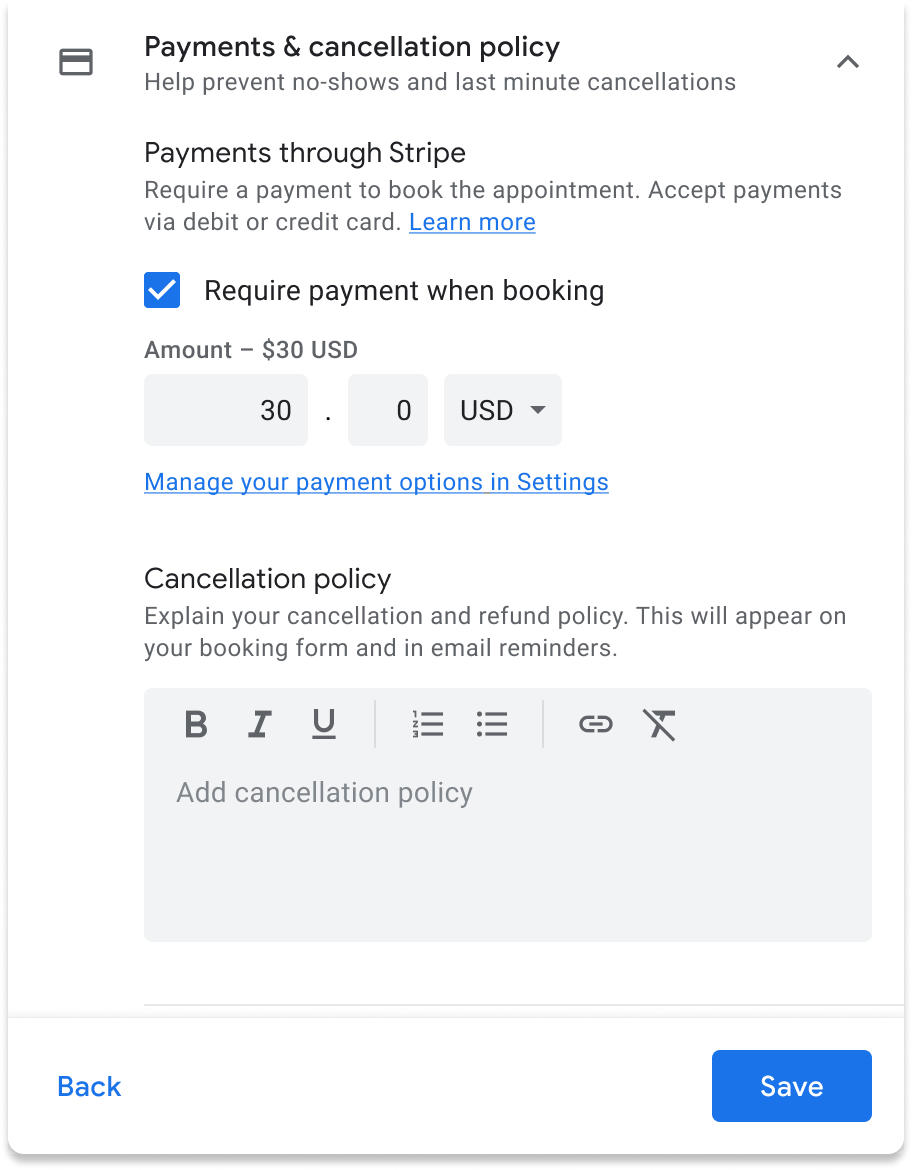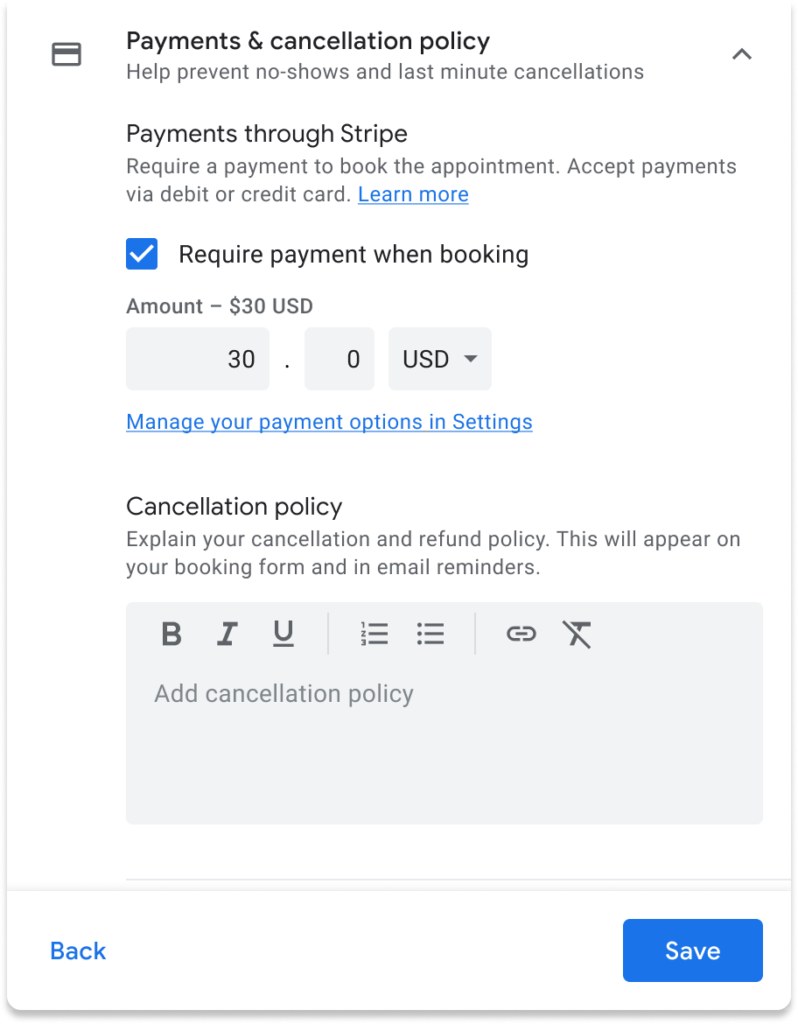 Improved room suggestions
Previously, depending on the Google Calendar's corporate settings, there were two types of conference room suggestions. The first option included a list of frequently used rooms to choose from, while the second utilized structured conference rooms to suggest spaces based on the declared location of the attendees. Structured conference rooms refer to rooms assigned to specific buildings (along with information about their capacity and available equipment).
To better support collaboration in a hybrid work environment, Google combined these options. Now, when suggesting a room, the work location the user declared will impact the suggestions. If this information is unavailable, frequently used rooms will be proposed.
Greater flexibility in specifying work locations
In July, Calendar introduced the ability to specify work locations at specific times of the day. Working from multiple locations is particularly common in a hybrid work environment, where employees can work from home, office, a designated building, or a combination of these. Sharing this information with colleagues can improve workflow and facilitate planning physical meetings.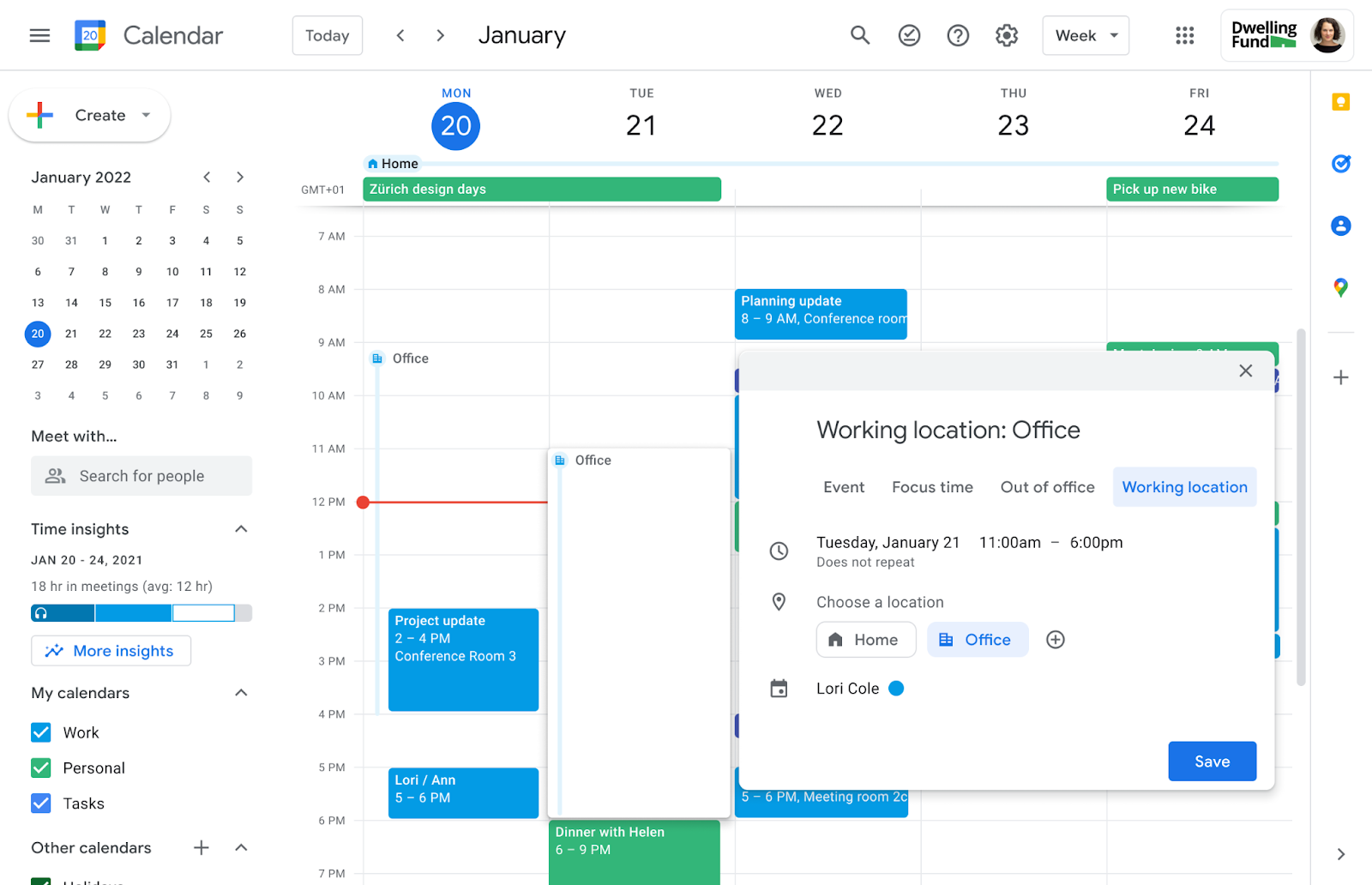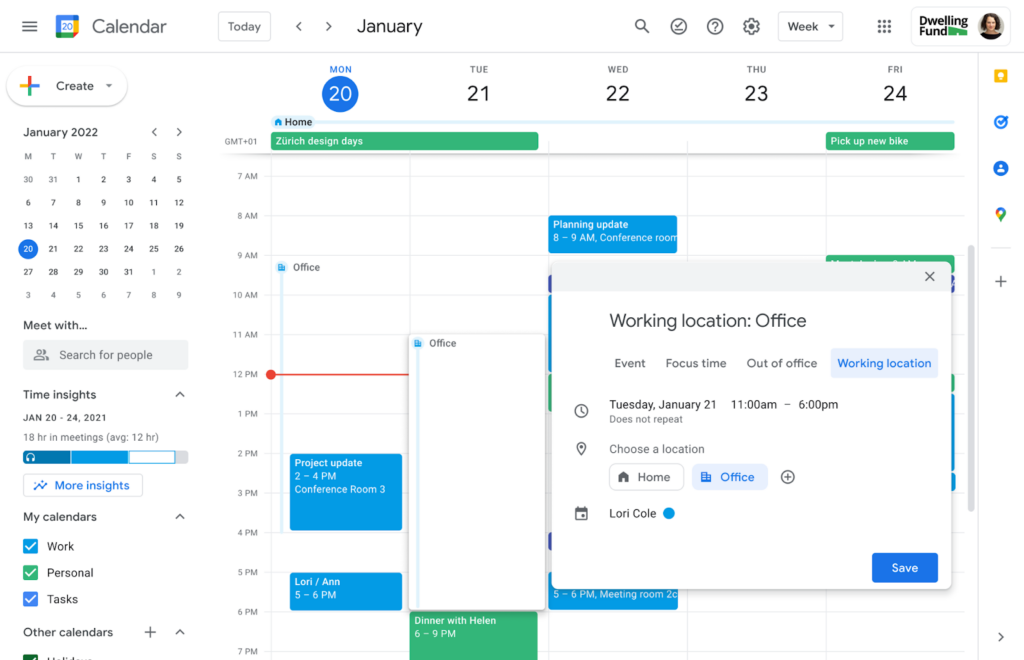 Furthermore, shortly after announcing this update, Google also mentioned the upcoming capability to programmatically read and write work locations using the API.

Updates in Sheets
In July, there were several minor changes in Sheets:
Users can now use the tab key to quickly convert links and email addresses into smart chips.
People using emojis can quickly insert them into their files using the context menu that appears on the screen after typing "@" in a cell.
In connected sheets, the time limit for queries to Looker and BigQuery has been extended from 5 to 10 minutes, allowing users to analyze data from queries that scan even larger datasets.
Previously, in connected sheets within pivot tables, data could only be filtered by dimensions and not measures. Now, that has changed, giving you the ability to conduct even more detailed analyses.
Looker users gained the ability to filter data in pivot tables by value.
Row numbers in Documents
July didn't bring too many changes to Documents, but it's worth noting that the tool now allows displaying row numbers. These values can be configured for the entire document, a page, or a specific section. The displayed row numbers will also be visible when printing the document.
This feature makes it easier to reference specific places in the file, which is particularly useful when collaborating with multiple people on creating long or complex content.
Set Context Aware Access policies for 1P & 3P applications to access Workspace APIs
Administrators of Google Workspace Enterprise Standard, Enterprise Plus, Education Standard, Education Plus, and Cloud Identity Premium can now use Context Aware Access to block or restrict access to internal and external APIs for Google Workspace applications.
Context Aware Access allows defining different levels of access to Google Workspace applications based on user identity or other parameters, such as their location, device, or IP address. Extending these rules to APIs attempting to access Google Workspace application data gives administrators an additional layer of control and security to help protect against data leaks.
If you want to be in the loop on all the new features in Google applications, join our Facebook group, a space where cloud enthusiasts share tips on Google Workspace. We welcome all new members of our community.